Abstract
Purpose
It is unknown whether maximal voluntary co-contraction of abdominal muscles, called abdominal bracing, can be a training maneuver for improving strength and power of trunk and lower limb muscles. The present study aimed to elucidate this.
Methods
Twenty young adult men (23.3 ± 1.8 years) were allocated to training (TG, n = 11) or control (CG, n = 9) group. TG conducted an 8-week training program (3 days/week) consisting of 2-s maximal abdominal bracing followed by 2-s muscle relaxation (5 × 10 repetitions/day). Maximal voluntary isometric strength during trunk flexion and extension, hip extension, and knee extension, maximal lifting power from sitting position, and the thicknesses of abdominal muscles were measured before and after the intervention. In addition, surface electromyograms from trunk and lower limb muscles and intra-abdominal pressure (IAP) during the maximal abdominal bracing and maximal lifting tasks were also determined.
Results
After the intervention, TG showed significant increases in isometric trunk extension (+14.4 %) and hip extension (+34.7 %) strength and maximal lifting power (+15.6 %), while CG did not show any changes in strength and power variables. Furthermore, TG had significant gains in the muscle thickness of the oblique internal (+22.4 %), maximal IAP during abdominal bracing (+36.8 %), and the rate of IAP rise during lifting task (+58.8 %), without corresponding changes in CG.
Conclusion
The current study indicates that a training style with maximal voluntary co-contraction of abdominal muscles can be an effective maneuver for increasing strength and power during movements involving trunk and hip extensions, without using external load.
Access options
Buy single article
Instant access to the full article PDF.
USD 39.95
Price excludes VAT (USA)
Tax calculation will be finalised during checkout.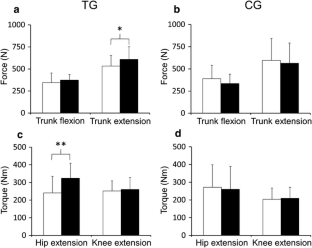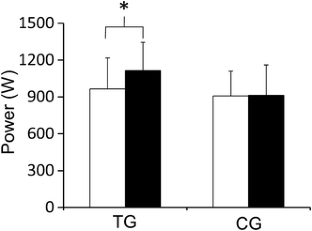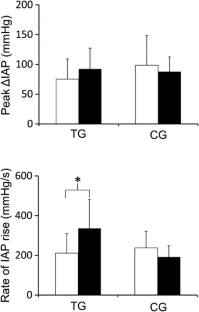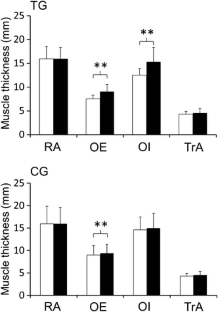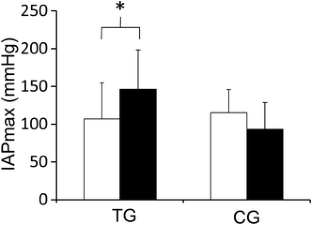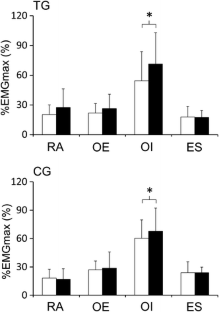 Abbreviations
AEMG:

An average value relative to integration time of integrated electromyogram during a task

CG:

Control group

CSA:

Cross-sectional area

EMG:

Electromyogram

ES:

Erector spinae

GM:

Gluteus maximus

IAP:

Intra-abdominal pressure

IAPmax:

Maximal IAP during abdominal bracing

OE:

Oblique external

OI:

Oblique internal

RA:

Rectus abdominis

RF:

Rectus femoris

TG:

Training group

TrA:

Transversus abdominis

VL:

Vastus lateralis
References
Aagaard P, Simonsen EB, Andersen JL, Magnusson P, Dyhre-Poulsen P (2002) Increased rate of force development and neural drive of human skeletal muscle following resistance training. J Appl Physiol 93:1318–1326

Behm DG, Drinkwater EJ, Willardson JM, Cowley PM (2010) Canadian Society for Exercise Physiology position stand: the use of instability to train the core in athletic and nonathletic conditioning. Appl Physiol Nutr Metab 35:109–112

Butcher SJ, Craven BR, Chilibeck PD, Spink KS, Grona SL, Sprigings EJ (2007) The effect of trunk stability training on vertical takeoff velocity. J Orthop Sports Phys Ther 37:223–231

Chappell JD, Creighton Giuliani C, Yu B, Garrett WE (2007) Kinematics and electromyography of landing preparation in vertical stop-jump: risks for noncontact anterior cruciate ligament injury. Am J Sports Med 35:235–241

Cresswell AG, Thorstensson A (1994) Changes in intra-abdominal pressure, trunk muscle activation and force during isokinetic lifting and lowering. Eur J Appl Physiol 68:315–321

Cresswell AG, Grundstrom H, Thorstensson A (1992) Observations on intra-abdominal pressure and patterns of abdominal intra-muscular activity in man. Acta Physiol Scand 144:409–418

Cresswell AG, Blake PL, Thorstensson A (1994) The effect of an abdominal muscle training program on intra-abdominal pressure. Scand J Rehabil Med 26:79–86

De Luca CJ, Gilmore LD, Kuznetsov M, Roy SH (2010) Filtering the surface EMG signal: movement artifact and baseline noise contamination. J Electromyogr Kinesiol 43:1573–1579

Essendrop M, Schibye B (2004) Intra-abdominal pressure and activation of abdominal muscles in highly trained participants during sudden heavy trunk loading. Spine 29:2445–2451

Essendrop M, Andersen TB, Schibye B (2002) Increase in spinal stability obtained at levels of intra-abdominal pressure and back muscle activity realistic to work situations. Appl Ergon 33:471–476

Faul F, Erdfelder E, Lan AG, Buchner A (2007) G*power 3: a flexible statistical power analysis program for the social, behavioral, and biomedical science. Behav Res Methods 39:175–191

Hobara H, Kimura K, Omuro K, Gomi K, Muraoka T, Iso S, Kanosue K (2008) Determinants of difference in leg stiffness between endurance- and power-trained athletes. J Biomech 41:506–514

Hodges PW, Richardson CA (1997) Feedforward contraction of transversus abdominis is not influenced by the direction of arm movement. Exp Brain Res 114:362–370

Hodges PW, Cresswell AG, Daggfeldt K, Thorstensson A (2001) In vivo measurement of the effect of intra-abdominal pressure on the human spine. J Biomech 34:347–353

Hof AL (2009) A simple method to remove ECG artifacts from trunk muscle EMG signals. J Electromyogr Kinesiol 19:554–555

Hoshikawa Y, Iida T, Muramatsu M, Ii N, Nakajima Y, Chumank K, Kanehisa H (2013) Effects of stabilization training on trunk muscularity and physical performances in youth soccer players. J Strength Cond Res 27:3142–3149

Iida Y, Kanehisa H, Inaba Y, Nakazawa K (2011) Activity modulations of trunk and lower limb muscles during impact-absorbing landing. J Electromyogr Kinesiol 21:602–609

Jamison ST, McNeilan RJ, Young GS, Givens DL, Best TM, Chaudhari AM (2012) Randomized controlled trial of the effects of a trunk stabilization program on trunk control and knee loading. Med Sci Sports Exerc 44:1924–1934

Kanehisa H, Miyatani M, Azuma K, Kuno S, Fukunaga T (2004) Influences of age and sex on abdominal muscle and subcutaneous fat thickness. Eur J Appl Physiol 91:534–537

Kawabata M, Shima N, Hamada H, Nakamura I, Nishizono H (2010) Changes in intra-abdominal pressure and spontaneous breath volume by magnitude of lifting effort: highly trained athletes versus healthy men. Eur J Appl Physiol 109:279–286

Kawabata M, Shima N, Nishizono H (2014) Regular change in spontaneous preparative behaviour on intra-abdominal pressure and breathing during dynamic lifting. Eur J Appl Physiol 114:2233–2239

Kibler WB, Press J, Sciascia A (2006) The role of core stability in athletic function. Sports Med 36:189–198

Kim K-J (2010) Effects of core muscle strengthening training on flexibility, muscular strength and driver shot performance in female professional golfers. Int J Appl Sports Sci 22:111–127

Koh HW, Cho SH, Kim CY (2014) Comparison of the effects of hollowing and bracing exercises on cross-sectional areas of abdominal muscles in middle-aged women. J Phys Ther Sci 26:295–299

Linek P, Saulicz E, Kuszewski M, Wolny T (2016) Ultrasound assessment of the abdominal muscles at rest and during the ASLR test among adolescents with scoliosis. Clin Spine Surg. doi:10.1097/BSD.0000000000000055

Maeo S, Takahashi T, Takai Y, Kanehisa H (2013) Trunk muscle activities during abdominal bracing: comparison among muscles and exercises. J Sports Sci Med 12:467–474

Malbrain ML (2004) Different techniques to measure intra-abdominal pressure (IAP): time for a critical re-appraisal. Intensive Care Med 30:357–371

Marshall PW, Desai I, Robbins DW (2011) Core stability exercises in individuals with and without chronic nonspecific low back pain. J Strength Cond Res 25:3404–3411

Mills JD, Taunton JE, Mills WA (2005) The effect of a 10-week training regimen on limbo-pelvic stability and athletic performance in female athletes: a radomized-controlled trial. Phys Ther Sport 6:60–66

Monfort-Panego M, Vera-Garcia FJ, Sanchez-Zuriaga D, Sarti-Martinez MA (2009) Electromyographic studies in abdominal exercises: a literature synthesis. J Manip Physiol Ther 32:232–244

Myer GD, Ford KR, Brent JL, Hewett TE (2006) The effects of plyometric vs. dynamic stabilization and balance training on power, balance, and landing force in female athletes. J Strength Cond Res 20:345–353

Prieske O, Muehlbauer T, Granacher U (2016a) The role of trunk muscle strength for physical fitness and athletic performance in trained individuals: a systematic review and meta-analysis. Sports Med 46:401–419

Prieske O, Muehlbauer T, Borde R, Gube M, Bruhn S, Behm DG, Granacher U (2016b) Neuromuscular and athletic performance following core strength training in elite youth soccer: role of instability. Scand J Med Sci Sports 26:48–56

Schilling JF, Murpfy JC, Bonney JR, Thich JL (2013) Effect of core strength and endurance training on performance in college students: randomized pilot study. J Bodyw Mov Ther 17:278–290

Sharma A, Geovinson SG, Singh Sandhu J (2012) Effects of a nine-week core strengthening exercise program on vertical jump performances and static balance in volleyball players with trunk instability. J Sports Med Phys Fit 52:606–615

Stanforth D, Stanforth PR, Hahn SR, Phyillips A (1998) A 10-week training study comparing Resistaball® and traditional trunk training. J Dance Med Sci 2:134–140

Tayashiki K, Takai Y, Maeo S, Kanehisa H (2016) Intra-abdominal pressure and trunk muscular activities during abdominal bracing and hollowing. Int J Sports Med 37:134–143

Tsao H, Hodges PW (2007) Immediate changes in feedforward postural adjustments following voluntary motor training. Exp Brain Res 181:537–546

Usui S, Maeo S, Tayashiki K, Nakatani M, Kanehisa H (2016) Low-load slow movement squat training increases muscles size and strength but not power. Int J Sports Med 37:305–312

Vera-Garcia FJ, Moreside JM, McGill SM (2010) MVC techniques to normalize trunk muscle EMG in healthy women. J Electromyogr Kinesiol 20:10–16

Willardson JM (2007) Core stability training: applications to sports conditioning programs. J Strength Cond Res 21:979–985
Acknowledgments
This research was supported by the JSPS KAKENHI Grant Number 26350748 [Grant-in-Aid for Scientific Research (C)].
Ethics declarations
Conflict of interest
The authors declare that they have no conflict of interest.
Additional information
Communicated by Benedicte Schepens.
About this article
Cite this article
Tayashiki, K., Maeo, S., Usui, S. et al. Effect of abdominal bracing training on strength and power of trunk and lower limb muscles. Eur J Appl Physiol 116, 1703–1713 (2016). https://doi.org/10.1007/s00421-016-3424-9
Received:

Accepted:

Published:

Issue Date:

DOI: https://doi.org/10.1007/s00421-016-3424-9
Keywords
Stabilization exercise

Abdominal co-contraction

Electromyogram

Abdominal muscle thickness

Intra-abdominal pressure