Abstract
Purpose
Cortisol (C) and testosterone (T) are impacted significantly by prolonged endurance exercise with inverse responses. Increases in C are witnessed concurrently with decrements in T, possibly impacting recovery. This study was conducted to assess the dynamics of C and free T (fT) concentration and recovery time following an exhaustive endurance exercise session (EES).
Methods
12 endurance-trained males (X ± SD: VO2max 66.3±4.8 ml/kg/min, age 22.8 ± 3.1 years, body fat 11.0 ± 1.4 %, training 7.1 ± 3.2 years) completed a treadmill EES at ventilatory threshold (74.7 ± 4.6 % of VO2max; 96.9 ± 10.8 min). Basal blood C and fT were collected at baseline: −48, −24 h, and immediately before (0 h) the EES as well as immediately (+0 h), +24 h, +48 h, and +72 h after the EES. Blood glucose (G) was measured to confirm no undue influence on C. Statistically data were analyzed with repeated measures ANOVA (LSD post hoc).
Results
C (nmol/L) increased significantly from −48 h (321 ± 59) to +0 h (701 ± 178) (p < 0.001), and displayed a baseline overshoot with +24 h (209 ± 67) being significantly lower than −48 and +0 h (p < 0.03). fT (pmol/L) decreased significantly from −48 h (161 ± 40) to +0 h (106 ± 38) (p < 0.01) and remained lower at +24 h (110 ± 33) and +48 h (129 ± 30) (p < 0.001). G remained stable throughout. A moderately negative correlation (r = −0.636, p < 0.026) was found between C and fT at +0 h.
Conclusions
EES recovery may require 48 h for C and 72 h for fT to return to baseline values. Furthermore, C and fT were only correlated immediately post-exercise. Future research should perform more frequent measurements throughout time course.
This is a preview of subscription content, log in to check access.
Access options
Buy single article
Instant access to the full article PDF.
US$ 39.95
Price includes VAT for USA
Subscribe to journal
Immediate online access to all issues from 2019. Subscription will auto renew annually.
US$ 199
This is the net price. Taxes to be calculated in checkout.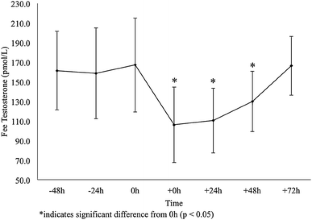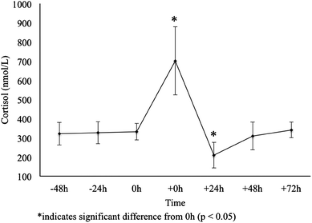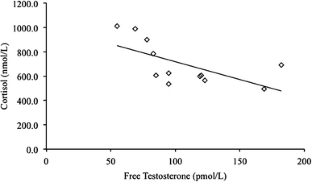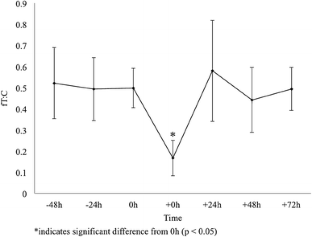 Abbreviations
C:

Cortisol

fT:

Free testosterone

GnRH:

Gonadotropin releasing hormone

Hb:

Hemoglobin

Hct:

Hematocrit

HPA axis:

Hypothalamic–pituitary–adrenal axis

LH:

Luteinizing hormone

REPANOVA:

Repeated analysis of variance

RPE:

Rate of perceived exertion

VO2max :

Maximal volume of oxygen uptake

VT:

Ventilatory threshold
References
ACSM (2013) ACSM's guidelines for exercise testing and prescription, Lippincott Williams & Wilkins

Bambino TH, Hsueh AJ (1981) Direct inhibitory effect of glucocorticoids upon testicular luteinizing hormone receptor and steroidogenesis in vivo and in vitro. Endocrinology 108(6):2142–2148

Banfi G, Dolci A (2006) Free testosterone/cortisol ratio in soccer: usefulness of a categorization of values. J Sports Med Phys Fitness 46(4):611–616

Brownlee KK, Moore AW, Hackney AC (2005) Relationship between circulating cortisol and testosterone: influence of physical exercise. J Sport Sci Med 4(1):76

Cumming D, Quigley M, Yen S (1983) Acute suppression of circulating testosterone levels by cortisol in men. J Clin Endocr Metab 57(3):671–673

Cunniffe B, Hore AJ, Whitcombe DM, Jones KP, Baker JS, Davies B (2010) Time course of changes in immuneoendocrine markers following an international rugby game. Eur J Appl Physiol 108(1):113–122

Daly W, Seegers C, Timmerman S, Hackney A (2004) Peak cortisol response to exhausting exercise: effect of blood sampling schedule. Med Sport 8(1):17–20

Daly W, Seegers CA, Rubin DA, Dobridge JD, Hackney AC (2005) Relationship between stress hormones and testosterone with prolonged endurance exercise. Eur J Appl Physiol 93(4):375–380

Dill D, Costill DL (1974) Calculation of percentage changes in volumes of blood, plasma, and red cells in dehydration. J Appl Physiol 37(2):247–248

Doerr P, Pirke KM (1976) Cortisol-induced suppression of plasma testosterone in normal adult males. J Clin Endocr Metab 43(3):622–629

Duclos M, Corcuff JB, Rashedi M, Fougere V, Manier G (1997) Trained versus untrained men: different immediate post-exercise responses of pituitary adrenal axis. A preliminary study. Eur J Appl Physiol Occup Physiol 75(4):343–350

Elloumi M, Maso F, Michaux O, Robert A, Lac G (2003) Behaviour of saliva cortisol [C], testosterone [T] and the T/C ratio during a rugby match and during the post-competition recovery days. Eur J Appl Physiol 90(1–2):23–28

Few JD (1974) Effect of exercise on the secretion and metabolism of cortisol in man. J Endocrinol 62(2):341–353

Hackney A, Dobridge J (2003) Exercise and male hypogonadism: testosterone, the hypothalamic-pituitary-testicular axis, and physical exercise. In: Winters S (ed) Male hypogonadism: basic, clinical, and therapeutic principles. Humana Press, Totowa, pp 305–330

Hellman L, Nakada F, Curti J, Weitzman ED, Kream J, Roffwarg H, Ellman S, Fukushima DK, Gallagher TF (1970) Cortisol is secreted episodically by normal man. J Clin Endocrinol Metab 30(4):411–422

Hough JP, Papacosta E, Wraith E, Gleeson M (2011) Plasma and salivary steroid hormone responses of men to high-intensity cycling and resistance exercise. J Strength Cond Res 25(1):23–31

Ispirlidis I, Fatouros IG, Jamurtas AZ, Nikolaidis MG, Michailidis I, Douroudos I, Margonis K, Chatzinikolaou A, Kalistratos E, Katrabasas I, Alexiou V, Taxildaris K (2008) Time-course of changes in inflammatory and performance responses following a soccer game. Clin J Sport Med 18(5):423–431

Kraemer WJ, Spiering BA, Volek JS, Martin GJ, Howard RL, Ratamess NA, Hatfield DL, Vingren JL, Ho JY, Fragala MS, Thomas GA, French DN, Anderson JM, Hakkinen K, Maresh CM (2009) Recovery from a national collegiate athletic association division I football game: muscle damage and hormonal status. J Strength Cond Res 23(1):2–10

Kuhn J, Gay D, Lemercier J, Pugeat M, Legrand A, Wolf L (1986) Testicular function during prolonged corticotherapy. Presse Med (Paris, France: 1983) 15(12):559–562

Kuoppasalmi K, Naveri H, Harkonen M, Adlercreutz H (1980) Plasma cortisol, androstenedione, testosterone and luteinizing hormone in running exercise of different intensities. Scand J Clin Lab Invest 40(5):403–409

Lac G, Berthon P (2000) Changes in cortisol and testosterone levels and T/C ratio during an endurance competition and recovery. J Sports Med Phys Fitness 40(2):139–144

Lane AR, Duke JW, Hackney AC (2010) Influence of dietary carbohydrate intake on the free testosterone: cortisol ratio responses to short-term intensive exercise training. Eur J Appl Physiol 108(6):1125–1131

Moore A, Timmerman S, Brownlee K, Rubin D, Hackney A (2005) Strenuous, fatiguing exercise: relationship of cortisol to circulating thyroid hormones. Int J Endocrinol Metab 3(1, Winter):18–24

Passelergue P, Lac G (1999) Saliva cortisol, testosterone and T/C ratio variations during a wrestling competition and during the post-competitive recovery period. Int J Sports Med 20(2):109–113

Thorpe R, Sunderland C (2012) Muscle damage, endocrine, and immune marker response to a soccer match. J Strength Cond Res 26(10):2783–2790

Tietz NW (1995) Clinical guide to laboratory tests. WB Saunders Co, Philedelphia

Tremblay MS, Copeland JL, Van Helder W (2005) Influence of exercise duration on post-exercise steroid hormone responses in trained males. Eur J Appl Physiol 94(5–6):505–513

Urhausen A, Kindermann W (1987) Behaviour of testosterone, sex hormone binding globulin (SHBG), and cortisol before and after a triathlon competition. Int J Sports Med 8(5):305–308

Urhausen A, Gabriel H, Kindermann W (1995) Blood hormones as markers of training stress and overtraining. Sports Med 20(4):251–276

Viru AA, Viru M (2001) Biochemical monitoring of sport training: Human Kinetics

Wasserman K (1984) The anaerobic threshold measurement in exercise testing. Clin Chest Med 5(1):77–88

Yeh M, Gardner R, Adams T, Yanowitz F, Crapo R (1983) " Anaerobic threshold": problems of determination and validation. J Appl Physiol 55(4):1178–1186

Zitzmann M, Nieschlag E (2001) Testosterone levels in healthy men and the relation to behavioural and physical characteristics: facts and constructs. Eur J Endocrinol 144(3):183–197
Acknowledgments
The authors wish to thank the subjects for their time and efforts in this project. Additionally, the authors are grateful to Dr. Atko Viru, Tartu University, Estonia, for his valuable insight into the interpretation of the data.
Ethics declarations
Conflict of interest
The authors declare no conflicts of interest.
Ethical approval
All procedures performed in studies involving human participants were in accordance with the ethical standards of the institutional and/or national research committee and with the 1964 Helsinki declaration and is later amendments or comparable ethics standards.
Additional information
Communicated by Fabio Fischetti.
About this article
Cite this article
Anderson, T., Lane, A.R. & Hackney, A.C. Cortisol and testosterone dynamics following exhaustive endurance exercise. Eur J Appl Physiol 116, 1503–1509 (2016). https://doi.org/10.1007/s00421-016-3406-y
Received:

Accepted:

Published:

Issue Date:
Keywords
Stress

Endocrine

Recovery

Overtraining