Abstract
Purpose
The primary purpose of this investigation was to determine the effects of participation in a 3-day multistage ultraendurance triathlon (stage 1 = 10 km swim, 144.8 km bike; stage 2 = 275.4 km bike; stage 3 = 84.4 km run) on body mass and composition, hydration status, hormones, muscle damage, and blood glucose.
Methods
Eighteen triathletes (mean ± SD; age 41 ± 7.5 years; height 175 ± 9 cm; weight 73.5 ± 9.8 kg; male n = 14, female n = 4) were assessed before and after each stage of the race. Body mass and composition were measured via bioelectrical impedance, hydration status via urine specific gravity, hormones and muscle damage via venous blood draw, and blood glucose via fingerstick.
Results
Following the race, significant changes included reductions in body mass (qualified effect size: trivial), fat mass (moderate), and percent body fat (small); increases in percent total body water (moderate) and urine specific gravity (large); and unchanged absolute total body water and fat-free mass. There were also extremely large increases in creatine kinase, C-reactive protein, aldosterone and cortisol combined with reductions in testosterone (small) and the testosterone:cortisol ratio (moderate). There were associations between post-race aldosterone and total body water (r = −0.504) and changes in cortisol and fat-free mass (r = −0.536). Finally, blood glucose increased in a stepwise manner prior to each stage.
Conclusions
Participation in Ultraman Florida leads to fluid retention and dramatic alterations in body composition, muscle health, hormones, and metabolism.
Access options
Buy single article
Instant access to the full article PDF.
USD 39.95
Price includes VAT (USA)
Tax calculation will be finalised during checkout.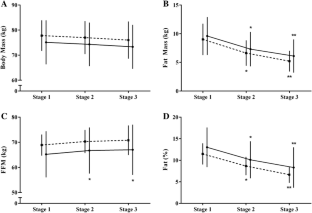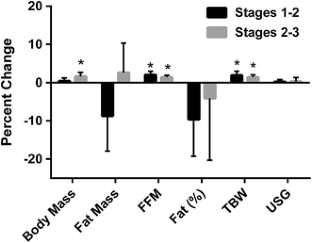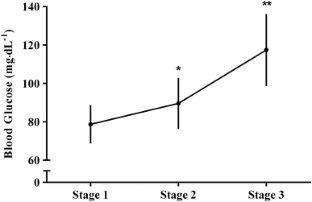 Abbreviations
BIA:

Bioelectrical impedance

CK:

Creatine kinase

CRP:

C-reactive protein

ES:

Effect size

FFA:

Free fatty acid

FFM:

Fat-free mass

TBW:

Total body water

TC:

Testosterone to cortisol ratio

USG:

Urine specific gravity
References
Achten J, Gleeson M, Jeukendrup AE (2002) Determination of the exercise intensity that elicits maximal fat oxidation. Med Sci Sport Exerc 34:92–97

Aristizábal JC, Restrepo MT, Estrada A (2007) Body composition assessment by anthropometry and bioelectrical impedance. Biomedica 27:216–224

Asp S, Daugaard JR, Richter EA (1995) Eccentric exercise decreases glucose transporter GLUT4 protein in human skeletal muscle. J Physiol 482(Pt 3):705–712

Barrero A, Erola P, Bescos R (2015) Energy balance of triathletes during an ultra-endurance event. Nutrients 7:209–222

Bracher A, Knechtle B, Gnädinger M et al (2012) Fluid intake and changes in limb volumes in male ultra-marathoners: does fluid overload lead to peripheral oedema? Eur J Appl Physiol 112:991–1003

Burke LM, Collier GR, Davis PG et al (1996) Muscle glycogen storage after prolonged exercise: effect of the frequency of carbohydrate feedings. Am J Clin Nutr 64:115–119

Cejka C, Knechtle B, Knechtle P et al (2012) An increased fluid intake leads to feet swelling in 100-km ultra-marathoners—an observational field study. J Int Soc Sport Nutr 9:11

Chlíbková D, Knechtle B, Rosemann T et al (2014) Changes in foot volume, body composition, and hydration status in male and female 24-hour ultra-mountain bikers. J Int Soc Sport Nutr 11:12

Chow LS, Seaquist ER, Eberly LE et al (2012) Acute free fatty acid elevation eliminates endurance training effect on insulin sensitivity. J Clin Endocrinol Metab 97:2890–2897

Clarkson PM, Kearns AK, Rouzier P et al (2006) Serum creatine kinase levels and renal function measures in exertional muscle damage. Med Sci Sport Exerc 38:623–627

Fellmann N (1992) Hormonal and plasma volume alterations following endurance exercise. A brief review. Sport Med 13:37–49

Fitts RH, Romatowski JG, Peters JR et al (2007) The deleterious effects of bed rest on human skeletal muscle fibers are exacerbated by hypercortisolemia and ameliorated by dietary supplementation. Am J Cell Physiol 293:C313–C320

Gastmann U, Dimeo F, Huonker M et al (1998) Ultra-triathlon-related blood-chemical and endocrinological responses in nine athletes. J Sport Med Phys Fit 38:18–23

Geyssant A, Geelen G, Denis C et al (1981) Plasma vasopressin, renin activity, and aldosterone: effect of exercise and training. Eur J Appl Physiol Occup Physiol 46:21–30

Helge JW, Lundby C, Christensen DL et al (2003) Skiing across the Greenland icecap: divergent effects on limb muscle adaptations and substrate oxidation. J Exp Biol 206:1075–1083

Holmäng A, Björntorp P (1992) The effects of cortisol on insulin sensitivity in muscle. Acta Physiol Scand 144:425–431

Hopkins WG, Marshall SW, Batterham AM, Hanin J (2009) Progressive statistics for studies in sports medicine and exercise science. Med Sci Sport Exerc 41:3–13

Inoue Y, Ichinose-Kuwahara T, Funaki C et al (2014) Sex differences in acetylcholine-induced sweating responses due to physical training. J Physiol Anthropol 33:13

Kavouras SA (2002) Assessing hydration status. Curr Opin Clin Nutr Metab Care 5:519–524

Kimber NE, Ross JJ, Mason SL, Speedy DB (2002) Energy balance during an ironman triathlon in male and female triathletes. Int J Sport Nutr Exerc Metab 12:47–62

Kirwan JP, Hickner RC, Yarasheski KE et al (1992) Eccentric exercise induces transient insulin resistance in healthy individuals. J Appl Physiol 72:2197–2202

Knechtle B, Kohler G (2007) Running 338 kilometres within five days has no effect on body mass and body fat but reduces skeletal muscle mass—the Isarrun 2006. J Sport Sci Med 6:401–407

Knechtle B, Duff B, Amtmamm G, Kohler G (2008a) An ultratriathlon leads to a decrease of body fat and skeletal muscle mass—the triple iron triathlon Austria 2006. Res Sport Med 16:97–110

Knechtle B, Salas Fraire O, Andonie JL, Kohler G (2008b) Effect of a multistage ultra-endurance triathlon on body composition: World Challenge Deca Iron Triathlon 2006. Br J Sports Med 42:121–125

Knechtle B, Schwanke M, Knechtle P, Kohler G (2008c) Decrease in body fat during an ultra-endurance triathlon is associated with race intensity. Br J Sport Med 42:609–613

Knechtle B, Knechtle P, Andonie JL, Kohler G (2009a) Body composition, energy, and fluid turnover in a five-day multistage ultratriathlon: a case study. Res Sport Med 17:104–120

Knechtle B, Wirth A, Knechtle P, Rosemann T (2009b) Increase of total body water with decrease of body mass while running 100 km nonstop–formation of edema? Res Q Exerc Sport 80:593–603

Knechtle B, Baumann B, Wirth A et al (2010a) Male ironman triathletes lose skeletal muscle mass. Asia Pac J Clin Nutr 19:91–97

Knechtle B, Knechtle P, Rosemann T, Oliver S (2010b) A Triple Iron triathlon leads to a decrease in total body mass but not to dehydration. Res Q Exerc Sport 81:319–327

Knechtle B, Knechtle P, Lepers R (2011a) Participation and performance trends in ultra-triathlons from 1985 to 2009. Scand J Med Sci Sport 21:e82–e90

Knechtle B, Wirth A, Knechtle P et al (2011b) A comparison of fat mass and skeletal muscle mass estimation in male ultra-endurance athletes using bioelectrical impedance analysis and different anthropometric methods. Nutr Hosp 26:1420–1427

Knechtle B, Morales NPH, Gonzalez ER et al (2012) Effect of a multistage ultraendurance triathlon on aldosterone, vasopressin, extracellular water and urine electrolytes. Scot Med J 57:26–32

Knechtle B, Rüst CA, Rosemann T, Martin N (2014) 33 Ironman triathlons in 33 days—a case study. Springerplus 3:1–9

Loenneke JP, Barnes JT, Wilson JM et al (2013) Reliability of field methods for estimating body fat. Clin Physiol Func Imag 33:405–408

Macfarlane DJ (2007) Can bioelectric impedance monitors be used to accurately estimate body fat in Chinese adults? Asia Pac J Clin Nutr 16:66–73

MacSearraigh ET, Kallmeyer JC, Schiff HB (1979) Acute renal failure in marathon runners. Nephron 24:236–240

Mayer M, Rosen F (1977) Interaction of glucocorticoids and androgens with skeletal muscle. Metabolism 26:937–962

Montain SJ, Laird JE, Latzka WA, Sawka MN (1997) Aldosterone and vasopressin responses in the heat: hydration level and exercise intensity effects. Med Sci Sport Exerc 29:661–668

Mueller SM, Anliker E, Knechtle P et al (2013) Changes in body composition in triathletes during an Ironman race. Eur J Appl Physiol 113:2343–2352

Neviackas JA, Bauer JH (1981) Renal function abnormalities induced by marathon running. South Med J 74:1457–1460

O'Brien C, Young AJ, Sawka MN (2002) Bioelectrical impedance to estimate changes in hydration status. Int J Sport Med 23:361–366

Perneger TV (1998) What's wrong with Bonferroni adjustments. BMJ 316:1236–1238

Piers LS, Soares MJ, Frandsen SL, O'Dea K (2000) Indirect estimates of body composition are useful for groups but unreliable in individuals. Int J Obes Relat Metab Disord 24:1145–1152

Pokan R, Ocenasek H, Hochgatterer R et al (2014) Myocardial dimensions and hemodynamics during 24-h ultraendurance ergometry. Med Sci Sport Exerc 46:268–275

Raschka C, Plath M (1992) Body fat compartment and its relationship to food intake and clinical chemical parameters during extreme endurance performance. Schweiz Z Sport 40:13–25

Rothman KJ (1990) No adjustments are needed for multiple comparisons. Epidemiology 1:43–46

Waśkiewicz Z, Kápcińska B, Sadowska-Krȩpa E et al (2012) Acute metabolic responses to a 24-h ultra-marathon race in male amateur runners. Eur J Appl Physiol 112:1679–1688

Weitkunat T, Knechtle B, Knechtle P et al (2012) Body composition and hydration status changes in male and female open-water swimmers during an ultra-endurance event. J Sports Sci 30:1003–1013

Zehnder M, Ith M, Kreis R et al (2005) Gender-specific usage of intramyocellular lipids and glycogen during exercise. Med Sci Sport Exerc 37:1517–1524

Zimmet PZ, Wall JR, Rome R et al (1974) Diurnal variation in glucose tolerance: associated changes in plasma insulin, growth hormone, and non-esterified. Br Med J 1:485–488
Acknowledgments
We would like to thank all of the athletes that participated in the study and the race directors for permitting us to collect data. Additionally, we thank Fernanda De Carvalho Silva Vargas and Brittany Allman for assistance with the analysis of blood samples. Finally, thanks to Chuck Kemeny for introducing us to the race and facilitating data collection. This study was funded by the Institute of Sports Sciences and Medicine at Florida State University.
Ethics declarations
Conflict of interest
The authors declare no conflicts of interest.
Additional information
This work was supported by the Florida State University Institute of Sports Sciences and Medicine.
Communicated by Michael Lindinger.
About this article
Cite this article
Baur, D.A., Bach, C.W., Hyder, W.J. et al. Fluid retention, muscle damage, and altered body composition at the Ultraman triathlon. Eur J Appl Physiol 116, 447–458 (2016). https://doi.org/10.1007/s00421-015-3291-9
Received:

Accepted:

Published:

Issue Date:
Keywords
Ultraendurance

Triathlon

Creatine kinase

Insulin resistance

Fat mass

Aldosterone

Urine specific gravity

Hydration

Inflammation