Abstract
Purpose
The cross-stressor adaptation hypothesis suggests that regular exercise leads to adaptations in the stress response systems that induce decreased physiological responses to psychological stressors. Even though an exercise intervention to buffer the detrimental effects of psychological stressors on health might be of utmost importance, empirical evidence is mixed. This may be explained by the use of cross-sectional designs and non-personally relevant stressors. Using a randomized controlled trial, we hypothesized that a 20-week aerobic exercise training does reduce physiological stress responses to psychological real-life stressors in sedentary students.
Methods
Sixty-one students were randomized to either a control group or an exercise training group. The academic examination period (end of the semester) served as a real-life stressor. We used ambulatory assessment methods to assess physiological stress reactivity of the autonomic nervous system (heart rate variability: LF/HF, RMSSD), physical activity and perceived stress during 2 days of everyday life and multilevel models for data analyses. Aerobic capacity (VO2max) was assessed pre- and post-intervention via cardiopulmonary exercise testing to analyze the effectiveness of the intervention.
Results
During real-life stressors, the exercise training group showed significantly reduced LF/HF (β = −0.15, t = −2.59, p = .01) and increased RMSSD (β = 0.15, t = 2.34, p = .02) compared to the control group.
Conclusions
Using a randomized controlled trial and a real-life stressor, we could show that exercise appears to be a useful preventive strategy to buffer the effects of stress on the autonomic nervous system, which might result into detrimental health outcomes.
Access options
Buy single article
Instant access to the full article PDF.
US$ 39.95
Tax calculation will be finalised during checkout.
Subscribe to journal
Immediate online access to all issues from 2019. Subscription will auto renew annually.
US$ 119
Tax calculation will be finalised during checkout.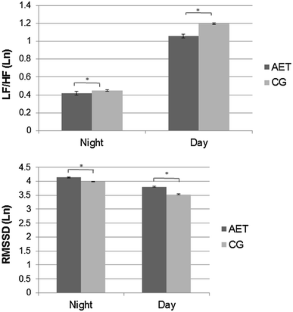 Abbreviations
RMSSD:

Root mean square of successive differences

LF:

Low frequency

HF:

High frequency

AET:

Aerobic exercise training

CET:

Cardiopulmonary exercise testing

CG:

Control group

RER:

Respiratory exchange ratio

HRV:

Heart rate variability

HR:

Heart rate

ANCOVA:

Analysis of covariance

VO2max:

Maximum oxygen consumption
References
Åkerstedt T, Kecklund G, Axelsson J (2007) Impaired sleep after bedtime stress and worries. Biol Psychol 76:170–173. doi:10.1016/j.biopsycho.2007.07.010

Albright C, King A, Barr Taylor C, Haskell W (1992) Effect of a six-month aerobic exercise training program on cardiovascular responsivity in healthy middle-aged adults. J Psychosom Res 36:25–36. doi:10.1016/0022-3999(92)90111-E

Anastasopoulou P, Tansella M, Stumpp J et al (2012) Classification of human physical activity and energy expenditure estimation by accelerometry and barometry. Proceedings of the annual international conference of the IEEE engineering in medicine and biology society, EMBS, pp 6451–6454

Anastasopoulou P, Tubic M, Schmidt S et al (2014) Validation and comparison of two methods to assess human energy expenditure during free-living activities. PLoS One 9:1–7. doi:10.1371/journal.pone.0090606

Aubert AE, Seps B, Beckers F (2003) Heart rate variability in athletes. Sport Med 33:889–919. doi:10.2165/00007256-200333120-00003

Brooke S, Long B (1987) Efficiency of coping with a real-life stressor: a multimodal comparison of aerobic fitness. Psychophysiology. doi:10.1111/j.1469-8986.1987.tb00275.x

Cacioppo J, Berntson G, Binkley P et al (1994) Autonomic cardiac control. II. Noninvasive indices and basal response as revealed by autonomic blockades. Psychophysiology 31:586–598. doi:10.1111/j.1469-8986.1994.tb02351.x

Calvo MG, Szabo A, Capafons J (1996) Anxiety and heart rate under psychological stress: the effects of exercise-training. Anxiety Stress Coping 9:321–337. doi:10.1080/10615809608249409

Childs E, de Wit H (2014) Regular exercise is associated with emotional resilience to acute stress in healthy adults. Front Physiol 5:161. doi:10.3389/fphys.2014.00161

Clays E, De Bacquer D, Crasset V et al (2011) The perception of work stressors is related to reduced parasympathetic activity. Int Arch Occup Environ Health 84:185–191. doi:10.1007/s00420-010-0537-z

Clifford GD, McSharry PE, Tarassenko L (2002) Characterizing artefact in the normal human 24-hour RR time series to aid identification and artificial replication of circadian variations in human beat to beat heart rate using a simple threshold. Comput Cardiol 2002:129–132. doi:10.1109/CIC.2002.1166724

Cohen J (1988) Statistical power analysis for the behavioral sciences, 2nd edn. Erlbaum, Hillsdale

Cole RJ, Kripke DF, Gruen W et al (1992) Automatic sleep/wake identification from wrist activity. Sleep 15:461–469

Crews DJ, Landers DM (1987) A meta-analytic review of aerobic fitness and reactivity to psychosocial stressors. Med Sci Sports Exerc 19:S114–S120. doi:10.1249/00005768-198710001-00004

de Geus E, Stubbe J (2007) Aerobic exercise and stress reduction. In: Fink G (ed) Encyclopedia of Stress. Academic Press, New York, pp 73–78

de Geus E, van Doornen L, Orlebeke J (1993) Regular exercise and aerobic fitness in relation to psychological make-up and physiological stress reactivity. Psychosom Med 55:347–363

Dimitriev D, Dimitriev A, Karpenko Y, Saperova E (2008) Influence of examination stress and psychoemotional characteristics on the blood pressure and heart rate regulation in female students. Hum Physiol 34:617–624

Eckberg DL (1997) Sympathovagal balance: a critical appraisal. Circulation 96:3224–3232. doi:10.1161/01.CIR.96.9.3224

Eleuteri A, Fisher A, Groves D, Dewhurst C (2012) An efficient time-varying filter for detrending and bandwidth limiting the heart rate variability tachogram without resampling: MATLAB open-source code and internet web-based implementation. Comput Math Methods Med 2012:1–6. doi:10.1155/2012/578785

Task Force (1996) Heart rate variability: standards of measurement, physiological interpretation and clinical use. Task Force of the European Society of Cardiology and the North American Society of Pacing and Electrophysiology. Circulation 93:1043–1065. doi:10.1161/01.cir.93.5.1043

Forcier K, Stroud LR, Papandonatos GD et al (2006) Links between physical fitness and cardiovascular reactivity and recovery to psychological stressors: a meta-analysis. Heal Psychol 25:723–739. doi:10.1037/0278-6133.25.6.723

Gauvin L, Rejeski WJ, Norris JL (1996) A naturalistic study of the impact of acute physical activity on feeling states and affect in women. Heal Psychol 15:391–397

Gerber M, Pühse U (2009) Do exercise and fitness protect against stress-induced health complaints? A review of the literature. Scand J Public Health 37:801–819. doi:10.1177/1403494809350522

Goedhart AD, Van Der Sluis S, Houtveen JH et al (2007) Comparison of time and frequency domain measures of RSA in ambulatory recordings. Psychophysiology 44:203–215. doi:10.1111/j.1469-8986.2006.00490.x

Hamer M, Taylor A, Steptoe A (2006) The effect of acute aerobic exercise on stress related blood pressure responses: a systematic review and meta-analysis. Biol Psychol 71:183–190. doi:10.1016/j.biopsycho.2005.04.004

Hamilton P (2002) Open source ECG analysis. Comput Cardiol 29:101–104. doi:10.1109/CIC.2002.1166717

Hautala AJ, Kiviniemi AM, Tulppo MP (2009) Individual responses to aerobic exercise: the role of the autonomic nervous system. Neurosci Biobehav Rev 33:107–115. doi:10.1016/j.neubiorev.2008.04.009

Hazlett RL, Falkin S, Lawhorn W et al (1997) Cardiovascular reactivity to a naturally occurring stressor: development and psychometric evaluation of a psychophysiological assessment procedure. J Behav Med 20:551–570. doi:10.1023/A:1025566408046

Hoffman L, Rovine MJ (2007) Multilevel models for the experimental psychologist: foundations and illustrative examples. Behav Res Methods 39:101–117. doi:10.3758/BF03192848

Hughes JW, Stoney CM (2000) Depressed mood is related to high-frequency heart rate variability during stressors. Psychosom Med 62:796–803. doi:10.1097/00006842-200011000-00009

Jackowska M, Dockray S, Endrighi R et al (2012) Sleep problems and heart rate variability over the working day. J Sleep Res 21:434–440. doi:10.1111/j.1365-2869.2012.00996.x

Jackson EM, Dishman RK (2006) Cardiorespiratory fitness and laboratory stress: a meta-regression analysis. Psychophysiology 43:57–72. doi:10.1111/j.1469-8986.2006.00373.x

Jarczok MN, Jarczok M, Mauss D et al (2013) Autonomic nervous system activity and workplace stressors—a systematic review. Neurosci Biobehav Rev 37:1810–1823. doi:10.1016/j.neubiorev.2013.07.004

Jekauc D, Wagner MO, Kahlert D, Woll A (2013) Reliability and validity of MoMo-physical-activity-questionnaire for adolescents (MoMo-AFB). Diagnostica 59:100–111. doi:10.1026/0012-1924/a000083

Klaperski S, von Dawans B, Heinrichs M, Fuchs R (2013) Does the level of physical exercise affect physiological and psychological responses to psychosocial stress in women? Psychol Sport Exerc 14:266–274. doi:10.1016/j.psychsport.2012.11.003

Klaperski S, von Dawans B, Heinrichs M, Fuchs R (2014) Effects of a 12-week endurance training program on the physiological response to psychosocial stress in men: a randomized controlled trial. J Behav Med 37:1118–1133. doi:10.1007/s10865-014-9562-9

Lin YH, Chen CY, Lin SH et al (2013) Gender differences in cardiac autonomic modulation during medical internship. Psychophysiology 50:521–527. doi:10.1111/psyp.12038

Lindgren M, Alex C, Shapiro P et al (2013) Effects of aerobic conditioning on cardiovascular sympathetic response to and recovery from challenge. Psychophysiology 50:963–973. doi:10.1111/psyp.12078

Loft P, Thomas MG, Petrie KJ et al (2007) Examination stress results in altered cardiovascular responses to acute challenge and lower cortisol. Psychoneuroendocrinology 32:367–375. doi:10.1016/j.psyneuen.2007.02.004

Lovallo W (2011) Do low levels of stress reactivity signal poor states of health? Biol Psychol 86:121–128. doi:10.1016/j.biopsycho.2010.01.006

Lucini D, Norbiato G, Clerici M, Pagani M (2002) Hemodynamic and autonomic adjustments to real life stress conditions in humans. Hypertension 39:184–188. doi:10.1161/hy0102.100784

Lucini D, Di Fede G, Parati G, Pagani M (2005) Impact of chronic psychosocial stress on autonomic cardiovascular regulation in otherwise healthy subjects. Hypertension 46:1201–1206. doi:10.1161/01.HYP.0000185147.32385.4b

Malliani A, Pagani M, Montano N, Mela GS (1998) Sympathovagal balance: a reappraisal. Circulation 98:2640–2643. doi:10.1161/01.CIR.98.23.2640.a

Meyer T, Kindermann W (1999) Die maximale Sauerstoffaufnahme. Dtsch Z Sportmed 50:285–286

Nummela A, Hynynen E, Kaikkonen P, Rusko H (2010) Endurance performance and nocturnal HRV indices. Int J Sports Med 31:154–159. doi:10.1055/s-0029-1243221

Pichot V, Bourin E, Roche F et al (2002) Quantification of cumulated physical fatigue at the workplace. Pflug Arch Eur J Physiol 445:267–272. doi:10.1007/s00424-002-0917-7

Rimmele U, Zellweger BC, Marti B et al (2007) Trained men show lower cortisol, heart rate and psychological responses to psychosocial stress compared with untrained men. Psychoneuroendocrinology 32:627–635. doi:10.1016/j.psyneuen.2007.04.005

Rimmele U, Seiler R, Marti B et al (2009) The level of physical activity affects adrenal and cardiovascular reactivity to psychosocial stress. Psychoneuroendocrinology 34:190–198. doi:10.1016/j.psyneuen.2008.08.023

Ritvanen T, Louhevaara V, Helin P et al (2007) Effect of aerobic fitness on the physiological stress responses at work. Int J Occup Med Environ Health 20:1–8. doi:10.2478/v10001-007-0005-5

Roecker K (2007) Sportmedizin für Ärzte. Lehrbuch auf der Grundlage des Weiterbildungssystems der Deutschen Gesellschaft für Sportmedizin und Prävention (DGSP). In: Dickhut HH, Mayer F, Röcker K, Berg A (eds) Deutscher Ärzteverlag, Köln, pp 70–72

Saito K, Hiya A, Uemura Y, Furuta M (2008) Clinical training stress and autonomic nervous function in female medical technology students: analysis of heart rate variability and 1/f fluctuation. J Med Investig 55:227–230. doi:10.2152/jmi.55.227

Sakakibara M, Kanematsu T, Yasuma F, Hayano J (2008) Impact of real-world stress on cardiorespiratory resting function during sleep in daily life. Psychophysiology 45:667–670. doi:10.1111/j.1469-8986.2008.00665.x

Sausen KP, Lovallo WR, Pincomb GA, Wilson MF (1992) Cardiovascular responses to occupational stress in male medical students: a paradigm for ambulatory monitoring studies. Heal Psychol 11:55–60. doi:10.1037/0278-6133.11.1.55

Schwartz A (2003) Toward a causal model of cardiovascular responses to stress and the development of cardiovascular disease. Psychosom Med 65:22–35. doi:10.1097/01.PSY.0000046075.79922.61

Sloan R, Shapiro P, DeMeersman R et al (2011) Impact of aerobic training on cardiovascular reactivity to and recovery from challenge. Psychosom Med 73:134–141. doi:10.1097/PSY.0b013e31820a1174

Sothmann M (2006) The cross-stressor adaptation hypothesis and exercise training. In: Acevedo EO, Ekkekakis P (eds) The psychobiology of physical activity. Human Kinetics, Champaign, pp 149–160

Sothmann M, Hart BA, Horn TS (1991) Plasma catecholamine response to acute psychological stress in humans: relation to aerobic fitness and exercise training. Med Sci Sports Exerc 23:860–867

Sothmann M, Buckworth J, Claytor R et al (1996) Exercise training and the cross-stressor adaptation hypothesis. Exerc Sport Sci Rev 24:267–287

Spalding TW, Jeffers LS, Porges SW, Hatfield BD (2000) Vagal and cardiac reactivity to psychological stressors in trained and untrained men. Med Sci Sports Exerc 32:581–591

Spalding TW, Lyon LA, Steel DH, Hatfield BD (2004) Aerobic exercise training and cardiovascular reactivity to psychological stress in sedentary young normotensive men and women. Psychophysiology 41:552–562. doi:10.1111/j.1469-8986.2004.00184.x

Spangler G (1997) Psychological and physiological responses during an exam and their relation to personality characteristics. Psychoneuroendocrinology 22:423–441

Stein PK, Boutcher SH (1992) The effect of participation in an exercise training program on cardiovascular reactivity in sedentary middle-aged males. Int J Psychophysiol 13:215–223. doi:10.1016/0167-8760(92)90071-I

Tharion E, Parthasarathy S, Neelakantan N (2009) Short-term heart rate variability measures in students during examinations. Natl Med J India 22:63–66

Trull T, Ebner-Priemer UW (2013) Ambulatory assessment. Annu Rev Clin Psychol 9:151–176. doi:10.1146/annurev-clinpsy-050212-185510

Van Someren EJW, Lazeron RHC, Vonk BFM et al (1996) Gravitational artefact in frequency spectra of movement acceleration: implications for actigraphy in young and elderly subjects. J Neurosci Methods 65:55–62. doi:10.1016/0165-0270(95)00146-8

Vesterinen V, Häkkinen K, Hynynen E et al (2013) Heart rate variability in prediction of individual adaptation to endurance training in recreational endurance runners. Scand J Med Sci Sport 23:171–180. doi:10.1111/j.1600-0838.2011.01365.x

Vrijkotte TG, van Doornen LJ, de Geus EJ (2000) Effects of work stress on ambulatory blood pressure, heart rate, and heart rate variability. Hypertension 35:880–886. doi:10.1161/01.HYP.35.4.880

Weekes N, Lewis R, Patel F et al (2006) Examination stress as an ecological inducer of cortisol and psychological responses to stress in undergraduate students. Stress 9:199–206. doi:10.1080/10253890601029751

Weekes NY, Lewis RS, Goto SG et al (2008) The effect of an environmental stressor on gender differences on the awakening cortisol response. Psychoneuroendocrinology 33:766–772. doi:10.1016/j.psyneuen.2008.03.003

Wilhelm H, Grossman P, Müller MI (2012) Bridging the gap between the laboratory and the real world: integrative ambulatory psychophysiology. In: Mehl MR, Conner TS (eds) Handbook of research methods for studying daily life. The Guilford Press, New York, pp 210–234

Youngstedt SD (2005) Effects of exercise on sleep. Clin Sports Med 24:355–365. doi:10.1016/j.csm.2004.12.003

Yusuf PS, Hawken S, Ôunpuu S et al (2004) Effect of potentially modifiable risk factors associated with myocardial infarction in 52 countries (the INTERHEART study): case-control study. Lancet 364:937–952. doi:10.1016/S0140-6736(04)17018-9

Zanstra YJ, Johnston DW (2011) Cardiovascular reactivity in real life settings: measurement, mechanisms and meaning. Biol Psychol 86:98–105. doi:10.1016/j.biopsycho.2010.05.002
Additional information
Communicated by Keith Phillip George.
Electronic supplementary material
Below is the link to the electronic supplementary material.
About this article
Cite this article
von Haaren, B., Ottenbacher, J., Muenz, J. et al. Does a 20-week aerobic exercise training programme increase our capabilities to buffer real-life stressors? A randomized, controlled trial using ambulatory assessment. Eur J Appl Physiol 116, 383–394 (2016). https://doi.org/10.1007/s00421-015-3284-8
Received:

Accepted:

Published:

Issue Date:
Keywords
Cross-stressor adaptation hypothesis

Ambulatory assessment

Real life

Psychological stress

Heart rate variability

Randomized controlled trial

Aerobic exercise