Abstract
Purpose
Sex hormones have profound effects on the nervous system in vitro and in vivo. The present study examines the effect of the menstrual cycle on maximal isometric force (MVC) and tremor during an endurance task.
Methods
Nine eumenorrheic females participated in five study visits across their menstrual cycle. In each menstrual phase, an MVC and an endurance task to failure were performed. Tremor across the endurance task was quantified as the coefficient of variation in force and was assessed in absolute time and relative percent time to task failure.
Results
MVC decreases 23 % from ovulation to the mid luteal phase of the menstrual cycle. In absolute time, the mid luteal phase has the highest initial tremor, though the early follicular phase has substantially higher tremor than other phases after 150 s of task performance. In relative time, the mid luteal phase has the highest level of tremor throughout the endurance task.
Conclusions
Both MVC and tremor during an endurance task are modified by the menstrual cycle. Performance of tasks and sports which require high force and steadiness to exhaustion may be decreased in the mid luteal phase compared to other menstrual phases.
This is a preview of subscription content, log in to check access.
Access options
Buy single article
Instant access to the full article PDF.
US$ 39.95
Price includes VAT for USA
Subscribe to journal
Immediate online access to all issues from 2019. Subscription will auto renew annually.
US$ 199
This is the net price. Taxes to be calculated in checkout.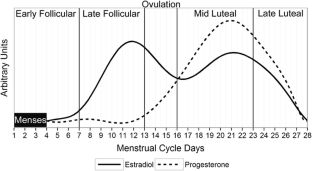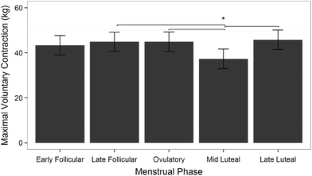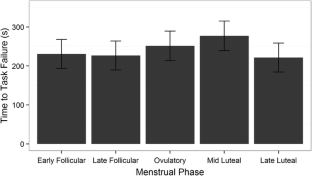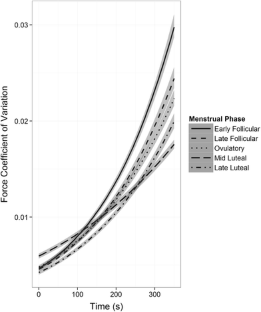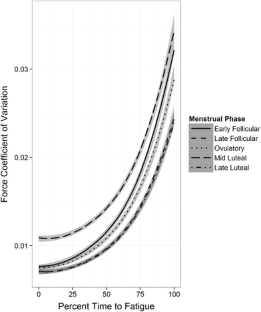 Abbreviations
ANOVA:

Analysis of variance

BBT:

Basal body temperature

ERα:

Estrogen receptor alpha

GABA:

Γ-aminobutyric acid

MVC:

Maximal voluntary contraction
References
Abt JP, Sell TC, Laudner KG, McCrory JL, Loucks TL, Berga SL, Lephart SM (2007) Neuromuscular and biomechanical characteristics do not vary across the menstrual cycle. Knee Surg Sports Traumatol Arthrosc 15(7):901–907

Birch K, Reilly T (1999) Manual handling performance: the effects of menstrual cycle phase. Ergonomics 42(10):1317–1332

Birch K, Reilly T (2002) The diurnal rhythm in isometric muscular performance differs with eumenorrheic menstrual cycle phase. Chronobiol Int 19(4):731–742

Bulun S, Adashi E (2011) The physiology and pathology of the female reproductive axis. In: Melmed S, Polonsky K, PR L, Kronenberg H (eds) Williams textbook of endocrinology, vol 12. Elsevier Saunders, Philadelphia

Burris TP, Solt LA, Wang Y, Crumbley C, Banerjee S, Griffett K, Lundasen T, Hughes T, Kojetin DJ (2013) Nuclear receptors and their selective pharmacologic modulators. Pharmacol Rev 65(2):710–778

Callachan H, Cottrell GA, Hather NY, Lambert JJ, Nooney JM, Peters JA (1987) Modulation of the GABAA receptor by progesterone metabolites. Proc R Soc Lond B Biol Sci 231(1264):359–369

de Mouzon J, Testart J, Lefevre B, Pouly JL, Frydman R (1984) Time relationships between basal body temperature and ovulation or plasma progestins. Fertil Steril 41(2):254–259

Dibrezzo R, Fort IL, Brown B (1988) Dynamic strength and work variations during three stages of the menstrual cycle. J Orthop Sports Phys Ther 10(4):113–116

Epperson CN, Haga K, Mason GF, Sellers E, Gueorguieva R, Zhang W, Weiss E, Rothman DL, Krystal JH (2002) Cortical gamma-aminobutyric acid levels across the menstrual cycle in healthy women and those with premenstrual dysphoric disorder: a proton magnetic resonance spectroscopy study. Arch Gen Psychiatry 59(9):851–858

Fox J, Weisberg S (2011) An R companion to applied regression, 2nd edn. Sage, Thousand Oaks

Fulco C, Rock P, Muza S, Lammi E, Cymerman A, Butterfield G, Moore L, Braun B, Lewis S (1999) Slower fatigue and faster recovery of the adductor pollicis muscle in women matched for strength with men. Acta Physiol Scand 167(3):233–240

Greeves JP, Cable NT, Luckas MJ, Reilly T, Biljan MM (1997) Effects of acute changes in oestrogen on muscle function of the first dorsal interosseus muscle in humans. J Physiol 500(Pt 1):265–270

Hampson E (1990) Estrogen-related variations in human spatial and articulatory-motor skills. Psychoneuroendocrinology 15(2):97–111

Hampson E, Kimura D (1988) Reciprocal effects of hormonal fluctuations on human motor and perceptual-spatial skills. Behav Neurosci 102(3):456–459

Harada M, Kubo H, Nose A, Nishitani H, Matsuda T (2011) Measurement of variation in the human cerebral GABA level by in vivo MEGA-editing proton MR spectroscopy using a clinical 3 T instrument and its dependence on brain region and the female menstrual cycle. Hum Brain Mapp 32(5):828–833

Herzog AG, Friedman MN, Freund S, Pascual-Leone A (2001) Transcranial magnetic stimulation evidence of a potential role for progesterone in the modulation of premenstrual corticocortical inhibition in a woman with catamenial seizure exacerbation. Epilepsy Behav 2(4):367–369

Hoffman M, Harter RA, Hayes BT, Wojtys EM, Murtaugh P (2008) The interrelationships among sex hormone concentrations, motoneuron excitability, and anterior tibial displacement in women and men. J Athl Train 43(4):364–372

Hunter SK, Critchlow A, Shin I-S, Enoka RM (2004) Fatigability of the elbow flexor muscles for a sustained submaximal contraction is similar in men and women matched for strength. J Appl Physiol 96(1):195–202

Janse de Jonge XA, Boot CR, Thom JM, Ruell PA, Thompson MW (2001) The influence of menstrual cycle phase on skeletal muscle contractile characteristics in humans. J Physiol 530(Pt 1):161–166

Jurkowski J, Jones NL, Toews CJ, Sutton JR (1981) Effects of menstrual cycle on blood lactate, O2 delivery, and performance during exercise. J Appl Physiol 51(6):1493–1499

Kubo K, Miyamoto M, Tanaka S, Maki A, Tsunoda N, Kanehisa H (2009) Muscle and tendon properties during menstrual cycle. Int J Sport Med 30(02):139–143

Lebrun C, McKenzie D, Prior J, Taunton J (1995) Effects of menstrual cycle phase on athletic performance. Med Sci Sports Exerc 27(3):437–444

Montgomery MM, Shultz SJ (2010) Isometric knee-extension and knee-flexion torque production during early follicular and postovulatory phases in recreationally active women. J Athl Train 45(6):586–593

Phillips SK, Sanderson AG, Birch K, Bruce SA, Woledge RC (1996) Changes in maximal voluntary force of human adductor pollicis muscle during the menstrual cycle. J Physiol 496(Pt 2):551–557

Prior J, Vigna Y, Schulzer M, Hall J, Bonen A (1990) Determination of luteal phase length by quantitative basal temperature methods: validation against the midcycle LH peak. Clin Invest Med 13(3):123–131

Sarwar R, Niclos BB, Rutherford OM (1996) Changes in muscle strength, relaxation rate and fatiguability during the human menstrual cycle. J Physiol 493(Pt 1):267–272

Schultz KN, von Esenwein SA, Hu M, Bennett AL, Kennedy RT, Musatov S, Toran-Allerand CD, Kaplitt MG, Young LJ, Becker JB (2009) Viral vector-mediated overexpression of estrogen receptor-alpha in striatum enhances the estradiol-induced motor activity in female rats and estradiol-modulated GABA release. J Neurosci 29(6):1897–1903

Smith SS, Woodward DJ, Chapin JK (1989) Sex steroids modulate motor-correlated increases in cerebellar discharge. Brain Res 476(2):307–316

Smith MJ, Keel JC, Greenberg BD, Adams LF, Schmidt PJ, Rubinow DA, Wassermann EM (1999) Menstrual cycle effects on cortical excitability. Neurology 53(9):2069–2072

Smith MJ, Adams LF, Schmidt PJ, Rubinow DR, Wassermann EM (2002) Effects of ovarian hormones on human cortical excitability. Ann Neurol 51(5):599–603

Stoffel-Wagner B (2001) Neurosteroid metabolism in the human brain. Eur J Endocrinol 145(6):669–679

R Core Team (2014) R: a language and environment for statistical computing

Tenan MS, Peng Y-L, Hackney AC, Griffin L (2013) Menstrual cycle mediates vastus medialis and vastus medialis oblique muscle activity. Med Sci Sports Exerc 45(11):2151–2157

Tenan MS, Brothers RM, Tweedell AJ, Hackney AC, Griffin L (2014) Changes in resting heart rate variability across the menstrual cycle. Psychophysiol 51(10):996–1004

Vaiksaar S, Jürimäe J, Mäestu J, Purge P, Kalytka S, Shakhlina L, Jürimäe T (2011) No effect of menstrual cycle phase and oral contraceptive use on endurance performance in rowers. J Strength Cond Res 25(6):1571–1578

Wickham H (2009) ggplot2: elegant graphics for data analysis. Springer, New York

Wickham H, Francois R (2015) dplyr: a grammar of data manipulation R package version 0.4.1

Yoon T, Noven MLV, Nielson KA, Hunter SK (2014) Brain areas associated with force steadiness and intensity during isometric ankle dorsiflexion in men and women. Exp Brain Res 232:3133–3145
Ethics declarations
Conflict of interest
The authors have no conflicts of interest to report. All research involving humans was supervised by the local ethics board and included informed consent.
Additional information
Communicated by William J. Kraemer.
About this article
Cite this article
Tenan, M.S., Hackney, A.C. & Griffin, L. Maximal force and tremor changes across the menstrual cycle. Eur J Appl Physiol 116, 153–160 (2016). https://doi.org/10.1007/s00421-015-3258-x
Received:

Accepted:

Published:

Issue Date:
Keywords
Menstrual cycle

Maximal force

Tremor

Estrogen

Progesterone

Fatigue