Abstract
Purpose
The present study evaluated the effects of peripheral heart action training compared with high intensity interval training on changes in autonomic regulation and physical fitness.
Methods
Eighteen young adults (9 women, 9 men) (age 24 ± 3 years, BMI of 22.67 kg/m2, V′O2max 32.89 ml/kg/min) were randomly assigned to either a high intensity interval training group (n = 8) or a peripheral heart action training (PHA) group (n = 10). Before and after training, maximal whole-body muscular strength, time series of beat-to-beat intervals for heart rate variability, and baroreflex sensitivity were recorded. Arterial baroreflex sensitivity and heart rate variability were estimated on both time and frequency domains. Physical fitness level was evaluated with maximum oxygen consumption test.
Results
The effects of PHA whole-body resistance training increased muscular strength and maximum oxygen consumption, with an effect on vagal–cardiac control and cardiovagal baroreflex sensitivity.
Conclusions
After 30 training sessions performed in 3 months, PHA resistance exercise promoted cardiovascular adaptations, with a decrease in the power spectral component of vascular sympathetic activity and an increase in the vagal modulation. Low-frequency oscillation estimated from systolic blood pressure variability seems to be a suitable index of the sympathetic modulation of vasomotor activity. This investigation also want to emphasize the beneficial effects of this particular resistance exercise training, considering also that the increase in muscular strength is inversely associated with all-cause mortality and the prevalence of metabolic syndrome, independent of cardiorespiratory fitness levels.
Access options
Buy single article
Instant access to the full article PDF.
USD 39.95
Price excludes VAT (USA)
Tax calculation will be finalised during checkout.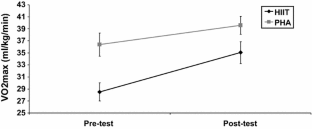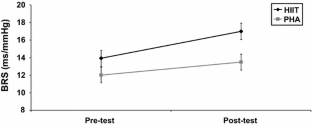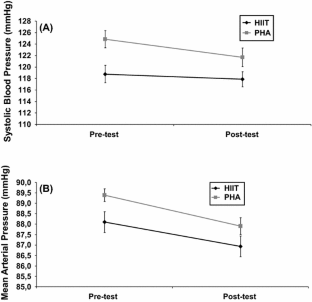 Abbreviations
ANCOVA:

Analysis of covariance

(a-v)O2 :

Artero-venous oxygen difference

BRS:

Baroreflex sensitivity

BP:

Blood pressure

SBP:

Systolic blood pressure

DBP:

Diastolic blood pressure

ECG:

Electrocardiogram

FFT:

Fast Fourier transformation

HIIT:

High intensity interval training

HRV:

Heart rate variability

HF:

High frequency

LF:

Low frequency

NN50:

The number of interval differences of successive R–R intervals greater than 50 ms

N :

Newton

PHA:

Peripheral heart action

pNN50:

Proportion derived by dividing NN50 by the total number of R–R intervals NN50

RM:

Maximum repetition

%1-RM:

The percentage of one maximum repetition

RMSSD:

The square root of the mean squared differences of successive R–R intervals

SDNN:

Standard deviation of the R–R interval

V′O2max :

Maximum oxygen consumption
References
Adams K (2004) Strength and power in sport. Med Sci Sports Exerc 36:350

Akselrod S, Gordon D, Ubel FA, Shannon DC, Berger AC, Cohen RJ (1981) Power spectrum analysis of heart rate fluctuation: a quantitative probe of beat-to-beat cardiovascular control. Science 213:220–222

American College of Sport Medicine (2013) ACSM's guidelines for exercise testing and prescription. Lippincott Williams & Wilkins, Philadelphia

Asmussen E, Mazin B (1978) Recuperation after muscular fatigue by "diverting activities". Eur J Appl Physiol Occup Physiol 38:1–7

Atha J (1981) Strengthening muscle. Exerc Sport Sci Rev 9:1–74

Aubert AE, Beckers F, Ramaekers D (2000) Short-term heart rate variability in young athletes. J Cardiol 37:85–88

Aubert AE, Seps B, Beckers F (2003) Heart rate variability in athletes. Sports Med 33:889–919

Billman GE (2002) Aerobic exercise conditioning: a nonpharmacological antiarrhythmic intervention. J Appl Physiol 92:446–454

Braith RW, Stewart KJ (2006) Resistance exercise training its role in the prevention of cardiovascular disease. Circulation 113:2642–2650

Brzycki M (1993) Strength testing-predicting a one-rep max from reps-to-fatigue. Am J Health Educ 64:88–90

Buch AN, Coote JH, Townend JN (2002) Mortality, cardiac vagal control and physical training—what's the link? Exp Physiol 87:423–435

Buchheit M, Chivot A, Parouty J, Mercier D, Al Haddad H, Laursen PB, Ahmaidi S (2010) Monitoring endurance running performance using cardiac parasympathetic function. Eur J Appl Physiol 108:1153–1167

Camm AJ, Malik M, Bigger JT, Breithardt G, Cerutti S, Cohen RJ, Coumel P, Fallen EL, Kennedy HL, Kleiger RE (1996) Heart rate variability: standards of measurement, physiological interpretation and clinical use. Task Force of the European Society of Cardiology and the North American Society of Pacing and Electrophysiology. Circulation 93:1043–1065

Casadei B, Moon J, Johnston J, Caiazza A, Sleight P (1996) Is respiratory sinus arrhythmia a good index of cardiac vagal tone in exercise? J Appl Physiol 81:556–564

Clausen JP, Klausen K, Rasmussen B, Trap-Jensen J (1973) Central and peripheral circulatory changes after training of the arms or legs. Am J Physiol 225:675–682

Collier SR, Kanaley JA, Carhart R Jr, Frechette V, Tobin MM, Bennett N, Luckenbaugh AN, Fernhall B (2008) Cardiac autonomic function and baroreflex changes following 4 weeks of resistance versus aerobic training in individuals with pre-hypertension. Acta Physiol 195:339–348

Collier SR, Kanaley JA, Carhart R Jr, Frechette V, Tobin MM, Bennett N, Luckenbaugh AN, Fernhall B (2009) Cardiac autonomic function and baroreflex changes following 4 weeks of resistance versus aerobic training in individuals with pre-hypertension. Acta Physiol 195:339–348

Collins MA, Cureton KJ, Hill DW, Ray CA (1989) Relation of plasma volume change to intensity of weight lifting. Med Sci Sports Exerc 21:178–185

Cooke WH, Carter JR (2005) Strength training does not affect vagal–cardiac control or cardiovagal baroreflex sensitivity in young healthy subjects. Eur J Appl Physiol 93:719–725

Doherty M, Smith PM (2004) Effects of caffeine ingestion on exercise testing: a meta-analysis. Int J Sport Nutr Exerc Metab 14:626–646

Figueroa A, Baynard T, Fernhall B, Carhart R, Kanaley JA (2007) Endurance training improves post-exercise cardiac autonomic modulation in obese women with and without type 2 diabetes. Eur J Appl Physiol 100:437–444

Forte R, De Vito G, Figura F (2003) Effects of dynamic resistance training on heart rate variability in healthy older women. Eur J Appl Physiol 89:85–89

Fronchetti L, Nakamura FY, De-Oliveira FR, Lima-Silva AE, Lima JRP (2007) Effects of high-intensity interval training on heart rate variability during exercise. J Exerc Physiol Online

Furlan R, Guzzetti S, Crivellaro W, Dassi S, Tinelli M, Baselli G, Cerutti S, Lombardi F, Malliani A (1990) Continuous 24-hour assessment of the neural regulation of systemic arterial pressure and RR variabilities in ambulant subjects. Circulation 81:537–547

Furlan R, Porta A, Costa F, Tank J, Baker L, Schiavi R, Robertson D, Malliani A, Mosqueda-Garcia R (2000) Oscillatory patterns in sympathetic neural discharge and cardiovascular variables during orthostatic stimulus. Circulation 101:886–892

Garet M, Tournaire N, Roche F, Laurent R, Lacour JR, Barthélémy JC, Pichot V (2004) Individual Interdependence between nocturnal ANS activity and performance in swimmers. Med Sci Sports Exerc 36:2112–2118

George KP, Wolfe LA, Burggraf GW, Norman R (1995) Electrocardiographic and echocardiographic characteristics of female athletes. Med Sci Sports Exerc 27:1362–1370

Green DJ, O'Driscoll G, Joyner MJ, Cable NT (2008) Exercise and cardiovascular risk reduction: time to update the rationale for exercise? J Appl Physiol 105:766–768

Halliwill JR, Taylor JA, Eckberg DL (1996) Impaired sympathetic vascular regulation in humans after acute dynamic exercise. J Physiol 495:279–288

Hedelin R, Wiklund U, Bjerle P, Henriksson-Larsén K (2000) Pre- and post-season heart rate variability in adolescent cross-country skiers. Scand J Med Sci Sports 10:298–303

Heydari M, Boutcher YN, Boutcher SH (2013) High-intensity intermittent exercise and cardiovascular and autonomic function. Clin Auton Res 23:57–65

Jacobs RA, Flück D, Bonne TC, Bürgi S, Christensen PM, Toigo M, Lundby C (2013) Improvements in exercise performance with high-intensity interval training coincide with an increase in skeletal muscle mitochondrial content and function. J Appl Physiol 115:785–793

Japundzic N, Grichois ML, Zitoun P, Laude D, Elghozi JL (1990) Spectral analysis of blood pressure and heart rate in conscious rats: effects of autonomic blockers. J Auton Nerv Syst 30:91–100

Kiviniemi AM, Hautala AJ, Kinnunen H, Tulppo MP (2007) Endurance training guided individually by daily heart rate variability measurements. Eur J Appl Physiol 101:743–751

Kiviniemi AM, Tulppo MP, Eskelinen JJ, Savolainen AM, Kapanen J, Heinonen IH, Kalliokoski KK (2014) Cardiac autonomic function and high-intensity interval training in middle-age men. Med Sci Sports Exerc

La Rovere MT, Specchia G, Mortara A, Schwartz PJ (1988) Baroreflex sensitivity, clinical correlates, and cardiovascular mortality among patients with a first myocardial infarction. A prospective study. Circulation 78:816–824

Lakatta EG (1993) Cardiovascular regulatory mechanisms in advanced age. Physiol Rev 73

Loimaala A, Huikuri HV, Kööbi T, Rinne M, Nenonen A, Vuori I (2003) Exercise training improves baroreflex sensitivity in type 2 diabetes. Diabetes 52:1837–1842

Magel JR, Mcardle WD, Toner M, Delio DJ (1978) Metabolic and cardiovascular adjustment to arm training. J Appl Physiol Respir Environ Exerc Physiol 45:75–79

Malliani A, Pagani M, Lombardi F, Cerutti S (1991) Cardiovascular neural regulation explored in the frequency domain. Circulation 84:482–492

Mancia G, Parati G, Castiglioni P, Tordi R, Tortorici E, Glavina F, Di Rienzo M (2003) Daily life blood pressure changes are steeper in hypertensive than in normotensive subjects. Hypertension 42:277–282

Manson JE, Hu FB, Rich-Edwards JW, Colditz GA, Stampfer MJ, Willett WC, Speizer FE, Hennekens CH (1999) A prospective study of walking as compared with vigorous exercise in the prevention of coronary heart disease in women. New Eng J Med 341:650–658

Martinez DG, Nicolau JC, Lage RL, Toschi-Dias E, De Matos LD, Alves MJN, Rondon MU (2011) Effects of long-term exercise training on autonomic control in myocardial infarction patients. Hypertension 58:1049–1056

McKenzie DC, Fox EL, Cohen K (1978) Specificity of metabolic and circulatory responses to arm or leg interval training. Eur J Appl Physiol Occup Physiol 39:241–248

Midgley AW, McNaughton LR, Wilkinson M (2006) Is there an optimal training intensity for enhancing the maximal oxygen uptake of distance runners? Sports Med 36:117–132

Nakagawa M, Iwao T, Ishida S (1998) Circadian rhythm of the signal averaged electrocardiogram and its relation to heart rate variability in healthy subjects. Heart 79:493–496

Nishiue T, Tsuji H, Tarumi N, Tokunaga S, Tamura K, Masaki M, Iwasaka T (1999) Heart rate variability and left ventricular dilatation early after myocardial infarction. J Electrocardiol 32:263–268

Okamoto T, Masuhara M, Ikuta K (2011) Effect of low-intensity resistance training on arterial function. Eur J Appl Physiol 111:743–748

Otsuki T, Maeda S, Iemitsu M, Saito Y, Tanimura Y, Ajisaka R, Miyauchi T (2006) Effects of athletic strength and endurance exercise training in young humans on plasma endothelin-1 concentration and arterial distensibility. Exp Biol Med 231:789–793

Pagani M, Lombardi F, Guzzetti S, Rimoldi O, Furlan R, Pizzinelli P, Sandrone G, Malfatto G, Dell'Orto S, Piccaluga E (1986) Power spectral analysis of heart rate and arterial pressure variabilities as a marker of sympatho-vagal interaction in man and conscious dog. Circ Res 59:178–193

Pagani M, Somers V, Furlan R, Dell'Orto S, Conway J, Baselli G, Cerutti S, Sleight P, Malliani A (1988) Changes in autonomic regulation induced by physical training in mild hypertension. Hypertension 12:600–610

Pagani M, Mazzuero G, Ferrari A, Liberati D, Cerutti S, Vaitl D, Tavazzi L, Malliani A (1991) Sympathovagal interaction during mental stress. A study using spectral analysis of heart rate variability in healthy control subjects and patients with a prior myocardial infarction. Circulation 83(4 suppl):II43–II51

Pagani M, Montano N, Porta A, Malliani A, Abboud FM, Birkett C, Somers VK (1997) Relationship between spectral components of cardiovascular variabilities and direct measures of muscle sympathetic nerve activity in humans. Circulation 95:1441–1448

Parati G, Di Rienzo M, Mancia G (2000) How to measure baroreflex sensitivity: from the cardiovascular laboratory to daily life. J Hypertens 18:7–19

Perini R, Veicsteinas A (2003) Heart rate variability and autonomic activity at rest and during exercise in various physiological conditions. Eur J Appl Physiol 90:317–325

Perini R, Tironi A, Cautero M, Di Nino A, Tam E, Capelli C (2006) Seasonal training and heart rate and blood pressure variabilities in young swimmers. Eur J Appl Physiol 97:395–403

Pescatello LS, Franklin BA, Fagard R, Farquhar WB, Kelley GA, Ray CA (2004) Exercise and hypertension: American college of sports medicine position stand. Med Sci Sports Exerc 36:533–553

Pichot V, Roche F, Denis C, Garet M, Duverney D, Costes F, Barthélémy JC (2005) Interval training in elderly men increases both heart rate variability and baroreflex activity. Clin Auton Res 15:107–115

Pikkujämsä SM, Huikuri HV, Airaksinen KE, Rantala AO, Kauma H, Lilja M, Kesäniemi YA (1998) Heart rate variability and baroreflex sensitivity in hypertensive subjects with and without metabolic features of insulin resistance syndrome. Am J Hypertens 11:523–531

Pinna GD, La Rovere MT, Maestri R, Mortara A, Bigger JT, Schwartz PJ (2000) Comparison between invasive and non-invasive measurements of baroreflex sensitivity. Implications for studies on risk stratification after a myocardial infarction. Eur Heart J 21:1522–1529

Pluim BM, Zwinderman AH, Van der Laarse A, Van der Wall EE (2000) The athlete's heart a meta-analysis of cardiac structure and function. Circulation 101:336–344

Raczak G, Pinna GD, La Rovere MT, Maestri R, Danilowicz-Szymanowicz L, Ratkowski W, Figura-Chmielewska M, Szwoch M, Ambroch-Dorniak K (2005) Cardiovagal response to acute mild exercise in young healthy subjects. Circ J 69:976

Rezk CC, Marrache RCB, Tinucci T, Mion D Jr, Forjaz C (2006) Post-resistance exercise hypotension, hemodynamics, and heart rate variability: influence of exercise intensity. Eur J Appl Physiol 98:105–112

Rimoldi O, Pierini S, Ferrari A, Cerutti S, Pagani M, Malliani A (1990) Analysis of short-term oscillations of RR and arterial pressure in conscious dogs. Am J Physiol 258:H967–H976

Robbe HW, Mulder LJ, Rüddel H, Langewitz WA, Veldman JB, Mulder G (1987) Assessment of baroreceptor reflex sensitivity by means of spectral analysis. Hypertens 10:538–543

Rochelle RH, Stumpner RL, Robinson S, Dill DB, Horvath SM (1970) Peripheral blood flow response to exercise consequent to physical training. Med Sci Sports Exerc 3:122–129

Schuit AJ, Van Amelsvoort LG, Verheij TC, Rijneke RD, Maan AC, Swenne CA, Schouten EG (1999) Exercise training and heart rate variability in older people. Med Sci Sports Exerc 31:816–821

Selig SE, Carey MF, Menzies DG, Patterson J, Geerling RH, Williams AD, Bamroongsuk V, Toia D, Krum H, Hare DL (2004) Moderate-intensity resistance exercise training in patients with chronic heart failure improves strength, endurance, heart rate variability, and forearm blood flow. J Card Fail 10:21–30

Shin KO, Moritani T, Woo J, Jang KS, Bae JY, Yoo J, Kang S (2014) Exercise training improves cardiac autonomic nervous system activity in type 1 diabetic children. J Phys Ther Sci 26:111

Stamford BA, Cuddihee RW, Moffatt RJ, Rowland R (1978) Task specific changes in maximal oxygen uptake resulting from arm versus leg training. Ergonomics 21:1–9

Thompson WR (2013) Now trending: worldwide survey of fitness trends for 2014. ACSMs Health Fit J 17:10–20

Timmers HJ, Wieling W, Karemaker JM, Lenders JW (2004) Cardiovascular responses to stress after carotid baroreceptor denervation in humans. Ann N Y Acad Sci 1018:515–519

Trapp EG, Chisholm DJ, Boutcher SH (2007) Metabolic response of trained and untrained women during high-intensity intermittent cycle exercise. Am J Physiol Regul Integr Comp Physiol 293(6):R2370–R2375

Van Breukelen GJ (2006) ANCOVA versus change from baseline had more power in randomized studies and more bias in nonrandomized studies. J Clin Epidemiol 59:920–925

van Zyl LT, Hasegawa T, Nagata K (2008) Effects of antidepressant treatment on heart rate variability in major depression: a quantitative review. Biopsychosoc Med:2–12

Weber E (1914) Eine physiologische methode, die leistungsfähigkeit ermüdeter menschlicher muskeln zu erhöhen: Ergographische untersuchungen. Archiv für Physiol:385–420

Westerhof BE, Gisolf J, Karemaker JM, Wesseling KH, Secher NH, Van Lieshout JJ (2006) Time course analysis of baroreflex sensitivity during postural stress. Am J Physiol Heart Circ Physiol 291:H2864–H2874

Williams MA, Haskell WL, Ades PA, Amsterdam EA, Bittner V, Franklin BA, Stewart KJ (2007) Resistance exercise in individuals with and without cardiovascular disease: 2007 update a scientific statement from the American heart association council on clinical cardiology and council on nutrition, physical activity, and metabolism. Circulation 116:572–584

Winzer EB, Linke A (2014) Exercise training improves endothelial function in human cardiovascular disease-role of oxidative stress. Syst Biol Free Radic Antioxid:3831–3853

Yoon BK, Kravitz L, Robergs R (2007) VO2max, protocol duration, and the VO2 plateau. Med Sci Sports Exerc 39:1186–1192
Conflict of interest
The author(s) declare(s) that there is no conflict of interests regarding the publication of this article.
Additional information
Communicated by Guido Ferretti.
About this article
Cite this article
Piras, A., Persiani, M., Damiani, N. et al. Peripheral heart action (PHA) training as a valid substitute to high intensity interval training to improve resting cardiovascular changes and autonomic adaptation. Eur J Appl Physiol 115, 763–773 (2015). https://doi.org/10.1007/s00421-014-3057-9
Received:

Accepted:

Published:

Issue Date:

DOI: https://doi.org/10.1007/s00421-014-3057-9
Keywords
Heart rate variability

Baroreflex sensitivity

Resistance exercise

PHA peripheral heart action

HIIT high intensity interval training