Abstract
Purpose
Many studies have failed to show that pre-sleep exercise has a negative effect on sleep onset. However, since only a moderate level of physiological excitement was observed at bedtime in these studies, it remains unclear whether a larger magnitude of physiologic excitement present at bedtime would disrupt sleep onset. This study compared the effects of pre-sleep exercise, which led to different levels of physiologic excitement at bedtime (moderate and heavy), on sleep onset.
Methods
Twelve active young men underwent non-exercise, moderate-intensity exercise, and high-intensity exercise conditions. The subjects maintained a sedentary condition on a reclining seat throughout the day. On the non-exercise day, the subjects remained seated at rest until going to bed. On the moderate- and high-intensity exercise days, the subject exercised for 40 min (21:20–22:00) at 60 and 80 % heart rate reserve, respectively. Sleep polysomnography, core body and skin temperatures, heart rate (HR), and heart rate variability (HRV) were recorded.
Results
We observed a delay in sleep onset (+14.0 min, P < 0.05), a marked physiological excitement at bedtime as reflected by an increased HR (+25.7 bpm, P < 0.01), and a lower high-frequency power of HRV (−590 ms2, P < 0.01) only on the high-intensity exercise day.
Conclusions
These results indicate that pre-sleep vigorous exercise, which causes a large physiologic excitement at bedtime, might disrupt the onset of sleep.
Access options
Buy single article
Instant access to the full article PDF.
USD 39.95
Price excludes VAT (USA)
Tax calculation will be finalised during checkout.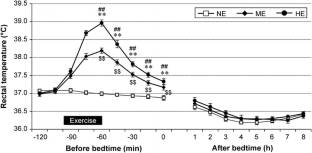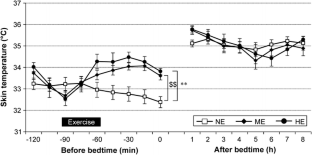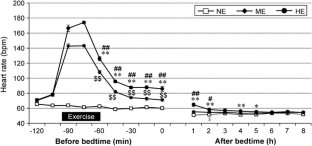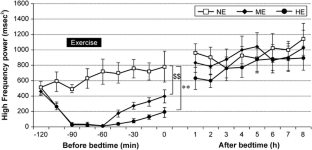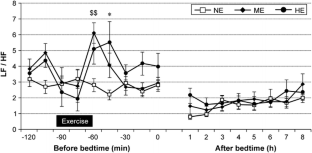 Abbreviations
ANOVA:

Analysis of variance

Bpm:

Beats min−1

CBT:

Core body temperature

EEG:

Electroencephalogram

EMG:

Electromyogram

EOG:

Electrooculogram

HE:

High-intensity exercise

HF:

High frequency

HR:

Heart rate

HRV:

Heart rate variability

ME:

Moderate-intensity exercise

NE:

Non-exercise

NREM:

Non-rapid eye movement

OSA:

Oguri–Shirakawa–Azumi

PSG:

Sleep polysomnography

REM:

Rapid eye movement

TV:

Television

VAS:

Visual analog scale
References
Agnew HW Jr, Webb WB, Williams RL (1966) The first night effect: an EEG study of sleep. Psychophysiology 2(3):263–266

Alexandru G, Michikazu S, Shimako H, Xiaoli C, Hitomi K, Takashi Y, Robert WW, Sadanobu K (2006) Epidemiological aspects of self-reported sleep onset latency in Japanese junior high school children. J Sleep Res 15(3):266–275

American College Sports Medicine (2006) ACSM's guidelines for exercise testing and prescription, 7th edn. Lippincott Williams & Wilkins, Philadelphia

Bonnet MH, Arand DL (1992) Caffeine use as a model of acute and chronic insomnia. Sleep 15(6):526–536

Browman CP, Tepas DI (1976) The effects of pre-sleep activity on all-night sleep. Psychophysiology 13:536–540

Buguet A, Cespuglio R, Radomski MW (1998) Sleep and stress in man: an approach through exercise and exposure to extreme environments. Can J Physiol Pharmacol 76:553–561

Bunnell DE, Bevier WC, Horvath SM (1983) Effects of exhaustive exercise on the sleep of men and women. Psychophysiology 20:50–58

Carrington M, Walsh M, Stambas T, Kleiman J, Trinder J (2003) The influence of sleep onset on the diurnal variation in cardiac activity and cardiac control. J Sleep Res 12:213–221

Flausino NH, Da Silva Prado JM, de Queiroz SS, Tufik S, de Mello MT (2012) Physical exercise performed before bedtime improves the sleep pattern of healthy young good sleepers. Psychophysiology 49(2):186–192

Hauri P (1969) The influence of evening activity on the onset of sleep. Psychophysiology 5:426–430

Horne JA, Moore VJ (1985) Sleep EEG effects of exercise with and without additional body cooling. Electroencephalogr Clin Neurophysiol 60:33–38

Horne JA, Staff LHE (1983) Exercise and sleep: body heating effects. Sleep 6(1):36–46

Kern W, Perras B, Wodick R, Fehm HL, Born J (1995) Hormonal secretion during nighttime sleep indicating stress of daytime exercise. J Appl Physiol 79:1461–1468

Kim K, Uchiyama M, Okawa M, Liu X, Ogihara R (2000) An epidemiological study of insomnia among the Japanese general population. Sleep 23(1):41–47

Kräuchi K, Cajochen C, Werth E, Wirz-Justice A (2000) Functional link between distal vasodilation and sleep-onset latency? Am J Physiol Regul Integr Comp Physiol 278:R741–R748

Mathis JL (1978) Insomnia. J Fam Pract 6(4):873–876

Montgomery I, Trinder J, Paxton S, Fraser G, Meaney M, Koerbin GL (1985) Sleep disruption following a marathon. J Sports Med Phys Fitness 25:69–74

Morgan WP, Costill DL, Flynn MG, Raglin JS, O'Connor PJ (1988) Mood disturbance following increased training in swimmers. Med Sci Sports Exerc 20(4):408–414

Morin CM, Gibson D, Wade J (1998) Self-reported sleep and mood disturbance in chronic pain patients. Clin J Pain 14(4):311–314

Murphy PJ, Campbell SS (1997) Nighttime drop in body temperature: a physiological trigger for sleep onset? Sleep 20:505–511

Myllymäki T, Kyröläinen H, Savolainen K, Hokka L, Jakonen R, Juuti T, Martinmäki K, Kaartinen J, Kinnunen ML, Rusko H (2011) Effects of vigorous late-night exercise on sleep quality and cardiac autonomic activity. J Sleep Res 20:146–153

Myllymäki T, Rusko H, Syväoja H, Juuti T, Kinnunen ML, Kyröläinen H (2012) Effects of exercise intensity and duration on nocturnal heart rate variability and sleep quality. Eur J Appl Physiol 112:801–809

National Sleep Foundation (2013) National Sleep Foundation 2013 Poll. http://www.sleepfoundation.org/2013poll. Accessed 6 Nov 2013

National Sleep Foundation (2013) Sleep hygiene. http://www.sleepfoundation.org/article/ask-the-expert/sleep-hygiene. Accessed 6 Nov 2013

O'Connor PJ, Breus MJ, Youngstedt SD (1998) Exercise-induced increase in core temperature does not disrupt a behavioral measure of sleep. Physiol Behav 64:213–217

Oda S (2006) Relationship between effect-size of exercise on sleep and exercise-induced physiological changes at bedtime. Bull Fac Educ, Hokkaido Univ 99:113–121 (in Japanese)

Oguri M, Shirakawa S, Azumi K (1985) Construction of standard rating scale to estimate sleep profile. Clin Psychiatr;Seishin Igaku 27:791–795 (in Japanese)

Okamoto-Mizuno K, Yamashiro Y, Tanaka H, Komada Y, Mizuno K, Tamaki M, Kitado M, Inoue Y, Shirakawa S (2008) Heart rate variability and body temperature during the sleep onset period. Sleep Biol Rhythm 6:42–49

Porter JM, Horne JA (1981) Exercise and sleep behavior: a questionnaire approach. Ergonomics 24:511–521

Rechtschaffen A, Kales A (1968) A manual of standardized terminology, techniques and scoring system for sleep stages of human subjects. US Government Printing Office, Washington DC

Sawada Y, Ohtomo N, Tanaka Y, Tanaka G, Yamakoshi K, Terachi S, Shimamoto K, Nakagawa M, Satoh S, Kuroda S, Iimura O (1997) New technique for time series analysis combining the maximum entropy method and non-linear least squares method: its value in heart rate variability analysis. Med Biol Eng Comput 35:318–322

Shapiro CM, Bortz R, Mitchell D, Bartel P, Jooste P (1981) Slow-wave sleep: a recovery period after exercise. Science 214:1253–1254

Shioda K, Goto K, Uchida S (2012) The effect of acute high-intensity exercise on following night sleep. J Jpn Soc Clin Sports Med 20(2):306–315 (in Japanese)

Shirakawa K, Oda S (2007) The effects of pre-sleep exercise on sleep. Bull Asai Gakuen Univ, Sch Lifelong Learn Support Syst 7:221–232 (in Japanese)

Stamatakis E, Chaudhury M (2008) Temporal trends in adults' sports participation patterns in England between 1997 and 2006: the Health Survey for England. Br J Sports Med 42(11):901–908

Steptoe A, Cox S (1988) Acute effects of aerobic exercise on mood. Health Psychol 7(4):329–340

Task Force of the European Society of Cardiology and the North American Society of Pacing and Electrophysiology (1996) Heart rate variability: standards of measurement, physiological interpretation, and clinical use. Circulation 93:1043–1065

Taylor SR, Rogers GG, Driver HS (1997) Effects of training volume on sleep, psychological, and selected physiological profiles of elite female swimmers. Med Sci Sports Exerc 29:688–693

Torsvall L, Akerstedt T, Lindbeck G (1984) Effects on sleep stages and EEG power density of different degrees of exercise in fit subjects. Electroencephalogr Clin Neurophysiol 57:347–353

Uchida S, Shioda K, Morita Y, Kubota C, Ganeko M, Takeda N (2012) Exercise effects on sleep physiology. Front Neurol 3:48. doi:10.3389/fneur.2012.00048

Vuori I, Urponen H, Hasan J, Partinen M (1988) Epidemiology of exercise effects on sleep. Acta Physiol Scand (Suppl) 574:3–7

Youngstedt SD (2005) Effects of exercise on sleep. Clin Sports Med 24:355–365

Youngstedt SD, Kripke DF, Elliott JA (1999) Is sleep disturbed by vigorous late-night exercise? Med Sci Sports Exerc 31:864–869
Acknowledgments
This work was supported by the Academic Frontier, Project for Private Universities: matching fund and subsidy from MEXT (Ministry of Education, Culture, Sports, Science and Technology), 2004–2008.
Conflict of interest
The authors have no conflicts of interest to declare.
Additional information
Communicated by William J. Kraemer.
About this article
Cite this article
Oda, S., Shirakawa, K. Sleep onset is disrupted following pre-sleep exercise that causes large physiological excitement at bedtime. Eur J Appl Physiol 114, 1789–1799 (2014). https://doi.org/10.1007/s00421-014-2873-2
Received:

Accepted:

Published:

Issue Date:

DOI: https://doi.org/10.1007/s00421-014-2873-2
Keywords
Sleep

Exercise

Body temperature

Heart rate

Heart rate variability