Abstract
Purpose
Vitamin D may be a regulator of skeletal muscle function, although human trials investigating this hypothesis are limited to predominantly elderly populations. We aimed to assess the effect of oral vitamin D3 in healthy young males upon skeletal muscle function.
Methods
Participants (n = 29) received an oral dose of 10,000 IU day−1 vitamin D3 (VITD) or a visually identical placebo (PLB) for 3 months. Serum 25[OH]D and intact parathyroid hormone (iPTH) were measured at baseline and at week 4, 8 and 12. Muscle function was assessed in n = 22 participants by isokinetic dynamometry and percutaneous isometric electromyostimulation at baseline and at week 6 and 12.
Results
Baseline mean total serum 25[OH]D was 40 ± 17 and 41 ± 20 nmol L−1 for PLB and VITD, respectively. VITD showed a significant improvement in total 25[OH]D at week 4 (150 ± 31 nmol L−1) that remained elevated throughout the trial (P < 0.005). Contrastingly, PLB showed a significant decrease in 25[OH]D at week 12 (25 ± 15 nmol L−1) compared with baseline. Despite marked increases in total serum 25[OH]D in VITD and a decrease in PLB, there were no significant changes in any of the muscle function outcome measures at week 6 or 12 for either group (P > 0.05).
Conclusions
Elevating total serum 25[OH]D to concentrations > 120 nmol L−1 has no effect on skeletal muscle function. We postulate that skeletal muscle function is only perturbed in conditions of severe deficiency (<12.5 nmol L−1).
Access options
Buy single article
Instant access to the full article PDF.
US$ 39.95
Tax calculation will be finalised during checkout.
Subscribe to journal
Immediate online access to all issues from 2019. Subscription will auto renew annually.
US$ 119
Tax calculation will be finalised during checkout.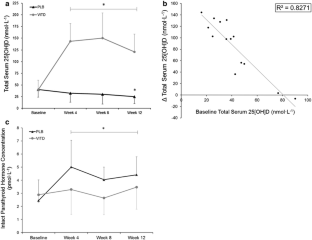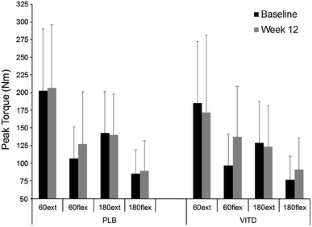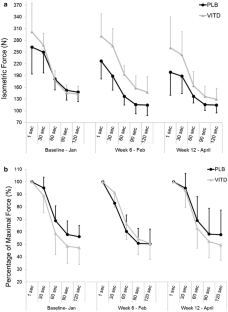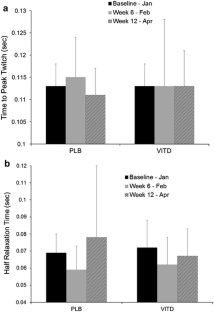 Abbreviations
25[OH]D:

25-Hydroxyvitamin D

1,25[OH]D:

1,25-Dihydroxyvitamin

Ca2+ :

Calcium, Ionized

ECLIA:

Enzyme-linked chemiluminescent immunosorbent assay

EMS:

Electromyostimulation

FDA:

Food and Drug Agency

iPTH:

Intact parathyroid hormone

IU:

International units

IKD:

Isokinetic dynamometry

LC–MS/MS:

Liquid chromatography tandem mass spectrometry

LLOQ:

Lower limit of quantification

N:

Newtons

Nm:

Newton metres

nmol L−1 :

Nanomoles per litre

PAR-Q:

Physical activity readiness Questionnaire

Pmol L−1 :

Picomoles per litre

rad s−1 :

Radians per second

RDI:

Recommended daily intake

US IoM:

United States Institute of Medicine

UVB:

Ultraviolet B
References
Al-Said YA, Al-Rached HS, Al-Qahtani HA, Jan MM (2009) Severe proximal myopathy with remarkable recovery after vitamin D treatment. Can J Neurol Sci Le journal canadien des sciences neurologiques 36(3):336–339

Anderson PH, Turner AG, Morris HA (2012) Vitamin D actions to regulate calcium and skeletal homeostasis. Clin Biochem 45(12):880–886. doi:10.1016/j.clinbiochem.2012.02.020

Atkinson G, Nevill AM (1998) Statistical methods for assessing measurement error (reliability) in variables relevant to sports medicine. Sports Med 26(4):217–238

Baltzopoulos V, Brodie DA (1989) Isokinetic dynamometry. Applications and limitations. Sports Med 8(2):101–116

Bigland-Ritchie B, Jones DA, Woods JJ (1979) Excitation frequency and muscle fatigue: electrical responses during human voluntary and stimulated contractions. Exp Neurol 64(2):414–427

Bischoff-Ferrari HA, Dietrich T, Orav EJ, Hu FB, Zhang Y, Karlson EW, Dawson-Hughes B (2004) Higher 25-hydroxyvitamin D concentrations are associated with better lower-extremity function in both active and inactive persons aged > or = 60 y. Am J Clin Nutr 80(3):752–758

Capiati DA, Vazquez G, Tellez Inon MT, Boland RL (2000) Role of protein kinase C in 1,25(OH)(2)-vitamin D(3) modulation of intracellular calcium during development of skeletal muscle cells in culture. J Cell Biochem 77(2):200–212

Close GL, Leckey J, Patterson M, Bradley W, Owens DJ, Fraser WD, Morton JP (2013a) The effects of vitamin D3 supplementation on serum total 25[OH]D concentration and physical performance: a randomised dose-response study. Br J Sports Med 47(11):692–696. doi:10.1136/bjsports-2012-091735

Close GL, Russell J, Cobley JN, Owens DJ, Wilson G, Gregson W, Fraser WD, Morton JP (2013b) Assessment of vitamin D concentration in non-supplemented professional athletes and healthy adults during the winter months in the UK: implications for skeletal muscle function. J Sports Sci 31(4):344–353. doi:10.1080/02640414.2012.733822

de Boland AR, Massheimer V, Fernandez LM (1988) 1,25 Dihydroxyvitamin D3 affects calmodulin distribution among subcellular fractions of skeletal muscle. Calcif Tissue Int 43(6):370–375

Drouin JM, Valovich-mcLeod TC, Shultz SJ, Gansneder BM, Perrin DH (2004) Reliability and validity of the Biodex system 3 pro isokinetic dynamometer velocity, torque and position measurements. Eur J Appl Physiol 91(1):22–29. doi:10.1007/s00421-003-0933-0

Food and Drug Administration, U.S. Department of Health and Human Services. (2001) Guidance for Industry: Bioanalytical Method Validation. Retrieved on December 17th 2013 from http://www.fda.gov/downloads/Drugs/Guidances/ucm070107.pdf

Forbes SC, Little JP, Candow DG (2012) Exercise and nutritional interventions for improving aging muscle health. Endocrine 42(1):29–38. doi:10.1007/s12020-012-9676-1

Garcia LA, Ferrini MG, Norris KC, Artaza JN (2013) 1,25(OH)(2)vitamin D(3) enhances myogenic differentiation by modulating the expression of key angiogenic growth factors and angiogenic inhibitors in C(2)C(12) skeletal muscle cells. J Steroid Biochem Mol Biol 133:1–11. doi:10.1016/j.jsbmb.2012.09.004

Garland CF, French CB, Baggerly LL, Heaney RP (2011) Vitamin D supplement doses and serum 25-hydroxyvitamin D in the range associated with cancer prevention. Anticancer Res 31(2):607–611

Gerdhem P, Ringsberg KA, Obrant KJ, Akesson K (2005) Association between 25-hydroxy vitamin D levels, physical activity, muscle strength and fractures in the prospective population-based OPRA Study of Elderly Women. Osteoporos Int 16(11):1425–1431. doi:10.1007/s00198-005-1860-1

Gerrits HL, Hopman MT, Sargeant AJ, Jones DA, De Haan A (2002) Effects of training on contractile properties of paralyzed quadriceps muscle. Muscle Nerve 25(4):559–567

Girgis CM, Clifton-Bligh RJ, Hamrick MW, Holick MF, Gunton JE (2012) The roles of vitamin D in skeletal muscle: form, function, and metabolism. Endocr Rev. doi:10.1210/er.2012-1012

Heaney RP (2011) Assessing vitamin D status. Curr Opin Clin Nutr Metab Care 14(5):440–444. doi:10.1097/MCO.0b013e328348ed85

Heaney RP, Davies KM, Chen TC, Holick MF, Barger-Lux MJ (2003) Human serum 25-hydroxycholecalciferol response to extended oral dosing with cholecalciferol. Am J Clin Nutr 77(1):204–210

Hermsen D, Franzson L, Hoffmann JP, Isaksson A, Kaufman JM, Leary E, Muller C, Nakatsuka K, Nishizawa Y, Reinauer H, Riesen W, Roth HJ, Steinmuller T, Troch T, Bergmann P (2002) Multicenter evaluation of a new immunoassay for intact PTH measurement on the Elecsys System 2010 and 1010. Clin Lab 48(3–4):131–141

Hossein-nezhad A, Spira A, Holick MF (2013) Influence of vitamin D status and vitamin D3 supplementation on genome wide expression of white blood cells: a randomized double-blind clinical trial. PLoS ONE 8(3):e58725. doi:10.1371/journal.pone.0058725

Houston DK, Cesari M, Ferrucci L, Cherubini A, Maggio D, Bartali B, Johnson MA, Schwartz GG, Kritchevsky SB (2007) Association between vitamin D status and physical performance: the InCHIANTI study. J Gerontol Ser A Biol Sci Med Sci 62(4):440–446

IoM (2011) Dietary reference intakes for calcium and vitamin D. National Academic Press, Washington, DC

Irani PF (1976) Electromyography in nutritional osteomalacic myopathy. J Neurol Neurosurg Psychiatry 39(7):686–693

Kenny AM, Biskup B, Robbins B, Marcella G, Burleson JA (2003) Effects of vitamin D supplementation on strength, physical function, and health perception in older, community-dwelling men. J Am Geriatr Soc 51(12):1762–1767

Kukuljan S, Nowson CA, Sanders KM, Nicholson GC, Seibel MJ, Salmon J, Daly RM (2011) Independent and combined effects of calcium-vitamin D3 and exercise on bone structure and strength in older men: an 18-month factorial design randomized controlled trial. J Clin Endocrinol Metab 96(4):955–963. doi:10.1210/jc.2010-2284

Kumar R, Thompson JR (2011) The regulation of parathyroid hormone secretion and synthesis. J Am Soc Nephrol JASN 22(2):216–224. doi:10.1681/ASN.2010020186

Lappe JM, Heaney RP (2012) Why randomized controlled trials of calcium and vitamin D sometimes fail. Dermatoendocrinol 4(2):95–100. doi:10.4161/derm.19833

Lesmes GR, Costill DL, Coyle EF, Fink WJ (1978) Muscle strength and power changes during maximal isokinetic training. Med Sci Sports 10(4):266–269

Marantes I, Achenbach SJ, Atkinson EJ, Khosla S, Melton LJ 3rd, Amin S (2011) Is vitamin D a determinant of muscle mass and strength? J Bone Miner Res 26(12):2860–2871. doi:10.1002/jbmr.510

Morelli S, de Boland AR, Boland RL (1993) Generation of inositol phosphates, diacylglycerol and calcium fluxes in myoblasts treated with 1,25-dihydroxyvitamin D3. Biochem J 289(Pt 3):675–679

Morton JP, Atkinson G, MacLaren DP, Cable NT, Gilbert G, Broome C, McArdle A, Drust B (2005) Reliability of maximal muscle force and voluntary activation as markers of exercise-induced muscle damage. Eur J Appl Physiol 94(5–6):541–548. doi:10.1007/s00421-005-1373-9

Morton JP, Iqbal Z, Drust B, Burgess D, Close GL, Brukner PD (2012) Seasonal variation in vitamin D status in professional soccer players of the English Premier League. Appl Physiol Nutr Metab. doi:10.1139/h2012-037

Rodman JS, Baker T (1978) Changes in the kinetics of muscle contraction in vitamin D-depleted rats. Kidney Int 13(3):189–193

Rosen CJ, Adams JS, Bikle DD, Black DM, Demay MB, Manson JE, Murad MH, Kovacs CS (2012) The nonskeletal effects of vitamin D: an Endocrine Society scientific statement. Endocr Rev 33(3):456–492. doi:10.1210/er.2012-1000

Sai AJ, Walters RW, Fang X, Gallagher JC (2011) Relationship between vitamin D, parathyroid hormone, and bone health. J Clin Endocrinol Metab 96(3):E436–E446. doi:10.1210/jc.2010-1886

Sanders KM, Stuart AL, Williamson EJ, Simpson JA, Kotowicz MA, Young D, Nicholson GC (2010) Annual high-dose oral vitamin D and falls and fractures in older women: a randomized controlled trial. JAMA 303(18):1815–1822. doi:10.1001/jama.2010.594

Sinha A, Hollingsworth KG, Ball S, Cheetham T (2013) Improving the vitamin d status of vitamin d deficient adults is associated with improved mitochondrial oxidative function in skeletal muscle. J Clin Endocrinol Metab 98(3):E509–E513. doi:10.1210/jc.2012-3592

Smith R, Stern G (1967) Myopathy, osteomalacia and hyperparathyroidism. Brain 90(3):593–602

Snellman G, Melhus H, Gedeborg R, Byberg L, Berglund L, Wernroth L, Michaelsson K (2010) Determining vitamin D status: a comparison between commercially available assays. PLoS ONE 5(7):e11555. doi:10.1371/journal.pone.0011555

Soderlund K, Hultman E (1991) ATP and phosphocreatine changes in single human muscle fibers after intense electrical stimulation. Am J Physiol 261(6 Pt 1):E737–E741

Srikuea R, Zhang X, Park-Sarge OK, Esser KA (2012) VDR and CYP27B1 are expressed in C2C12 cells and regenerating skeletal muscle: potential role in suppression of myoblast proliferation. Am J Physiol Cell Physiol 303(4):C396–C405. doi:10.1152/ajpcell.00014.2012

Stockton KA, Mengersen K, Paratz JD, Kandiah D, Bennell KL (2011) Effect of vitamin D supplementation on muscle strength: a systematic review and meta-analysis. Osteoporos Int 22(3):859–871. doi:10.1007/s00198-010-1407-y

Stratos I, Li Z, Herlyn P, Rotter R, Behrendt AK, Mittlmeier T, Vollmar B (2013) Vitamin D increases cellular turnover and functionally restores the skeletal muscle after crush injury in rats. Am J Pathol 182(3):895–904. doi:10.1016/j.ajpath.2012.11.006

van Schoor NM, Lips P (2011) Worldwide vitamin D status. Best Pract Res Clin Endocrinol Metab 25(4):671–680. doi:10.1016/j.beem.2011.06.007

Vazquez G, Boland R, de Boland AR (1995) Modulation by 1,25(OH)2-vitamin D3 of the adenylyl cyclase/cyclic AMP pathway in rat and chick myoblasts. Biochim Biophys Acta 1269(1):91–97

Vieth R (2007) Vitamin D toxicity, policy, and science. J Bone Miner Res 22(Suppl 2):V64–V68. doi:10.1359/jbmr.07s221

Vieth R (2011) Why the minimum desirable serum 25-hydroxyvitamin D level should be 75 nmol/L (30 ng/ml). Best Pract Res Clin Endocrinol Metab 25(4):681–691. doi:10.1016/j.beem.2011.06.009

Ziambaras K, Dagogo-Jack S (1997) Reversible muscle weakness in patients with vitamin D deficiency. West J Med 167(6):435–439

Zittermann A (2003) Vitamin D in preventive medicine: are we ignoring the evidence? Br J Nutr 89(5):552–572. doi:10.1079/BJN2003837
Acknowledgments
The authors would like to thank Dr. Rob Erskine and Ian Poole at LJMU for their expert technical assistance in electromyostimulation. Gratitude is also expressed by the authors to Emily Fisher, Christopher Washbourne and Isabelle Piec at UEA for the development of the LC–MS/MS assay.
Conflict of interest
The authors declare no conflicts of interest.
Additional information
Communicated by Alain Martin.
About this article
Cite this article
Owens, D.J., Webber, D., Impey, S.G. et al. Vitamin D supplementation does not improve human skeletal muscle contractile properties in insufficient young males. Eur J Appl Physiol 114, 1309–1320 (2014). https://doi.org/10.1007/s00421-014-2865-2
Received:

Accepted:

Published:

Issue Date:
Keywords
Cholecalciferol

25-Hydroxyvitamin D

Supplementation

Isokinetic dynamometry

Electromyostimulation

Fatigue