Abstract
Purpose
The aim of this study was to test the effects of mental exertion involving response inhibition on pacing and endurance performance during a subsequent 5-km running time trial.
Methods
After familiarization, 12 physically active subjects performed the time trial on a treadmill after two different cognitive tasks: (i) an incongruent Stroop task involving response inhibition (inhibition task) and (ii) a congruent Stroop task not involving response inhibition (control task). Both cognitive tasks were performed for 30 min.
Results
Neither the inhibition nor the control task induced subjective feelings of mental fatigue. Nevertheless, time trial performance was impaired following the inhibition task (24.4 ± 4.9 min) compared to the control task (23.1 ± 3.8 min) because of a significant reduction in average running speed chosen by the subject. The response inhibition task did not affect pacing strategy, which was negative in both conditions. Heart rate and blood lactate responses to the time trial were not affected by the inhibition task, but subjects rated perceived exertion higher compared to the control condition (13.5 ± 1.3 vs 12.4 ± 1.3).
Conclusion
These findings show for the first time that 30 min of mental exertion involving response inhibition reduces subsequent self-paced endurance performance despite no overt mental fatigue. The impairment in endurance performance observed after the incongruent Stroop task seems to be mediated by the higher perception of effort as predicted by the psychobiological model of endurance performance.
Access options
Buy single article
Instant access to the full article PDF.
US$ 39.95
Tax calculation will be finalised during checkout.
Subscribe to journal
Immediate online access to all issues from 2019. Subscription will auto renew annually.
US$ 119
Tax calculation will be finalised during checkout.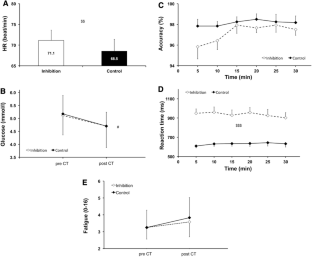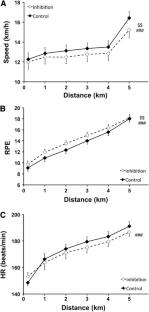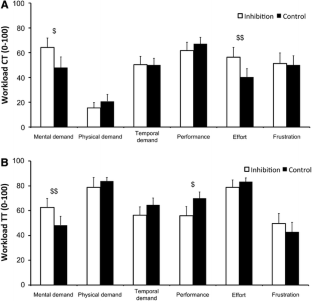 Abbreviations
ACC:

Anterior cingulate cortex

ANOVA:

Analysis of variance

HR:

Heart rate

RPE:

Rating of perceived exertion
References
Abbiss CR, Laursen PB (2008) Describing and understanding pacing strategies during athletic competition. Sports Med 38(3):239–252. doi:10.2165/00007256-200838030-00004

Amann M, Hopkins WG, Marcora SM (2008) Similar sensitivity of time to exhaustion and time-trial time to changes in endurance. Med Sci Sports Exerc 40(3):574–578. doi:10.1249/MSS.0b013e31815e728f

Boksem MA, Tops M (2008) Mental fatigue: costs and benefits. Brain Res Rev 59(1):125–139. doi:10.1016/j.brainresrev.2008.07.001

Borg G (1998) Borg's perceived exertion and pain scales. Human Kinetics, Champaign

Bray SR, Martin Ginis KA, Hicks AL, Woodgate J (2008) Effects of self-regulatory strength depletion on muscular performance and EMG activation. Psychophysiology 45(2):337–343. doi:10.1111/j.1469-8986.2007.00625.x

Bush G, Whalen PJ, Rosen BR, Jenike MA, McInerney SC, Rauch SL (1998) The counting Stroop: an interference task specialized for functional neuroimaging: validation study with functional MRI. Hum Brain Mapp 6(4):270–282. doi:10.1002/(SICI)1097-0193(1998)6:4<270:AID-HBM6>3.0.CO;2-0

Davis JM, Zhao Z, Stock HS, Mehl KA, Buggy J, Hand GA (2003) Central nervous system effects of caffeine and adenosine on fatigue. Am J Physiol Regul Integr Comp Physiol 284(2):R399–R404. doi:10.1152/ajpregu.00386.2002

de Morree HM, Klein C, Marcora SM (2012) Perception of effort reflects central motor command during movement execution. Psychophysiology 49:1242–1253. doi:10.1111/j.1469-8986.2012.01399.x

De Pauw K, Roelands B, Cheung SS, de Geus B, Rietjens G, Meeusen R (2013) Guidelines to classify subject groups in sport-science research. Int J Sports Physiol Perform 8(2):111–122

Doherty M, Smith PM (2005) Effects of caffeine ingestion on rating of perceived exertion during and after exercise: a meta-analysis. Scand J Med Sci Sports 15(2):69–78. doi:10.1111/j.1600-0838.2005.00445.x

Gailliot MT (2008) Unlocking the energy dynamics of executive functioning linking executive functioning to brain glycogen. Perspect Psychol Sci Adv Physiol Educ Biol Psychol 3(4):245–263. doi:10.1111/J.1745-6924.2008.00077.X

Haggard P (2008) Human volition: towards a neuroscience of will. Nat Rev Neurosci 9(12):934–946. doi:10.1038/nrn2497

Hart SG, Staveland LE (1988) Development of NASA-TLX (task load index): results of empirical and theoretical research. Human Ment Workload 1:139–183

Jones AM, Doust JH (1996) A 1 % treadmill grade most accurately reflects the energetic cost of outdoor running. J Sports Sci 14(4):321–327

Lovatt D, Xu Q, Liu W, Takano T, Smith NA, Schnermann J, Tieu K, Nedergaard M (2012) Neuronal adenosine release, and not astrocytic ATP release, mediates feedback inhibition of excitatory activity. Proc Natl Acad Sci USA 109(16):6265–6270. doi:10.1073/pnas.1120997109

Marcora S (2010a) Counterpoint: afferent feedback from fatigued locomotor muscles is not an important determinant of endurance exercise performance. J Appl Physiol 108(2):454–456. doi:10.1152/japplphysiol.00976.2009a, (discussion 456–457)

Marcora SM (2010b) Effort: perception of. In: Goldstein EB (ed) Encyclopaedia of Perception. SAGE Publications Inc., Thousand Oaks, pp 380–383

Marcora SM, Staiano W (2010) The limit to exercise tolerance in humans: mind over muscle? Eur J Appl Physiol 109(4):763–770. doi:10.1007/s00421-010-1418-6

Marcora SM, Staiano W, Manning V (2009) Mental fatigue impairs physical performance in humans. J Appl Physiol 106(3):857–864. doi:10.1152/japplphysiol.91324.2008

Matthews G, Campbell S, Falconer S (2001) Assessment of motivational states in performance environments. Proc Annu Meet Human Factors Ergon Soc 45:906–910

Mostofsky SH, Simmonds DJ (2008) Response inhibition and response selection: two sides of the same coin. J Cogn Neurosci 20(5):751–761. doi:10.1162/jocn.2008.20500

Nederhof E, Zwerver J, Brink M, Meeusen R, Lemmink K (2008) Different diagnostic tools in non-functional overreaching. Int J Sports Med 29(7):590–597. doi:10.1055/s-2007-989264

Nummela AT, Paavolainen LM, Sharwood KA, Lambert MI, Noakes TD, Rusko HK (2006) Neuromuscular factors determining 5 km running performance and running economy in well-trained athletes. Eur J Appl Physiol 97(1):1–8. doi:10.1007/s00421-006-0147-3

Pageaux B, Marcora SM, Lepers R (2013) Prolonged mental exertion does not alter neuromuscular function of the knee extensors. Med Sci Sports Exerc 45(12):2254–2264. doi:10.1249/MSS.0b013e31829b504a

Richter M, Friedrich A, Gendolla GH (2008) Task difficulty effects on cardiac activity. Psychophysiology 45(5):869–875. doi:10.1111/j.1469-8986.2008.00688.x

Rudebeck PH, Walton ME, Smyth AN, Bannerman DM, Rushworth MF (2006) Separate neural pathways process different decision costs. Nat Neurosci 9(9):1161–1168. doi:10.1038/nn1756

Stroop JR (1992) Studies of interference in serial verbal reactions (Reprinted from Journal Experimental-Psychology, vol 18, pp 643–662, 1935). J Exp Psychol Gen 121(1):15–23. doi:10.1037/0096-3445.121.1.15

Sugg MJ, McDonald JE (1994) Time course of inhibition in color-response and word-response versions of the Stroop task. J Exp Psychol Hum Percept Perform 20(3):647–675

Swick D, Jovanovic J (2002) Anterior cingulate cortex and the Stroop task: neuropsychological evidence for topographic specificity. Neuropsychologia 40(8):1240–1253 S0028393201002263

Terry PC, Lane AM, Fogarty GJ (2003) Construct validity of the profile of mood states: adolescents for use with adults. Psychol Sport Exerc 4:125–139

Tucker R, Lambert MI, Noakes TD (2006) An analysis of pacing strategies during men's world-record performances in track athletics. Int J Sports Physiol Perform 1(3):233–245

Wallace HM, Baumeister RF (2002) The effects of success versus failure feedback on further self-control. Self Identity 1:35–41

Walton ME, Bannerman DM, Alterescu K, Rushworth MF (2003) Functional specialization within medial frontal cortex of the anterior cingulate for evaluating effort-related decisions. J Neurosci 23(16):6475–6479

Walton ME, Kennerley SW, Bannerman DM, Phillips PE, Rushworth MF (2006) Weighing up the benefits of work: behavioral and neural analyses of effort-related decision making. Neural Netw 19(8):1302–1314. doi:10.1016/j.neunet.2006.03.005

Williamson JW, McColl R, Mathews D, Mitchell JH, Raven PB, Morgan WP (2001) Hypnotic manipulation of effort sense during dynamic exercise: cardiovascular responses and brain activation. J Appl Physiol 90(4):1392–1399

Williamson JW, McColl R, Mathews D, Mitchell JH, Raven PB, Morgan WP (2002) Brain activation by central command during actual and imagined handgrip under hypnosis. J Appl Physiol 92(3):1317–1324. doi:10.1152/japplphysiol.00939.2001
Acknowledgments
The authors thank Tiffany Weedon for her help with participant recruitment and data collection.
Conflict of interest
The authors declare that they have no conflicts of interest.
Additional information
Communicated by Guido Ferretti.
About this article
Cite this article
Pageaux, B., Lepers, R., Dietz, K.C. et al. Response inhibition impairs subsequent self-paced endurance performance. Eur J Appl Physiol 114, 1095–1105 (2014). https://doi.org/10.1007/s00421-014-2838-5
Received:

Accepted:

Published:

Issue Date:
Keywords
Perception of effort

Time trial

Mental fatigue

Running

Cognitive task

Stroop task