Abstract
Purpose
Yoga stretching can be done comfortably and easily by beginners and older adults to compensate for lack of exercise or poor health maintenance. The aim of this study was to determine the effect of yoga stretching on mucosal immune functions, primarily human β-defensin 2 (HBD-2) in saliva.
Methods
Fifteen healthy adults (age, 60.4 ± 8.0 years) participated in the study. Participants rested for 90 min on the first day and performed yoga for 90 min on the second day. Measurements were carried out before and after rest or yoga. Saliva samples were collected by chewing a sterile cotton at a frequency of 60 cycles per min. Salivary HBD-2 concentration was measured using an enzyme-linked immunosorbent assay.
Results
HBD-2 concentration after yoga stretching (165.4 ± 127.1 pg/mL) was significantly higher than that before yoga stretching (84.1 ± 63.4 pg/mL; p < 0.01). HBD-2 expression rate after yoga stretching (232.8 ± 192.9 pg/min) was significantly higher than that before yoga stretching (110.7 ± 96.8 pg/min; p < 0.01). HBD-2 concentration (p < 0.05) and HBD-2 expression rate (p < 0.01) at post on the second day (yoga) was significantly higher than that on the first day (rest). POMS score of anger-hostility was lower after yoga than before.
Conclusions
Yoga stretching for 90 min can increase salivary HBD-2 expression in older adults. Therefore, yoga stretching might be useful for older adults and athletes to maintain their health.
Access options
Buy single article
Instant access to the full article PDF.
US$ 39.95
Tax calculation will be finalised during checkout.
Subscribe to journal
Immediate online access to all issues from 2019. Subscription will auto renew annually.
US$ 119
Tax calculation will be finalised during checkout.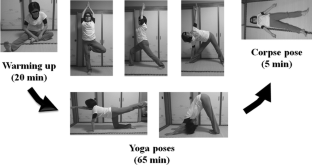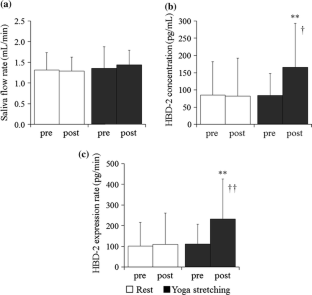 References
Ainsworth BE, Haskell WL, Whitt MC, Irwin ML, Swartz AM, Strath SJ, O'Brien WL, Bassett DR Jr, Schmitz KH, Emplaincourt PO, Jacobs DR Jr, Leon AS (2000) Compendium of physical activities: an update of activity codes and MET intensities. Med Sci Sports Exerc 32:498–504

Akimoto T, Kumai Y, Akama T, Hayashi E, Murakami H, Soma R, Kuno S, Kono I (2003) Effects of 12 months of exercise training on salivary secretory IgA levels in elderly subjects. Br J Sports Med 37:76–79

Alter MJ (2004) Science of flexibility, 3rd edn. Human Kinetics, Champaign

Diego M, Field T, Sanders C, Hernandez-Reif M (2004) Massage therapy of moderate and light pressure and vibrator effects on EEG and heart rate. Int J Neurosci 114:31–44

Dinulos JG, Mentele L, Fredericks LP, Dale BA, Darmstadt GL (2003) Keratinocyte expression of human beta defensin 2 following bacterial infection: role in cutaneous host defense. Clin Diagn Lab Immunol 10(1):161–166

Field T (2011) Yoga clinical research review. Complem Ther Clin Pract 17:1–8

Field T, Diego M, Hernandez-Reif M (2007) Massage therapy research. Dev Rev 27:75–89

Ganz T (1999) Defensins and host defense. Science 286:420–421

Ganz T (2003) Defensins: antimicrobial peptides of innate immunity. Nat Rev Immunol 3:710–720

Ganz T, Lehrer RI (1994) Defensins. Curr Opin Immunol 6:584–589

Greiwe JS, Hickner RC, Shah SD, Cryer PE, Holloszy JO (1999) Norepinephrine response to exercise at the same relative intensity before and after endurance exercise training. J Appl Physiol 86(2):531–535

Harder J, Meyer-Hoffert U, Teran LM, Schwichtenberg L, Bartels J, Maune S, Schröder JM (2000) Mucoid Pseudomonas aeruginosa, TNF-alpha, and IL-1beta, but not IL-6, induce human beta-defensin-2 in respiratory epithelia. Am J Respir Cell Mol Biol 22:714–721

Hartfiel N, Havenhand J, Khalsa SB, Clarke G, Krayer A (2011) The effectiveness of yoga for the improvement of well-being and resilience to stress in the workplace. Scand J Work Environ Health 37:70–76

Houston MS, Silverstein MD, Suman VJ (1997) Risk factors for 30-day mortality in elderly patients with lower respiratory tract infection. Community-based study. Arch Intern Med 157:2190–2195

Iyengar BKS (2001) Light on yoga: the definitive guide to yoga practice. Thorsons, London

Kamei T, Toriumi Y, Kimura H, Ohno S, Kumano H, Kimura K (2000) Decrease in serum cortisol during yoga exercise is correlated with alpha wave activation. Percept Mot Skills 90:1027–1032

Kirschbaum C, Hellhammer DH (1994) Salivary cortisol in psychoneuroendocrine research: recent developments and applications. Psychoneuroendocrinology 19:313–333

Kuboki Y, Fujisawa R (1986) Sampling and handling of saliva. J Med Technol 30:937–942

Lamm ME, Nedrud JG, Kaetzel CS, Mazanec MB (1995) IgA and mucosal defense. APMIS 103(4):241–246

Lehrer RI, Lichtenstein AK, Ganz T (1993) Defensins: antimicrobial and cytotoxic peptides of mammalian cells. Annu Rev Immunol 11:105–128

Mataga I (2009) Dry mouth; Basic and clinical investigations upon history. Jpn J Oral Maxillofac Surg 55(4):154–162

McDermott AM, Redfern RL, Zhang B, Pei Y, Huang L, Proske RJ (2003) Defensin expression by the cornea: multiple signaling pathways mediate IL-1beta stimulation of hBD-2 expression by human corneal epithelial cells. Invest Ophthalmol Vis Sci 44:1859–1865

Oren Z, Lerman JC, Gudmundsson GH, Agerberth B, Shai Y (1999) Structure and organization of the human antimicrobial peptide LL-37 in phospholipid membranes: relevance to the molecular basis for its non-cell-selective activity. Biochem J 341:501–513

Ostrowski K, Rohde T, Asp S, Schjerling P, Pedersen BK (1999) Pro- and anti-inflammatory cytokine balance in strenuous exercise in humans. J Physiol 515:287–291

Sakaki K (2006) Variation in the ratio of leukocytes in women caused by yoga breathing: The interrelationship among individual differences in the autonomic nervous system, endocrine secretion and immune mechanism activities by yoga breathing. Jpn Soc Phys Fit Sport Med 55:477–488

Schaller M, Schackert C, Korting HC, Januschke E, Hube B (2000) Invasion of Candida albicans correlates with expression of secreted aspartic proteinases during experimental infection of human epidermis. J Invest Dermatol 114:712–717

Shimizu K, Kimura F, Akimoto T, Akama T, Otsuki T, Nishijima T, Kuno S, Kono I (2007a) Effects of exercise, age and gender on salivary secretory immunoglobulin A in elderly individuals. Exerc Immunol Rev 13:55–66

Shimizu K, Kimura F, Akimoto T, Akama T, Kuno S, Kono I (2007b) Effect of free-living daily physical activity on salivary secretory IgA in elderly. Med Sci Sports Exerc 39:593–598

Starner TD, Agerberth B, Gudmundsson GH, McCray PB Jr (2005) Expression and activity of beta-defensins and LL-37 in the developing human lung. J Immunol 174:1608–1615

Telles S, Gaur V, Balkrishna A (2009) Effect of a yoga practice session and a yoga theory session on state anxiety. Percept Mot Skills 109:924–930

The Ministry of Health, Labour and Welfare (2006) Exercise and physical activity guide for health promotion 2006. The Ministry of Health, Labour and Welfare, Tokyo

Tomita T, Nagase T, Ohga E, Yamaguchi Y, Yoshizumi M, Ouchi Y (2002) Molecular mechanisms underlying human beta-defensin-2 gene expression in a human airway cell line (LC2/ad). Respirology 7:305–310

Uebelacker LA, Tremont G, Epstein-Lubow G, Gaudiano BA, Gillette T, Kalibatseva Z, Miller IW (2010) Open trial of Vinyasa yoga for persistently depressed individuals: evidence of feasibility and acceptability. Behav Modif 34:247–264

Usui T, Yoshikawa T, Orita K, Ueda SY, Katsura Y, Fujimoto S, Yoshimura M (2011) Changes in salivary antimicrobial peptides, immunoglobulin A and cortisol after prolonged strenuous exercise. Eur J Appl Physiol 111:2005–2014

Yokoyama K, Araki S, Kawakami N, Tkakeshita T (1990) Production of the Japanese edition of profile of mood states (POMS): assessment of reliability and validity. Nihon Koshu Eisei Zasshi 37:913–918
Additional information
Communicated by Fabio Fischetti.
About this article
Cite this article
Eda, N., Shimizu, K., Suzuki, S. et al. Effects of yoga exercise on salivary beta-defensin 2. Eur J Appl Physiol 113, 2621–2627 (2013). https://doi.org/10.1007/s00421-013-2703-y
Received:

Accepted:

Published:

Issue Date:
Keywords
Stretching

Relaxation

Mucosal immunity

Antimicrobial peptide