Abstract
Purpose
This study aimed to compare changes in maximal oxygen uptake (VO2max) in response to two regimens of chronic interval training.
Methods
Twenty healthy sedentary women (mean ± SD age and VO2max = 23.0 ± 5.7 years and 30.1 ± 4.4 mL kg−1 min−1, respectively) were randomized to complete 12 weeks of one of two interval training regimes, while an additional seven women served as controls. Training was performed 3 days week−1 on a cycle ergometer and consisted of 6–10 bouts of 1 min duration at lower (60–80 % W max = LO, n = 10) or more intense (80–90 % W max = HI, n = 10) workloads separated by a brief recovery. Every 3 weeks, measures of VO2max and W max were repeated to assign new training intensities. Changes in blood pressure and body composition were also examined.
Results
Data revealed significant (p < 0.001) improvements in VO2max in LO (22.3 ± 6.9 %) and HI (21.9 ± 11.6 %) that were similar (p > 0.05) between groups. Approximately 60 % of the increase in VO2max in HI was observed in the initial 3 weeks, compared to only 20 % in LO. No change (p > 0.05) in body weight or body composition was revealed in response to training. Results demonstrate that a relatively prolonged regimen of moderate or more intense interval training induces similar improvements in cardiorespiratory fitness, although HI induced greater increases in VO2max early on in training than LO. Completion of more intense interval training may be an effective means to expedite increases in VO2max soon after initiation of exercise training.
Access options
Buy single article
Instant access to the full article PDF.
USD 39.95
Price excludes VAT (USA)
Tax calculation will be finalised during checkout.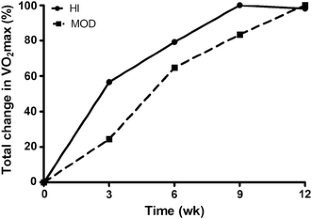 Abbreviations
BMI:

Body mass index

%BF:

Percent body fat

d:

Day

HI:

Higher intensity interval training

HR:

Heart rate

kg:

Kilogram

LO:

Lower intensity interval training

mL:

Milliliter

Min:

Minute

s:

Second

VO2max :

Maximal oxygen uptake

W:

Workload

WC:

Waist circumference

wk:

Week

yr:

Years
References
Astorino TA (2009) Alterations in VO2max and the VO2 plateau with manipulation of sampling interval. Clin Physiol Funct Imaging 29(1):60–67

Astorino TA, White AC, Dalleck LC (2008) Supramaximal testing to confirm attainment of VO2max in sedentary men and women. Int J Sports Med 32:1–6

Astorino TA, Allen RP, Roberson DW, Jurancich M, Lewis R, McCarthy K, Trost E (2011) Adaptations to high-intensity training are independent of gender. Eur J Appl Physiol 111(7):1279–1286

Bartlett JD, Close GL, MacLaren DP, Gregson W, Drust B, Morton JP (2011) High-intensity interval running is perceived to be more enjoyable than moderate-intensity continuous exercise: implications for exercise adherence. J Sports Sci 29(6):547–553

Blair SN, Kohl HW III, Paffenbarger RS, Clark DG, Cooper KH, Gibbons LW (1989) Physical fitness and all-cause mortality: a prospective study of healthy men and women. J Am Med Assoc 262:2395–2401

Bouchard C, Rankinen T (2001) Individual differences in response to regular physical activity. Med Sci Sports Exerc 33(6 suppl):S446–S453

Bouchard C, An P, Rice T, Skinner JS, Wilmore JH, Gagnon J, Pérusse L, Leon AS, Rao DC (1999) Familial aggregation of VO2max response to exercise training: results from the HERITAGE Family Study. J Appl Physiol 87(3):1003–1008

Burgomaster K, Hughes SC, Heigenhauser GJF, Bradwell SN, Gibala MJ (2005) Six sessions of sprint interval training increase muscle oxidative potential and cycle endurance capacity in humans. J Appl Physiol 98:1985–1990

Church TS, Earnest CP, Skinner JS, Blair SN (2007) Effects of different doses of physical activity on cardiorespiratory fitness among sedentary, overweight or obese postmenopausal women with elevated blood pressure: a randomized controlled trial. J Am Med Assoc 297(19):2081–2091

Dalleck LC, Astorino TA, Erickson RM, McCarthy CM, Beadell AA, Botten BH (2012) Suitability of verification testing to confirm attainment of VO2max in middle-aged and older adults. Res Sports Med 20(2):118–128

Daussin FN, Zoll J, DuFour SP, Ponsot E, Lonsdorfer-Wolf E, Doutreleau S, Mettauer B, Piquard F, Geny B, Richard R (2008) Effect of interval versus continuous training on cardiorespiratory and mitochondrial functions: relationship to aerobic performance improvements in sedentary subjects. Am J Physiol 295:R264–R272

Edge J, Eynon N, McKenna MJ, Goodman CA, Harris RC, Bishop DJ (2013) Altering the rest interval during high-intensity interval training does not affect muscle or performance adaptations. Exp Physiol 98(2):481–490

Gaesser GA, Rich RG (1984) Effects of high-and low-intensity exercise training on aerobic capacity and blood lipids. Med Sci Sports Exerc 16(3):269–274

Godin G, Desharnais R, Valois P, LePage P, Jobin J, Bradet R (1994) Differences in perceived barriers to exercise between high and low intenders: observations among different populations. Am J Health Prom 8:279–285

Hazell TJ, MacPherson REK, Gravelle BMR, Lemon PW (2010) 10 or 30-s sprint interval training bouts enhance both aerobic and anaerobic performance. Eur J Appl Physiol 110:153–160

Helgerud J, Hoydal K, Wang E, Karlsen T, Berg P, Bjerkaas M, Simonsen T, Helgesen C, Hjorth N, Bach R, Hoff J (2007) Aerobic high-intensity intervals improve VO2max more than moderate training. Med Sci Sports Exerc 39(4):665–671

Heyward VH (2006) Advanced fitness assessment and exercise prescription. In: Human Kinetics. 5th Edn, Champaign, IL

Hickson RC, Hagberg JM, Ehsani AA, Holloszy JO (1981) Time course of the adaptive responses of aerobic power and heart rate to training. Med Sci Sports Exerc 13:17–20

Hofmann P, Tschakert G (2011) Special needs to prescribe exercise intensity for scientific studies. Cardiol Res Pract p 209302

Hood MS, Little JP, Tarnopolsky MA, Myslik F, Gibala MJ (2011) Low-volume interval training improves muscle oxidative capacity in sedentary adults. Med Sci Sports Exerc 43(10):1849–1856

Jackson AS, Pollock ML, Ward A (1980) Generalized equations for predicting body density of women. Med Sci Sports Exerc 12(3):175–181

MacPherson REK, Hazell TJ, Olver TD, Paterson DH, Lemon PWR (2011) Run sprint interval training improves aerobic performance but not maximal cardiac output. Med Sci Sports Exerc 43(1):115–122

NIH Consensus Development Panel on Physical Activity and Cardiovascular Health (1996) Physical Activity and cardiovascular health. J Am Med Assoc 276:241–246

Nybo L, Sundstrup E, Jakobsen MD, Mohr M, Hornstrup T, Simonsen L, Bulow J, Randers MB, Nielsen JJ, Aagaard P, Krustrup P (2010) High-intensity training versus traditional exercise interventions for promoting health. Med Sci Sports Exerc 42(10):1951–1958

Poole DC, Gaesser GA (1985) Response of ventilatory and lactate thresholds to continuous and interval training. J Appl Physiol 58(4):1115–1121

Scharhag-Rosenberger F, Meyer T, Walitzek S, Kindermann W (2009) Time course of changes in endurance capacity: a 1-yr training study. Med Sci Sports Exerc 41(5):1130–1137

Scharhag-Rosenberger F, Walitzek S, Kindermann W, Meyer T (2012) Differences in adaptations to 1 year of aerobic endurance training: individual patterns of nonresponse. Scand J Med Sci Sports 22:113–118

Sijie T, Hainai Y, Fengying Y, JianXiong W (2012) High intensity exercise interval training in overweight young women. J Sports Med Phys Fit 52:255–262

Sisson SB, Katzmarzyk PT, Earnest CP, Bouchard C, Blair SN, Church TS (2009) Volume of exercise and fitness nonresponse in sedentary, postmenopausal women. Med Sci Sports Exerc 41(3):539–545

Talanian JL, Galloway SD, Heigenhauser GJF, Bonen A, Spriet LL (2007) Two weeks of high-intensity aerobic interval training increase the capacity for fat oxidation during exercise in women. J Appl Physiol 102:1439–1444

Trapp EG, Chisholm DJ, Freund J, Boutcher JH (2008) The effects of high-intensity intermittent exercise training on fat loss and fasting insulin levels of young women. Int J Obes 32:684–691

Whyte LJ, Gill JMR, Cathcart AJ (2010) Effect of two weeks of sprint interval training on health-related outcomes in sedentary overweight/obese men. Metabolism 59:1421–1428
Acknowledgments
This study was partially funded by a University GPSM grant. The authors want to thank the subjects for their sincere dedication to the project as well as Kalie Reams and Weston Titus for assistance with data collection.
Additional information
Communicated by Toshio Moritani.
About this article
Cite this article
Astorino, T.A., Schubert, M.M., Palumbo, E. et al. Magnitude and time course of changes in maximal oxygen uptake in response to distinct regimens of chronic interval training in sedentary women. Eur J Appl Physiol 113, 2361–2369 (2013). https://doi.org/10.1007/s00421-013-2672-1
Received:

Accepted:

Published:

Issue Date:

DOI: https://doi.org/10.1007/s00421-013-2672-1
Keywords