Abstract
This study aimed at examined the effect of a 12-week whole body vibration (WBV) training program on leg blood flow and body composition in people with type 2 diabetes mellitus (T2DM). Forty participants were randomly assigned to either a WBV training group (WBV; n = 20) or usual-care control group (CON; n = 20). Body composition [waist circumference, waist to hip ratio (WHR), weight, height, percentage of body fat and fat-free mass], heart rate, and blood flow [femoral artery diameter, maximum systolic velocity, maximum diastolic velocity (DV), time averaged mean, pulsatility index and resistance index (RI), mean velocity (V med), and peak blood velocities (PBV)] were assessed at baseline and after 12 weeks. There were significant increases in the blood flow (p = 0.046), V med (p = 0.050), and DV (p = 0.037) after WBV compared with CON. Within-group analysis showed significant differences in V med, PBV, and DV in the WBV group. Significant decreases after the intervention in weight (p < 0.001), waist circumference (p < 0.001), WHR (p < 0.05), and body fat (p < 0.05) were also found, with significant between-groups decreases in all these outcomes in the WBV group. Significant correlations existed between changes in percent body fat and blood flow [blood flow (−0.761), V med (−0.607), PBV (−0.677), and RI (0.0510)]. WBV training can be considered an effective means to increase leg blood flow and to reduce adiposity in patients with T2DM.
Access options
Buy single article
Instant access to the full article PDF.
US$ 39.95
Tax calculation will be finalised during checkout.
Subscribe to journal
Immediate online access to all issues from 2019. Subscription will auto renew annually.
US$ 119
Tax calculation will be finalised during checkout.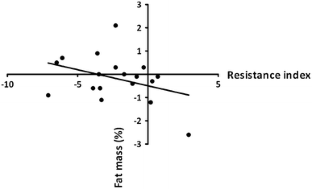 References
Bacchi E, Negri C, Zanolin ME, Milanese C, Faccioli N, Trombetta M, Zoppini G, Cevese A, Bonadonna RC, Schena F, Bonora E, Lanza M, Moghetti P (2012) Metabolic effects of aerobic training and resistance training in type 2 diabetic subjects: a randomized controlled trial (the RAED2 study). Diabetes Care 35:676–682

Baron AD, Steinberg HO, Chaker H, Leaming R, Johnson A, Brechtel G (1995) Insulin-mediated skeletal muscle vasodilation contributes to both insulin sensitivity and responsiveness in lean humans. J Clin Investig 96:786–792

Behboudi L, Azarbayjani MA, Aghaalinejad H, Salavati M (2011) Effects of aerobic exercise and whole body vibration on glycaemia control in type 2 diabetic males. Asian J Sports Med 2:83–90

Bloor CM (2005) Angiogenesis during exercise and training. Angiogenesis 8:263–271

Bogaerts A, Delecluse C, Claessens AL, Coudyzer W, Boonen S, Verschueren SM (2007) Impact of whole-body vibration training versus fitness training on muscle strength and muscle mass in older men: a 1-year randomized controlled trial. J Gerontol A Biol Sci Med Sci 62:630–635

Button C, Anderson N, Bradford C, Cotter JD, Ainslie PN (2007) The effect of multidirectional mechanical vibration on peripheral circulation of humans. Clin Physiol Funct Imaging 27:211–216

Chudyk A, Petrella RJ (2011) Effects of exercise on cardiovascular risk factors in type 2 diabetes: a meta-analysis. Diabetes Care 34:1228–1237

Dela F, Kjaer M (2006) Resistance training, insulin sensitivity and muscle function in the elderly. Essays Biochem 42:75–88

Devereux GR, Wiles JD, Swaine IL (2010) Reductions in resting blood pressure after 4 weeks of isometric exercise training. Eur J Appl Physiol 109:601–606

Egger A, Niederseer D, Diem G, Finkenzeller T, Ledl-Kurkowski E, Forstner R, Pirich C, Patsch W, Weitgasser R, Niebauer J (2012) Different types of resistance training in patients with type 2 diabetes mellitus: effects on glycemic control, muscle mass and strength. Eur J Prev Cardiol. [Epub ahead of print]

Figueroa A, Gil R, Wong A, Hooshmand S, Park SY, Vicil F, Sanchez-Gonzalez MA (2012) Whole-body vibration training reduces arterial stiffness, blood pressure and sympathovagal balance in young overweight/obese women. Hypertens Res 35:667–672

Fjeldstad C, Palmer IJ, Bemben MG, Bemben DA (2009) Whole-body vibration augments resistance training effects on body composition in postmenopausal women. Maturitas 63:79–83

Gerich JE (2007) Type 2 diabetes mellitus is associated with multiple cardiometabolic risk factors. Clin Cornerstone 8:53–68

Hazell TJ, Thomas GW, Deguire JR, Lemon PW (2008) Vertical whole-body vibration does not increase cardiovascular stress to static semi-squat exercise. Eur J Appl Physiol 104:903–908

Herrero AJ, Martín J, Martín T, García-López D, Garatachea N, Jiménez B, Marín PJ (2011a) Whole-body vibration alters blood flow velocity and neuromuscular activity in Friedreich's ataxia. Clin Physiol Funct Imaging 31:139–144

Herrero AJ, Menendez H, Gil L, Martin J, Martin T, Garcia- Lopez D, Gil-Agudo A, Marín PJ (2011b) Effects of whole-body vibration on blood flow and neuromuscular activity in spinal cord injury. Spinal Cord 49:554–559

Iannucci CV, Capoccia D, Calabria M, Leonetti F (2007) Metabolic syndrome and adipose tissue: new clinical aspects and therapeutic targets. Curr Pharm Des 13:2148–2168

Kerschan-Schindl K, Grampp S, Henk C, Resch H, Preisinger E, Fialka-Moser V, Imhof H (2001) Whole-body vibration exercise leads to alterations in muscle blood volume. Clin Physiol 21:377–382

Lalande S, Gusso S, Hofman PL, Baldi JC (2008) Reduced leg blood flow during submaximal exercise in type 2 diabetes. Med Sci Sports Exerc 40:612–617

Lohman EB 3rd, Petrofsky JS, Maloney-Hinds C, Betts-Schwab H, Thorpe D (2007) The effect of whole body vibration on lower extremity skin blood flow in normal subjects. Med Sci Monit 13:CR71–CR76

Lythgo N, Eser P, de Groot P, Galea M (2009) Whole-body vibration dosage alters leg blood flow. Clin Physiol Funct Imaging 29:53–59

Machado A, Garcia-Lopez D, Gonzalez-Gallego J, Garatachea N (2010) Whole-body vibration training increases muscle strength and mass in older women: a randomized-controlled trial. Scand J Med Sci Sports 20:200–207

Maloney-Hinds C, Petrofsky JS, Zimmerman G, Hessinger DA (2009) The role of nitric oxide in skin blood flow increases due to vibration in healthy adults and adults with type 2 diabetes. Diabetes Technol Ther 11:39–43

Maple-Brown LJ, Piers LS, O'Rourke MF, Celermajer DS, O'Dea K (2005) Central obesity is associated with reduced peripheral wave reflection in Indigenous Australians irrespective of diabetes status. J Hypertens 23:1403–1407

Meeuwsen S, Horgan GW, Elia M (2010) The relationship between BMI and percent body fat, measured by bioelectrical impedance, in a large adult sample is curvilinear and influenced by age and sex. Clin Nutr 29:560–566

Mikus CR, Fairfax ST, Libla JL, Boyle LJ, Vianna LC, Oberlin DJ, Uptergrove GM, Deo SH, Kim A, Kanaley JA, Fadel PJ, Thyfault JP (2011) Seven days of aerobic exercise training improves conduit artery blood flow following glucose ingestion in patients with type 2 diabetes. J Appl Physiol 111:657–664

Milanese C, Piscitelli F, Simoni C, Pugliarello R, Zancanaro C (2012) Effects of whole-body vibration with or without localized radiofrequency on anthropometry, body composition, and motor performance in young nonobese women. J Altern Complement Med 18:69–75

Okada S, Hiuge A, Makino H, Nagumo A, Takaki H, Konishi H, Goto Y, Yoshimasa Y, Miyamoto Y (2010) Effect of exercise intervention on endothelial function and incidence of cardiovascular disease in patients with type 2 diabetes. J Atheroscler Thromb 17:828–833

Olson TP, Dengel DR, Leon AS, Schmitz KH (2006) Moderate resistance training and vascular health in overweight women. Med Sci Sports Exerc 38:1558–1564

Piche ME, Lapointe A, Weisnagel SJ, Corneau L, Nadeau A, Bergeron J, Lemieux S (2008) Regional body fat distribution and metabolic profile in postmenopausal women. Metabolism 57:1101–1107

Regensteiner JG (2004) Type 2 diabetes mellitus and cardiovascular exercise performance. Rev Endocr Metab Disord 5:269–276

Sato Y, Nagasaki M, Kubota M, Uno T, Nakai N (2007) Clinical aspects of physical exercise for diabetes/metabolic syndrome. Diabetes Res Clin Pract 77(Suppl 1):S87–S91

Silber HA, Lima JA, Bluemke DA, Astor BC, Gupta SN, Foo TK, Ouyang P (2007) Arterial reactivity in lower extremities is progressively reduced as cardiovascular risk factors increase: comparison with upper extremities using magnetic resonance imaging. J Am Coll Cardiol 49:939–945

Snijder MB, Henry RM, Visser M, Dekker JM, Seidell JC, Ferreira I, Bouter LM, Yudkin JS, Westerhof N, Stehouwer CD (2004) Regional body composition as a determinant of arterial stiffness in the elderly: the Hoorn Study. J Hypertens 22:2339–2347

Song GE, Kim K, Lee DJ, Joo NS (2011) Whole body vibration effects on body composition in the postmenopausal Korean obese women: pilot study. Korean J Fam Med 32:399–405

Steinberg HO, Brechtel G, Johnson A, Fineberg N, Baron AD (1994) Insulin-mediated skeletal muscle vasodilation is nitric oxide dependent. A novel action of insulin to increase nitric oxide release. J Clin Investig 94:1172–1179

Suzuki E, Kashiwagi A, Nishio Y, Egawa K, Shimizu S, Maegawa H, Haneda M, Yasuda H, Morikawa S, Inubushi T, Kikkawa R (2001) Increased arterial wall stiffness limits flow volume in the lower extremities in type 2 diabetic patients. Diabetes Care 24:2107–2114

Terada T, Friesen A, Chahal BS, Bell GJ, McCargar LJ, Boulé NG (2013) Feasibility and preliminary efficacy of high intensity interval training in type 2 diabetes. Diabetes Res Clin Pract 99(2):120–129

Vissers D, Verrijken A, Mertens I, Van Gils C, Van de Sompel A, Truijen S, Van Gaal L (2010) Effect of long-term whole body vibration training on visceral adipose tissue: a preliminary report. Obes Facts 3:93–100
Acknowledgments
This study was supported by University of Seville.
Conflict if interest
None declared.
Additional information
Trial Number: ACTRN12613000021774.
Communicated by Guido Ferretti.
Electronic supplementary material
Below is the link to the electronic supplementary material.
About this article
Cite this article
Sañudo, B., Alfonso-Rosa, R., del Pozo-Cruz, B. et al. Whole body vibration training improves leg blood flow and adiposity in patients with type 2 diabetes mellitus. Eur J Appl Physiol 113, 2245–2252 (2013). https://doi.org/10.1007/s00421-013-2654-3
Received:

Accepted:

Published:

Issue Date:
Keywords
Doppler ultrasound

Femoral artery

Body fat

Fat-free mass

Vibration training