Abstract
Whey protein and leucine ingestion following exercise increases muscle protein synthesis and could influence neutrophil function during recovery from prolonged intense exercise. We examined the effects of whey protein and leucine ingestion post-exercise on neutrophil function and immunomodulators during a period of intense cycling. In a randomized double-blind crossover, 12 male cyclists ingested protein/leucine/carbohydrate/fat (LEUPRO 20/7.5/89/22 g h−1, respectively) or isocaloric carbohydrate/fat control (CON 119/22 g h−1) beverages for 1–3 h post-exercise during 6 days of high-intensity training. Blood was taken pre- and post-exercise on days 1, 2, 4 and 6 for phorbol myristate acetate (PMA)-stimulated neutrophil superoxide (O2 −) production, immune cell counts, amino acid and lipid metabolism via metabolomics, hormones (cortisol, testosterone) and cytokines (interleukin-6, interleukin-10). During recovery on day 1, LEUPRO ingestion increased mean concentrations of plasma amino acids (glycine, arginine, glutamine, leucine) and myristic acid metabolites (acylcarnitines C14, myristoylcarnitine; and C14:1-OH, hydroxymyristoleylcarnitine) with neutrophil priming capacity, and reduced neutrophil O2 production (15–17 mmol O2 − cell−1 ± 90 % confidence limits 20 mmol O2 − cell−1). On day 2, LEUPRO increased pre-exercise plasma volume (6.6 ± 3.8 %) but haematological effects were trivial. LEUPRO supplementation did not substantially alter neutrophil elastase, testosterone, or cytokine concentrations. By day 6, however, LEUPRO reduced pre-exercise cortisol 21 % (±15 %) and acylcarnitine C16 (palmitoylcarnitine) during exercise, and increased post-exercise neutrophil O2 − (33 ± 20 mmol O2 − cell−1), relative to control. Altered plasma amino acid and acylcarnitine concentrations with protein–leucine feeding might partly explain the acute post-exercise reduction in neutrophil function and increased exercise-stimulated neutrophil oxidative burst on day 6, which could impact neutrophil-dependent processes during recovery from intense training.
Access options
Buy single article
Instant access to the full article PDF.
USD 39.95
Price includes VAT (USA)
Tax calculation will be finalised during checkout.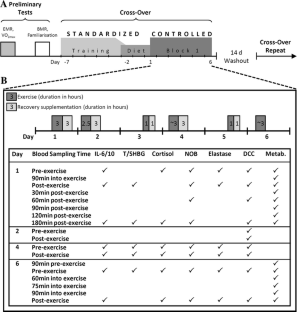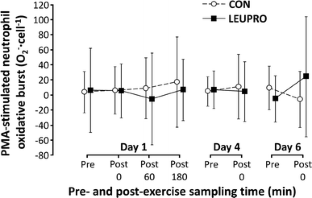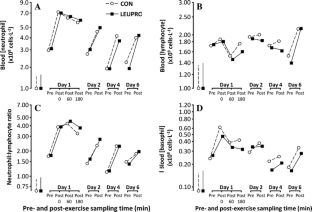 References
Anthony JC, Yoshizawa F, Anthony TG, Vary TC, Jefferson LS, Kimball SR (2000) Leucine stimulates translation initiation in skeletal muscle of postabsorptive rats via a rapamycin-sensitive pathway. J Nutr 130(10):2413–2419

Butterfield TA, Best TM, Merrick MA (2006) The dual roles of neutrophils and macrophages in inflammation: a critical balance between tissue damage and repair. J Athl Train 41(4):457–465

Costa RJS, Oliver SJ, Laing SJ, Walters R, Bilzon JLJ, Walsh NP (2009) Influence of timing of postexercise carbohydrate-protein ingestion on selected immune indices. Int J Sport Nutr Exerc Metab 19(4):366–385

Costa RJS, Walters R, Bilzon JLJ, Walsh NP (2011) Effects of immediate postexercise carbohydrate ingestion with and without protein on neutrophil degranulation. Int J Sport Nutr Exerc Metab 21(3):205–213

Cox JA, Jeng AY, Sharkey NA, Blumberg PM, Tauber AI (1985) Activation of the human neutrophil nicotinamide adenine dinucleotide phosphate (NADPH)-oxidase by protein kinase C. J Clin Investig 76(5):1932–1938

Febbraio MA, Steensberg A, Keller C, Starkie RL, Nielsen HB, Krustrup P, Ott P, Secher NH, Pedersen BK (2003) Glucose ingestion attenuates interleukin-6 release from contracting skeletal muscle in humans. J Physiol 549(2):607–612

Forslid J, Hed J (1982) In vitro effect of hydrocortisone on the attachment and ingestion phases of immunoglobulin-G and complement 3b-mediated phagocytosis by human neutrophils. Infect Immun 38(3):811–816

Gee I, Trull AK, Charman SC, Alexander GJM (2003) Sirolimus inhibits oxidative burst activity in transplant recipients. Transplantation 76(12):1766–1768

Giambelluca MS, Gende OA (2009) Effect of glycine on the release of reactive oxygen species in human neutrophils. Int Immunopharmacol 9(1):32–37

Goto M, Okazaki K, Kamijo YI, Ikegawa S, Masuki S, Miyagawa K, Nose H (2010) Protein and carbohydrate supplementation during 5-day aerobic training enhanced plasma volume expansion and thermoregulatory adaptation in young men. J Appl Physiol 109(4):1247–1255

Hack V, Strobel G, Weiss M, Weicker H (1994) PMN cell counts and phagocytic activity of highly trained athletes depend on training period. J Appl Physiol 77(4):1731–1735

Hopkins WG, Marshall SW, Batterham AM, Hanin J (2009) Progressive statistics for studies in sports medicine and exercise science. Med Sci Sports Exerc 41(1):3–13

Kappel M, Poulsen TD, Galbo H, Pedersen BK (1998) Effects of elevated plasma noradrenaline concentration on the immune system in humans. Eur J Appl Physiol 79(1):93–98

Kargotich S, Goodman C, Keast D, Morton AR (1998) The influence of exercise-induced plasma volume changes on the interpretation of biochemical parameters used for monitoring exercise, training and sport. Sports Med 26(2):101–117

Keller C, Steensberg A, Pilegaard H, Osada T, Saltin B, Pedersen BK, Neufer PD (2001) Transcriptional activation of the IL-6 gene in human contracting skeletal muscle: influence of muscle glycogen content. FASEB J 15(14):2748–2750

Lagranha CJ, Senna SM, de Lima TM, Silva EPP, Doi SQ, Curi R, Pithon-Curi TC (2004) Beneficial effect of glutamine on exercise-induced apoptosis of rat neutrophils. Med Sci Sports Exerc 36(2):210–217

Lorenzo S, Halliwill JR, Sawka MN, Minson CT (2010) Heat acclimation improves exercise performance. J Appl Physiol 109(4):1140–1147

Matsumoto K, Koba T, Hamada K, Sakurai M, Higuchi T, Miyata H (2009) Branched-chain amino acid supplementation attenuates muscle soreness, muscle damage and inflammation during an intensive training program. J Sports Med Phys Fitness 49(4):424–431

McIntyre TM, Reinhold SL, Prescott SM, Zimmerman GA (1987) Protein kinase C activity appears to be required for the synthesis of platelet-activating factor and leukotriene B4 by human neutrophils. J Biol Chem 262(32):15370–15376

Moinard C, Caldefie-Chezet F, Walrand S, Vasson MP, Cynober L (2002) Evidence that glutamine modulates respiratory burst in stressed rat polymorphonuclear cells through its metabolism into arginine. Br J Nutr 88(6):689–695

Morozov V, Tsyplenkov P, Golburg N, Kalinski M (2006) The effects of high-intensity exercise on skeletal muscle neutrophil myeloperoxidase in untrained and trained rats. Eur J Appl Physiol 97(6):716–722

Nauseef WM (2007) How human neutrophils kill and degrade microbes: an integrated view. Immunol Rev 219:88–102

Nelson AR, Phillips SM, Stellingwerff T, Rezzi S, Bruce SJ, Breton I, Thorimbert A, Guy PA, Clarke J, Broadbent S, Rowlands DS (2012) A protein-leucine supplement increases BCAA and nitrogen turnover but not performance. Med Sci Sports Exerc 44(1):57–68

Neubauer OD, König D, Wagner KH (2008) Recovery after an Ironman triathlon: sustained inflammatory responses and muscular stress. Eur J Appl Physiol 104(3):417–426

Nicklin P, Bergman P, Zhang B, Triantafellow E, Wang H, Nyfeler B, Yang H, Hild M, Kung C, Wilson C, Myer VE, MacKeigan JP, Porter JA, Wang YK, Cantley LC, Finan PM, Murphy LO (2009) Bidirectional transport of amino acids regulates mTOR and autophagy. Cell 136(3):521–534

Okazaki K, Hayase H, Ichinose T, Mitono H, Doi T, Nose H (2009a) Protein and carbohydrate supplementation after exercise increases plasma volume and albumin content in older and young men. J Appl Physiol 107(3):770–779

Okazaki K, Ichinose T, Mitono H, Chen M, Masuki S, Endoh H, Hayase H, Doi T, Nose H (2009b) Impact of protein and carbohydrate supplementation on plasma volume expansion and thermoregulatory adaptation by aerobic training in older men. J Appl Physiol 107(3):725–733

Pedersen BK, Hoffman-Goetz L (2000) Exercise and the immune system: regulation, integration, and adaptation. Physiol Rev 80(3):1055–1081

Pithon-Curi TC, Levada AC, Lopes LR, Doi SQ, Curi R (2002) Glutamine plays a role in superoxide production and the expression of p47phox, p22phox, and gp91phox in rat neutrophils. Clin Sci 103(4):403–408

Powell JD, Delgoffe GM (2010) The mammalian target of rapamycin: linking T cell differentiation, function, and metabolism. Immunity 33(3):301–311

Pyne DB, Baker MS, Fricker PA, McDonald WA, Telford RD, Weidemann MJ (1995) Effects of an intense 12-wk training program by elite swimmers on neutrophil oxidative activity. Med Sci Sports Exerc 27(4):536–542

Pyne DB, Smith JA, Baker MS, Telford RD, Weidermann MJ (2000) Neutrophil oxidative activity is differentially affected by exercise intensity and type. J Sci Med Sport 3(1):44–54

Rowlands DS, Thorp RM, Rossler K, Graham DF, Rockell MJ (2007) Effect of protein-rich feeding on recovery following intense exercise. Int J Sport Nutr Exerc Metab 17(6):521–543

Rowlands DS, Rossler K, Thorp RM, Graham DF, Timmons BW, Stannard SR, Tarnopolsky MA (2008) Effect of dietary protein content during recovery from high-intensity cycling on subsequent performance and markers of stress, inflammation, and muscle damage in well-trained men. Appl Physiol Nutr Metab 33(1):39–51

Rusu D, Drouin R, Pouliot Y, Gauthier S, Poubelle PE (2009) A bovine whey protein extract can enhance innate immunity by priming normal human blood neutrophils. J Nutr 139(2):386–393

Rusu D, Drouin R, Pouliot Y, Gauthier S, Poubelle PE (2010) A bovine whey protein extract stimulates human neutrophils to generate bioactive IL-1Ra through a NF-kB- and MAPK-dependent mechanism. J Nutr 140(2):382–391

Scharhag J, Meyer T, Auracher M, Gabriel HH, Kindermann W (2006) Effects of graded carbohydrate supplementation on the immune response in cycling. Med Sci Sports Exerc 38(2):286–292

Steensberg A, Fischer CP, Keller C, Moller K, Pedersen BK (2003) IL-6 enhances plasma IL-1ra, IL-10, and cortisol in humans. Am J Physiol Endocrinol Metab 285(2):E433–E437

Tada M, Ichiishi E, Saito R, Emoto N, Niwano Y, Kohno M (2009) Myristic acid, a side chain of phorbol myristate acetate (PMA), can activate human polymorphonuclear leukocytes to produce oxygen radicals more potently than PMA. J Clin Biochem Nutr 45(3):309–314

Tidball JG, Villalta SA (2010) Regulatory interactions between muscle and the immune system during muscle regeneration. Am J Physiol Regul Integr Comp Physiol 298(5):R1173–R1187

Tipton KD, Elliott TA, Cree MG, Wolf SE, Sanford AP, Wolfe RR (2004) Ingestion of casein and whey proteins result in muscle anabolism after resistance exercise. Med Sci Sports Exerc 36(12):2073–2081

Walsh NP, Gleeson M, Shephard RJ, Gleeson M, Woods JA, Bishop NC, Fleshner M, Green C, Pedersen BK, Hoffman-Goetz L, Rogers CJ, Northoff H, Abbasi A, Simon P (2011) Position statement. Part one: immune function and exercise. Exerc Immunol Rev 17:6–63
Acknowledgments
The study was supported by a grant from Nestec Ltd., Vevey, Switzerland.
Additional information
Communicated by Guido Ferretti.
Electronic supplementary material
Below is the link to the electronic supplementary material.
About this article
Cite this article
Nelson, A.R., Jackson, L., Clarke, J. et al. Effect of post-exercise protein–leucine feeding on neutrophil function, immunomodulatory plasma metabolites and cortisol during a 6-day block of intense cycling. Eur J Appl Physiol 113, 2211–2222 (2013). https://doi.org/10.1007/s00421-013-2650-7
Received:

Accepted:

Published:

Issue Date:
Keywords
Inflammatory response

Metabolomics

Superoxide

Endurance exercise

Cortisol