Abstract
The aim of the present study was to test the hypothesis that consuming protein does not attenuate AMPK signalling when exercise is commenced in a glycogen-depleted state. After performing a glycogen-depleting protocol the evening before, the subsequent morning ten active men performed 45 min steady-state cycling at 50 % of peak power output (PPO) followed by an exercise capacity test (1-min intervals at 80 % PPO interspersed with 1-min periods at 40 % PPO). In a repeated measures design, subjects consumed 20 g of a casein hydrolysate solution (PRO) 45 min before exercise, 10 g during and a further 20 g immediately post-exercise, or an equivalent volume of a non-calorie taste matched placebo (PLA). Resting (PRO = 134 ± 29; PLA = 136 ± 28 mmol kg−1) and post-exercise muscle glycogen (PRO = 43 ± 16; PLA = 47 ± 18 mmol kg−1) was not different (P > 0.05) between trials nor was exercise capacity (PRO = 26 ± 9; PLA = 25 ± 10 min, P > 0.05). Phosphorylation of AMPKThr172 increased threefold immediately post-exercise (P < 0.05) and PGC1−mRNA increased sixfold at 3 h post-exercise (P < 0.05), though there were no differences between conditions (P > 0.05). In contrast, there was a trend (P = 0.08) for a divergent response in eEF2Thr56 phosphorylation such that 1.5 fold increases post- and 3 h post-exercise in PLA were blunted with PRO, thus indicative of greater eEF2 activation. We conclude that athletes who deliberately incorporate training phases with reduced muscle glycogen into their training programmes may consume protein before, during and after exercise without negating signalling through the AMPK cascade.
Access options
Buy single article
Instant access to the full article PDF.
USD 39.95
Price includes VAT (USA)
Tax calculation will be finalised during checkout.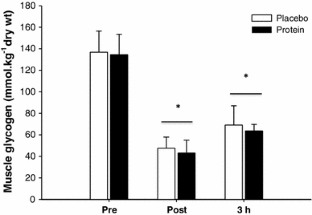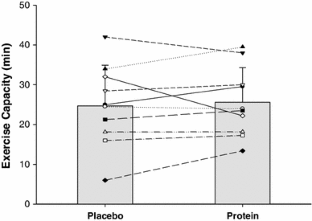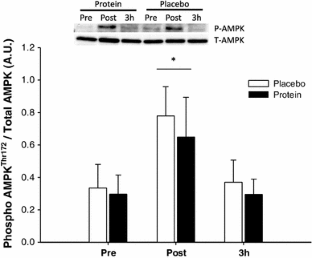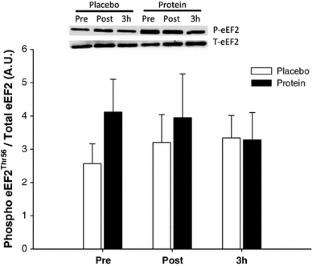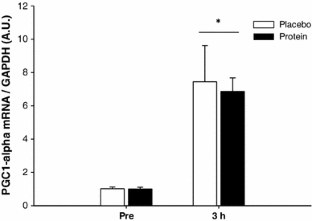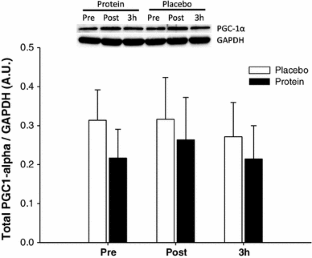 References
Akerstrom TC, Birk JB, Klein DK, Erikstrup C, Plomgaard P, Pedersen BK, Wojtaszewski J (2005) Oral glucose ingestion attenuates exercise-induced activation of 5-AMP activated protein kinase in human skeletal muscle. Biochem Biophys Res Commun 342:949–955

Bartlett JD, Hwa-Joo C, Jeong TS, Louhelainen J, Cochran AJ, Gibala MJ, Gregson W, Close GL, Drust B, Morton JP (2012) Matched work high-intensity interval running and continuous running induce similar increases in PGC1 mRNA, AMPK, p38 and p53 phosphorylation in human skeletal muscle. J Appl Physiol 112:1135–1143

Blomstrand E (2006) A role for branched-chain amino acids in reducing central fatigue. J Nutr 136:544–547

Blomstrand E, Saltin B (1999) Effect of muscle glycogen on glucose, lactate and amino acid metabolism during exercise and recovery in human subjects. J Physiol 514:293–302

Blomstrand E, Hassmen P, Ekblom B, Newsholme EA (1991) Administration of branched-chain amino acids during sustained exercise: effects on performance and on plasma concentration of some amino acids. Eur J Appl Physiol 63:83–88

Blomstrand E, Hassmén P, Ek S, Ekblom B, Newsholme EA (1997) Influence of ingesting a solution of branched-chain amino acids on perceived exertion during exercise. Acta Physiol Scand 159:41–49

Borg G (1970) Perceived exertion as an indicator of somatic stress. Scand J Rehabil Med 2:92–98

Breen L, Philp A, Witard OC, Sarah R, Selby A, Smith K, Baar K, Tipton KD (2011) The influence of carbohydrate-protein co-ingestion following endurance exercise on myofibrillar and mitochondrial protein synthesis. J Physiol 589:4011–4025

Burke LM (2010) Fueling strategies to optimize performance: training high or training low? Scand J Med Sci Sports 20:48–58

Calvo JA, Daniels TG, Wang X, Paul A, Lin J, Spiegelman BM, Stevenson SC, Rangwala SM (2008) Muscle-specific expression of PPARgamma coactivator-1alpha improves exercise performance and increases peak oxygen uptake. J Appl Physiol 104:1304–1312

Cluberton LJ, McGee SL, Murphy RM, Hargreaves M (2005) Effect of carbohydrate ingestion on exercise-induced alterations in metabolic gene expression. J Appl Physiol 99:1359–1363

Coffey VG, Moore DR, Burd NA, Rerecich T, Stellingwerff T, Garnham AP, Phillips SM, Hawley JA (2011) Nutrient provision increases signalling and protein synthesis in human skeletal muscle after repeated sprints. Eur J Appl Physiol 111:1473–1483

Crowe MJ, Weatherson JN, Bowden BF (2006) Effects of dietary leucine supplementation on exercise performance. Eur J Appl Physiol 97:664–672

Egan B, Carson BP, Garcia-Roves PM, Chibalin AV, Sarsfield FM, Barron N, McCaffrey N, Moyna NM, Zierath JR, O'Gorman DJ (2010) Exercise intensity-dependent regulation of peroxisome proliferator-activated receptor γ coactivator-1α mRNA abundance is associated with differential activation of upstream signalling kinases in human skeletal muscle. J Physiol 10:1779–1790

Greer BK, Woodard JL, White JP, Arguello EM, Haymes EM (2007) Branched-chain amino acid supplementation and indicators of muscle damage after endurance exercise. Int J Sport Nutr Exerc Metab 17:595–607

Hansen AK, Fischer CP, Plomgaard P, Andersen JL, Saltin B, Pedersen BK (2005) Skeletal muscle adaptation: training twice every second day vs. training once daily. J Appl Physiol 98:93–99

Hood DA (2009) Mechanisms of exercise-induced mitochondrial biogenesis in skeletal muscle. Appl Physiol Nutr Metab 34:465–472

Howarth KR, Moreau NA, Phillips SM, Gibala MJ (2009) Coingestion of protein with carbohydrate during recovery from endurance exercise stimulates skeletal muscle protein synthesis in humans. J Appl Physiol 106:1394–1402

Howarth KR, Phillips SM, MacDonald MJ, Richards D, Moreau NA, Gibala MJ (2010) Effect of glycogen availability on human skeletal muscle protein turnover during exercise and recovery. J Appl Physiol 109:431–438

Hulston CJ, Venables MC, Mann CH, Martin C, Philp A, Baar K, Jeukendrup AE (2010) Training with low muscle glycogen enhances fat metabolism in well-trained cyclists. Med Sci Sports Exerc 40:2046–2055

Hulston CJ, Wolsk E, Grøndahl TS, Yfanti C, Van Hall G (2011) Protein intake does not increase vastus lateralis muscle protein synthesis during cycling. Med Sci Sports Exerc 49:1635–1642

Irrcher I, Ljubicic V, Kirwan AF, Hood DA (2008) AMP-activated protein kinase-regulated activation of the PGC-1alpha promoter in skeletal muscle cells. PLoS One 3:3614

Jäger S, Handschin C, St-Pierre J, Spiegelman BM (2007) AMP-activated protein kinase (AMPK) action in skeletal muscle via direct phosphorylation of PGC-1alpha. Proc Natl Acad Sci USA 104:12017–12022

Jeukendrup AE, Wallis GA (2005) Measurement of substrate oxidation during exercise by means of gas exchange measurements. Int J Sports Med 26:28–37

Lin J, Wu H, Tarr PT, Zhang CY, Wu Z, Boss O, Michael LF, Puigserver P, Isotani E, Olson EN, Lowell BB, Bassel-Duby R, Spiegelman BM (2002) Transcriptional co-activator PGC-1 alpha drives the formation of slow-twitch muscle fibres. Nature 418:797–801

Little JP, Safdar A, Cermak N, Tarnopolsky MA, Gibala MJ (2010) Acute endurance exercise increases the nuclear abundance of PGC-1alpha in trained human skeletal muscle. Am J Physiol Regul Integr Comp Physiol 298:912–917

Little JP, Safdar A, Bishop D, Tarnopolsky MA, Gibala MJ (2011) An acute bout of high-intensity interval training increases the nuclear abundance of PGC-1alpha and activates mitochondrial biogenesis in human skeletal muscle. Am J Physiol Regul Integr Comp Physiol 300:1303–1310

Mascher H, Ekblom B, Rooyackers O, Blomstrand E (2011) Enhanced rates of muscle protein synthesis and elevated mTOR signalling following endurance exercise in human subjects. Acta Physiol 202:175–184

McBride A, Ghilagaber S, Nikolaev A, Hardie DG (2009) The glycogen-binding domain on the AMPK beta subunit allows the kinase to act as a glycogen sensor. Cell Metab 9:23–34

Mettler S, Mitchell N, Tipton KD (2010) Increased protein intake reduces lean body mass loss during weight loss in athletes. Med Sci Sports Exer 42:326–337

Moore DR, Robinson MJ, Fry JL, Tang JE, Glover EI, Wilkinson SB, Prior T, Tarnapolsky MA, Phillips SM (2009) Ingested protein dose response of muscle albumin protein synthesis after resistance exercise in young men. Am J Clin Nutr 89:161–168

Morton JP, Croft L, Bartlett JD, Maclaren DPM, Reilly T, Evans L, McArdle A, Drust B (2009) Reduced carbohydrate availability does not modulate training-induced heat shock protein adaptations but does upregulate oxidative enzyme activity in human skeletal muscle. J Appl Physiol 106:1513–1521

Morton JP, Robertson C, Sutton L, MacLaren DP (2010) Making the weight: a case study from professional boxing. Int J Sport Nutr Exerc Metab 20:80–85

Newsholme EA, Blomstrand E (2006) Branched-chain amino acids and central fatigue. J Nutr 136:274–276

Pasiakos SM, McClung HL, McClung JP, Margolis LM, Andersen NE, Cloutier GJ, Pilosky MA, Rood JC, Fielding RA, Young AJ (2011) Leucine-enriched essential amino acid supplementation during moderate steady state exercise enhances postexercise muscle protein synthesis. Am J Clin Nutr 94:809–818

Perry CGR, Lally J, Holloway GP, Heigenhauser GJF, Bonen A, Spriet LL (2010) Repeated transient mRNA bursts precede increases in transcriptional and mitochondrial proteins during training in human skeletal muscle. J Physiol 588:4795–4810

Philp A, Chen A, Lan D, Meyer GA, Murphy AN, Knapp AE, Olfert M, McCurdy CE, Marcotte GR, Hogan MC, Baar K, Schenk (2011) Sirtuin 1 (SIRT1) deacteylase activity is not required for mitochondrial biogenesis or peroxisome proliferator activated receptor coactivator-1α (PGC1-α) deacetylation following endurance exercise. J Biol Chem 286:30561–30570

Pilegaard H, Keller C, Steensberg A, Helge JW, Pedersen BK, Saltin B, Neufer PD (2002) Influence of pre-exercise muscle glycogen content on exercise-induced transcriptional regulation of metabolic genes. J Physiol 541:261–271

Pilegaard H, Osada T, Andersen LT, Helge JW, Saltin B, Neufer PD (2005) Substrate availability and transcriptional regulation of metabolic genes in human skeletal muscle during recovery from exercise. Metabolism 54:1048–1055

Rose AJ, Broholm C, Kiillerich K, Finn SG, Proud CG, Rider MH, Richter EA et al (2005) Exercise rapidly increases eukaryotic elongation factor 2 phosphorylation in skeletal muscle of men. J Physiol 569:223–228

Rose AJ, Alsted TJ, Jensen TE, Kobberø JB, Maarbjerg SJ, Jensen J, Richter EA (2009) A Ca(2+)-calmodulin-eEF2K-eEF2 signalling cascade, but not AMPK, contributes to the suppression of skeletal muscle protein synthesis during contractions. J Physiol 587:1547–1563

Van Hall G, Saltin B, Wagenmakers AJ (1999) Muscle protein degradation and amino acid metabolism during prolonged knee-extensor exercise in humans. Clin Sci 97:557–567

Van Loon LJC, Saris WH, Kruijshoop M, Wagenmakers AJ (2000) Maximizing postexercise muscle glycogen synthesis: carbohydrate supplementation and the application of amino acid or protein hydrolysate mixtures. Am J Clin Nutr 72:106–111

Watson P, Shirreffs SM, Maughan RJ (2004) The effect of acute branched-chain amino acid supplementation on prolonged exercise capacity in a warm environment. Eur J Appl Physiol 93:306–314

Wojtaszewski JFP, MacDonald C, Nielsen JN, Hellsten Y, Hardie DG, Kemp BE, Kiens B, Richter EA (2003) Regulation of 5′AMP-activated protein kinase activity and substrate utilization in exercising human skeletal muscle. Am J Physiol Endocrinol Metab 284:813–822

Yeo WK, Paton CD, Garnham AP, Burke LM, Carey AL, Hawley JA (2008) Skeletal muscle adaptation and performance responses to once a day versus twice every second day endurance training regimens. J Appl Physiol 105:1462–1470

Yeo WK, McGee SL, Carey AL, Paton CD, Garnham AP, Hargreaves M, Hawley JA (2010) Acute signalling responses to intense endurance training commenced with low or normal muscle glycogen. Exp Physiol 95:351–358
Acknowledgments
This study was supported by a research grant from Science in Sport, UK. We also extend our appreciation to all the subjects who took part in the study for their efforts during demanding exercise protocols.
Additional information
Communicated by Martin Flueck.
About this article
Cite this article
Taylor, C., Bartlett, J.D., van de Graaf, C.S. et al. Protein ingestion does not impair exercise-induced AMPK signalling when in a glycogen-depleted state: implications for train-low compete-high. Eur J Appl Physiol 113, 1457–1468 (2013). https://doi.org/10.1007/s00421-012-2574-7
Received:

Accepted:

Published:

Issue Date:
Keywords
AMPK

PGC-1α

Amino acids

Muscle glycogen