Abstract
This study examined the effects of long-term creatine supplementation combined with resistance training (RT) on the one-repetition maximum (1RM) strength, motor functional performance (e.g., 30-s chair stand, arm curl, and getting up from lying on the floor tests) and body composition (e.g., fat-free mass, muscle mass, and % body fat using DEXA scans) in older women. Eighteen healthy women (64.9 ± 5.0 years) were randomly assigned in a double-blind fashion to either a creatine (CR, N = 9) or placebo (PL, N = 9) group. Both groups underwent a 12-week RT program (3 days week−1), consuming an equivalent amount of either creatine (5.0 g day−1) or placebo (maltodextrin). After 12 week, the CR group experienced a greater (P < 0.05) increase (Δ%) in training volume (+164.2), and 1RM bench press (+5.1), knee extension (+3.9) and biceps curl (+8.8) performance than the PL group. Furthermore, CR group gained significantly more fat-free mass (+3.2) and muscle mass (+2.8) and were more efficient in performing submaximal-strength functional tests than the PL group. No changes (P > 0.05) in body mass or % body fat were observed from pre- to post-test in either group. These results indicate that long-term creatine supplementation combined with RT improves the ability to perform submaximal-strength functional tasks and promotes a greater increase in maximal strength, fat-free mass and muscle mass in older women.
This is a preview of subscription content,
to check access.
Access this article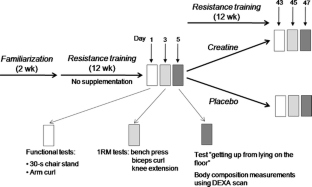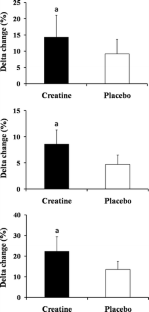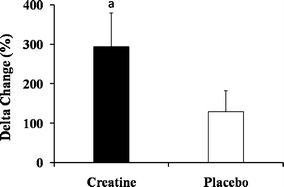 Similar content being viewed by others
References
Baechle TR, Earle RW (2008) Resistance training and spotting techniques. In: Earle R, Baechle T (eds) Essentials of strength and conditioning: national strength and conditioning association, 3rd edn. Human Kinetics, Champaign, pp 326–376

Bamman MM, Hill VJ, Adams GR, Haddad F, Wetzstein CJ, Gower BA, Ahmed A, Hunter GR (2003) Gender differences in resistance-training-induced myofiber hypertrophy among older adults. J Gerontol A Biol Sci Med Sci 58(2):108–116

Beltran B, Cuadrado C, Martin ML, Carbajal A, Moreiras O (2001) Activities of daily living in the Spanish elderly. Association with mortality. J Nutr Health Aging 5(4):259–260

Bermon S, Venembre P, Sachet C, Valour S, Dolisi C (1998) Effects of creatine monohydrate ingestion in sedentary and weight-trained older adults. Acta Physiol Scand 164(2):147–155

Bohannon RW (1995) Sit-to-stand test for measuring performance of lower extremity muscles. Percept Mot Skills 80(1):163–166

Brose A, Parise G, Tarnopolsky MA (2003) Creatine supplementation enhances isometric strength and body composition improvements following strength exercise training in older adults. J Gerontol A Biol Sci Med Sci 58(1):11–19

Campbell WW, Crim MC, Young VR, Evans WJ (1994) Increased energy requirements and changes in body composition with resistance training in older adults. Am J Clin Nutr 60(2):167–175

Canete S, San Juan AF, Perez M, Gomez-Gallego F, Lopez-Mojares LM, Earnest CP, Fleck SJ, Lucia A (2006) Does creatine supplementation improve functional capacity in elderly women? J Strength Cond Res 20(1):22–28

Casey A, Greenhaff PL (2000) Does dietary creatine supplementation play a role in skeletal muscle metabolism and performance? Am J Clin Nutr 72(2):607S–617S

Charette SL, McEvoy L, Pyka G, Snow-Harter C, Guido D, Wiswell RA, Marcus R (1991) Muscle hypertrophy response to resistance training in older women. J Appl Physiol 70(5):1912–1916

Chodzko-Zajko WJ, Proctor DN, Fiatarone Singh MA, Minson CT, Nigg CR, Salem GJ, Skinner JS (2009) American College of Sports Medicine position stand. Exercise and physical activity for older adults. Med Sci Sports Exerc 41(7):1510–1530

Chrusch MJ, Chilibeck PD, Chad KE, Davison KS, Burke DG (2001) Creatine supplementation combined with resistance training in older men. Med Sci Sports Exerc 33(12):2111–2117

Cribb PJ, Hayes A (2006) Effects of supplement timing and resistance exercise on skeletal muscle hypertrophy. Med Sci Sports Exerc 38(11):1918–1925

Csuka M, McCarty DJ (1985) Simple method for measurement of lower extremity muscle strength. Am J Med 78(1):77–81

Doherty TJ (2003) Invited review: aging and sarcopenia. J Appl Physiol 95(4):1717–1727

Eijnde BO, Van Leemputte M, Goris M, Labarque V, Taes Y, Verbessem P, Vanhees L, Ramaekers M, Vanden Eynde B, Van Schuylenbergh R, Dom R, Richter EA, Hespel P (2003) Effects of creatine supplementation and exercise training on fitness in men 55–75 yr old. J Appl Physiol 95(2):818–828

Esmarck B, Andersen JL, Olsen S, Richter EA, Mizuno M, Kjaer M (2001) Timing of postexercise protein intake is important for muscle hypertrophy with resistance training in elderly humans. J Physiol 535(1):301–311

Ferguson TB, Syrotuik DG (2006) Effects of creatine monohydrate supplementation on body composition and strength indices in experienced resistance trained women. J Strength Cond Res 20(4):939–946

Forsberg AM, Nilsson E, Werneman J, Bergström J, Hultman E (1991) Muscle composition in relation to age and sex. Clin Sci 81(2):249–256

Fujita S, Volpi E (2004) Nutrition and sarcopenia of ageing. Nutr Res Rev 17(1):69–76

Gotshalk LA, Volek JS, Staron RS, Denegar CR, Hagerman FC, Kraemer WJ (2002) Creatine supplementation improves muscular performance in older men. Med Sci Sports Exerc 34(3):537–543

Gotshalk LA, Kraemer WJ, Mendonca MA, Vingren JL, Kenny AM, Spiering BA, Hatfield DL, Fragala MS, Volek JS (2008) Creatine supplementation improves muscular performance in older women. Eur J Appl Physiol 102(2):223–231

Green AL, Hultman E, Macdonald IA, Sewell DA, Greenhaff PL (1996a) Carbohydrate ingestion augments skeletal muscle creatine accumulation during creatine supplementation in humans. Am J Physiol 271(5):821–826

Green AL, Simpson EJ, Littlewood JJ, Macdonald IA, Greenhaff PL (1996b) Carbohydrate ingestion augments creatine retention during creatine feeding in humans. Acta Physiol Scand 158(2):195–202

Harris RC, Soderlund K, Hultman E (1992) Elevation of creatine in resting and exercised muscle of normal subjects by creatine supplementation. Clin Sci 83(3):367–374

Hunter GR, McCarthy JP, Bamman MM (2004) Effects of resistance training on older adults. Sports Med 34(5):329–348

Jakobi JM, Rice CL, Curtin SV, Marsh GD (2001) Neuromuscular properties and fatigue in older men following acute creatine supplementation. Eur J Appl Physiol 84(4):321–328

Johnson RA, Wichern DW (2002) Applied multivariate analysis, 5th edn. Prentice-Hall, Upper Saddle River

Kim J, Heshka S, Gallagher D, Kotler DP, Mayer L, Albu J, Shen W, Freda PU, Heymsfield SB (2004) Intermuscular adipose tissue-free skeletal muscle mass: estimation by dual-energy X-ray absorptiometry in adults. J Appl Physiol 97(2):655–660

Kuriansky JB, Gurland B (1976) Performance tests of activities of daily living. Int J Aging Hum Dev 7:343–352

Mesa JL, Ruiz JR, González-Gross MM, Gutiérrez Sáinz A, Castillo Garzón MJ (2002) Oral creatine supplementation and skeletal muscle metabolism in physical exercise. Sports Med 32(14):903–944

Mihic S, MacDonald JR, McKenzie S, Tarnopolsky MA (2000) Acute creatine loading increases fat-free mass, but not affect blood pressure, plasma creatinine, or CK activity in men and women. Med Sci Sport Exerc 32(2):291–296

Newton RU, Hakkinen K, Hakkinen A, McCormick M, Volek J, Kraemer WJ (2002) Mixed-methods resistance training increases power and strength of young and older men. Med Sci Sports Exerc 34(8):1367–1375

Prior BM, Cureton KJ, Modlesky CM, Evans EM, Sloniger MA, Saunders M, Lewis RD (1997) In vivo validation of whole body composition estimates from dual-energy X-ray absorptiometry. J Appl Physiol 83:623–630

Rawson ES, Clarkson PM (2000) Acute creatine supplementation in older men. Int J Sports Med 21(1):71–75

Rawson ES, Clarkson PM, Price TB, Miles MP (2002) Differential response of muscle phosphocreatine to creatine supplementation in young and old subjects. Acta Physiol Scand 174(1):57–65

Rikli R, Jones J (1999a) Development and validation of a function fitness test for community-residing older adults. J Aging Phys Activ 7(2):129–161

Rikli R, Jones J (1999b) Functional fitness normative scores for community-residing older adults, ages 60-94J. Aging Phys Activ 7(2):162–181

Smith SA, Montain SJ, Matott RP, Zientara GP, Jolesz FA, Fielding RA (1998) Creatine supplementation and age influence muscle metabolism during exercise. J Appl Physiol 85(4):1349–1356

Stout JR, Sue Graves B, Cramer JT, Goldstein ER, Costa PB, Smith AE, Walter AA (2007) Effects of creatine supplementation on the onset of neuromuscular fatigue threshold and muscle strength in elderly men and women (64–86 years). J Nutr Health Aging 11(6):459–464

Taaffe DR, Pruitt L, Pyka G, Guido D, Marcus R (1996) Comparative effects of high- and low-intensity resistance training on thigh muscle strength, fiber area, and tissue composition in elderly women. Clin Physiol 16(4):381–392

Tarnopolsky MA, MacLennan DP (2000) Creatine monohydrate supplementation enhances high-intensity exercise performance in males and females. Int J Sport Nutr Exerc Metab 10(4):452–463

Trappe S, Godard M, Gallagher P, Carroll C, Rowden G, Porter D (2001) Resistance training improves single muscle fiber contractile function in older women. Am J Physiol Cell Physiol 281(2):C398–C406

Vandenberghe K, Gillis N, Van Leemputte M, Van Hecke P, Vanstapel F, Hespel P (1996) Caffeine counteracts the ergogenic action of muscle creatine loading. J Appl Physiol 80(2):452–457

Vandenberghe K, Goris M, Van Hecke P, Van Leemputte M, Vangerven L, Hespel P (1997) Long-term creatine intake is beneficial to muscle performance during resistance training. J Appl Physiol 83(6):2055–2063

Volek JS, Duncan ND, Mazzetti SA, Staron RS, Patukian M, Gomez AL, Pearson DR, Fink WJ, Kraemer WJ (1999) Performance and muscle fiber adaptations to creatine supplementation and heavy resistance training. Med Sci Sport Exerc 31(8):1147–1156

Von Strauss E, Agüero-Torres H, Kåreholt I, Winblad B, Fratiglioni L (2003) Women are more disabled in basic activities of daily living than men only in very advanced ages: a study on disability, morbidity, and mortality from the Kungsholmen Project. J Clin Epidemiol 56(7):669–677

Willoughby DS, Rosene J (2001) Effects of oral creatine and resistance training on myosin heavy chain expression. Med Sci Sports Exerc 33(10):1674–1681

Yarasheski KE, Zachwieja JJ, Campbell JA, Bier DM (1995) Effect of growth hormone and resistance exercise on muscle growth and strength in older men. Am J Physiol 268(2):E268–E276

Yarasheski KE, Pak-Loduca J, Hasten DL, Obert KA, Brown MB, Sinacore DR (1999) Resistance exercise training increases mixed muscle protein synthesis rate in frail women and men ≥ 76 yr old. Am J Physiol 277(1):E118–E125

Zar JH (1999) Biostatistical analysis, 4th edn. Prentice-Hall, Upper Saddle River
Acknowledgments
We address a special thanks to Andrea Diniz for their great help in the encapsulation of creatine. We are also grateful to all the participants for their engagement in this study and the Coordination of Improvement of Higher Education Personnel (CAPES/Brazil) for the doctoral scholarships conferred to M.A.N. and A.M.G., and the National Council of Technological and Scientific Development (CNPq/Brazil) for the grant conceded to E.S.C. Part of this work was supported by the Araucaria Foundation for the Support of Scientific and Technological Development of Paraná - FAADCT/Brazil (Protocol number 15466).
Conflict of interest
No conflicts of interest, financial or otherwise, are declared by the author(s).
Additional information
Communicated by Michael Lindinger.
About this article
Cite this article
Aguiar, A.F., Januário, R.S.B., Junior, R.P. et al. Long-term creatine supplementation improves muscular performance during resistance training in older women. Eur J Appl Physiol 113, 987–996 (2013). https://doi.org/10.1007/s00421-012-2514-6
Received:

Accepted:

Published:

Issue Date:

DOI: https://doi.org/10.1007/s00421-012-2514-6
Keywords