Abstract
To compare the effects of a periodic resistance training (PTR) program with those of a continuous resistance training (CTR) program on muscle size and function, 14 young men were randomly divided into a CTR group and a PTR group. Both groups performed high-intensity bench press exercise training [75 % of one repetition maximum (1-RM); 3 sets of 10 reps] for 3 days per week. The CTR group trained continuously over a 24-week period, whereas the PTR group performed three cycles of 6-week training (or retraining), with 3-week detraining periods between training cycles. After an initial 6 weeks of training, increases in cross-sectional area (CSA) of the triceps brachii and pectoralis major muscles and maximum isometric voluntary contraction of the elbow extensors and 1-RM were similar between the two groups. In the CTR group, muscle CSA and strength gradually increased during the initial 6 weeks of training. However, the rate of increase in muscle CSA and 1-RM decreased gradually after that. In the PTR group, increase in muscle CSA and strength during the first 3-week detraining/6-week retraining cycle were similar to that in the CTR group during the corresponding period. However, increase in muscle CSA and strength during the second 3-week detraining/6-week retraining cycle were significantly higher in the PTR group than in the CTR group. Thus, overall improvements in muscle CSA and strength were similar between the groups. The results indicate that 3-week detraining/6-week retraining cycles result in muscle hypertrophy similar to that occurring with continuous resistance training after 24 weeks.
Access options
Buy single article
Instant access to the full article PDF.
US$ 39.95
Tax calculation will be finalised during checkout.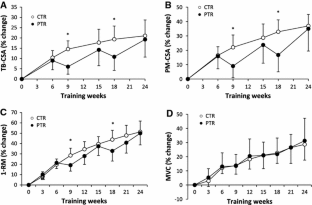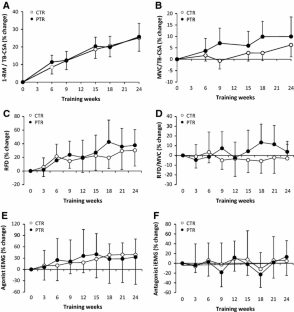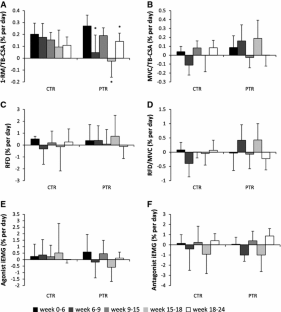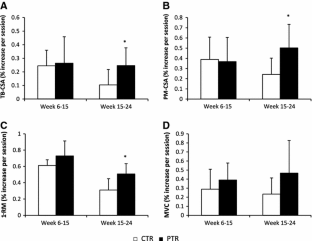 References
Abe T, DeHoyos DV, Pollock ML, Garzarella L (2000) Time course for strength and muscle thickness changes following upper and lower body resistance training in men and women. Eur J Appl Physiol 81:174–180

ACSM (1998) American College of Sports Medicine Position Stand. The recommended quantity and quality of exercise for developing and maintaining cardiorespiratory and muscular fitness, and flexibility in healthy adults. Med Sci Sports Exerc 30:975–991

ACSM (2009) American College of Sports Medicine position stand. Progression models in resistance training for healthy adults. Med Sci Sports Exerc 41:687–708

AGS (2001) Exercise prescription for older adults with osteoarthritis pain: consensus practice recommendations. A supplement to the AGS Clinical Practice Guidelines on the management of chronic pain in older adults. J Am Geriatr Soc 49:808–823

Andersen LL, Andersen JL, Magnusson SP, Suetta C, Madsen JL, Christensen LR, Aagaard P (2005) Changes in the human muscle force-velocity relationship in response to resistance training and subsequent detraining. J Appl Physiol 99:87–94

Baechle T, Earle R (2008) Essentials of strength training and conditioning. Human kinetics, Champaign

Bemben DA, Fetters NL, Bemben MG, Nabavi N, Koh ET (2000) Musculoskeletal responses to high- and low-intensity resistance training in early postmenopausal women. Med Sci Sports Exerc 32:1949–1957

Bird SP, Tarpenning KM, Marino FE (2005) Designing resistance training programmes to enhance muscular fitness: a review of the acute programme variables. Sports Med 35:841–851

Castets P, Bertrand AT, Beuvin M, Ferry A, Le Grand F, Castets M, Chazot G, Rederstorff M, Krol A, Lescure A, Romero NB, Guicheney P, Allamand V (2011) Satellite cell loss and impaired muscle regeneration in selenoprotein N deficiency. Hum Mol Genet 20:694–704

Coffey VG, Zhong Z, Shield A, Canny BJ, Chibalin AV, Zierath JR, Hawley JA (2006) Early signaling responses to divergent exercise stimuli in skeletal muscle from well-trained humans. FASEB J 20:190–192

Day K, Shefer G, Shearer A, Yablonka-Reuveni Z (2010) The depletion of skeletal muscle satellite cells with age is concomitant with reduced capacity of single progenitors to produce reserve progeny. Dev Biol 340:330–343

Garber CE, Blissmer B, Deschenes MR, Franklin BA, Lamonte MJ, Lee IM, Nieman DC, Swain DP (2011) American College of Sports Medicine position stand. Quantity and quality of exercise for developing and maintaining cardiorespiratory, musculoskeletal, and neuromotor fitness in apparently healthy adults: guidance for prescribing exercise. Med Sci Sports Exerc 43:1334–1359

Gordon PM, Liu D, Sartor MA, IglayReger HB, Pistilli EE, Gutmann L, Nader GA, Hoffman EP (2012) Resistance exercise training influences skeletal muscle immune activation: a microarray analysis. J Appl Physiol 112:443–453

Kraemer WJ, Koziris LP, Ratamess NA, Hakkinen K, TR-M NT, Fry AC, Gordon SE, Volek JS, French DN, Rubin MR, Gomez AL, Sharman MJ, Michael Lynch J, Izquierdo M, Newton RU, Fleck SJ (2002) Detraining produces minimal changes in physical performance and hormonal variables in recreationally strength-trained men. J Strength Cond Res 16:373–382

Hakkinen K, Newton RU, Gordon SE, McCormick M, Volek JS, Nindl BC, Gotshalk LA, Campbell WW, Evans WJ, Hakkinen A, Humphries BJ, Kraemer WJ (1998) Changes in muscle morphology, electromyographic activity, and force production characteristics during progressive strength training in young and older men. J Gerontol A Biol Sci Med Sci 53:B415–B423

Hakkinen K, Alen M, Kallinen M, Newton RU, Kraemer WJ (2000) Neuromuscular adaptation during prolonged strength training, detraining and re-strength-training in middle-aged and elderly people. Eur J Appl Physiol 83:51–62

Hakkinen K, Alen M, Kraemer WJ, Gorostiaga E, Izquierdo M, Rusko H, Mikkola J, Hakkinen A, Valkeinen H, Kaarakainen E, Romu S, Erola V, Ahtiainen J, Paavolainen L (2003) Neuromuscular adaptations during concurrent strength and endurance training versus strength training. Eur J Appl Physiol 89:42–52

Hass CJ, Garzarella L, de Hoyos D, Pollock ML (2000) Single versus multiple sets in long-term recreational weightlifters. Med Sci Sports Exerc 32:235–242

Hather BM, Tesch PA, Buchanan P, Dudley GA (1991) Influence of eccentric actions on skeletal muscle adaptations to resistance training. Acta Physiol Scand 143:177–185

Hortobagyi T, Houmard JA, Stevenson JR, Fraser DD, Johns RA, Israel RG (1993) The effects of detraining on power athletes. Med Sci Sports Exerc 25:929–935

Hubal MJ, Chen TC, Thompson PD, Clarkson PM (2008) Inflammatory gene changes associated with the repeated-bout effect. Am J Physiol Regul Integr Comp Physiol 294:R1628–R1637

Hulmi JJ, Kovanen V, Selanne H, Kraemer WJ, Hakkinen K, Mero AA (2009) Acute and long-term effects of resistance exercise with or without protein ingestion on muscle hypertrophy and gene expression. Amino Acids 37:297–308

Ishida K, Moritani T, Itoh K (1990) Changes in voluntary and electrically induced contractions during strength training and detraining. Eur J Appl Physiol Occup Physiol 60:244–248

Kawakami Y, Abe T, Kuno SY, Fukunaga T (1995) Training-induced changes in muscle architecture and specific tension. Eur J Appl Physiol Occup Physiol 72:37–43

Kraemer WJ, Ratamess NA (2004) Fundamentals of resistance training: progression and exercise prescription. Med Sci Sports Exerc 36:674–688

Kraemer WJ, Nindl BC, Ratamess NA, Gotshalk LA, Volek JS, Fleck SJ, Newton RU, Hakkinen K (2004) Changes in muscle hypertrophy in women with periodized resistance training. Med Sci Sports Exerc 36:697–708

Kubo K, Ikebukuro T, Yata H, Tsunoda N, Kanehisa H (2010) Time course of changes in muscle and tendon properties during strength training and detraining. J Strength Cond Res 24:322–331

Leger B, Cartoni R, Praz M, Lamon S, Deriaz O, Crettenand A, Gobelet C, Rohmer P, Konzelmann M, Luthi F, Russell AP (2006) Akt signalling through GSK-3beta, mTOR and Foxo1 is involved in human skeletal muscle hypertrophy and atrophy. J Physiol 576:923–933

McCarthy JJ, Mula J, Miyazaki M, Erfani R, Garrison K, Farooqui AB, Srikuea R, Lawson BA, Grimes B, Keller C, Van Zant G, Campbell KS, Esser KA, Dupont-Versteegden EE, Peterson CA (2011) Effective fiber hypertrophy in satellite cell-depleted skeletal muscle. Development 138:3657–3666

Narici MV, Roi GS, Landoni L, Minetti AE, Cerretelli P (1989) Changes in force, cross-sectional area and neural activation during strength training and detraining of the human quadriceps. Eur J Appl Physiol Occup Physiol 59:310–319

Narici MV, Hoppeler H, Kayser B, Landoni L, Claassen H, Gavardi C, Conti M, Cerretelli P (1996) Human quadriceps cross-sectional area, torque and neural activation during 6 months strength training. Acta Physiol Scand 157:175–186

Ogasawara R, Yasuda T, Sakamaki M, Ozaki H, Abe T (2011) Effects of periodic and continued resistance training on muscle CSA and strength in previously untrained men. Clin Physiol Funct Imaging 31:399–404

Pallafacchina G, Blaauw B, Schiaffino S (2012) Role of satellite cells in muscle growth and maintenance of muscle mass. Nutr Metab Cardiovasc Dis [Epub ahead of print]

Phillips SM, Tipton KD, Ferrando AA, Wolfe RR (1999) Resistance training reduces the acute exercise-induced increase in muscle protein turnover. Am J Physiol 276:E118–E124

Phillips SM, Parise G, Roy BD, Tipton KD, Wolfe RR, Tamopolsky MA (2002) Resistance-training-induced adaptations in skeletal muscle protein turnover in the fed state. Can J Physiol Pharmacol 80:1045–1053

Relaix F, Zammit PS (2012) Satellite cells are essential for skeletal muscle regeneration: the cell on the edge returns centre stage. Development 139:2845–2856

Renault V, Thornell LE, Eriksson PO, Butler-Browne G, Mouly V (2002) Regenerative potential of human skeletal muscle during aging. Aging Cell 1:132–139

Suetta C, Hvid LG, Justesen L, Christensen U, Neergaard K, Simonsen L, Ortenblad N, Magnusson SP, Kjaer M, Aagaard P (2009) Effects of aging on human skeletal muscle after immobilization and retraining. J Appl Physiol 107:1172–1180

Tang JE, Perco JG, Moore DR, Wilkinson SB, Phillips SM (2008) Resistance training alters the response of fed state mixed muscle protein synthesis in young men. Am J Physiol Regul Integr Comp Physiol 294:R172–R178

Trappe S, Williamson D, Godard M (2002) Maintenance of whole muscle strength and size following resistance training in older men. J Gerontol A Biol Sci Med Sci 57:B138–B143

Wernbom M, Augustsson J, Thomee R (2007) The influence of frequency, intensity, volume and mode of strength training on whole muscle cross-sectional area in humans. Sports Med 37:225–264
Additional information
Communicated by Martin Flueck.
About this article
Cite this article
Ogasawara, R., Yasuda, T., Ishii, N. et al. Comparison of muscle hypertrophy following 6-month of continuous and periodic strength training. Eur J Appl Physiol 113, 975–985 (2013). https://doi.org/10.1007/s00421-012-2511-9
Received:

Accepted:

Published:

Issue Date:
Keywords
Muscle hypertrophy

Frequency of training

Resistance training

Detraining

Retraining