Abstract
This study examined the effects of pre-cooling duration on performance and neuromuscular function for self-paced intermittent-sprint shuttle running in the heat. Eight male, team-sport athletes completed two 35-min bouts of intermittent-sprint shuttle running separated by a 15-min recovery on three separate occasions (33°C, 34% relative humidity). Mixed-method pre-cooling was completed for 20 min (COOL20), 10-min (COOL10) or no cooling (CONT) and reapplied for 5-min mid-exercise. Performance was assessed via sprint times, percentage decline and shuttle-running distance covered. Maximal voluntary contractions (MVC), voluntary activation (VA) and evoked twitch properties were recorded pre- and post-intervention and mid- and post-exercise. Core temperature (T c), skin temperature, heart rate, capillary blood metabolites, sweat losses, perceptual exertion and thermal stress were monitored throughout. Venous blood draws pre- and post-exercise were analyzed for muscle damage and inflammation markers. Shuttle-running distances covered were increased 5.2 ± 3.3% following COOL20 (P < 0.05), with no differences observed between COOL10 and CONT (P > 0.05). COOL20 aided in the maintenance of mid- and post-exercise MVC (P < 0.05; d > 0.80), despite no conditional differences in VA (P > 0.05). Pre-exercise T c was reduced by 0.15 ± 0.13°C with COOL20 (P < 0.05; d > 1.10), and remained lower throughout both COOL20 and COOL10 compared to CONT (P < 0.05; d > 0.80). Pre-cooling reduced sweat losses by 0.4 ± 0.3 kg (P < 0.02; d > 1.15), with COOL20 0.2 ± 0.4 kg less than COOL10 (P = 0.19; d = 1.01). Increased pre-cooling duration lowered physiological demands during exercise heat stress and facilitated the maintenance of self-paced intermittent-sprint performance in the heat. Importantly, the dose-response interaction of pre-cooling and sustained neuromuscular responses may explain the improved exercise performance in hot conditions.
This is a preview of subscription content,
to check access.
Access this article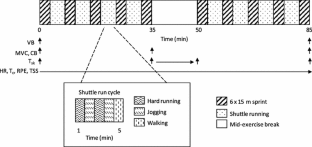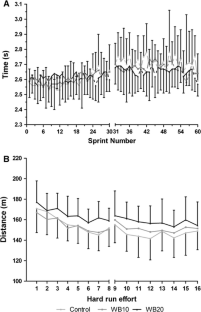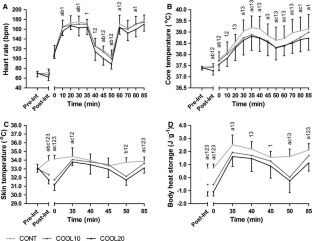 References
Allen GM, Gandevia SC, McKenzie DK (1995) Reliability of measurements of muscle strength and voluntary activation using twitch interpolation. Muscle Nerve 18(6):593–600

Alzeer AH, El-Hazmi MA, Warsy AS, Ansari ZA, Yrkendi MS (1997) Serum enzymes in heat stroke: prognostic implication. Clin Chem 43:1182–1187

Arngrímsson SA, Petitt DS, Strueck MG, Jorgensen DK, Cureton KJ (2004) Cooling vest worn during active warm-up improves 5-km run performance in the heat. J Appl Physiol 96:1867–1874

Bogerd N, Perret C, Bogerd CP, Rossi RM, Daanen HA (2010) The effect of pre-cooling intensity on cooling efficiency and exercise performance. J Sports Sci 28(7):771–779

Burnham RS, McKinley RS, Vincent DD (2006) Three types of skin-surface thermometers: a comparison of reliability, validity, and responsiveness. Am J Phys Med Rehabil 85(7):553–558

Castle PC, Macdonald AL, Philp A, Webborn A, Watt PW, Maxwell NS (2006) Precooling leg muscle improves intermittent sprint exercise performance in hot, humid conditions. J Appl Physiol 100:1377–1384

Daanen HA, van Es EM, de Graaf JL (2006) Heat strain and gross efficiency during endurance exercise after lower, upper, or whole body precooling in the heat. Int J Sports Med 27:379–388

Duffield R (2008) Cooling interventions for the protection and recovery of exercise performance from exercise-induced heat stress. In: Marino FE (ed) Thermoregulation and human performance: physiological and biological aspects. Karger Publications, Basel, pp 89–103

Duffield R, Marino FE (2007) Effects of pre-cooling procedures on intermittent-sprint exercise performance in warm conditions. Eur J Appl Physiol 100:727–735

Duffield R, Steinbacher G, Fairchild TJ (2009) The use of mixed-method, part-body pre-cooling procedures for team-sport athletes training in the heat. J Strength Cond Res 23(9):2524–2532

Duffield R, Green R, Castle P, Maxwell N (2010) Precooling can prevent the reduction of self-paced exercise intensity in the heat. Med Sci Sports Exerc 42(3):577–584

Ekblom B, Greenleaf CJ, Greenleaf JE, Hermansen L (1971) Temperature regulation during continuous and intermittent exercise in man. Acta Physiol Scand 81:1–10

Ely BR, Ely MR, Cheuvront SN, Kenefick RW, DeGroot DW, Montain SJ (2009) Evidence against a 40°C core temperature threshold for fatigue in humans. J Appl Physiol 107:1519–1525

González-Alonso J, Mora-Rodriguez R, Below PR, Coyle EF (1997) Dehydration markedly impairs cardiovascular function in hyperthermic endurance athletes during exercise. J Appl Physiol 82:1229–1236

González-Alonso J, Teller C, Andersen SL, Jensen FB, Hyldig T, Nielsen B (1999) Influence of body temperature on the development of fatigue during prolonged exercise in the heat. J Appl Physiol 86:1032–1039

Hasegawa H, Takatori T, Komura T, Yamasaki M (2005) Wearing a cooling jacket during exercise reduces thermal strain and improves endurance exercise performance in a warm environment. J Strength Cond Res 19(1):122–128

Havenith G, Luttikholt VGM, Vrijkotte TGM (1995) The relative influence of body characteristics on humid heat stress response. Eur J Appl Physiol 70:270–279

Kay D, Taafe DR, Marino FE (1999) Whole-body pre-cooling and heat storage during self-paced cycling performance in warm humid conditions. J Sports Sci 17:937–944

Kay D, Marino FE, Cannon J, St Clair Gibson A, Lambert M, Noakes TD (2001) Evidence for neuromuscular fatigue during high intensity cycling in warm, humid conditions. Eur J Appl Physiol 84:115–121

Lee DT, Haymes EM (1995) Exercise duration and thermoregulatory responses after whole body precooling. J Appl Physiol 79(6):1971–1976

Marino FE (2002) Methods, advantages, and limitations of body cooling for exercise performance. Br J Sports Med 36:89–94

Marino FE (2004) Anticipatory regulation and avoidance of catastrophe during exercise-induced hyperthermia. Comp Biochem Physiol B 139:561–569

Minett GM, Duffield R, Marino FE, Portus M (2011) Volume-dependent response of pre-cooling for intermittent-sprint exercise in the heat. Med Sci Sports Exerc 43(9):1760–1769

Morrison S, Sleivert GC, Cheung SS (2004) Passive hyperthermia reduces voluntary activation and isometric force production. Eur J Appl Physiol 91:729–736

Nybo L (2008) Hyperthermia and fatigue. J Appl Physiol 104:871–878

Nybo L, Nielsen B (2001) Hyperthermia and central fatigue during prolonged exercise in humans. J Appl Physiol 91:1055–1066

Peiffer JJ, Abbiss CR, Watson G, Nosaka K, Laursen PB (2009) Effect of cold-water immersion duration on body temperature and muscle function. J Sports Sci 27(10):987–993

Petersen CJ, Pyne D, Dawson B, Portus M, Kellett A (2010) Movement patterns in cricket vary by both position and game format. J Sports Sci 28(1):45–52

Quod MJ, Martin DT, Laursen PB (2006) Cooling athletes before competition in the heat. Sports Med 36(8):671–682

Quod MJ, Martin DT, Laursen PB, Gardner AS, Halson SL, Marino FE, Tate MP, Mainwaring DE, Gore CJ, Hahn AG (2008) Practical precooling: effect on cycling time trial performance in warm conditions. J Sports Sci 26(14):1477–1487

Racinais S, Oksa J (2010) Temperature and neuromuscular function. Scand J Med Sci Sports [Suppl 3] 20:1-18

Ramanathan NL (1964) A new weighting system for mean surface temperature of the human body. J Appl Physiol 19(3):531–533

Ross ML, Garvican LA, Jeacocke NA, Laursen PB, Abbiss CR, Martin DT, Burke LM (2011) Novel pre-cooling strategy enhances time trial cycling in the heat. Med Sci Sports Exerc 43(1):123–133

Schlader ZJ, Simmons SE, Stannard SR, Mündel T (2011) Skin temperature as a thermal controller of exercise intensity. Eur J Appl Physiol 111:1631–1639

Skein M, Duffield R, Cannon J, Marino FE (2012) Self-paced intermittent-sprint performance and pacing strategies following respective pre-cooling and heating. Eur J Appl Physiol 112(1):253–266

Thomas MM, Cheung SS, Elder GC, Sleivert GG (2006) Voluntary muscle activation is impaired by core temperature rather than local muscle temperature. J Appl Physiol 100:1361–1369

Todd G, Butler JE, Taylor JL, Gandevia SC (2005) Hyperthermia: a failure of the motor cortex and the muscle. J Physiol 563:621–631

Tucker R, Rauch L, Harley YX, Noakes TD (2004) Impaired exercise performance in the heat is associated with an anticipatory reduction in skeletal muscle recruitment. Pflügers Arch 448:422–430

Wendt D, van Loon LJC, van Marken Lichtenbelt WD (2007) Thermoregulation during exercise in the heat: strategies for maintaining health and performance. Sports Med 37(8):669–682

Young AJ, Sawka MN, Levine L, Cadarette BS, Pandolf KB (1985) Skeletal muscle metabolism during exercise is influenced by heat acclimation. J Appl Physiol 59(6):1929–1935
Acknowledgments
The authors are grateful to Cricket Australia for their financial support of this study. Further, we thank Wayne Everingham (School of Biomedical Sciences, Charles Sturt University, Bathurst, NSW, Australia) and Brian Heffernan (Central West Pathology Service, Bathurst Base Hospital, NSW, Australia) for their valued assistance with immunoassay procedures.
Conflict of interest
MP is an employee of Cricket Australia. There are no conflicts of interest for any of the authors.
Additional information
Communicated by George Havenith.
About this article
Cite this article
Minett, G.M., Duffield, R., Marino, F.E. et al. Duration-dependant response of mixed-method pre-cooling for intermittent-sprint exercise in the heat. Eur J Appl Physiol 112, 3655–3666 (2012). https://doi.org/10.1007/s00421-012-2348-2
Received:

Accepted:

Published:

Issue Date:

DOI: https://doi.org/10.1007/s00421-012-2348-2
Keywords