Abstract
Previously studies have shown that nature improves mood and self-esteem and reduces blood pressure. Walking within a natural environment has been suggested to alter autonomic nervous system control, but the mechanisms are not fully understood. Heart rate variability (HRV) is a non-invasive method of assessing autonomic control and can give an insight into vagal modulation. Our hypothesis was that viewing nature alone within a controlled laboratory environment would induce higher levels of HRV as compared to built scenes. Heart rate (HR) and blood pressure (BP) were measured during viewing different scenes in a controlled environment. HRV was used to investigate alterations in autonomic activity, specifically parasympathetic activity. Each participant lay in the semi-supine position in a laboratory while we recorded 5 min (n = 29) of ECG, BP and respiration as they viewed two collections of slides (one containing nature views and the other built scenes). During viewing of nature, markers of parasympathetic activity were increased in both studies. Root mean squared of successive differences increased 4.2 ± 7.7 ms (t = 2.9, p = 0.008) and natural logarithm of high frequency increased 0.19 ± 0.36 ms2 Hz−1 (t = 2.9, p = 0.007) as compared to built scenes. Mean HR and BP were not significantly altered. This study provides evidence that autonomic control of the heart is altered by the simple act of just viewing natural scenes with an increase in vagal activity.
Access options
Buy single article
Instant access to the full article PDF.
US$ 39.95
Tax calculation will be finalised during checkout.
Subscribe to journal
Immediate online access to all issues from 2019. Subscription will auto renew annually.
US$ 119
Tax calculation will be finalised during checkout.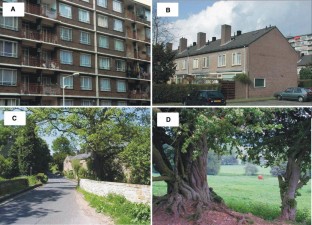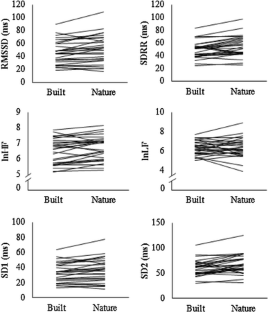 References:
Barton J, Pretty J (2010) What is the best dose of nature and green exercise for improving mental health? A multi-study analysis. Environ Sci Technol 44:3947–3955

Barton J, Hine RE, Pretty J (2009) The health benefits of walking in greenspaces of high natural and heritage value. J Integrative Environ Sci 6:261–278

Berman MG, Jonides J, Kaplan S (2008) The cognitive benefits of interacting with nature. Psychol Sci 19:1207–1212

Berto R (2005) Exposure to restorative environments helps restore attentional capacity. J Environ Psychol 25:249–259

Bloomfield DM, Magnano A, Bigger JT Jr, Rivadeneira H, Parides M, Steinman RC (2001) Comparison of spontaneous vs. metronome-guided breathing on assessment of vagal modulation using RR variability. Am J Physiol Heart Circ Physiol 280:H1145–H1150

Bowler DE, Buyung-Ali LM, Knight TM, Pullin AS (2010) A systematic review of evidence for the added benefits to health of exposure to natural environments. BMC Public Health 10:456

Brennan M, Palaniswami M, Kamen P (2001) Do existing measures of Poincare plot geometry reflect nonlinear features of heart rate variability? IEEE Trans Biomed Eng 48:1342–1347

Chang C, Hammitt WE, Chen P, Machnik L, Wei-Chia S (2008) Psychophysiological responses and restorative values of natural environments in Taiwan. Landsc Urban Plan 85:79–84

Di Rienzo M, Castiglioni P, Mancia G, Pedotti A, Parati G (2001) Advancements in estimating baroreflex function. IEEE Eng Med Biol Mag 20:25–32

Diette GB, Lechtzin N, Haponik E, Devrotes A, Rubin HR (2003) Distraction therapy with nature sights and sounds reduces pain during flexible bronchoscopy: a complementary approach to routine analgesia. Chest 123:941–948

Fernandez D, Wilkins AJ (2008) Uncomfortable images in art and nature. Perception 37:1098–1113

Gilbey MP, Jordan D, Richter DW, Spyer KM (1984) Synaptic mechanisms involved in the inspiratory modulation of vagal cardio-inhibitory neurones in the cat. J Physiol 356:65–78

Hepburn H, Fletcher J, Rosengarten TH, Coote JH (2005) Cardiac vagal tone, exercise performance and the effect of respiratory training. Eur J Appl Physiol 94:681–689

Kaplan R, Kaplan S (1989) The experience of nature: a psychological perspective. Cambridge University Press, Cambridge

Kim GW, Jeong GW, Kim TH, Baek HS, Oh SK, Kang HK, Lee SG, Kim YS, Song JK (2010) Functional neuroanatomy associated with natural and urban scenic views in the human brain: 3.0T functional MR imaging. Korean J Radiol 11:507–513

Laumann K, Garling T, Stormark K (2003) Selective attention and heart rate responses to natural and urban environments. J Environ Psychol 23:125–134

Lechtzin N, Busse AM, Smith MT, Grossman S, Nesbit S, Diette GB (2010) A randomized trial of nature scenery and sounds versus urban scenery and sounds to reduce pain in adults undergoing bone marrow aspirate and biopsy. J Alternative Complementary Med 16:965–972

Li Q, Otsuka T, Kobayashi M, Wakayama Y, Inagaki H, Katsumata M, Hirata Y, Li Y, Hirata K, Shimizu T, Suzuki H, Kawada T, Kagawa T (2011) Acute effects of walking in forest environments on cardiovascular and metabolic parameters. Eur J Appl Physiol 111(11):2845–2853

Moore EO (1982) A prison environment's effect on health care demands. J Environ Syst 11:17–24

Niskanen JP, Tarvainen MP, Ranta-Aho PO, Karjalainen PA (2004) Software for advanced HRV analysis. Comput Methods Programs Biomed 76:73–81

Park BJ, Tsunetsugu Y, Kasetani T, Kagawa T, Miyazaki Y (2010) The physiological effects of Shinrin-yoku (taking in forest atmosphere or forest bathing): evidence from field experiments in 24 forests across Japan. Environ Health Prev Med 15:18–26

Patwardhan AR, Evans JM, Bruce EN, Eckberg DL, Knapp CF (1995) Voluntary control of breathing does not alter vagal modulation of heart rate. J Appl Physiol 78:2087–2094

Pretty J, Peacock J, Sellens M, Griffin M (2005) The mental and physical health outcomes of green exercise. Int J Environ Health Res 15:319–337

Pretty J, Peacock J, Hine R, Sellens M, South N, Griffin M (2007) Green exercise in the UK countryside: effects on health and psychological well-being. J Environ Plan Manage 50:211–231

Sidery MB, Macdonald IA (1994) The effect of meal size on the cardiovascular responses to food ingestion. Br J Nutr 71:835–848

Stubbs TA, Macdonald IA (1995) Systemic and regional haemodynamic effects of caffeine and alcohol in fasting subjects [corrected]. Clin Auton Res 5:123–127

Task Force (1996) Heart rate variability: standards of measurement, physiological interpretation and clinical use. Task Force of the European Society of Cardiology and the North American Society of Pacing and Electrophysiology. Circulation 93:1043–1065

Thayer JF, Lane RD (2009) Claude Bernard and the heart–brain connection: further elaboration of a model of neurovisceral integration. Neurosci Biobehav Rev 33:81–88

Thompson Coon J, Boddy K, Whear R, Barton J, Depledge M, Stein K (2011) Does participating in physical activity in the outdoor environment have a greater effect on physical and mental wellbeing than participating in physical activity indoors? A systematic review. Environ Sci Technol 45(5):1761–1772

Tukek T, Yildiz P, Atilgan D, Tuzcu V, Eren M, Erk O, Demirel S, Akkaya V, Dilmener M, Korkut F (2003) Effect of diurnal variability of heart rate on development of arrhythmia in patients with chronic obstructive pulmonary disease. Int J Cardiol 88:199–206

Ulrich RS (1981) Natural versus urban scenes some psychophysiological effects. Environ Behav 13:523–556

Ulrich RS (1984) View through a window may influence recovery from surgery. Science 224:420–421

Ulrich RS, Simons RF, Fiorito E, Miles MA, Zelson M (1991) Stress recovery during exposure to natural and urban environments. J Environ Psychol 11:201–230
Acknowledgments
V.F. Gladwell is an ESRC research fellow (project number RES-064-27-0019). D.K. Brown is supported by a BHF studentship Grant FS/10/32/28204. The study was also supported by Academy of Finland (project number 126873).
Conflict of interest
None.
Additional information
Communicated by Susan A. Ward.
About this article
Cite this article
Gladwell, V.F., Brown, D.K., Barton, J.L. et al. The effects of views of nature on autonomic control. Eur J Appl Physiol 112, 3379–3386 (2012). https://doi.org/10.1007/s00421-012-2318-8
Received:

Accepted:

Published:

Issue Date:
Keywords
Environment

Nature

Cardiovascular

Autonomic control

Vagal activity