Abstract
Previous research has shown reduced tissue disruption and inflammatory responses in women as compared to men following acute strenuous exercise. While the mechanism of this action is not known, estrogen may reduce the inflammatory response through its interaction with granulocytes. The purpose of this study was to determine if estrogen receptor β expression on granulocytes is related to sex differences in tissue disruption in response to an acute heavy resistance exercise protocol. Seven healthy, resistance-trained, eumenorrheic women (23 ± 3 years, 169 ± 9.1 cm, 66.4 ± 10.5 kg) and 8 healthy, resistance-trained men (25 ± 5 years, 178 ± 6.7 cm, 82.3 ± 9.33 kg) volunteered to participate in the study. Subjects performed an acute resistance exercise test consisting of six sets of five squats at 90% of the subject's one repetition maximum. Blood samples were obtained pre-, mid-, post-, and 1-, 6-, and 24-h postexercise. Blood samples were analyzed for 17-β-estradiol by ELISA, creatine kinase by colorimetric enzyme immunoassay, and estradiol receptors on circulating granulocytes through flow cytometry. Men had higher CK concentrations than women at baseline/control. Men had significantly higher CK concentrations at 24-h postexercise than women. No significant changes in estradiol β receptors were expressed on granulocytes after exercise or between sexes. While sex differences occur in CK activity in response to strenuous eccentric exercise, they may not be related to estradiol receptor β expression on granulocytes. Thus, although there are sex differences in CK expression following acute resistance exercise, the differences may not be attributable to estrogen receptor β expression on granulocytes.
This is a preview of subscription content, log in to check access.
Access options
Buy single article
Instant access to the full article PDF.
US$ 39.95
Price includes VAT for USA
Subscribe to journal
Immediate online access to all issues from 2019. Subscription will auto renew annually.
US$ 199
This is the net price. Taxes to be calculated in checkout.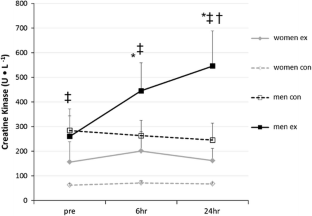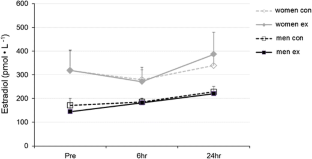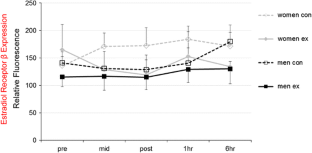 References
Amelink GJ, Bär PR (1986) Exercise induced muscle protein leakage in the rat: effects of hormonal manipulation. J Neurol Sci 76:61–65

Amelink GJ, Kamp HH, Bär PR (1988) Creatine kinase isoenzyme profiles after exercise in the rat: sex-linked differences in leakage of CK-MM. Pflügers Arch Eur J Physiol 412:417–421

Amelink GJ, Koot RW, Erich WB, Van Gijn J, Bär PR (1990) Sex-linked variation in creatine kinase release, and its dependence on oestradiol, can be demonstrated in an in vitro rat skeletal muscle preparation. Acta Physiol Scand 138:115–124

Amelink GJ, van der Waal WA, Wooke JH, van Asbeck BS, Bär PR (1991) Exercise induced muscle damage in the rat: the effect of vitamin E deficiency. Pflügers Arch Eur J Physiol 419:304–309

Azenabor AA, Hoffman-Goetz L (2000) Effect of exhaustive exercise on membrane estradiol concentration, intracellular calcium, and oxidative damage in mouse thymic lymphocytes. Free Radic Biol Med 28(1):84–90

Bar PR, Amelink GJ et al (1988) Prevention of exercise-induced muscle membrane damage by oestradiol. Life Sci 42(26):2677–2681

Brancaccio P, Maffulli N, Limongelli FM (2007) Creatine kinase monitoring in sport medicine. Br Med Bull 81–82(1):209–230

Carter A, Dobridge J, Hackney AC (2001) Influence of estrogen on markers of muscle tissue damage following eccentric exercise. Fiziol Cheloveka 27(5):133–137

Clarkson PM, Hubal MJ (2001) Are women less susceptible to exercise-induced muscle damage? Curr Opin Clin Nutr Metab Care 4(6):527–531

Clarkson PM, Sayers SP (1999) Chapter 12: Gender differences in exercise-induced muscle damage. In: Tarnopolsky MA (ed) Gender differences in metabolism: practical and nutritional implications. CRC Press, Boca Raton, pp 283–299

De Souza MJ, Maresh CM, Maguire MS, Kraemer WJ, Flora-Ginter G, Goetz KL (1989) Menstrual status and plasma vasopressin, renin activity, and aldosterone exercise responses. J Appl Physiol 67(2):736–743

Fragala MS, Kraemer WJ, Mastro AM, Denegar CR, Volek JS, Häkkinen K, Anderson JM, Lee EC, Maresh CM (2011) Leukocyte β2-adrenergic receptor expression in response to resistance exercise. Med Sci Sports Exerc 43(8):1422–1432

Garrido-Chamorro RP, Sirvent-Belando JE, Gonzalez-Lorenzo M, Martin-Carratala ML, Roche E (2009) Correlation between body mass index and body composition in elite athletes. J Sports Med Phys Fitness 49(3):278–284

Janssen I, Heymsfield SB, Wang ZM, Ross R (2000) Skeletal muscle mass and distribution in 468 men and women aged 18–88 yr. J Appl Physiol 89(1):81–88

Miller AP, Feng W et al (2004) Estrogen modulates inflammatory mediator expression and neutrophil chemotaxis in injured arteries. Circulation 110(12):1664–1669

Roth SM, Gajdosik R, Ruby BC (2001) Effects of circulating estradiol on exercise-induced creatine kinase activity. J Exerc Physiol Online 4(2):10–17

Sewright KA, Hubal MJ, Kearns A, Holbrook MT, Clarkson PM (2008) Sex differences in response to maximal eccentric exercise. Med Sci Sports Exerc 40(2):242–251

Sherman BM, Korenman SG (1975) Hormonal characteristics of the human menstrual cycle throughout reproductive life. J Clin Invest 55(4):699–706

St. Pierre-Schneider B, Correia L, Cannon JG (1999) Sex differences in leukocyte invasion in injured murine skeletal muscle. Res Nurse Health 22:243–250

Stupka N, Lowther S, Chorneyko K, Bourgeois JM, Hogben C, Tarnopolsky MA (2000) Gender differences in muscle inflammation after eccentric exercise. J Appl Physiol 89(6):2325–2332

Stupka N, Tarnopolsky MA, Yardley NJ, Phillips SM (2001) Cellular adaptation to repeated eccentric exercise-induced muscle damage. J Appl Physiol 91(4):1669–1678

Terstappen LW, de Grooth BG, Visscher K, van Kouterik FA, Greve J (1988) Four-parameter white blood cell differential counting based on light scattering measurements. Cytometry 9(1):39–43

Thomas A, Bunyan K, Tiidus PM (2010) Oestrogen receptor-alpha activation augments post-exercise myoblast proliferation. Acta Physiol (Oxf) 198(1):81–89

Thor D, Zhang R, Anderson L, Bose DD, Dubé GP, Rahimian R (2010) Effects of 17 β-estradiol on lipopolysaccharide-induced intracellular adhesion molecule-1 mRNA expression and Ca2+ homeostasis alteration in human endothelial cells. Vascul Pharmacol 53(5–6):230–238

Tiidus PM (1999) Chapter 11: Nutritional implications of gender differences in metabolism: estrogen and oxygen radicals: oxidative damage, inflammation, and muscle function. In: Tarnopolsky MA (ed) Gender differences in metabolism: practical and nutritional implications. CRC Press, Boca Raton, pp 265–281

Tiidus PM (2000) Estrogen and gender effects on muscle damage, inflammation, and oxidative stress. Can J Appl Physiol 25(4):274–287

Tiidus PM (2001) Oestrogen and sex influence on muscle damage and inflammation: evidence from animal models. Curr Opin Clin Nutr Metab Care 4(6):509–513

Tiidus PM (2003) Influence of estrogen on skeletal muscle damage, inflammation, and repair. Exerc Sport Sci Rev 31(1):40–44

Tiidus PM, Bombardier E (1999) Oestrogen attenuates post-exercise myeloperoxidase activity in skeletal muscle of male rats. Acta Physiol Scand 166(2):85–90

Timmons BW, Hamadeh MJ, Devries MC, Tarnopolsky MA (2005) Influence of gender, menstrual phase, and oral contraceptive use on immunological changes in response to prolonged cycling. J Appl Physiol 99(3):979–985

Xing D, Miller A et al (2004) Estradiol and progestins differentially modulate leukocyte infiltration after vascular injury. Circulation 109(2):234–241
Acknowledgments
The authors wish to thank our subjects and all volunteers who assisted in data collection.
Conflict of interest
No conflicts of interest to report.
Additional information
Communicated by Susan A. Ward.
About this article
Cite this article
Wolf, M.R., Fragala, M.S., Volek, J.S. et al. Sex differences in creatine kinase after acute heavy resistance exercise on circulating granulocyte estradiol receptors. Eur J Appl Physiol 112, 3335–3340 (2012). https://doi.org/10.1007/s00421-012-2314-z
Received:

Accepted:

Published:

Issue Date:
Keywords
Resistance exercise

Tissue disruption

Estrogen

Skeletal muscle damage

Creatine kinase