Abstract
Climbing performance relies to a great extent on the performance of the finger flexor muscles. Only a few studies investigated this performance in top class climbers and only one study compared gender-specific differences. This study investigated the climbing-specific finger flexor strength and endurance and related muscular oxygenation in 12 elite female and male climbers and 12 non-climbers. After the assessment of maximum voluntary finger flexor contraction (MVC), two isometric finger flexor endurance tests were performed at 40% MVC until exhaustion. A continuous isometric test was followed by an intermittent isometric test (10 s contraction, 3 s rest). Changes in oxygenation of finger flexor muscles were recorded using near infrared spectroscopy. MVC and strength-to-weight ratio were greater in climbers than non-climbers (P = 0.003; P < 0.001) and greater in men than women (P < 0.001; P = 0.002). Time to task failure for the intermittent test and the force-time integrals for the continuous and the intermittent test were also significantly greater in climbers (P = 0.030; P = 0.027; P = 0.005). During the intermittent test, re-oxygenation of the working muscles was faster in climbers (P < 0.05) without gender-specific differences. Close correlations were demonstrated between the best on-sight climbing performance and strength-to-weight ratio (r 2 = 0.946, P < 0.001) only in female climbers. The superior intermittent finger flexor endurance of climbers over non-climbers may be explained by the faster re-oxygenation of the finger flexor muscles during the short rest phases.
This is a preview of subscription content, log in to check access.
Access options
Buy single article
Instant access to the full article PDF.
US$ 39.95
Tax calculation will be finalised during checkout.
Subscribe to journal
Immediate online access to all issues from 2019. Subscription will auto renew annually.
US$ 199
Tax calculation will be finalised during checkout.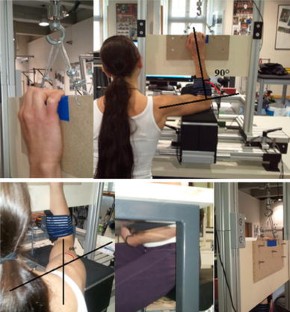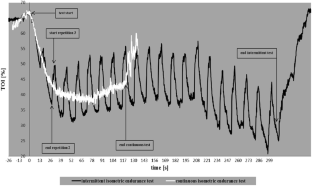 References
Alomari MA, Mekary RA, Welsch MA (2010) Rapid vascular modifications to localized rhythmic handgrip training and detraining: vascular conditioning and deconditioning. Eur J Appl Physiol 109:803–809

Billat V, Palleja P, Charlaix T, Rizzardo P, Janel N (1995) Energy specificity of rock climbing and aerobic capacity in competitive sport rock climbers. J Sports Med Phys Fitness 35:20–24

Booth J, Marino F, Hill C, Gwinn T (1999) Energy cost of sport rock climbing in elite performers. Br J Sports Med 33:14–18

España-Romero V, Ortega Porcel FB, Artero EG, Jiménez-Pavón D, Gutiérrez Sainz A, Castillo Garzón MJ, Ruiz JR (2009) Climbing time to exhaustion is a determinant of climbing performance in high-level sport climbers. Eur J Appl Physiol 107:517–525

Ferguson RA, Brown MD (1997) Arterial blood pressure and forearm vascular conductance responses to sustained and rhythmic isometric exercise and arterial occlusion in trained rock climbers and untrained sedentary subjects. Eur J Appl Physiol Occup Physiol 76:174–180

Giles LV, Rhodes EC, Taunton JE (2006) The physiology of rock climbing. Sports Med 36:529–545

Grant S, Hasler T, Davies C, Aitchison TC, Wilson J, Whittaker A (2001) A comparison of the anthropometric, strength, endurance and flexibility characteristics of female elite and recreational climbers and non-climbers. J Sports Sci 19:499–505

Green H, Goreham C, Ouyang J, Ball-Burnett M, Ranney D (1999) Regulation of fiber size, oxidative potential, and capillarization in human muscle by resistance exercise. Am J Physiol 276:591–596

Henriksson J (1992) Effects of physical training on the metabolism of skeletal muscle. Diabetes Care 15:1701–1711

Heyman E, Geus B, de Mertens I, Meeusen R (2009) Effects of four recovery methods on repeated maximal rock climbing performance. Med Sci Sports Exerc 41:1303–1310

Hunter SK, Griffith EE, Schlachter KM, Kufahl TD (2009) Sex differences in time to task failure and blood flow for an intermittent isometric fatiguing contraction. Muscle Nerve 39:42–53

Hunter SK, Schletty JM, Schlachter KM, Griffith EE, Polichnowski AJ, Ng AV (2006) Active hyperemia and vascular conductance differ between men and women for an isometric fatiguing contraction. J Appl Physiol 101:140–150

Jensen L, Bangsbo J, Hellsten Y (2004) Effect of high intensity training on capillarization and presence of angiogenic factors in human skeletal muscle. J Physiol 557:571–582

Klausen K, Andersen LB, Pelle I (1981) Adaptive changes in work capacity, skeletal muscle capillarization and enzyme levels during training and detraining. Acta Physiol Scand 113:9–16

MacLeod D, Sutherland DL, Buntin L, Whitaker A, Aitchison T, Watt I, Bradley J, Grant S (2007) Physiological determinants of climbing-specific finger endurance and sport rock climbing performance. J Sports Sci 25:1433–1443

McCall GE, Byrnes WC, Dickinson A, Pattany PM, Fleck SJ (1996) Muscle fiber hypertrophy, hyperplasia, and capillary density in college men after resistance training. J Appl Physiol 81:2004–2012

McMahon S, Jenkins D (2002) Factors affecting the rate of phosphocreatine resynthesis following intense exercise. Sports Med 32:761–784

Mermier CM, Janot JM, Parker DL, Swan JG (2000) Physiological and anthropometric determinants of sport climbing performance. Br J Sports Med 34:359–365

Mermier CM, Robergs RA, McMinn SM, Heyward VH (1997) Energy expenditure and physiological responses during indoor rock climbing. Br J Sports Med 31:224–228

Michailov ML, Mladenov LV, Schöffl VR (2009) Anthropometric and strength characteristics of world-class boulderers. Medicina Sportiva 13:231–238

Morrison AB, Schöffl VR (2007) Physiological responses to rock climbing in young climbers. Br J Sports Med 41:852–861

Noé F, Quaine F, Martin L (2001) Influence of steep gradient supporting walls in rock climbing: biomechanical analysis. Gait Posture 13:86–94

Quaine F, Vigouroux L, Martin L (2003) Finger flexors fatigue in trained rock climbers and untrained sedentary subjects. Int J Sports Med 24:424–427

Raschner C, Platzer H, Patterson C, Zeppetzauer M, Del Frari B, Estermann D, Piza-Katzer H (2010) An isometric hand tester: quantifying motor function in the hand. J Hand Surg Eur 35:486–493

Robbins JL, Duscha BD, Bensimhon DR, Wasserman K, Hansen JE, Houmard JA, Annex BH, Kraus WE (2009) A sex-specific relationship between capillary density and anaerobic threshold. J Appl Physiol 106:1181–1186

Schöffl VR, Möckel F, Köstermeyer G, Roloff I, Küpper T (2006) Development of a performance diagnosis of the anaerobic strength endurance of the forearm flexor muscles in sport climbing. Int J Sports Med 27:205–211

Schöffl V, Morrison A, Schwarz U, Schöffl I, Küpper T (2010) Evaluation of injury and fatality risk in rock and ice climbing. Sports Med 40:657–679

Sheel AW (2004) Physiology of sport rock climbing. Br J Sports Med 38:355–359

Sheel AW, Seddon N, Knight A, McKenzie DC R, Warburton DE (2003) Physiological responses to indoor rock-climbing and their relationship to maximal cycle ergometry. Med Sci Sports Exerc 35:1225–1231

Thompson BC, Fadia T, Pincivero DM, Scheuermann BW (2007) Forearm blood flow responses to fatiguing isometric contractions in women and men. Am J Physiol Heart Circ Physiol 293:805–812

Tomlin DL, Wenger HA (2001) The relationship between aerobic fitness and recovery from high intensity intermittent exercise. Sports Med 31:1–11

Usaj A, Jereb B, Robi P, von Duvillard SP (2007) The influence of strength-endurance training on the oxygenation of isometrically contracted forearm muscles. Eur J Appl Physiol 100:685–692

Usaj A (2001) The endurance training effect on the oxygenation status of an isometrically contracted forearm muscle. Pflugers Arch 442:155–156

Usaj A (2002) Differences in the oxygenation of the forearm muscle during isometric contraction in trained and untrained subjects. Cell Mol Biol Lett 7:375–377

Vigouroux L, Quaine F (2006) Fingertip force and electromyography of finger flexor muscles during a prolonged intermittent exercise in elite climbers and sedentary individuals. J Sports Sci 24:181–186

Wall CB, Starek JE, Fleck SJ, Byrnes WC (2004) Prediction of indoor climbing performance in women rock climbers. J Strength Cond Res 18:77–83

Watts PB (2004) Physiology of difficult rock climbing. Eur J Appl Physiol 91:361–372

Watts PB, Drobish KM (1998) Physiological responses to simulated rock climbing at different angles. Med Sci Sports Exerc 30:1118–1122

Watts PB, Joubert LM, Lish AK, Mast JD, Wilkins B (2003) Anthropometry of young competitive sport rock climbers. Br J Sports Med 37:420–424

Watts PB, Martin DT, Durtschi S (1993) Anthropometric profiles of elite male and female competitive sport rock climbers. J Sports Sci 11:113–117

Watts PB, Newbury V, Sulentic J (1996) Acute changes in handgrip strength, endurance, and blood lactate with sustained sport rock climbing. J Sports Med Phys Fitness 36:255–260

White DJ, Olsen PD (2010) A time motion analysis of bouldering style competitive rock climbing. J Strength Cond Res 24:1356–1360

Wüst RCI, Morse CI, Haan A, de Jones DA, Degens H (2008) Sex differences in contractile properties and fatigue resistance of human skeletal muscle. Exp Physiol 93:843–850
Acknowledgments
The authors would like to thank all participants who took part in the study. We would also like to thank Heiko Wilhelm (Österreichischer Wettkletterverband, ÖWK), Engelbert Fuchs and Benjamin Gondolatsch who made it possible to test world class climbing athletes. The authors are also grateful to the reviewers who made valuable suggestions to improve the paper.
Additional information
Communicated by Jean-René Lacour.
About this article
Cite this article
Philippe, M., Wegst, D., Müller, T. et al. Climbing-specific finger flexor performance and forearm muscle oxygenation in elite male and female sport climbers. Eur J Appl Physiol 112, 2839–2847 (2012). https://doi.org/10.1007/s00421-011-2260-1
Received:

Accepted:

Published:

Issue Date:
Keywords
Climbing

Finger flexor muscles

Strength

Isometric

Endurance

Oxygenation