Abstract
Decompression sickness (DCS) may result from damage to the endothelium caused by the gas bubbles formed during decompression and may be related to nitric oxide (NO) production by nitric oxide synthase (NOS). Heat stress prior to diving has been shown to protect animals from DCS, and by simulating this treatment in human endothelial cells (HUVEC) we have shown that a simulated dive performed subsequent to a heat stress potentiated the heat-induced expression of HSP70 and increased the level of the antioxidant glutathione (GSH). Since operational saturation diving is performed at an increased oxygen level, HUVEC have been exposed to heat stress and simulated diving at 40 kPa O2, comparing the response on HSP70, HSP90 and GSH level to the effects previously observed at 20 kPa O2. In addition, we wanted to investigate the effect on both endothelial NOS (eNOS) protein and enzymatic activity. The present results showed that a heat stress (45°C, 1 h) decreased the NOS activity and the protein markedly. Hyperoxia (40 kPa) alone or a dive either at 20 or 40 kPa O2,had no effects on NOS activity or protein. At 40 kPa O2 a simulated dive after heat stress potentiated the HS-induced HSP70 response, whereas the heat-induced HSP90 response decreased. GSH levels were found to be inversely related to NOS activity and protein expression, and might be explained by a possible post-translational regulation by glutathionylation of eNOS protein. The results add to the limited knowledge of these critical factors in cellular defence mechanisms that can prevent injury during decompression.
This is a preview of subscription content, log in to check access.
Access options
Buy single article
Instant access to the full article PDF.
US$ 39.95
Price includes VAT for USA
Subscribe to journal
Immediate online access to all issues from 2019. Subscription will auto renew annually.
US$ 199
This is the net price. Taxes to be calculated in checkout.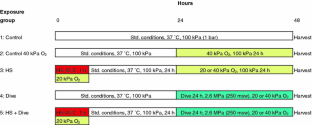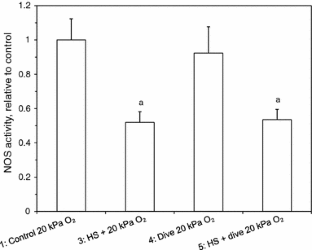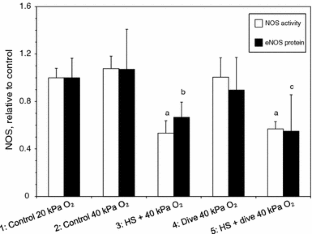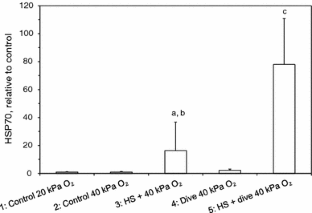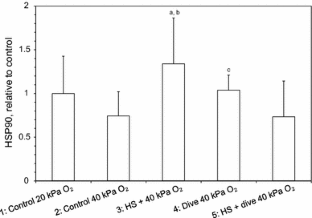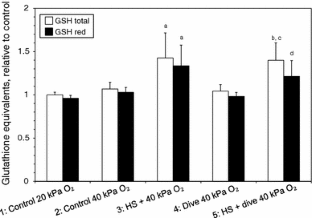 References
Brubakk AO, Eftedal OS, Wisløff U (2007) Endothelium and diving. In: Aird WC (ed) Endothelial biomedicine. Cambridge University Press, Cambridge, pp 497–505

Cardounel AJ, Xia Y, Zweier JL (2005) Endogenous methylarginines modulate superoxide as well as nitric oxide generation from neuronal nitric-oxide synthase: differences in the effects of monomethyl- and dimethylarginines in the presence and absence of tetrahydrobiopterin. J Biol Chem 280:7540–7549

Chen CA, Wang TY, Varadharaj S, Reyes LA, Hemann C, Talukder MA, Chen YR, Druhan LJ, Zweier JL (2010) S-glutathionylation uncouples eNOS and regulates its cellular and vascular function. Nature 468:1115–1118

Djurhuus R, Svardal AM, Mansoor MA, Ueland PM (1991) Modulation of glutathione content and the effect on methionine auxotrophy and cellular distribution of homocysteine and cysteine in mouse cell lines. Carcinogenesis 12:241–247

Djurhuus R, Segadal K, Svardal AM (2006) Glutathione in blood cells decreases without DNA breaks after a simulated saturation dive to 250 msw. Aviat Space Environ Med 77:597–604

Djurhuus R, Nossum V, Lundsett N, Hovin W, Svardal AM, Havnes MB, Fismen L, Hjelde A, Brubakk AO (2010) Simulated diving after heat stress potentiates the induction of heat shock protein 70 and elevates glutathione in human endothelial cells. Cell Stress Chaperones 15:405–414

Dujic Z, Duplancic D, Marinovic-Terzic I, Bakovic D, Ivancev V, Valic Z, Eterovic D, Petri NM, Wisloff U, Brubakk AO (2004) Aerobic exercise before diving reduces venous gas bubble formation in humans. J Physiol 555:637–642

Fontana J, Fulton D, Chen Y, Fairchild TA, McCabe TJ, Fujita N, Tsuruo T, Sessa WC (2002) Domain mapping studies reveal that the M domain of hsp90 serves as a molecular scaffold to regulate Akt-dependent phosphorylation of endothelial nitric oxide synthase and NO release. Circ Res 90:866–873

Fulton D, Gratton JP, Sessa WC (2001) Post-translational control of endothelial nitric oxide synthase: why isn't calcium/calmodulin enough? J Pharmacol Exp Ther 299:818–824

Garcia-Cardena G, Fan R, Shah V, Sorrentino R, Cirino G, Papapetropoulos A, Sessa WC (1998) Dynamic activation of endothelial nitric oxide synthase by Hsp90. Nature 392:821–824

Green D, Cheetham C, Mavaddat L, Watts K, Best M, Taylor R, O'Driscoll G (2002) Effect of lower limb exercise on forearm vascular function: contribution of nitric oxide. Am J Physiol Heart Circ Physiol 283:H899–H907

Gross SS, Wolin MS (1995) Nitric oxide: pathophysiological mechanisms. Annu Rev Physiol 57:737–769

Harbrecht BG, Di Silvio M, Chough V, Kim YM, Simmons RL, Billiar TR (1997) Glutathione regulates nitric oxide synthase in cultured hepatocytes. Ann Surg 225:76–87

Harris MB, Blackstone MA, Ju H, Venema VJ, Venema RC (2003) Heat-induced increases in endothelial NO synthase expression and activity and endothelial NO release. Am J Physiol Heart Circ Physiol 285:H333–H340

Hink J, Thom SR, Simonsen U, Rubin I, Jansen E (2006) Vascular reactivity and endothelial NOS activity in rat thoracic aorta during and after hyperbaric oxygen exposure. Am J Physiol Heart Circ Physiol 291:H1988–H1998

Huang A, Xiao H, Samii JM, Vita JA, Keaney JF Jr (2001) Contrasting effects of thiol-modulating agents on endothelial NO bioactivity. Am J Physiol Cell Physiol 281:C719–C725

Huang KL, Wu CP, Chen YL, Kang BH, Lin YC (2003) Heat stress attenuates air bubble-induced acute lung injury: a novel mechanism of diving acclimatization. J Appl Physiol 94:1485–1490

Kampinga HH, Hageman J, Vos MJ, Kubota H, Tanguay RM, Bruford EA, Cheetham ME, Chen B, Hightower LE (2009) Guidelines for the nomenclature of the human heat shock proteins. Cell Stress Chaperones 14:105–111

Kingwell BA, Sherrard B, Jennings GL, Dart AM (1997) Four weeks of cycle training increases basal production of nitric oxide from the forearm. Am J Physiol 272:H1070–H1077

Knowles R, Salter M (1998) Measurement of NOS activity by conversion of radiolabeled arginine to citrulline using ion-exchange separation nitric oxide protocols. Methods Mol Biol 100:67–73

Kregel KC (2002) Heat shock proteins: modifying factors in physiological stress responses and acquired thermotolerance. J Appl Physiol 92:2177–2186

Laursen JB, Boesgaard S, Trautner S, Rubin I, Poulsen HE, Aldershvile J (2001) Endothelium-dependent vasorelaxation in inhibited by in vivo depletion of vascular thiol levels: role of endothelial nitric oxide synthase. Free Radic Res 35:387–394

Lefroy DC, Crake T, Uren NG, Davies GJ, Maseri A (1993) Effect of inhibition of nitric oxide synthesis on epicardial coronary artery caliber and coronary blood flow in humans. Circulation 88:43–54

Lowry O, Rosebrough J, Farr A, Randall R (1951) Protein measurement with the folin phenol reagent. J Biol Chem 193:265–275

Mansoor MA, Svardal AM, Ueland PM (1992) Determination of the in vivo redox status of cysteine, cysteinylglycine, homocysteine, and glutathione in human plasma. Anal Biochem 200:218–229

Medby C, Bye A, Wisløff U, Brubakk AO (2008) Heat shock increases survival in rats exposed to hyperbaric pressure. Diving Hyperb Med 38:189–193

Michel T, Vanhoutte PM (2010) Cellular signaling and NO production. Pflugers Arch 459:807–816

Montcalm-Smith E, Caviness J, Chen Y, McCarron RM (2007) Stress biomarkers in a rat model of decompression sickness. Aviat Space Environ Med 78:87–93

Murphy ME, Piper HM, Watanabe H, Sies H (1991) Nitric oxide production by cultured aortic endothelial cells in response to thiol depletion and replenishment. J Biol Chem 266:19378–19383

Pollock JS, Forstermann U, Mitchell JA, Warner TD, Schmidt HH, Nakane M, Murad F (1991) Purification and characterization of particulate endothelium-derived relaxing factor synthase from cultured and native bovine aortic endothelial cells. Proc Natl Acad Sci USA 88:10480–10484

Pou S, Pou WS, Bredt DS, Snyder SH, Rosen GM (1992) Generation of superoxide by purified brain nitric oxide synthase. J Biol Chem 267:24173–24176

Rees DD, Palmer RM, Moncada S (1989) Role of endothelium-derived nitric oxide in the regulation of blood pressure. Proc Natl Acad Sci USA 86:3375–3378

Snyder SH, Bredt DS (1991) Nitric oxide as a neuronal messenger. Trends Pharmacol Sci 12:125–128

Stuehr DJ, Kwon NS, Nathan CF (1990) FAD and GSH participate in macrophage synthesis of nitric oxide. Biochem Biophys Res Commun 168:558–565

Svardal AM, Mansoor MA, Ueland PM (1990) Determination of reduced, oxidized, and protein-bound glutathione in human plasma with precolumn derivatization with monobromobimane and liquid chromatography. Anal Biochem 184:338–346

Thom SR, Fisher D, Zhang J, Bhopale VM, Ohnishi ST, Kotake Y, Ohnishi T, Buerk DG (2003) Stimulation of perivascular nitric oxide synthesis by oxygen. Am J Physiol Heart Circ Physiol 284:H1230–H1239

Vasquez-Vivar J, Kalyanaraman B, Martasek P, Hogg N, Masters BS, Karoui H, Tordo P, Pritchard KA Jr (1998) Superoxide generation by endothelial nitric oxide synthase: the influence of cofactors. Proc Natl Acad Sci USA 95:9220–9225

Weissman B, Gross S (2001) Measurement of NO and NO synthase. Curr Protoc Neurosci May; Chapter 7:Unit 7.13

Wever RM, van Dam T, van Rijn HJ, de Groot F, Rabelink TJ (1997) Tetrahydrobiopterin regulates superoxide and nitric oxide generation by recombinant endothelial nitric oxide synthase. Biochem Biophys Res Commun 237:340–344

Wisloff U, Richardson RS, Brubakk AO (2003) NOS inhibition increases bubble formation and reduces survival in sedentary but not exercised rats. J Physiol 546:577–582

Wisloff U, Richardson RS, Brubakk AO (2004) Exercise and nitric oxide prevent bubble formation: a novel approach to the prevention of decompression sickness? J Physiol 555:825–829

Zhen J, Lu H, Wang XQ, Vaziri ND, Zhou XJ (2008) Upregulation of endothelial and inducible nitric oxide synthase expression by reactive oxygen species. Am J Hypertens 21:28–34
Acknowledgments
The authors would like to thank Mrs. Torill Sage and Mr. Harald A. Sundland, both NUI AS, and Mrs. Torunn Eide at Institute of Medicine, University of Bergen, for excellent technical assistance. The present study is an extension of previous work initiated by Professor Alf O. Brubakk at Dept. Circulation and Medical Imaging, Norwegian University of Science and Technology (NTNU), Trondheim, Norway. The authors are grateful for his never ending enthusiasm and scientific support. This work was financially supported by the Norwegian Research Council (NFR), Statoil, ExxonMobil Norway and Gassco.
Conflict of interest
Lise Fismen and Rune Djurhuus are employed by NUI AS, a company that is 100% owned by Statoil. The other authors declare no conflict of interest.
Additional information
Communicated by Guido Ferretti.
About this article
Cite this article
Fismen, L., Hjelde, A., Svardal, A.M. et al. Differential effects on nitric oxide synthase, heat shock proteins and glutathione in human endothelial cells exposed to heat stress and simulated diving. Eur J Appl Physiol 112, 2717–2725 (2012). https://doi.org/10.1007/s00421-011-2241-4
Received:

Accepted:

Published:

Issue Date:
Keywords
Endothelial cells

Diving

Decompression

Nitric oxide synthase

Heat shock protein

Glutathione