Abstract
The purpose of this study was to determine the effects of 12-week Tai Chi (TC) training on the soleus (SOL) H-reflex modulation and plantarflexion muscle strength in older adults. Twenty volunteers were assigned into training (N = 14; 72.2 ± 3.7 years of age) and control (N = 6; 74.2 ± 6.1 years of age) groups. The participants in the TC group practiced Yang style TC 1 h per session, 3 sessions per week, for 12 weeks, guided by a qualified TC instructor. The ratio of the maximal peak-to-peak amplitude of SOL H-reflex (H max) to M-wave (M max) was determined during bipedal standing under four sensory conditions: stable surface and eyes open (SO), stable surface and eyes closed (SC), unstable surface and eyes open (UO), and unstable surface and eyes closed (UC). The maximal isometric plantarflexion muscle strength was also assessed by using a dynamometer. The results showed that the SOL H max/M max ratio increased significantly after the 12 weeks of TC training under the SC (37.0%), UO (33.3%) and UC (36.0%) conditions (P < 0.05). The maximal plantarflexion strength also improved significantly after training (19.8%; P < 0.05). In contrast, the control group showed no significant changes in all measurements after the 12 weeks.
This is a preview of subscription content,
to check access.
Access this article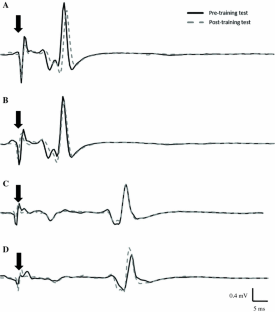 References
Aagaard P, Simonsen EB, Andersen JL, Magnusson P, Dyhre-Poulsen P (2002) Neural adaptation to resistance training: changes in evoked V-wave and H-reflex responses. J Appl Physiol 92:2309–2318

Chen YS, Zhou S (2011) Soleus H-reflex and its relation to static postural control. Gait Posture 33:169–178

Choi JH, Moon JS, Song R (2005) Effects of Sun-style Tai Chi exercise on physical fitness and fall prevention in fall-prone older adults. J Adv Nurs 51:150–157

Del Balso C, Cafarelli E (2007) Adaptations in the activation of human skeletal muscle induced by short-term isometric resistance training. J Appl Physiol 103:402–411

Grubbs FE, Beck G (1972) Extension of sample sizes and percentage points for significance tests of outlying observations. Technometrics 14:847–854

Li JX, Xu DQ, Hong Y (2009) Changes in muscle strength, endurance, and reaction of the lower extremities with Tai Chi intervention. J Biomech 42:967–971

Loram ID, Maganaris CN, Lakie M (2005) Active, non-spring-like muscle movements in human postural sway: how might paradoxical changes in muscle length be produced? J Physiol (Lond) 564:281–293

Nielsen J, Petersen N, Deuschl G, Ballegaard M (1993) Task-related changes in the effect of magnetic brain stimulation on spinal neurones in man. J Physiol (Lond) 471(1):223–243

Orr R (2010) Contribution of muscle weakness to postural instability in the elderly A systematic review. Eur J Phys Rehabil Med 46:183–220

Scaglioni G, Ferri A, Minetti AE, Martin A, Van Hoecke J, Capodaglio P, Sartorio A, Narici MV (2002) Plantar flexor activation capacity and H reflex in older adults: adaptations to strength training. J Appl Physiol 92:2292–2302

Taube W, Kullmann N, Leukel C, Kurz O, Amtage F, Gollhofer A (2007) Differential reflex adaptations following sensorimotor and strength training in young elite athletes. Int J Sports Med 28:999–1005

Taube W, Gruber M, Gollhofer A (2008) Spinal and supraspinal adaptations associated with balance training and their functional relevance. Acta Physiol (Oxf) 193:101–116

Tsang WW, Hui-Chan CW (2005) Comparison of muscle torque, balance, and confidence in older tai chi and healthy adults. Med Sci Sports Exerc 37:280–289

Verhagen AP, Immink M, van der Meulen A, Bierma-Zeinstra SM (2004) The efficacy of Tai Chi Chuan in older adults: a systematic review. Fam Pract 21:107–113

Wu G (2002) Evaluation of the effectiveness of Tai Chi for improving balance and preventing falls in the older population—a review. J Am Geriatr Soc 50:746–754

Zehr P (2002) Considerations for use of the Hoffmann reflex in exercise studies. Eur J Appl Physiol 86(6):455–468
Additional information
Communicated by Toshio Moritani.
About this article
Cite this article
Chen, YS., Crowley, Z., Zhou, S. et al. Effects of 12-week Tai Chi training on soleus H-reflex and muscle strength in older adults: a pilot study. Eur J Appl Physiol 112, 2363–2368 (2012). https://doi.org/10.1007/s00421-011-2182-y
Received:

Accepted:

Published:

Issue Date:

DOI: https://doi.org/10.1007/s00421-011-2182-y
Keywords