Electrical stimulation for neuromuscular testing and training: state-of-the art and unresolved issues
Introduction
Contrary to other widespread forms of electrical stimulation, such as transcutaneous electrical nerve stimulation (TENS) and functional electrical stimulation (FES), neuromuscular electrical stimulation (NMES) is generally delivered to the muscle in static conditions (without functional movement occurring) and at sufficiently high current intensities to evoke visible muscle contractions (beyond motor threshold). NMES has received increasing attention in the last few years, because it has the potential to serve as:
a strength training tool for healthy subjects and athletes, since its chronic use may induce neuromuscular adaptations similar/complementary to voluntary strength training;

a rehabilitation and preventive tool for partially- or totally immobilized patients, since its chronic use may preserve muscle mass and function during prolonged periods of reduced muscular use;

a testing tool for evaluating the neural and/or muscular function in vivo, since it is able to induce standardized muscle contractions whose electrical (EMG) and mechanical (torque) properties could be easily quantified; and

a post-exercise recovery tool for athletes, since its acute application may increase muscle blood flow and therefore metabolite washout which could in turn accelerate recovery kinetics during and after exercise.
Portable NMES units are widely available to the general population. However, commercial claims regarding NMES use often go far beyond the existing scientific evidence. Moreover, due to the lack of general consensus in the scientific community about the main physiological and methodological features of NMES, end users are faced with confusion regarding its usage and effectiveness, so that they often prefer not to apply NMES or to apply it with exaggerated caution.
This cluster of articles is dedicated to selected topics relative to the physiology, methodology and applications of NMES (Fig. 
1
), with a state-of-the art scientific review on motor unit recruitment, acute muscular effects, chronic neural adaptations induced by NMES training, optimization of the stimulation paradigm to increase NMES effectiveness, and NMES use as a tool for strength training, neuromuscular testing and post-exercise recovery. The rationale behind the cluster is that, in order to be able to improve/optimize neuromuscular function by means of NMES (applications in Fig. 
1
), we need first to improve our knowledge on NMES (physiology in Fig. 
1
), and then improve the actual use of NMES (methodology in Fig. 
1
). This series of article is therefore addressed to practitioners and researchers from different fields (exercise training, exercise physiology, sport medicine, and even general medicine) whose main interest is the optimization of skeletal muscle function through NMES. After an overview of the group of articles, a series of unresolved issues and recommendations for future NMES research are presented.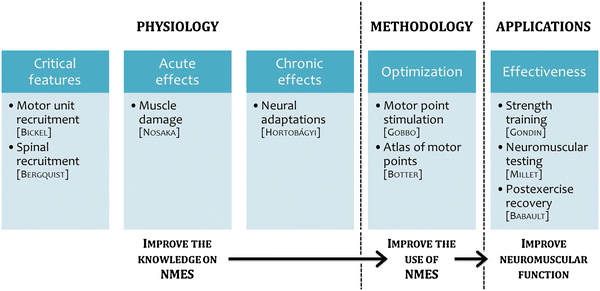 NMES physiology
Motor unit recruitment is peculiar
Bickel et al. (2011) reviewed the issue of motor unit recruitment order during electrical stimulation. In contrast to the size-related orderly recruitment behaviour that has been documented for voluntary contractions, the accepted view is that nerve stimulation imposes a reversal of the motor unit activation order since large-diameter axons of the fast units are more easily excited by imposed electric fields than are small-diameter axons of the slow units. However, in the case of in vivo over-the-muscle stimulation (such as for NMES), the variable spatial distribution of the motor axonal branches in a non-uniform current field (current density decreases with increasing depth) has much greater importance than the excitability threshold (that is, the size) of the axonal branches, thus implying that motor unit recruitment is non-selective or random: motor units are activated without obvious sequencing related to unit type or size during NMES (i.e., "disorderly" recruitment). In addition, the peculiar motor unit recruitment imposed by electrical stimulation is superficial, spatially fixed, and incomplete (Gregory and Bickel 2005). The spatially fixed recruitment implies that the same motor units are repeatedly activated by the same amount of electrical current which, in turn, hastens the onset of muscle fatigue (as also discussed by Gondin et al. 2011b). Such early occurrence of fatigue represents a major limitation of NMES, and could eventually play a role in NMES-induced muscle damage (Nosaka et al. 2011). In order to maximize the spatial recruitment during NMES, thus minimizing the extent of muscle fatigue, it has been recommended to implement different expedients during a treatment session such as progressive increase in current intensity, alteration in muscle length, and displacement of active electrodes (Maffiuletti 2010). In this cluster of articles, further approaches have been proposed to alleviate, at least in part, discomfort and other possible complications associated to the electrically evoked contractions (Botter et al. 2011; Bergquist et al. 2011; Gobbo et al. 2011).
Bergquist et al. (2011) provided an overview of how peripheral (direct activation of motor axon branches) and central (reflexive recruitment of spinal motor neurons by the electrically evoked afferent volley) pathways contribute to electrically evoked contractions and suggested that some of the limitations of NMES (particularly discomfort and random recruitment) could be minimized by increasing the contribution through central pathways. In fact, motor unit recruitment through central pathways may be more orderly, less synchronous and more spatially diffuse throughout the muscle, than recruitment through purely peripheral pathways. Enhancing central recruitment during NMES requires the stimulation to be delivered at low pulse amplitudes (to minimize the antidromic block, that is the collision between the action potentials travelling antidromically along motor axons and those generated following the reflexive recruitment of motor neurons), pulse durations in the range 0.2–1 ms (to maximize the excitation of afferent axons that present a longer strength-duration time constant and lower rheobase than motor axons), stimulation train durations shorter than 2 s for stimulation over the nerve and longer than 2 s for stimulation over the muscle, and high (100 Hz) pulse frequencies (to increase the rate at which the sensory volley is sent to the spinal cord and supra-spinal centres). Based on these characteristics of the stimulation burst, this stimulation paradigm has been referred to as "wide-pulse high-frequency NMES".
Acute NMES use may cause profound muscle damage
Nosaka et al. (2011) reviewed the most recent evidence available for the muscle damage induced by NMES-evoked contractions, which resembles the type of damage produced by voluntary eccentric contractions, resulting in decreased maximal voluntary contraction (MVC) strength, increased circulating levels of muscle proteins and delayed onset muscle soreness. Muscle damage profile following NMES-evoked isometric contractions of the knee extensors is similar between different stimulation paradigms (pulsed vs. alternating current) for similar force outputs. Moreover, its magnitude is reduced following a second session of NMES performed two weeks after a first session: this phenomenon, known as "repeated bout effect", has originally been described for voluntary eccentric contractions and could be useful to limit the damage associated to NMES if the training or rehabilitation program includes "conditioning" sessions.
Strength training by NMES leads to considerable neural adaptations
Hortobágyi and Maffiuletti (2011) reviewed the changes in the function of the central nervous system (neural adaptations) that may occur with NMES strength training, which include spinal and supraspinal mechanisms of adaptation. Interestingly, the increases in MVC strength induced by NMES training seem to be mainly mediated by supraspinal rather than spinal changes, although no training study has yet documented the former adaptations. The fact that NMES and voluntary strength training may have different supraspinal effects in the contralateral homologous muscle should be used as a key point motivating the combination of the two forms of exercise in the context of neuromuscular retraining. Somatosensory and nociceptive inputs associated to NMES use may lead to changes in motor cortical excitability, which in turn can cause functional improvements to occur. Moreover NMES seems to be able to modify the excitability of interhemispheric connections and possibly the balance between interhemispheric excitation and inhibition. These facts lead us to the conjecture that NMES training can be viewed as a "neural" rather than a "muscular" treatment technique, particularly for neurological patients.
NMES methodology
Motor point stimulation as a sine qua non-condition to optimize NMES use
Gobbo et al. (2011) provided convincing evidence on the importance of motor point determination to minimize current intensity and discomfort, and to maximize the muscular tension evoked by NMES. They also used near infrared spectroscopy, which is a technique particularly suitable for investigating local metabolic changes of stimulated muscles (Muthalib et al. 2009), and were able to demonstrate that, besides contractile activity, muscle oxygen consumption and hyperaemia were significantly increased when motor point location was carefully determined with a pen electrode rather than being inferred from several legally marketed motor point charts. We recommend that the procedure described by Gobbo et al. (2011), which is completed in less than a minute, should be consistently incorporated in both clinical and research contexts to optimize NMES application.
Botter et al. (2011) investigated the uniformity of the muscle motor point location in the lower limb of healthy subjects and found different motor points innervating different portions of the quadriceps, posterior thigh, and tibialis anterior muscles. On this basis, they suggested that a maximization of the spatial recruitment during NMES could also be obtained through a multi-channel stimulation technique that involves a non-synchronous activation of different muscle volumes. Interestingly, it has recently been demonstrated that asynchronous low-frequency (16 Hz) stimulation of the quadriceps muscle using a multi-pad electrode (four channels) can elicit a strong, fused contraction, though producing less muscle fatigue compared to single-channel high-frequency (30 Hz) stimulation (Malesević et al. 2010).
NMES applications
NMES for optimizing muscle function: is that really useful?
Gondin et al. (2011b) provided an overview of the main training studies in which NMES has been applied to healthy subjects or even to competitive athletes with the objective to improve muscle function. As already pointed out in a recent review published in this journal (Maffiuletti 2010), the so-called training intensity (i.e., the level of force evoked by NMES, expressed as a fraction of the MVC force) seems to be the main determinant of NMES training effectiveness. In other words, muscles should produce the greatest relative tension when stimulated by NMES in order to maximize the training-induced strength gains (Lai et al. 1988; Selkowitz 1985). Interestingly, we plotted the MVC strength gains collected from different NMES training studies completed in our laboratory against respective training intensities, and confirmed that a dose-response relation does exist between these two variables (Maffiuletti NA, unpublished observations). This would imply that the improvement in MVC strength induced by NMES training could be predicted from the average training intensity; for example, a training intensity of 40% MVC being predicted to improve MVC strength by 20%. Such predictive equation may even be improved (and eventually extended to unhealthy populations) by adding the initial MVC strength and NMES training volume as independent variables.
Millet et al. (2011) presented the potential interests and fundamentals of electrical stimulation for the evaluation of voluntary activation, muscle contractility (with and without fatigue), as well as respiratory muscle function. Contrary to MVC assessment, contractions evoked by electrical stimulation are not or little influenced by motivational factors and can be easily standardized; however, many researchers still adopt electrical stimulation in a simplistic way, with scarce or no attention to physiological and methodological issues that may invalidate the test. The heterogeneity of electrical stimulation procedures already discussed for NMES training also applies to the evaluation of neuromuscular features, as different laboratories adopt different stimulation units, current characteristics, electrode arrangements, etc. We believe the increasing use of magnetic stimulation would necessarily reduce such heterogeneity even though, as discussed by Millet et al. (2011), the maximal power output of modern magnetic stimulators does not seem appropriate enough for subjects with excess subcutaneous adipose tissue.
Babault et al. (2011) reviewed the most recent evidence available for the effectiveness of non-tetanic low-intensity NMES as a post-exercise recovery tool. The idea that this exercise modality may increase blood flow thus favouring metabolite washout is appealing and at least in part conceivable. It is however hard to imagine how this would accelerate the time course of post-exercise recovery in sportsmen, as muscle recruitment with electrical stimulation is extremely limited and superficial. Moreover, none of the most common recovery strategies (such as massage, active exercise and stretching) have proved effective in accelerating recovery kinetics in sportsmen (Barnett 2006), so perhaps the question we should ask ourselves is "Aren't we wasting our time?". This is a clear example of how commercial claims (http://www.shopcompex.com/testimonials) often go beyond scientific evidence. Regarding the management of exercise-induced pain and psychological benefits for recovery, additional evidence should be provided before considering NMES as a valid tool for post-exercise recovery.
Unresolved physiological and clinical issues, and future directions
The purpose of this section is to outline elements of confusion and controversy that still plague the use of NMES as a testing and training modality in healthy and pathological subjects, and to examine some limitations in our understanding of NMES effects. With such an approach, we aim to provide a conceptual foundation for subsequent research studies in this area, but also for further implementation of NMES in the clinic. The same logical progression outlined in Fig. 1 is followed (from physiology to methodology to applications).
Notes
Acknowledgments
The work reported in this article was supported by bank foundation "Compagnia di San Paolo" (Project "Neuromuscular Investigation and Conditioning in Endocrine Myopathy") (MAM), by the ERC grant DEMOVE and the Bernstein Focus Neurotechnology Göttingen (DF), and by MYOAGE Grant HEALTH-F2-2009-223576 ("Understanding and combating age-related muscle weakness") (RB). The authors are grateful to Prof. R. Merletti (LISiN, Politecnico di Torino, Italy) for his careful review of the final version of the manuscript.