Abstract
Elite sport requires high-volume and high-intensity training that inevitably induces neuromuscular fatigue detrimental for physical performance. Improving recovery processes is, therefore, fundamental and to this, a wide variety of recovery modalities could be proposed. Among them, neuromuscular electrical stimulation is largely adopted particularly by endurance-type and team sport athletes. This type of solicitation, when used with low stimulation frequencies, induces contractions of short duration and low intensity comparable to active recovery. This might be of interest to favour muscle blood flow and therefore metabolites washout to accelerate recovery kinetics during and after fatiguing exercises, training sessions or competition. However, although electrical stimulation is often used for recovery, limited evidence exists regarding its effects for an improvement of most physiological variables or reduced subjective rating of muscle soreness. Therefore, the main aim of this brief review is to present recent results from the literature to clarify the effectiveness of electrical stimulation as a recovery modality.
Access options
Buy single article
Instant access to the full article PDF.
US$ 39.95
Tax calculation will be finalised during checkout.
Subscribe to journal
Immediate online access to all issues from 2019. Subscription will auto renew annually.
US$ 119
Tax calculation will be finalised during checkout.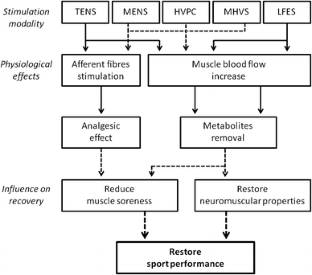 References
Allen JD, Mattacola CG, Perrin DH (1999) Effect of microcurrent stimulation on delayed-onset muscle soreness: a double-blind comparison. J Athl Train 34:334–337

Allen DG, Lamb GD, Westerblad H (2008) Skeletal muscle fatigue: cellular mechanisms. Physiol Rev 88:287–332

Ament W, Verkerke GJ (2009) Exercise and fatigue. Sports Med 39:389–422

Banfi G, Lombardi G, Colombini A, Melegati G (2010) Whole-body cryotherapy in athletes. Sports Med 40:509–517

Barnett A (2006) Using recovery modalities between training sessions in elite athletes. Does it help? Sports Med 36:781–196

Bishop PA, Jones E, Woods AK (2008) Recovery from training: a brief review. J Strength Cond Res 22:1015–1024

Butterfield DL, Draper DO, Ricard MD, Myrer JW, Durrant E, Schulthies SS (1997) The effects of high-volt pulsed current electrical stimulation on delayed-onset muscle soreness. J Athl Train 32:15–20

Cheng R, Pomeranz B (1980) Electroacupuncture analgesia could be mediated by at least two pain-relieving mechanisms: endorphin and non-endorphin systems. Life Sci 25:1957–1962

Cheung K, Hume PA, Maxwell L (2003) Delayed onset muscle soreness. Treatment strategies and performance factors. Sports Med 33:145–164

Cortis C, Tessitore A, D'Artibale E, Meeusen R, Capranica L (2010) Effects of post-exercise recovery interventions on physiological, psychological, and performance parameters. Int J Sports Med 31:327–335

Compex website. http://www.compex.info/en_UK/Who_uses_it_.html. Accessed 3 March 2011

Cox PD, Kramer JF, Hartsell H (1993) Effect of different TENS stimulus parameters on ulnar motor nerve conduction velocity. Am J Phys Med Rehab 72:294–300

Craig JA, Cunningham MB, Walsh DM, Baxter GD, Allen JM (1996) Lack of effect of transcutaneous electrical nerve stimulation upon experimentally induced delayed onset muscle soreness in humans. Pain 67:285–289

Cramp AFL, Gilsenan C, Lowe AS, Walsh DM (2000) The effect of high- and low-frequency transcutaneous electrical nerve stimulation upon blood flow and skin temperature in healthy subjects. Clin Physiol 20:150–157

Cramp AFL, McCullough GR, Lowe AS, Walsh DM (2002) Transcutaneous electric nerve stimulation: the effect of intensity on local and distal cutaneous blood flow and skin temperature in healthy subjects. Arch Phys Med Rehabil 83:5–9

Denegar CR, Huff CB (1988) High and low frequency TENS in the treatment of induced musculoskeletal pain: a comparison study. Athletic Train 23:235–237

Denegar CR, Perrin DH (1992) Effect of transcutaneous electrical nerve stimulation, cold, and a combination treatment on pain, decreased range of motion, and strength loss associated with delayed onset muscle soreness. J Athl Train 27:200–206

Denegar CR, Yoho AP, Borowicz AJ, Bifulco N (1992) The effects of low-volt microamperage stimulation on delayed onset muscle soreness. J Sport Rehab 1:95–102

DeSantana JM, Walsh DM, Vance C, Rakel BA, Sluka KA (2008) Effectiveness of transcutaneous electrical nerve stimulation for treatment of hyperalgesia and pain. Curr Rheumatol Rep 10:492–499

Eston R, Peters D (1999) Effects of cold-water immersion on the symptoms of exercise-induced muscle damage. J Sports Sci 17:231–238

Gandevia SC (2001) Spinal and supraspinal factors in human muscle fatigue. Physiol Rev 81:1725–1789

Gill ND, Beaven CM, Cook C (2006) Effectiveness of post-match recovery strategies in rugby players. Br J Sports Med 40:260–263

Grunovas A, Silinskas V, Poderys J, Trinkunas E (2007) Peripheral and systemic circulation after local dynamic exercise and recovery using passive foot movement and electrostimulation. J Sports Med Phys Fitness 47:335–343

Heyman E, De Geus B, Mertens I, Meeusen R (2009) Effects of four recovery methods on repeated maximal rock climbing performance. Med Sci Sports Exerc 41:1303–1310

Lattier G, Millet GY, Martin A, Martin V (2004) Fatigue and recovery after high-intensity exercise. Part II: Recovery interventions. Int J Sports Med 25:509–515

Martin V, Millet GY, Lattier G, Perrod L (2004) Effects of recovery modes after knee extensor muscles eccentric contractions. Med Sci Sports Exerc 36:1907–1915

McLoughlin TJ, Snyder AR, Brolinson PG, Pizza FX (2004) Sensory level electrical muscle stimulation: effect on markers of muscle injury. Br J Sports Med 38:725–729

Neric FB, Beam WC, Brown LE, Wiersma LD (2009) Comparison of swim recovery and muscle stimulation on lactate removal after sprint swimming. J Strength Cond Res 23:2560–2567

Pournot H, Bieuzen F, Duffield R, Lepretre PM, Cozzolino C, Hausswirth C (2011) Short term effects of various water immersions on recovery from exhaustive intermittent exercise. Eur J Appl Physiol. doi:10.1007/s00421-010-1754-6

Rapaski D, Isles S, Kulig K, Boyce D (1991) Microcurrent electrical stimulation: a comparison of two protocols in reducing delayed onset muscle soreness. Phys Ther 71:S116

Rushton DN (2002) Electrical stimulation in the treatment of pain. Disabil Rehabil 24:407–415

So RCH, Ng JKF, Ng GYF (2007) Effect of transcutaneous electrical acupoint stimulation on fatigue recovery of the quadriceps. Eur J Appl Physiol 100:693–700

Tessitore A, Meeusen R, Cortis C, Capranica L (2007) Effects of different recovery interventions on anaerobic performances following preseason soccer training. J Strength Cond Res 21:745–750

Tessitore A, Meeusen R, Pagano R, Benvenuti C, Tiberi M, Capranica L (2008) Effectiveness of active versus passive recovery strategies after futsal games. J Strength Cond Res 22:1402–1412

Toubekis AG, Tsolaki A, Smilios I, Douda HT, Kourtesis T, Tokmakidis SP (2008) Swimming performance after passive and active recovery of various durations. Int J Sports Physiol Perform 3:375–386

Vanderthommen M, Depresseux JC, Bauvir P, Degueldre C, Delfiore G, Peters JM, Sluse F, Crielaard JM (1997) A positron emission tomography study of voluntary and electrically contracted human quadriceps. Muscle Nerve 20:505–507

Vanderthommen M, Soltani K, Maquet D, Crielaard JM, Croisier JL (2007) Does neuromuscular electrical stimulation influence muscle recovery after maximal isokinetic exercise? Isokinetics Exerc Sci 15:143–149

Vanderthommen M, Makrof S, Demoulin C (2010) Comparison of active and electrostimulated recovery strategies after fatiguing exercise. J Sports Sci Med 9:164–169

Wall PD (1985) The discovery of transcutaneous electrical nerve stimulation. Physiotherapy 71:348–352

Weber MD, Servedio FJ, Woodall WR (1994) The effects of three modalities on delayed onset muscle soreness. J Orthop Sports Phys Ther 20:236–242

Wolcot C, Dubek D, Kulig K, Weiss M, Clark T (1991) A comparison of the effects of high volt and microcurrent stimulation on delayed onset muscle soreness. Phys Ther 71:S117
Additional information
This article is published as part of the Special Issue Cluster on the XVIII Congress of the International Society of Electrophysiology and Kinesiology (ISEK 2010) that took place in Aalborg, Denmark on 16-19 June 2010.
Communicated by Roberto Bottinelli.
About this article
Cite this article
Babault, N., Cometti, C., Maffiuletti, N.A. et al. Does electrical stimulation enhance post-exercise performance recovery?. Eur J Appl Physiol 111, 2501 (2011). https://doi.org/10.1007/s00421-011-2117-7
Received:

Accepted:

Published:
Keywords
Sport

Performance

Muscle soreness

Strength