Abstract
Acute systemic thermal therapy can improve arterial stiffness in both animals and humans. We examined and compared the effects of acute local thermal therapy (footbath) on an indicator of human arterial stiffness, cardio-ankle vascular index (CAVI), in 16 healthy young (29.4 ± 0.4 years) and 16 older (59.8 ± 1.7 years) women. Measurements were made at baseline (BL) and at 0 and 30 min after footbath in footbath trial, and at corresponding time points without footbath in control trial. In the footbath trial, subjects immersed their lower legs and feet in water for 30 min, with water temperature ranging from 41 to 43°C. The results showed that footbath elicited significant reductions in CAVI at 0 min compared to the same trial's baseline in both young and older groups (0.55 ± 0.07, P = 0.01 for young; 0.42 ± 0.15, P = 0.03 for older, respectively) with no changes found in the control trials. The percentage of CAVI change at 0 min was significantly greater in young women (91.9 ± 1.1%) compared to older women (96.5 ± 1.8%, P < 0.05). This study indicated that acute warm footbath results in transient improvement of systemic arterial stiffness in both healthy young and older women. Despite similar intervention, the percentage response of arterial stiffness to footbath was attenuated in older women.
Access options
Buy single article
Instant access to the full article PDF.
US$ 39.95
Tax calculation will be finalised during checkout.
Subscribe to journal
Immediate online access to all issues from 2019. Subscription will auto renew annually.
US$ 119
Tax calculation will be finalised during checkout.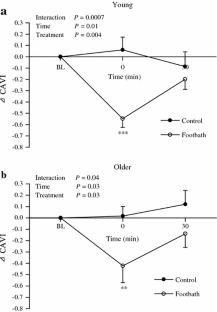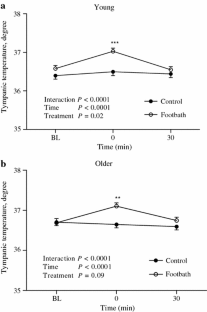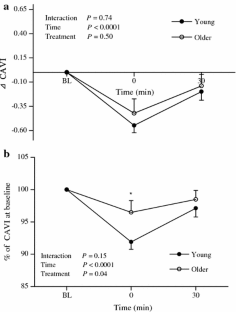 References
Avolio AP, Chen SG, Wang RP, Zhang CL, Li MF, O'Rourke MF (1983) Effects of aging on changing arterial compliance and left ventricular load in a northern Chinese urban community. Circulation 68:50–58

Avolio AP, Deng FQ, Li WQ, Luo YF, Huang ZD, Xing LF, O'Rourke MF (1985) Effects of aging on arterial distensibility in populations with high and low prevalence of hypertension: comparison between urban and rural communities in China. Circulation 71:202–210

Boone T, Westendorf T, Ayres P (1999) Cardiovascular responses to a hot tub bath. J altern complement med 5:301–304

Cao Y, DiGiacomo M, Du HY, Ollerton E, Davidson P (2008) Cardiovascular disease in Chinese women: an emerging high-risk population and implications for nursing practice. J Cardiovasc Nurs 23:386–394 (quiz 395–396)

Christensen H, Boysen G (2002) Acceptable agreement between tympanic and rectal temperature in acute stroke patients. Int J Clin Pract 56:82–84

Green DJ, Carter HH, Fitzsimons MG, Cable NT, Thijssen DH, Naylor LH (2010) Obligatory role of hyperaemia and shear stress in microvascular adaptation to repeated heating in humans. J Physiol 588:1571–1577

Harris MB, Blackstone MA, Ju H, Venema VJ, Venema RC (2003) Heat-induced increases in endothelial NO synthase expression and activity and endothelial NO release. Am J Physiol Heart Circ Physiol 285:H333–H340

He J, Gu D, Wu X, Reynolds K, Duan X, Yao C, Wang J, Chen CS, Chen J, Wildman RP, Klag MJ, Whelton PK (2005) Major causes of death among men and women in China. N Engl J Med 353:1124–1134

Horinaka S, Yabe A, Yagi H, Ishimura K, Hara H, Iemua T, Ishimitsu T (2011) Cardio-ankle vascular index could reflect plaque burden in the coronary artery. Angiology 62:401–408

Imamura M, Biro S, Kihara T, Yoshifuku S, Takasaki K, Otsuji Y, Minagoe S, Toyama Y, Tei C (2001) Repeated thermal therapy improves impaired vascular endothelial function in patients with coronary risk factors. J Am Coll Cardiol 38:1083–1088

Kadota K, Takamura N, Aoyagi K, Yamasaki H, Usa T, Nakazato M, Maeda T, Wada M, Nakashima K, Abe K, Takeshima F, Ozono Y (2008) Availability of cardio-ankle vascular index (CAVI) as a screening tool for atherosclerosis. Circ J 72:304–308

Kenney WL (1988) Control of heat-induced cutaneous vasodilatation in relation to age. Eur J Appl Physiol Occup Physiol 57:120–125

Kenney WL, Tankersley CG, Newswanger DL, Hyde DE, Puhl SM, Turner NL (1990) Age and hypohydration independently influence the peripheral vascular response to heat stress. J Appl Physiol 68:1902–1908

Kihara T, Biro S, Imamura M, Yoshifuku S, Takasaki K, Ikeda Y, Otuji Y, Minagoe S, Toyama Y, Tei C (2002) Repeated sauna treatment improves vascular endothelial and cardiac function in patients with chronic heart failure. J Am Coll Cardiol 39:754–759

Kinlay S, Creager MA, Fukumoto M, Hikita H, Fang JC, Selwyn AP, Ganz P (2001) Endothelium-derived nitric oxide regulates arterial elasticity in human arteries in vivo. Hypertension 38:1049–1053

Kisanuki A, Daitoku S, Kihara T, Otsuji Y, Tei C (2007) Thermal therapy improves left ventricular diastolic function in patients with congestive heart failure: a tissue doppler echocardiographic study. J Cardiol 49:187–191

Lebrun CE, van der Schouw YT, Bak AA, de Jong FH, Pols HA, Grobbee DE, Lamberts SW, Bots ML (2002) Arterial stiffness in post-menopausal women: determinants of pulse wave velocity. J Hypertens 20:2165–2172

Liao WC, Chiu MJ, Landis CA (2008) A warm footbath before bedtime and sleep in older Taiwanese with sleep disturbance. Res Nurs Health 31:514–528

Minson CT, Wladkowski SL, Cardell AF, Pawelczyk JA, Kenney WL (1998) Age alters the cardiovascular response to direct passive heating. J Appl Physiol 84:1323–1332

Minson CT, Holowatz LA, Wong BJ, Kenney WL, Wilkins BW (2002) Decreased nitric oxide- and axon reflex-mediated cutaneous vasodilation with age during local heating. J Appl Physiol 93:1644–1649

Miwa C, Matsukawa T, Iwase S, Sugiyama Y, Mano T, Sugenoya J, Yamaguchi H, Kirsch KA (1994) Human cardiovascular responses to a 60 min bath at 40°C. Environ Med 38:77–80

Mombouli JV, Vanhoutte PM (1999) Endothelial dysfunction: from physiology to therapy. J Mol Cell Cardiol 31:61–74

Nagai Y, Earley CJ, Kemper MK, Bacal CS, Metter EJ (1999) Influence of age and post-menopausal estrogen replacement therapy on carotid arterial stiffness in women. Cardiovasc Res 41:307–311

Nagasawa Y, Komori S, Sato M, Tsuboi Y, Umetani K, Watanabe Y, Tamura K (2001) Effects of hot bath immersion on autonomic activity and hemodynamics: comparison of the elderly patient and the healthy young. Jpn Circ J 65:587–592

Reckelhoff JF, Kellum JA, Blanchard EJ, Bacon EE, Wesley AJ, Kruckeberg WC (1994) Changes in nitric oxide precursor, l-arginine, and metabolites, nitrate and nitrite, with aging. Life Sci 55:1895–1902

Rubini A (2005) Effect of perfusate temperature on pulmonary vascular resistance and compliance by arterial and venous occlusion in the rat. Eur J Appl Physiol 93:435–439

Shirai K, Utino J, Otsuka K, Takata M (2006) A novel blood pressure-independent arterial wall stiffness parameter; cardio-ankle vascular index (CAVI). J Atheroscler Thromb 13:101–107

Shirai K, Song M, Suzuki J, Kurosu T, Oyama T, Nagayama D, Miyashita Y, Yamamura S, Takahashi M (2011) Contradictory effects of beta-1- and alpha-1- aderenergic receptor blockers on cardio-ankle vascular stiffness index (CAVI). J Atheroscler Thromb 18:49–55

Smulyan H, Asmar RG, Rudnicki A, London GM, Safar ME (2001) Comparative effects of aging in men and women on the properties of the arterial tree. J Am Coll Cardiol 37:1374–1380

Stewart AD, Millasseau SC, Kearney MT, Ritter JM, Chowienczyk PJ (2003) Effects of inhibition of basal nitric oxide synthesis on carotid-femoral pulse wave velocity and augmentation index in humans. Hypertension 42:915–918

Sung EJ, Tochihara Y (2000) Effects of bathing and hot footbath on sleep in winter. J Physiol Anthropol Appl Human Sci 19:21–27

Taddei S, Virdis A, Ghiadoni L, Salvetti G, Bernini G, Magagna A, Salvetti A (2001) Age-related reduction of NO availability and oxidative stress in humans. Hypertension 38:274–279

Takaki A, Ogawa H, Wakeyama T, Iwami T, Kimura M, Hadano Y, Matsuda S, Miyazaki Y, Matsuda T, Hiratsuka A, Matsuzaki M (2007) Cardio-ankle vascular index is a new noninvasive parameter of arterial stiffness. Circ J 71:1710–1714

Tanaka H, DeSouza CA, Seals DR (1998) Absence of age-related increase in central arterial stiffness in physically active women. Arterioscler Thromb Vasc Biol 18:127–132

Tei C (2001) Thermal therapy for congestive heart failure: estimation by TEI index. J Cardiol 37(Suppl 1):155–159

Tei C, Horikiri Y, Park JC, Jeong JW, Chang KS, Toyama Y, Tanaka N (1995) Acute hemodynamic improvement by thermal vasodilation in congestive heart failure. Circulation 91:2582–2590

Tsatsaris A (2005) Effect of temperature increase on the distensibility of porcine thoracic aorta. Artif Organs 29:887–891

Wilkinson IB, Franklin SS, Cockcroft JR (2004) Nitric oxide and the regulation of large artery stiffness: from physiology to pharmacology. Hypertension 44:112–116

Zhu W, Zhang F, Yan S, Sui G (2009) Transient effect of acute warm shower on arterial stiffness in healthy young men. Chin J Cardiovasc Rehabil Med 18:518–521
Acknowledgments
This study was supported by Funding Project for Academic Human Resources Development in Institutions of Higher Learning Under the Jurisdiction of Beijing Municipality (NO: PHR201008176) and Beijing Key Lab Funding (2009BJKL-06 and 2011BJKL-01).
Additional information
Communicated by Keith Phillip George.
About this article
Cite this article
Hu, Q., Zhu, W., Zhu, Y. et al. Acute effects of warm footbath on arterial stiffness in healthy young and older women. Eur J Appl Physiol 112, 1261–1268 (2012). https://doi.org/10.1007/s00421-011-2066-1
Received:

Accepted:

Published:

Issue Date:
Keywords
Aging

Warm footbath

Arterial stiffness