Abstract
This study investigated the influence of consuming a 2, 6, and 10% carbohydrate-electrolyte (CHO-E) solution on the intermittent endurance capacity and sprint performance of adolescent team games players. Seven participants (five males and two females; mean age 13.3 ± 0.5 years, height 1.71 ± 0.05 m, body mass (BM) 62.0 ± 6.3 kg) performed three trials separated by 3–7 days. In each trial, they completed four 15-min periods of part A of the Loughborough Intermittent Shuttle Test (LIST) followed by an intermittent run to exhaustion (part B). Participants consumed 5 ml kg−1 BM of the solution during the 5-min pre-exercise period, and a further 2 ml kg−1 BM every 15 min during part A of the LIST. Intermittent endurance capacity increased by 34% with ingestion of the 6% CHO-E solution compared with the 10% solution (5.5 ± 0.8 vs. 4.1 ± 1.5 min, P < 0.05), equating to a distance of 931 ± 172 versus 706 ± 272 m (P < 0.05). There was no significant difference between the 2% (4.8 ± 1.2 min) and 6% (P = 0.10) or the 2 and 10% solutions (P = 0.09). Carbohydrate concentration did not significantly influence mean 15-m sprint time (P = 0.38). These results suggest that the carbohydrate concentration of an ingested solution influences the intermittent endurance capacity of adolescent team games players with a 6% solution significantly more effective than a 10% solution.
Access options
Buy single article
Instant access to the full article PDF.
USD 39.95
Price excludes VAT (USA)
Tax calculation will be finalised during checkout.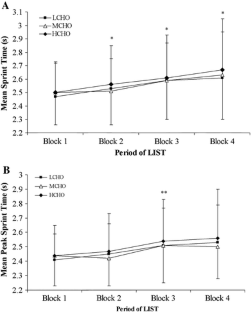 Reference
Ali A, Williams C (2009) Carbohydrate ingestion and soccer skill performance during prolonged intermittent exercise. J Sports Sci 27:1499–1508

Ali A, Williams C, Nicholas W, Foskett A (2007) The influence of carbohydrate-electrolyte ingestion on soccer skill performance. Med Sci Sports Exerc 39:1969–1976

Armstrong N (ed) (2007) Paediatric exercise physiology. Churchill Livingstone Elsevier, Philadelphia

Aucouturier J, Baker JS, Duché P (2008) Fat and carbohydrate metabolism during submaximal exercise in children. Sports Med 38:213–238

Bangsbo J (1994) The physiology of soccer with special reference to intense intermittent exercise. Acta Physiol Scand (Suppl) 619:1–155

Bangsbo J, Mohr M, Krustrup P (2006) Physical and metabolic demands of training and match-play in the elite football player. J Sports Sci 24:665–674

Baxter-Jones ADG, Eisenmann JC, Sherer LB (2005) Controlling for maturation in pediatric exercise science. Pediatr Exerc Sci 17:18–30

Beedie CJ, Coleman DA, Foad AJ (2007) Positive and negative placebo effects resulting from the deceptive administration of an ergogenic aid. Int J Sport Nutr Exerc Metab 17:259–269

Castagna C, Belardinelli R, Impellizzeri FM, Abt GA, Coutts AJ, D'Ottavio S (2007) Cardiovascular responses during recreational 5-a-side indoor-soccer. J Sci Med Sport 10:89–95

Christmass MA, Dawson B, Passeretto P, Arthur PG (1999) A comparison of skeletal muscle oxygenation and fuel use in sustained continuous and intermittent exercise. Eur J Appl Physiol 80:423–435

Clarke ND, Drust B, Maclaren DPM, Reilly T (2008) Fluid provision and metabolic responses to soccer-specific exercise. Eur J Appl Physiol 104:1069–1077

Crouter S, Foster C, Esten P, Brice G, Porcari JP (2001) Comparison of incremental treadmill exercise and free range running. Med Sci Sports Exerc 33:644–647

Davis JM, Welsh RS, De Volve KL, Alderson NA (1999) Effects of branched-chain amino acids and carbohydrate on fatigue during intermittent, high-intensity running. Int J Sports Med 20:309–314

Edwards AM, Mann ME, Marfell-Jones MJ, Rankin DM, Noakes TD, Shillington DP (2007) Influence of moderate dehydration on soccer performance: physiological responses to 45 min of outdoor match-play and the immediate subsequent performance of sport-specific and mental concentration tests. Br J Sports Med 41:385–391

Ekblom B (1986) Applied physiology of soccer. Sports Med 3:50–60

Field A (2005) Discovering statistics using SPSS, 2nd edn. Sage, London

Hopkins WG (2006) A scale of magnitudes for effect statistics. Sportscience. http://www.sportsci.org/resource/stats/. Accessed 19 January 2011

Jeukendrup A (2004) Carbohydrate intake during exercise and performance. Nutrition 20:669–677

Jeukendrup AE, Wagenmakers AJM, Stegen JHCH, Gijsen AP, Brouns F, Saris WHM (1999) Carbohydrate ingestion can completely suppress endogenous glucose production during exercise. J Physiol 276:E672–E683

Lavcanska V, Taylor NF, Schache AG (2005) Familiarization to treadmill running in young unimpaired adults. Hum Mov Sci 24:544–557

Marino FE, Lambert MI, Noakes TD (2004) Superior performance of African runners in warm humid but not in cool environmental conditions. J Appl Physiol 96:124–130

Mirwald RL, Baxter-Jones ADG, Bailey DA, Beunen GP (2002) An assessment of maturity from anthropometric measurements. Med Sci Sports Exerc 34:689–694

Murray R, Eddy DE, Murray TW, Seifert JG, Paul GL, Halaby GA (1987) The effect of fluid and carbohydrate feedings during intermittent cycling exercise. Med Sci Sports Exerc 19:597–604

Nassis GP, Williams C, Chisnall P (1998) Effect of a carbohydrate-electrolyte drink on endurance capacity during prolonged intermittent high-intensity running. Br J Sports Med 32:248–252

Nicholas CW, Williams C, Lakomy HKA, Phillips G, Nowitz A (1995) Influence of ingesting a carbohydrate-electrolyte solution on endurance capacity during intermittent, high-intensity shuttle running. J Sports Sci 13:283–290

Phillips SM, Turner AP, Gray S, Sanderson MF, Sproule J (2010) Ingesting a 6% carbohydrate-electrolyte solution improves endurance capacity, but not sprint performance, during intermittent, high-intensity shuttle running in adolescent team games players aged 12–14 years. Eur J Appl Physiol 109:811–821

Ratel S, Bedu M, Hennegrave A, Doré E, Duché P (2002) Effects of age and recovery duration on peak power output during repeated cycling sprints. Int J Sports Med 23:397–402

Riddell MC (2008) The endocrine response and substrate utilization during exercise in children and adolescents. J Appl Physiol 105:725–733

Roemmich JN, Barkley JE, Epstein LH, Lobarinas CL, White TM, Foster JH (2006) Validity of PCERT and OMNI walk/run ratings of perceived exertion. Med Sci Sports Exerc 38:1014–1019

Rogers J, Summers RW, Lambert GP (2005) Gastric emptying and intestinal absorption of a low-carbohydrate sport drink during exercise. Int J Sport Nutr Exerc Metab 15:220–235

Rosnow RL, Rosenthal R (2005) Beginning behavioural research: a conceptual primer, 5th edn. Pearson/Prentice Hall, NJ

Sandercock G, Voss C, Gladwell V (2008) Twenty-metre shuttle run test performance of English children aged 11–15 years in 2007: comparisons with international standards. J Sports Sci 26:953–957

Shi X, Passe DH (2010) Water and solute absorption from carbohydrate-electrolyte solutions in the human proximal small intestine: a review and statistical analysis. Int J Sport Nut Exerc Metab 20:427–442

Shi X, Horn MK, Osterberg KL, Stofan JR, Zachwieja JJ, Horswill CA, Passe DH, Murray R (2004) Gastrointestinal discomfort during intermittent high-intensity exercise: effect of carbohydrate-electrolyte beverage. Int J Sport Nutr Exerc Metab 14:673–683

Strøyer J, Hansen L, Klausen K (2004) Physiological profile and activity pattern of young soccer players during match play. Med Sci Sports Exerc 36:168–174

Tanner JM (1962) Growth at adolescence. Blackwell Scientific Publications, Oxford

Timmons BW, Bar-or O, Riddell MC (2003) Oxidation rate of exogenous carbohydrate during exercise is higher in boys than in men. J Appl Physiol 94:278–284

Timmons BW, Bar-Or O, Riddell MC (2007) Influence of age and pubertal status on substrate utilization during exercise with and without carbohydrate intake in healthy boys. Appl Physiol Nutr Metab 32:416–425

van Nieuwenhoven MA, Brouns F, Kovacs EMR (2005) The effect of two sports drinks and water on GI complaints and performance during an 18-km run. Int J Sports Med 26:281–285

Welsh RS, Davis JM, Burke JR, Williams HG (2002) Carbohydrates and physical/mental performance during intermittent exercise to fatigue. Med Sci Sports Exerc 34:723–731
Acknowledgments
The authors gratefully acknowledge the support of High5 Ltd, Bardon, Leicestershire, UK, for the supply of maltodextrin, electrolyte tablets, and drink bottles to enable completion of this study. We wish to extend a special thanks to the staff, pupils and parents of George Watsons College, Edinburgh, for their invaluable participation in, and support of, this research project
Additional information
Communicated by Susan A. Ward.
About this article
Cite this article
Phillips, S.M., Turner, A.P., Sanderson, M.F. et al. Beverage carbohydrate concentration influences the intermittent endurance capacity of adolescent team games players during prolonged intermittent running. Eur J Appl Physiol 112, 1107–1116 (2012). https://doi.org/10.1007/s00421-011-2065-2
Received:

Accepted:

Published:

Issue Date:

DOI: https://doi.org/10.1007/s00421-011-2065-2
Keywords