Abstract
Acute physical exercise may affect cardiac autonomic modulation hours or even days during the recovery phase. Although sleep is an essential recovery period, the information on nocturnal autonomic modulation indicated by heart rate variability (HRV) after different exercises is mostly lacking. Therefore, this study investigated the effects of exercise intensity and duration on nocturnal HR, HRV, HR, and HRV-based relaxation, as well as on actigraphic and subjective sleep quality. Fourteen healthy male subjects (age 36 ± 4 years, maximal oxygen uptake 49 ± 4 ml/kg/min) performed five different running exercises on separate occasions starting at 6 p.m. with HR guidance at home. The effect of intensity was studied with 30 min of exercises at intensities corresponding to HR level at 45% (easy), 60% (moderate) and 75% (vigorous) of their maximal oxygen uptake. The effect of duration was studied with 30, 60, and 90 min of moderate exercises. Increased exercise intensity elevated nocturnal HR compared to control day (p < 0.001), but it did not affect nocturnal HRV. Nocturnal HR was greater after the day with 90- than 30- or 60-min exercises (p < 0.01) or control day (p < 0.001). Nocturnal HRV was lower after the 90-min exercise day compared to control day (p < 0.01). Neither exercise intensity nor duration had any impact on actigraphic or subjective sleep quality. The results suggest that increased exercise intensity and/or duration cause delayed recovery of nocturnal cardiac autonomic modulation, although long exercise duration was needed to induce changes in nocturnal HRV. Increased exercise intensity or duration does not seem to disrupt sleep quality.
Access options
Buy single article
Instant access to the full article PDF.
US$ 39.95
Tax calculation will be finalised during checkout.
Subscribe to journal
Immediate online access to all issues from 2019. Subscription will auto renew annually.
US$ 119
Tax calculation will be finalised during checkout.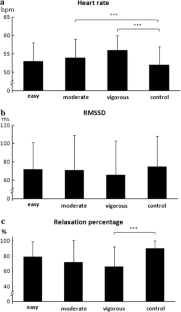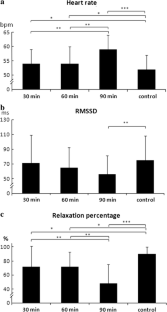 References
Åkerstedt T (2006) Psychosocial Stress and Impaired Sleep. Scand J Work Environ Health 32:493–501

Åkerstedt T, Hume K, Minors D, Waterhouse J (1994) The subjective meaning of good sleep—an intraindividual approach using the Karolinska sleep diary. Percept Mot Skills 79:287–296

American Academy of Sleep Medicine (2001) International classification of sleep disorders, revised: diagnostic and coding manual. American Academy of Sleep Medicine, Chicago

Ancoli-Israel S (2003) The role of actigraphy in the study of sleep and circadian rhythms. Sleep 26:342–392

Brandenberger G, Buchheit M, Ehrhart J, Simon C, Piquard F (2005) Is slow wave sleep an appropriate recording condition for heart rate variability analysis? Auton Neurosci 121(1–2):81–86

Buchheit M, Simon C, Piquard F, Ehrhart J, Brandenberger G (2004) Effects of increased training load on vagal-related indexes of heart rate variability: a novel sleep approach. Am J Physiol Heart Circ Physiol 287:H2813–H2818

Bunnell DE, Bevier WC, Horvath SM (1983) Nocturnal sleep, cardiovascular function, and adrenal activity following maximum-capacity exercise. Electroencephalogr Clin Neurophysiol 56:186–189

Bunnell DE, Bevier WC, Horvath SM (1985) Effects of exhaustive submaximal exercise on cardiovascular function during sleep. J Appl Physiol 58:1909–1913

Carter JB, Banister EW, Blaber AP (2003) Effect of endurance exercise on autonomic control of heart rate. Sports Med 33(1):33–46

Driver HS, Taylor SR (2000) Exercise and sleep. Sleep Med Rev 4:387–402

Furlan R, Piazza S, Dell'Orto S, Gentile E, Cerutti S, Pagani M, Malliani A (1993) Early and late effects of exercise and athletic training on neural mechanisms controlling heart rate. Cardiovasc Res 27:482–488

Gladwell VF, Sandercock GR, Birch SL (2010) Cardiac vagal activity following three intensities of exercise in humans. Clin Physiol Funct Imaging 30(1):17–22

Goldberger JJ (1999) Sympathovagal balance: how should we measure it? Am J Physiol 276(4 Pt 2):H1273–H1280

Haskell WL et al (2007) Physical activity and public health: updated recommendation for adults from the American College of Sports Medicine and the American Heart Association. Med Sci Sports Exerc 39:1423–1434

Hauri P (1968) Effects of evening activity on early night sleep. Psychophysiology 4:267–277

Hautala A, Tulppo MP, Mäkikallio TH, Laukkanen R, Nissilä S, Huikuri HV (2001) Changes in cardiac autonomic regulation after prolonged maximal exercise. Clin Physiol 21:238–245

Hautala AJ, Kiviniemi AM, Tulppo MP (2009) Individual responses to aerobic exercise: the role of the autonomic nervous system. Neurosci Biobehav Rev 33(2):107–115

Horne JA (1981) The effects of exercise on sleep: a critical review. Biol Psychol 12:241–290

Hynynen E, Vesterinen V, Rusko H, Nummela A (2010) Effects of moderate and heavy endurance exercise on nocturnal HRV. Int J Sports Med 31:428–432

James D (2002) Heart rate variability: response following a single bout of interval training. Int J Sports Med 23:247–251

Jones H, George K, Edwards B, Atkinson G (2009) Exercise intensity and blood pressure during sleep. Int J Sports Med 30(2):94–99

Kaikkonen P, Nummela A, Rusko H (2007) Heart rate variability dynamics during early recovery after different endurance exercises. Eur J Appl Physiol 102:79–86

Kaikkonen P, Rusko H, Martinmäki K (2008) Post-exercise heart rate variability of endurance athletes after different high-intensity exercise interventions. Scand J Med Sci Sports 18:511–519

Kaikkonen P, Hynynen E, Mann T, Rusko H, Nummela A (2010) Can HRV be used to evaluate training load in constant load exercises? Eur J Appl Physiol 108(3):435–442

Kushida CA, Chang A, Gadkary C, Guilleminault C, Carrillo O, Dement WC (2001) Comparison of actigraphic, polysomnographic, and subjective assessment of sleep parameters in sleep-disordered patients. Sleep Med 2:389

Martinmäki K, Rusko H (2008) Time–frequency analysis of heart rate variability during immediate recovery from low and high intensity exercise. Eur J Appl Physiol 102:353–360

Martinmäki K, Rusko H, Kooistra L, Kettunen J, Saalasti S (2006) Intraindividual validation of heart rate variability indexes to measure vagal effects on hearts. Am J Physiol Heart Circ Physiol 290:H640–H647

Mourot L, Bouhaddi M, Tordi N, Rouillon JD, Regnard J (2004) Short- and long-term effects of a single bout of exercise on heart rate variability: comparison between constant and interval training exercises. Eur J Appl Physiol 92(4–5):508–517

Myllymäki T, Kyröläinen H, Savolainen K, Hokka L, Jakonen R, Juuti T, Martinmäki K, Kaartinen J, Kinnunen ML, Rusko H (2011) Effects of vigorous late-night exercise on sleep quality and cardiac autonomic activity. J Sleep Res 20:146–153

O'Connor PJ, Breus MJ, Youngstedt SD (1998) Exercise-induced increase in core temperature does not disrupt a behavioral measure of sleep. Physiol Behav 64:213–217

Parekh A, Lee MC (2005) Heart rate variability after isocaloric exercise bouts of different intensities. Med Sci Sports Exerc 37(4):599–605

Partinen M, Gislason T (1995) Basic Nordic Sleep Questionnaire (BNSQ): a quantitated measure of subjective sleep complaints. J Sleep Res 4:150–155

Pichot V, Roche F, Gaspoz JM, Enjolras F, Antoniadis A, Minini P, Costes F, Busso T, Lacour JR, Barthelemy JC (2000) Relation between heart rate variability and training load in middle-distance runners. Med Sci Sports Exerc 32:1729–1736

Roussel B, Buquet A (1982) Changes in human heart rate during sleep following daily physical exercise. Eur J Appl Physiol Occup Physiol 49:409–416

Saalasti S (2003) Neural networks for heart rate time series analysis. Dissertation, University of Jyväskylä

Sandercock GR, Bromley PD, Brodie DA (2005) Effects of exercise on heart rate variability: inferences from meta-analysis. Med Sci Sports Exerc 37(3):433–439

Seiler S, Haugen O, Kuffel E (2007) Autonomic recovery after exercise in trained athletes: intensity and duration effects. Med Sci Sports Exerc 39:1366–1373

Taylor JA, Carr DL, Myers CW, Eckberg DL (1998) Mechanisms underlying very-low-frequency RR-interval oscillations in humans. Circulation 98:545–555

Thayer JF, Yamamoto SS, Brosschot JF (2010) The relationship of autonomic imbalance, heart rate variability and cardiovascular disease risk factors. Int J Cardiol 141(2):122–131

Youngstedt SD, Kripke DF, Elliott JA (1999) Is sleep disturbed by vigorous late-night exercise? Med Sci Sports Exerc 31:864–869

Zisapel N, Nir T (2003) Determination of the minimal clinically significant difference on a patient visual analog sleep quality scale. J Sleep Res 12:291–298
Acknowledgments
This work was supported by Tekes and the following companies: Nokia, Suunto, Mawell, Firstbeat Technologies, Vivago, Varma, Mehiläinen, Solaris, and JTO School of Management, and by a grant from the Finnish Cultural Foundation.
Conflict of interest
Heikki Rusko is currently a stockowner of Firstbeat Technologies Ltd., Finland.
Additional information
Communicated by Keith Phillip George.
About this article
Cite this article
Myllymäki, T., Rusko, H., Syväoja, H. et al. Effects of exercise intensity and duration on nocturnal heart rate variability and sleep quality. Eur J Appl Physiol 112, 801–809 (2012). https://doi.org/10.1007/s00421-011-2034-9
Received:

Accepted:

Published:

Issue Date:
Keywords
Exercise

Recovery

Heart rate variability

Actigraphy

Subjective sleep quality