Abstract
The present study sought to establish links between hyperventilation and postural stability. Eight university students were asked to stand upright under two hyperventilation conditions applied randomly: (1) a metabolic hyperventilation induced by 5 min of hypercapnic–hyperoxic rebreathing (CO2–R); and, (2) a voluntary hyperventilation (VH) of 3 min imposed by a metronome set at 25 cycles per min. Recordings were obtained with eyes open, with the subjects standing on a force plate over 20-s periods. Ventilatory response, displacements in the centre of pressure in both the frontal and sagittal planes and fluctuations in the three planes of the ground reaction force were monitored in the time and frequency domains. Postural changes related to respiratory variations were quantified by coherence analysis. Myoelectric activities of the calf muscles were recorded using surface electromyography. Force plate measurements revealed a reduction in postural stability during both CO2–R and VH conditions, mainly in the sagittal plane. Coherence analysis provided evidence of a ventilatory origin in the vertical ground reaction force fluctuations during VH. Electromyographic analyses showed different leg muscles strategies, assuming the existence of links between the control of respiration and the control of posture. Our results suggest that the greater disturbing effects caused by voluntary hyperventilation on body balance are more compensated when respiration is under automatic control. These findings may have implications for understanding the organisation of postural and respiratory activities and suggest that stability of the body may be compromised in situations in which respiratory demand increases and requires voluntary control.
Access options
Buy single article
Instant access to the full article PDF.
US$ 39.95
Tax calculation will be finalised during checkout.
Subscribe to journal
Immediate online access to all issues from 2019. Subscription will auto renew annually.
US$ 119
Tax calculation will be finalised during checkout.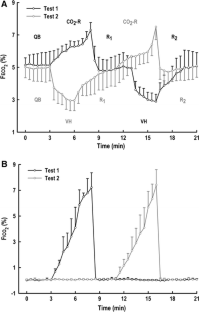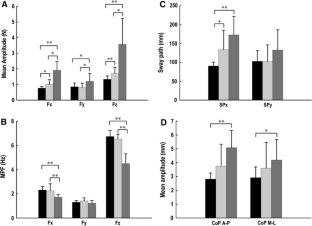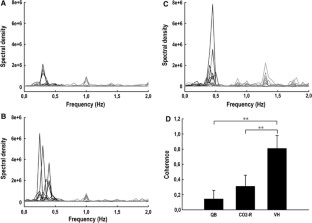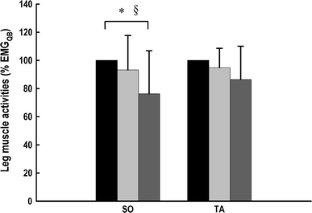 References
Aliverti A, Cala SJ, Duranti R, Ferrigno G, Kenyon CM, Pedotti A, Scano G, Sliwinski P, Macklem PT, Yan S (1997) Human respiratory muscle actions and control during exercise. J Appl Physiol 83:1256–1269

Aminoff MJ, Sears TA (1971) Spinal integration of segmental, cortical and breathing inputs to thoracic respiratory motoneurones. J Physiol 215:557–575

Bai TR, Rabinovitch BJ, Pardy RL (1984) Near-maximal voluntary hyperpnea and ventilatory muscle function. J Appl Physiol 57:1742–1748

Blouin JS, Corbeil P, Teasdale N (2003) Postural stability is altered by the stimulation of pain but not warm receptors in humans. BMC Musculoskelet Disord 4:23

Bouisset S, Do MC (2008) Posture, dynamic stability, and voluntary movement. Neurophysiol Clin 38:345–362

Bouisset S, Duchêne JL (1994) Is body balance more perturbed by respiration in seating than in standing posture? Neuroreport 5:957–960

Bouisset S, Zattara M (1981) A sequence of postural movements precedes voluntary movement. Neurosci Lett 22:263–270

Bove M, Faelli E, Tacchino A, Lofrano F, Cogo CE, Ruggeri P (2007) Postural control after a strenuous treadmill exercise. Neurosci Lett 418:276–281

Brumagne S, Cordo P, Verschueren S (2004) Proprioceptive weighting changes in persons with low back pain and elderly persons during upright standing. Neurosci Lett 366:63–66

Caron O (2003) Effects of local fatigue of the lower limbs on postural control and postural stability in standing posture. Neurosci Lett 340:83–86

Caron O, Fontanari P, Cremieux J, Joulia F (2004) Effects of ventilation on body sway during human standing. Neurosci Lett 366:6–9

Cherniack NS, Widdicombe JG (1986) Control of breathing. Handbook of Physiology. The respiratory system, vol 2, Sect. 3. The American Physiological Society, Bethesda

Corbeil P, Blouin JB, Béguin F, Nougier V, Teasdale N (2003) Perturbation of the postural control system induced by muscular fatigue. Gait Posture 18:92–100

Corfield DR, Murphy K, Guz A (1998) Does the motor cortical control of the diaphragm 'bypass' the brain stem respiratory centres in man? Respir Physiol 114:109–117

David P, Mora I, Terrien J, Lelard T, Petitjean M (2010) Leg muscle activities during hyperventilation following a cycling exercise. Electromyogr Clin Neurophysiol 50:39–45

De Troyer A, Estenne M (1988) Functional anatomy of the respiratory muscles. Clin Chest Med 9:175–193

Diener HC, Dichgans J (1988) On the role of vestibular, visual and somatosensory information for dynamic postural control in humans. Prog Brain Res 76:253–262

Filippelli M, Romagnoli I, Gigliotti F, Lanini B, Nerini M, Stendardi L, Bianchi R, Duranti R, Scano G (2002) Chest wall kinematics during chemically stimulated breathing in healthy man. Lung 180:349–357

Fitzpatrick R, Rogers DK, McCloskey DI (1994) Stable human standing with lower-limb muscle afferents providing the only sensory input. J Physiol 480:395–403

Gauchard GC, Gangloff P, Vouriot A, Mallié JP, Perrin PP (2002) Effects of exercise-induced fatigue with and without hydration on static postural control in adult human subjects. Int J Neurosci 112:1191–1206

Grimstone SK, Hodges PW (2003) Impaired postural compensation for respiration in people with recurrent low back pain. Exp Brain Res 151:218–224

Gurfinkel VS, Kots YM, Paltsev EI, Feldman AG (1971) The compensation of respiratory disturbances of the erect posture of man as an example of the organization of interarticular interaction. In: Gelfand IM, Gurfinkel VS, Fomin SV, Tsetlin ML (eds) Models of the structural functional organization of certain biological systems. MIT Press, Cambridge, pp 392–395

Hamaoui A, Do MC, Poupard L, Bouisset S (2002) Does respiration perturb body balance more in chronic low back pain subjects than in healthy subjects? Clin Biomech 17:548–550

Hamaoui A, Do MC, Bouisset S (2004) Postural sway increase in low back pain subjects is not related to reduced spine range of motion. Neurosci Lett 357:135–138

Hamaoui A, Gonneau E, Le Bozec S (2010) Respiratory disturbance to posture varies according to the respiratory mode. Neurosci Lett 475:141–144

Hill AV, Long CNH, Lupton H (1924) Muscular exercise, lactic acid, and the supply and utilization of oxygen. IV. The oxygen debt at the end of exercise. Proc R Soc Lond B Biol Sci 97:127–137

Hodges PW, Gurfinkel VS, Brumagne S, Smith TC, Cordo PC (2002) Coexistence of stability and mobility in postural control: evidence from postural compensation for respiration. Exp Brain Res 144:293–302

Horak FB, Nashner LM (1986) Central programming of postural movements: adaptation to altered support surface configurations. J Neurophysiol 55:1369–1381

Hufschmidt A, Dichgans J, Mauritz KH, Hufschmidt M (1980) Some methods and parameters of body sway quantification and their neurological application. Arch Psychiatr Nervenkr 228:135–150

Hunter IW, Kearney RE (1981) Respiratory components of human postural sway. Neurosci Lett 25:155–159

Jensen D, Wolfe LA, O'Donnell DE, Davies GAL (2005) Chemoreflex of breathing during wakefulness in healthy men and women. J Appl Physiol 98:822–828

Jeong BY (1991) Respiration effect on standing balance. Arch Phys Med Rehabil 72:642–645

Kantor E, Poupard L, Le Bozec S, Bouisset S (2001) Does body stability depend on postural chain mobility or stability area ? Neurosci Lett 308:128–132

Keshner EA, Allum JH, Pfaltz CR (1987) Postural coactivation and adaptation in the sway stabilizing responses of normals and patients with bilateral vestibular deficit. Exp Brain Res 69:77–92

Lepers R, Bigard AX, Diard JP, Gouteyron JF, Guezennec CY (1997) Posture control after prolonged exercise. Eur J Appl Physiol 76:55–61

Nardone A, Tarantola J, Giordano A, Schieppati M (1997) Fatigue effects on body balance. Electroencephalogr Clin Neurophysiol 105:309–320

Nardone A, Tarantola J, Galante M, Schieppati M (1998) Time course of stabilometric changes after a strenuous treadmill exercise. Arch Phys Med Rehabil 78:920–924

Nardone A, Grasso M, Schieppatti M (2006) Balance control in peripheral neuropathy: are patients equally instable under static and dynamic conditions? Gait Posture 23:364–373

Nashner LM (1983) Analysis of movement control in man using the movable plateform. Adv Neurol 39:607–619

Oddsson L, Thorstensson A (1986) Fast voluntary trunk flexion movements in standing: primary movements and associated postural adjustments. Acta Physiol Scand 128:341–349

Romagnoli I, Gigliotti F, Lanini B, Bianchi R, Soldani N, Nerini M, Duranti R, Scano G (2004) Chest wall kinematics and respiratory muscle coordinated action during hypercapnia in healthy males. Eur J Appl Physiol 91:525–533

Sackner MA, Gonzales HF, Jenouri G, Rodriguez M (1984) Effects of abdominal and thoracic breathing on breathing pattern components in normal subjects and in patients with chronic obstructive pulmonary disease. Am Rev Respir Dis 130:584–587

Sakellari V, Bronstein AM (1997) Hyperventilation effect on postural sway. Arch Phys Med Rehabil 78:730–736

Sakellari V, Bronstein AM, Corna S, Hammon CA, Jones S, Wolsley CJ (1997) The effects of hyperventilation on postural control mechanisms. Brain 120:1659–1673

Sebert P, Barthelemy L, Mialon P (1990) CO2 chemoreflex drive of ventilation in man: effects of hyperoxia and sex differences. Respiration 57:264–267

Stürm R, Nigg B, Koller EA (1980) The impact of cardiac activity on triaxially recorded endogenous microvibrations. Eur J Appl Physiol Occup Physiol 44:83–96

Vuillerme N, Hintzy F (2007) Effects of a 200 W–15 min cycling exercise on postural control during quiet standing in healthy young adults. Eur J Appl Physiol 100:169–175

Winter DA, Palta AE, Prince F, Ishac M, Gielo-Perczak K (1998) Stiffness control of balance in quiet standing. J Neurophysiol 80:1211–1221
Acknowledgments
We are indebted to Thierry Grossemy for his technical assistance to set up the respiratory apparatus. We wish to thank Bill King and the anonymous English reviewer from Editavenue for their helpful advice on the English language in this paper.
Additional information
Communicated by Nigel A.S. Taylor.
About this article
Cite this article
David, P., Laval, D., Terrien, J. et al. Postural control and ventilatory drive during voluntary hyperventilation and carbon dioxide rebreathing. Eur J Appl Physiol 112, 145–154 (2012). https://doi.org/10.1007/s00421-011-1954-8
Received:

Accepted:

Published:

Issue Date:
Keywords
Electromyography

Postural control

Rebreathing

Hyperventilation