Abstract
To determine differences in maximal strength and muscle power output of the arm and leg extensor muscles, peak and mean power during a modified standing crank-arm Wingate test, running speed, muscle extensibility, and anthropometric markers between elite and amateurs wrestlers according to the weight classes system; 92 male wrestlers were assigned into 6 groups according to their body mass (light, middle and heavy weight) and their competitive level (elite and amateur): Light Weight (body mass ranged between 55 and 68 kg) in elite (LWE, n = 18) and amateur (LWA, n = 15) level; Middle Weight (body mass ranged between 68 and 84 kg) in elite (MWE, n = 18) and amateur (MWA, n = 19) level; and Heavy Weight (body mass ranged between 84 and 100 kg) in elite (HWE, n = 10) and amateur (HWA, n = 12) level. Elite wrestlers were older (8–12%), had more training experience (25–37%), fat-free mass (3–5%), maximal strength in absolute and relative terms (8–25%), muscle power (14–30%), mean and peak power during crank-arm Wingate testing in absolute and relative terms (13–22%), jumping height (8–17%) as well as grip (6–19%) and back strength (7–20%) compared to amateur wrestlers. However, no differences were observed between elite and amateur groups in height, body mass index, percentage of body fat, hamstring extensibility and running speed. The present results suggest that the higher absolute and relative values of maximal strength, muscle power, and anaerobic metabolism, explained in part by the differences in lean mass and neural activation patterns, will give elite wrestlers a clear advantage during the most frequently used techniques in Olympic wrestling.
Access options
Buy single article
Instant access to the full article PDF.
US$ 39.95
Tax calculation will be finalised during checkout.
Subscribe to journal
Immediate online access to all issues from 2019. Subscription will auto renew annually.
US$ 119
Tax calculation will be finalised during checkout.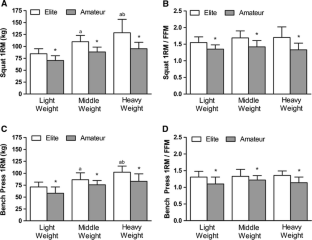 References
Brozek JF, Grande JT, Anderson JT, Keys A (1963) Densitometric analysis of body composition: revision of some quantitative assumptions. Ann N Y Acad Sci 110:113–140

Cisar CJ, Johnson GO, Fry AC, Housh TJ, Hughes RA, Ryan AJ, Thorland WG (1987) Preseason body composition, build and strength as predictors of high school wrestling success. J Appl Sports Sci Res 1:66–70

Clark RR, Oppliger RA, Sullivan JC (2002) Cross-validation of the NCAA method to predict body fat for minimum weight in collegiate wrestlers. Clin J Sport Med 12:285–290

Costill DL, Fink WJ, Pollock ML (1976) Muscle fiber composition and enzyme activities of elite distance runners. Med Sci Sports 8:96–100

Gardner AS, Stephens S, Martin DT, Lawton E, Lee H, Jenkins D (2004) Accuracy of SRM and power tap power monitoring systems for bicycling. Med Sci Sports Exerc 36:1252–1258

Gorostiaga EM, Granados C, Ibáñez J, Izquierdo M (2005) Differences in physical fitness and throwing velocity among elite and amateur male handball players. Int J Sports Med 26:225–232

Granados C, Izquierdo M, Ibañez J, Bonnabau H, Gorostiaga EM (2007) Differences in physical fitness and throwing velocity among elite and amateur female handball players. Int J Sports Med 28:860–867

Horswill CA (1992) Applied physiology of amateur wrestling. Sports Med 14:114–143

Horswill CA, Scott JR, Galea P (1989) Comparison of maximum aerobic power, maximum anaerobic power, and skinfold thickness of elite and nonelite junior wrestlers. Int J Sports Med 10:165–168

Horswill CA, Miller JE, Scott JR, Smith CM, Welk G, Van Handel P (1992) Anaerobic and aerobic power in arms and legs of elite senior wrestlers. Int J Sports Med 13:558–561

Hübner-Woźniak E, Kosmol A, Lutoslawska G, Bem EZ (2004) Anaerobic performance of arms and legs in male and female free style wrestlers. J Sci Med Sport 7:473–480

Izquierdo M, Häkkinen K, Gonzalez-Badillo JJ, Ibáñez J, Gorostiaga EM (2002) Effects of long-term training specificity on maximal strength and power of the upper and lower extremities in athletes from different sports. Eur J Appl Physiol 87:264–271

Izquierdo M, Ibáñez J, Häkkinen K, Kraemer WJ, Ruesta M, Gorostiaga EM (2004) Maximal strength and power, muscle mass, endurance and serum hormones in weightlifters and road cyclists. J Sports Sci 22:465–478

Izquierdo-Gabarren M, Expósito RG, de Villarreal ES, Izquierdo M (2010) Physiological factors to predict on traditional rowing performance. Eur J Appl Physiol 108:83–92

Karnincic H, Tocilj Z, Uljevic O, Erceg M (2009) Lactate profile during greco-roman wrestling match. J Sports Sci Med 8(CSSI 3):17–19

Kraemer WJ, Fry AC, Rubin MR, Triplett-McBride T, Gordon SE, Koziris LP, Lynch JM, Volek JS, Meuffels DE, Newton RU, Fleck SJ (2001) Physiological and performance responses to tournament wrestling. Med Sci Sports Exerc 33:1367–1378

Lohman TG (1981) Skinfolds and body density and their relation to body fatness: a review. Hum Biol 53:181–225

López-Miñarro PA, Rodríguez-García PL (2010) Hamstring muscle extensibility influences the criterion-related validity of sit-and-reach and toe-touch tests. J Strength Cond Res 24:1013–1018

Mirzaei B, Curby DG, Rahmani-Nia F, Moghadasi M (2009) Physiological profile of elite Iranian junior freestyle wrestlers. J Strength Cond Res 23:2339–2344

Neville V, Pain MT, Kantor J, Folland JP (2010) Influence of crank length and crank-axle height on standing arm-crank (grinding) power. Med Sci Sports Exerc 42:381–387

Nilsson J, Csergö S, Gullstrand L, Tveit P, Refsnes PE (2002) Work-time profile, blood lactate concentration and rating of perceived exertion in the 1998 Greco-Roman Wrestling World Championship. J Sports Sci 20:939–945

Oppliger RA, Utter AC, Scott JR, Dick RW, Klossner D (2006) NCAA rule change improves weight loss among national championship wrestlers. Med Sci Sports Exerc 38:963–970

Parkhouse WD, McKenzie P, Hochachka PW, Ovalla WK (2001) The relationship between carnosine levels, buffering capacity, fiber type and anaerobic capacity in elite athletes. In: Knuttgen H, Vogel J, Poortmans J (eds) Biochemistry of exercise. The international series on sport sciences. Human Kinetics, Champaign, pp 590–594

Sánchez-Medina L, Perez CE, González-Badillo JJ (2010) Importance of the propulsive phase in strength assessment. Int J Sports Med 31:123–129

Sharratt MT, Taylor AW, Song TM (1986) A physiological profile of elite Canadian freestyle wrestlers. Can J Appl Sport Sci 11:100–105

Song TM, Garvie GT (1980) Anthropometric, flexibility, strength, and physiological measures of Canadian wrestlers and comparison of Canadian and Japanese Olympic wrestlers. Can J Appl Sport Sci 5:1–8

Stine G, Ratliff R, Shierman G, Grana WA (1979) Physical profile of the wrestlers at the 1977 NCAA Championships. Physician Sportsmed 7:98–105

Utter AC, Hager ME (2008) Evaluation of ultrasound in assessing body composition of high school wrestlers. Med Sci Sports Exerc 40:943–949

Utter AC, Lambeth PG (2010) Evaluation of multifrequency bioelectrical impedance analysis in assessing body composition of wrestlers. Med Sci Sports Exerc 42:361–367

Utter AC, O'Bryant HS, Haff GG, Trone GA (2002) Physiological profile of an elite freestyle wrestler preparing for competition: a case study. J Strength Cond Res 16:308–315

Yankanich J, Kenney WL, Fleck SJ, Kraemer WJ (1998) Precompetition weight loss and changes in vascular fluid volume in NCAA Division 1 College Wrestlers. J Strength Cond Res 12:138–145

Yoon J (2002) Physiological profiles of elite senior wrestlers. Sports Med 32:225–233
Acknowledgments
This study was supported in part by grants from the Spanish Wrestling Federation and Associated Disciplines and the General Directorate of Sports (Government of Murcia). We also acknowledge the dedicated effort, commitment, and professionalism of the selected group of wrestlers and their coaches who took part in this research.
Conflict of interest
The authors declare that they have no conflict of interest relevant to the content of this manuscript.
Additional information
Communicated by William J. Kraemer.
About this article
Cite this article
García-Pallarés, J., López-Gullón, J.M., Muriel, X. et al. Physical fitness factors to predict male Olympic wrestling performance. Eur J Appl Physiol 111, 1747–1758 (2011). https://doi.org/10.1007/s00421-010-1809-8
Received:

Accepted:

Published:

Issue Date:
Keywords
Greco-roman

Freestyle

Maximum strength

Maximum power

Wingate

Muscle extensibility