Abstract
The aim of this study was to investigate the effects of acute caffeine ingestion on intermittent high-intensity sprint performance after 5 days of creatine loading. After completing a control trial (no ergogenic aids, CON), twelve physically active men were administered in a double-blind, randomized crossover protocol to receive CRE + PLA (0.3 g kg−1 day−1 of creatine for 5 days then followed by 6 mg kg−1 of placebo) and CRE + CAF (0.3 g kg−1 day−1 of creatine for 5 days and followed by 6 mg kg−1 of caffeine), after which they performed a repeated sprint test. Each test consisted of six 10-s intermittent high-intensity sprints on a cycling ergometer, with 60-s rest intervals between sprints. Mean power, peak power, rating of perceived exertion (RPE), and heart rates were measured during the test. Blood samples for lactate, glucose, and catecholamine concentrations were drawn at specified intervals. The mean and peak power observed in the CRE + CAF were significantly higher than those found in the CON during Sprints 1 and 3; and the CRE + CAF showed significantly higher mean and peak power than that in the CRE + PLA during Sprints 1 and 2. The mean and peak power during Sprint 3 in the CRE + PLA was significantly greater than that in the CON. Heart rates, plasma lactate, and glucose increased significantly with CRE + CAF during most sprints. No significant differences were observed in the RPE among the three trials. The present study determined that caffeine ingestion after creatine supplements augmented intermittent high-intensity sprint performance.
Access options
Buy single article
Instant access to the full article PDF.
US$ 39.95
Tax calculation will be finalised during checkout.
Subscribe to journal
Immediate online access to all issues from 2019. Subscription will auto renew annually.
US$ 119
Tax calculation will be finalised during checkout.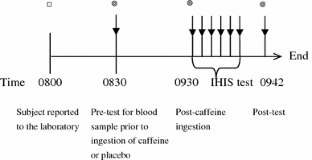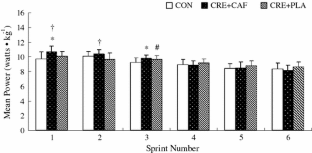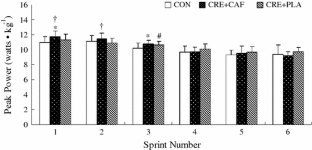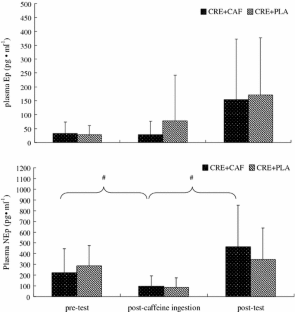 References
Anselme F, Collomp K, Mercier B, Ahmaidi S, Ch Prefaut (1992) Caffeine increases maximal anaerobic power and blood lactate concentration. Eur J Appl Physiol Occup Physiol 65:188–191

Balsom PD, Soderlund K, Sjodin B, Ekblom B (1995) Skeletal muscle metabolism during short duration high-intensity exercise: influence of creatine supplementation. Acta Physiol Scand 154:303–310

Bell DG, Jacobs I, Zamecnik J (1998) Effects of caffeine, ephedrine and their combination on time to exhaustion during high-intensity exercise. Eur J Appl Physiol Occup Physiol 77:427–433

Bemben MG, Lamont HS (2005) Creatine supplementation and exercise performance: recent findings. Sports Med 35:107–125

Brosnan JT, Brosnan ME (2007) Creatine: endogenous metabolite, dietary, and therapeutic supplement. Annu Rev Nutr 27:241–261

Buford TW, Kreider RB, Stout JR, Greenwood M, Campbell B, Spano M, Ziegenfuss T, Lopez H, Landis J, Antonio J (2007) International Society of Sports Nutrition position stand: creatine supplementation and exercise. J Int Soc Sports Nutr 4:6

Clausen T (1996) The Na+, K+ pump in skeletal muscle: quantification, regulation and functional significance. Acta Physiol Scand 156:227–235

Clausen T (2003) Na+-K+ pump regulation and skeletal muscle contractility. Physiol Rev 83:1269–1324

Clausen T, Flatman JA (1977) The effect of catecholamines on Na+-K+ transport and membrane potential in rat soleus muscle. J Physiol Lond 270:383–414

Collomp K, Ahmaidi S, Audran M, Chanal JL, Prefaut CH (1991) Effects of caffeine ingestion on performance and anaerobic metabolism during the Wingate test. Int J Sports Med 12:439–443

Collomp K, Ahmaidi S, Chatard JC, Audran M, Ch Prefaut (1992) Benefits of caffeine ingestion on sprint performance in trained and untrained swimmers. Eur J Appl Physiol Occup Physiol 64:377–380

Crowe MJ, Leicht AS, Spinks WL (2006) Physiological and cognitive responses to caffeine during repeated high-intensity exercise. Int J Sport Nutr Exerc Metab 16:528–544

Doherty M, Smith PM, Davison RC, Hughes MG (2002) Caffeine is ergogenic after supplementation of oral creatine monohydrate. Med Sci Sports Exerc 34:1785–1792

Doherty M, Smith P, Hughes M, Davison R (2004) Caffeine lowers perceptual response and increases power output during high-intensity cycling. J Sports Sci 22:637–643

Glaister M, Lockey RA, Abraham CS, Staerck A, Goodwin JE, Mclnnes G (2006) Creatine supplementation and multiple sprint running performance. J Strength Cond Res 20:273–277

Graham TE (2001) Caffeine and exercise: metabolism, endurance and performance. Sports Med 31:785–807

Graham TE, Helge JW, MacLean DA, Kiens B, Richter EA (2000) Caffeine ingestion does not alter carbohydrate or fat metabolism in human skeletal muscle during exercise. J Physiol 529:837–847

Greenhaff PL, Bodin K, Siiderlund K, Hultman E (1994) Effect of oral creatine supplementation on skeletal muscle phosphocreatine resynthesis. Am J Physiol 266:E725–E730

Greer F, McLean C, Graham TE (1998) Caffeine, performance, and metabolism during repeated Wingate exercise tests. J Appl Physiol 85:1502–1508

Harris RC, Soderlund K, Hultman E (1992) Elevation of creatine in resting and exercised muscle of normal subjects by creatine supplementation. Clin Sci (Lond) 83:367–374

Hespel P, Op't Eijnde B, Van Leemputte M (2002) Opposite actions of caffeine and creatine on muscle relaxation time in humans. J Appl Physiol 92:513–518

Holloszy JO (1982) Muscle metabolism during exercise. Arch Phys Med Rehabil 63:231–234

Hue O, Le Gallais D, Boussana A, Galy O, Chamari K, Mercier B, Prefaut C (2000) Catecholamine, blood lactate and ventilatory responses to multi-cycle-run blocks. Med Sci Sports Exerc 32:1582–1586

Hultman E, Soderlund K, Timmons JA, Cederblad G, Greenhaff PL (1996) Muscle creatine loading in men. J Appl Physiol 81:232–237

Izquierdo M, Ibanez J, Gonzalez-Badillo JJ, Gorostiaga EM (2002) Effects of creatine supplementation on muscle power, endurance, and sprint performance. Med Sci Sports Exerc 34:332–343

Jackman M, Wendling P, Friars D, Graham TE (1996) Metabolic, catecholamine, and endurance responses to caffeine during intense exercise. J Appl Physiol 81:1658–1663

Loike JD, Somes M, Silverstein SC (1986) Creatine uptake, metabolism, and efflux in human monocytes and macrophages. Am J Physiol Cell Physiol 251:C128–C135

McKenna MJ, Morton J, Selig SE, Snow RJ (1999) Creatine supplementation increases muscle total creatine but not maximal intermittent exercise performance. J Appl Physiol 87:2244–2252

Ogawa Y (1994) Role of ryanodine receptors. Crit Rev Biochem Mol Biol 29:229–274

Preen D, Dawson B, Goodman C, Lawrence S, Beilby J, Ching S (2001) Effect of creatine loading on long-term sprint exercise performance and metabolism. Med Sci Sports Exerc 33:814–821

Pulido SM, Passaquin AC, Leijendekka WJ, Challet C, Wallimann T, Ruegg UT (1998) Creatine supplementation improves intracellular Ca2+ handling and survival in mdx skeletal muscle cells. FEBS Lett 439:357–362

Raguso CA, Coggan AR, Sidossis LS, Gastaldelli A, Wolfe RR (1996) Effect of theophylline on substrate metabolism during exercise. Metabolism 45:1153–1160

Schneiker KT, Bishop D, Dawson B, Hackett LP (2006) Effects of caffeine on prolonged intermittent-sprint ability in team-sport athletes. Med Sci Sports Exerc 38:578–585

Snow RJ, Murphy RM (2001) Creatine and the creatine transporter: a review. Mol Cell Biochem 224:169–181

Spriet LL, MacLean DA, Dyck DJ, Hultman E, Cederblad G, Graham TE (1992) Caffeine ingestion and muscle metabolism during prolonged exercise in humans. Am J Physiol Endocrinol Metab 262:E891–E898

Stuart GR, Hopkins WG, Cook C, Cairns SP (2005) Multiple effects of caffeine on simulated high-intensity team-sport performance. Med Sci Sports Exerc 37:1998–2005

Sutherland EW, Rall TW (1958) Fractionation and characterization of a cyclic adenine ribonucleotide formed by tissue particles. J Biol Chem 232:1077–1091

Van Soeren MH, Graham TE (1998) Effect of caffeine on metabolism, exercise endurance, and catecholamine responses after withdrawal. J Appl Physiol 85:1493–1501

Vanakoski J, Kosunen V, Meririnne E, Seppala T (1998) Creatine and caffeine in anaerobic and aerobic exercise: effects on physical performance and pharmacokinetic considerations. Int J Clin Pharmacol Ther 36:258–262

Vandenberghe K, Gillis N, Van Leemputte M, Van Hecke P, Vanstapel F, Hespel P (1996) Caffeine counteracts the ergogenic action of muscle creatine loading. J Appl Physiol 80:452–457

Williams JH (1991) Caffeine, neuromuscular function and high-intensity exercise performance. J Sports Med Phys Fit 31:481–489

Wright GA, Grandjean PW, Pascoe DD (2007) The effects of creatine loading on thermoregulation and intermittent sprint exercise performance in a hot humid environment. J Strength Cond Res 21:655–660

Yquel RJ, Arsac LM, Thiaudiere E, Canioni P, Manier G (2002) Effect of creatine supplementation on phosphocreatine resynthesis, inorganic phosphate accumulation and pH during intermittent maximal exercise. J Sports Sci 20:427–437

Ziegenfuss TN, Lowery LM, Lemon PWR (1998) Acute fluid volume changes in men during three days of creatine supplementation. J Exerc Physiol online 1(3). (http://faculty.css.edu/tboone2/asep/jan13d.htm)

Ziegenfuss TN, Rogers M, Lowery L, Mullins N, Mendel R, Antonio J, Lemon P (2002) Effect of creatine loading on anaerobic performance and skeletal muscle volume in NCAA Division I athletes. Nutrition 18:397–402
Acknowledgments
The authors thank all participants for their effort and dedication to the protocol. This study was supported by a research grant from National Science Council, Taiwan (NSC 97-2410-H-034-028).
Conflict of interest
The authors declare that they have no conflict of interest.
Additional information
Communicated by Jean-René Lacour.
About this article
Cite this article
Lee, CL., Lin, JC. & Cheng, CF. Effect of caffeine ingestion after creatine supplementation on intermittent high-intensity sprint performance. Eur J Appl Physiol 111, 1669–1677 (2011). https://doi.org/10.1007/s00421-010-1792-0
Received:

Accepted:

Published:

Issue Date:
Keywords
Anaerobic

Catecholamine

Ergogenic aids

Glycolytic metabolism

Repeated-sprint ability