Abstract
This work analyses surfers' postural control and their use of visual information in static (stable) and dynamic (unstable) postures according to their level of competition. Two groups of healthy surfers were investigated: a group of local level surfers (LOC) (n = 8) and a group of national/international level surfers (NIN) (n = 9). Posture was assessed by measuring the centre of foot pressure with a force platform for 50 s with stable support and for 25 s with unstable support (sagittal or frontal plane). The tests were completed with the eyes open (the subjects looked at a fixed level target at a distance of 2 m) and closed (they kept their gaze in a straight-ahead direction). Results showed that the contribution of vision in postural maintenance, with unstable support was less important in the NIN surfers than in the LOC surfers and that the NIN surfers had better postural control than the LOC surfers. Firstly, the results suggest that expert surfers could shift the sensorimotor dominance from vision to proprioception for postural maintenance. Secondly, there is a relationship between the postural ability and the competition level of surfers. These observations are likely to induce new prospects of training for surfers.
Access options
Buy single article
Instant access to the full article PDF.
USD 39.95
Price excludes VAT (USA)
Tax calculation will be finalised during checkout.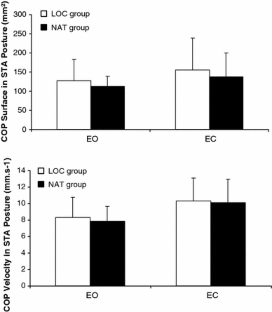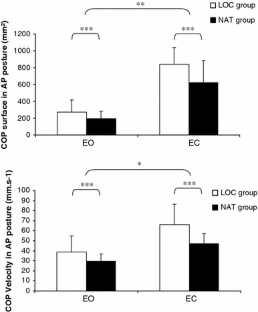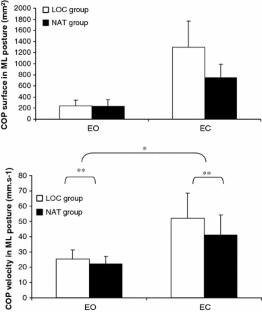 References
Asseman F, Caron O, Crémieux J (2004) Is there a transfer of postural ability from specific to unspecific postures in elite gymnasts? Neurosci Lett 358:83–86

Asseman F, Caron O, Crémieux J (2008) Are there specific conditions for which expertise in gymnastics could have an effect on postural control and performance? Gait Posture 27:76–81

Calavalle AR, Sisti D, Rocchi MBL, Panebianco R, Del Sal M, Stocchi V (2008) Postural trials: expertise in rythmic gymanastics increases control in lateral directions. Eur J Appl Physiol 104:643–649

Carrera DJ, Sharpe MH, Pearcy MJ, Frick RA (1996) The reliability of postural sway measures using the 3SPACE Tracker. Clin Biomech 11:361–363

Chapman DW, Needham KJ, Allison G, Lay B, Edwards DJ (2008) Effects of experience within a dynamic environment on postural control. Br J Sports Med 42:16–21

Era P, Konttinen N, Mehto P, Saarela P, Lyytinen H (1996) Postural stability and skilled performance—a study on top-level and naive rifle shooters. J Biomech 29:301–306

Herpin G, Gauchard GC, Lion A, Collet P, Keller D, Perrin PP (2010) Sensorimotor specificities in balance control of expert fencers and pistol shooters. J Electromyogr Kinesiol 20:162–169

Lamoth CJC, Van Lummel RC, Beek PJ (2009) Athletic skill level is reflected in body sway: a test case for accelometry in combination with stochastic dynamics. Gait Posture 29:546–551

Lion A, Gauchard GC, Deviterne D, Perrin PP (2009) Differentiated influence of off-road and on-road cycling practice on balance control and the related-neurosensory organisation. J Electromyogr Kinesiol 19:623–630

Noe F, Paillard T (2005) Is postural control affected by expertise in alpin skiing? Br J Sports Med 39:835–837

Paillard T, Noé F (2006) Effect of expertise and visual contribution on postural control in soccer. Scand J Med Sci Sports 16:345–348

Paillard T, Noé F, Rivière T, Marion V, Montoya R, Dupui P (2006) Postural performance and strategy in the unipedal stance of soccer players at different levels of competition. J Athl Train 41:172–176

Paillard T, Montoya R, Dupui P (2007a) Specific postural adaptations according to the throwing techniques practiced in competition-level judoists. J Electromyogr Kinesiol 17:241–244

Paillard T, Bizid R, Dupui P (2007b) Do sensorial manipulations affect subjects differently depending on their postural abilities? Br J Sports Med 41:435–438

Perrin P, Deviterne D, Hugel F, Perrot C (2002) Judo, better than dance, develops sensorimotor adaptabilities involved in balance control. Gait Posture 15:187–194

Shea CH, Wulf G, Whitacre CA, Park JH (2001) Surfing the implicit wave. Q J Exp Psychol A 54:841–862

Taube W, Kullmann N, Leukel C, Kurz O, Amtage F, Gollhofer A (2007) Differential reflex adaptations following sensorimotor and strength training in young elite athletes. Int J Sports Med 28:999–1005

Vuillerme N, Danion F, Marin L, Boyadjian A, Prieur JM, Weise I, Nougier V (2001) The effect of expertise in gymnastics on postural control. Neurosci Lett 303:83–86
Additional information
Communicated by Fausto Baldissera.
About this article
Cite this article
Paillard, T., Margnes, E., Portet, M. et al. Postural ability reflects the athletic skill level of surfers. Eur J Appl Physiol 111, 1619–1623 (2011). https://doi.org/10.1007/s00421-010-1782-2
Received:

Accepted:

Published:

Issue Date:

DOI: https://doi.org/10.1007/s00421-010-1782-2
Keywords