Abstract
Previous studies have observed that a single bout of exercise can reduce the formation of circulating bubbles on decompression but, according to different authors, several hours delay were considered necessary between the end of exercise and the beginning of the dive. The objective of this study was to evaluate the effect of a single bout of exercise taken immediately before a dive on bubble formation. 24 trained divers performed open-sea dives to 30 msw depth for 30 min followed by a 3 min stop at 3 msw, under two conditions: (1) a control dive without exercise before (No-Ex), (2) an experimental condition in which subjects performed an exercise before diving (Ex). In the Ex condition, divers began running on a treadmill for 45 min at a speed corresponding to their own ventilatory threshold 1 h before immersion. Body weight, total body fluid volume, core temperature, and volume of consumed water were measured. Circulating bubbles were graded according to the Spencer scale using a precordial Doppler every 30 min for 90 min after surfacing. A single sub-maximal exercise performed immediately before immersion significantly reduces bubble grades (p < 0.001). This reduction was correlated not only to sweat dehydration, but also to the volume of water drunk at the end of the exercise. Moderate dehydration seems to be beneficial at the start of the dive whereas restoring the hydration balance should be given priority during decompression. This suggests a biphasic effect of the hydration status on bubble formation.
This is a preview of subscription content, log in to check access.
Access options
Buy single article
Instant access to the full article PDF.
US$ 39.95
Price includes VAT for USA
Subscribe to journal
Immediate online access to all issues from 2019. Subscription will auto renew annually.
US$ 199
This is the net price. Taxes to be calculated in checkout.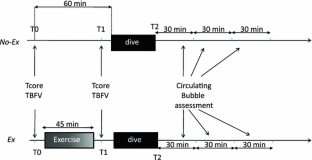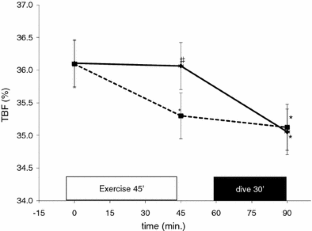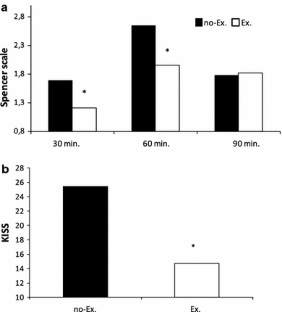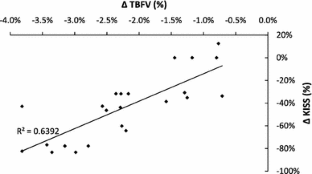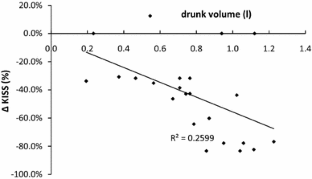 References
Adams WC, Fox RH (1975) Thermoregulation during marathon running in cool, moderate, and hot environments. J Appl Physiol 38(6):1030–1037

Astrand PO, Rodahl K (1986) Textbook of work physiology, 3rd edn. McGraw-Hill, New York

Balldin UI (1973) Effects of ambient temperature and body position on tissue nitrogen elimination in man. Aerosp Med 44(4):365–370

Berge VJ, Jorgensen A (2005) Exercise ending 30 min pre-dive has no effect on bubble formation in the rat. Aviat Space Environ Med 76(4):326–328

Blatteau JE, Boussuges A (2007) Haemodynamic changes induced by submaximal exercise before a dive and its consequences on bubble formation. Br J Sports Med 41(6):375–379

Blatteau JE, Gempp E (2005) Aerobic exercise 2 hours before a dive to 30 msw decreases bubble formation after decompression. Aviat Space Environ Med 76(7):666–669

Blatteau JE, Gempp E (2008) Predive sauna and venous gas bubbles upon decompression from 400 kPa. Aviat Space Environ Med 79(12):1100–1105

Blatteau JE, Souraud JB (2006) Gas nuclei, their origin, and their role in bubble formation. Aviat Space Environ Med 77(10):1068–1076

Boussuges A, Retali G (2009) Gender differences in circulating bubble production after SCUBA diving. Clin Physiol Funct Imaging 29:400–405

Carturan D, Boussuges A (2002) Ascent rate, age, maximal oxygen uptake, adiposity, and circulating venous bubbles after diving. J Appl Physiol 93(4):1349–1356

Dervay J, Powell M (2002) The effect of exercise and rest duration on the generation of venous gas bubbles at altitude. Aviat Space Environ Med 73(1):22–27

Doi T, Sakurai M (2004) Plasma volume and blood viscosity during 4 h sitting in a dry environment: effect of prehydration. Aviat Space Environ Med 75(6):500–504

Dujic Z, Duplancic D (2004) Aerobic exercise before diving reduces venous gas bubble formation in humans. J Physiol 555(Pt 3):637–642

Dujic Z, Valic Z (2008) Beneficial role of exercise on scuba diving. Exerc Sport Sci Rev 36(1):38–42

Dujić Z, Palada I, Valic Z, Duplancić D, Obad A, Wisløff U, Brubakk AO (2006) Exogenous nitric oxide and bubble formation in divers. Med Sci Sports Exerc 38(8):1432–1435

Fahlman A, Kayar SR (2006) Nitrogen load in rats exposed to 8 ATA from 10–35 degrees C does not influence decompression sickness risk. Aviat Space Environ Med 77(8):795–800

Francis T, Gorman D (1993) Pathogenesis of decompression disorders. In: Brubakk AO, Newman TS (eds) The physiology and medicine of diving, 5th edn. Saunders, London, pp 445–480

Gempp E, Blatteau JE (2009) Preventive effect of pre-dive hydration on bubble formation in divers. Br J Sports Med 43(3):224–228

Gerth W, Ruterbusch V (2007) The influence of thermal exposure on diver susceptibility to decompression sickness. NEDU nov. (TR 06-07, TA 03-09), pp 1–70

Gisolfi CV, Duchman SM (1992) Guidelines for optimal replacement beverages for different athletic events. Med Sci Sports Exerc 24(6):679–687

Gisolfi CV, Summers RW (1992) Intestinal water absorption from select carbohydrate solutions in humans. J Appl Physiol 73(5):2142–2150

Harvey E, Whiteley A (1944) Bubble formation in animals. J Cell Comp Physiol 24:1–34

Heyward VH (1996) Evaluation of body composition. Current issues. Sports Med 22(3):146–156

Higashi Y, Yoshizumi M (2004) Exercise and endothelial function: role of endothelium-derived nitric oxide and oxidative stress in healthy subjects and hypertensive patients. Pharmacol Ther 102(1):87–96

Jimenez C, Regnard J (2009) Whole body immersion and hydromineral homeostasis: effect of water temperature. Eur J Appl Physiol 108:49–58

Jurd KM, Tacker JC (2009) The effect of pre-dive exercise mode on post-décompression venous gas enboli. In: Ross JA (ed) Proceeding of the 35th annual meeting of the EUBS. Scotland, pp 106–107

Katsenelson K, Arieli Y (2007) Hyperbaric oxygen pretreatment reduces the incidence of decompression sickness in rats. Eur J Appl Physiol 101(5):571–576

Landolfi A, Yang J (2006) Pre-treatment with hyperbaric oxygenation reduces bubble formation and platelet activation. Sport Sci Health 1(3):122–128

McLaughlin JE, King GA (2001) Validation of the COSMED K4 b2 portable metabolic system. Int J Sports Med 22(4):280–284

Nishi RY, Kisman KE (1981) Assessment of decompression profiles and divers by Doppler ultrasonic monitoring. In: Bachrach AJ, Matzen MM (eds) Underwater physiology, vol VII. Proceedings of the seventh symposium on underwater physiology. Undersea Medical Society, Bethesda, MD, pp 717–27

Pontier JM, Blatteau JE (2007) Protected effect of single bouts of exercise 2 hours before dive. Bull Medsubhyp 17:23–32

Roberts CK, Barnard RJ (1999) Acute exercise increases nitric oxide synthase activity in skeletal muscle. Am J Physiol 277(2 Pt 1):E390–E394

Shirreffs SM (2003) Markers of hydration status. Eur J Clin Nutr 57(Suppl 2):S6–S9

Spencer MP (1976) Decompression limits for compressed air determined by ultrasonically detected blood bubbles. J Appl Physiol 40(2):229–235

Vann R, Thalmann E (1993) The physiology and medicine of diving, chap 4. Saunders, London, pp 29–49

Wasserman K, Whipp BJ (1973) Anaerobic threshold and respiratory gas exchange during exercise. J Appl Physiol 35(2):236–243

Wisloff U, Brubakk AO (2001) Aerobic endurance training reduces bubble formation and increases survival in rats exposed to hyperbaric pressure. J Physiol 537(Pt 2):607–611

Wisloff U, Richardson RS (2004) Exercise and nitric oxide prevent bubble formation: a novel approach to the prevention of decompression sickness? J Physiol 555(Pt 3):825–829
Acknowledgments
The authors wish to thank the following people for their valuable contributions to this work: Myriam Nicolas and Boualem Zouani, laboratory technicians, and Bruno Schmid, R&D technician. Olivier Dubourg, MD, medical doctor of "commando Hubert" French Navy Seal.
Additional information
Communicated by Dag Linnarsson.
About this article
Cite this article
Castagna, O., Brisswalter, J., Vallee, N. et al. Endurance exercise immediately before sea diving reduces bubble formation in scuba divers. Eur J Appl Physiol 111, 1047–1054 (2011). https://doi.org/10.1007/s00421-010-1723-0
Accepted:

Published:

Issue Date:
Keywords
Diving

Decompression sickness

Bubble

Exercise

Heat

Hydration