Abstract
Combining accelerometry with heart rate monitoring has been suggested to improve energy estimates, however, it remains unclear whether the single, currently existing commercially available device combining these data streams (Actiheart) provides improved energy estimates compared to simpler and less expensive accelerometry-only devices. The purpose of this study was to compare the validity of the heart rate (HR), accelerometry (ACC), and combined ACC/HR estimates of the Actiheart to the ACC estimates of the Actical during low and moderate intensity activities. Twenty-seven participants (mean age 26.3 ± 7.3) wore an Actical, Actiheart and indirect calorimeter (K4b2) while performing card playing, sweeping, lifting weights, walking and jogging activities. All estimates tended to underestimate energy, sometimes by substantial amounts. Viewed across all activities studied, there was no significant difference in the ability of the waist-mounted Actical and torso-mounted Actiheart (ACC, HR, ACC/HR) estimates to predict energy expenditure. However, the Actiheart provided significantly better estimates than the Actical for the activities in which acceleration of the pelvis is not closely related to energy expenditure (card playing, sweeping, lifting weights) and the Actical provided significantly better estimates for level walking and level jogging. Similar to a previous study, the ACC component of the Actiheart was found to be the weakest predictor of energy suggesting it may be responsible for the failure of the combined ACC/HR estimate to equal or better the estimates derived solely from a waist mounted ACC device.
Access options
Buy single article
Instant access to the full article PDF.
US$ 39.95
Tax calculation will be finalised during checkout.
Subscribe to journal
Immediate online access to all issues from 2019. Subscription will auto renew annually.
US$ 119
Tax calculation will be finalised during checkout.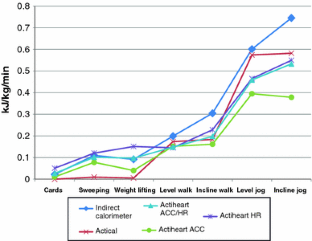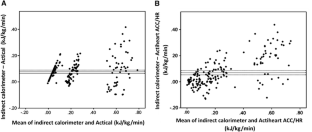 References
Ainsile P, Reilly T, Westerterp K (2003) Estimating human energy expenditure; a review of techniques with particular reference to doubly labelled water. Sports Med 33:683–698

Albanes D, Conway JM, Taylor PR, Moe PW, Judd J (1990) Validation and comparison of eight physical activity questionnaires. Epidemiology 1:65–71

Barreira TV, Kang M, Caputo JL, Farley S, Renfrow MS (2009) Validation of the Actiheart monitor for the measurement of physical activity. Int J Exerc Sci 2:60–71

Bland JM, Altman DG (1986) Statistical methods for assessing agreement between two methods of clinical measurement. Lancet 1:307–310

Brage S, Brage N, Franks PW, Ekelund U, Wong MY, Andersen LB, Froberg K, Wareham NJ (2003) Branched equation modeling of simultaneous accelerometry and heart rate monitoring improves estimate of directly measured physical activity energy expenditure. J Appl Physiol 96:343–351

Brage S, Brage N, Franks PW, Ekelund U, Wareham NJ (2005) Reliability and validity of the combined heart rate and movement sensor Actiheart. Eur J Clin Nutr 59:561–570

Brage S, Ekelund U, Brage N, Hennings MA, Froberg K, Franks PW, Wareham NJ (2007) Hierarchy of individual calibration levels for heart rate and accelerometry to measure physical activity. J Appl Physiol 103:682–692

Chen KY, Bassett DR Jr (2005) The technology of accelerometry-based activity monitors: current and future. Med Sci Sports Exerc 37:S490–S500

Corder K, Brage S, Wareham NJ, Ekelund U (2005) Comparison of PAEE from combined and separate heart rate and movement models in children. Med Sci Sports Exerc 37:1761–1767

Crouter SE, Bassett DR Jr (2008) A new 2-regression model for the Actical accelerometer. Br J Sports Med 42:217–224

Crouter SE, Churilla JR, Basset DR Jr (2006) Estimating energy expenditure using accelerometers. Eur J Appl Physiol 98:601–612

Crouter SE, Churilla JR, Bassett DR Jr (2008) Accuracy of the Actiheart for the assessment of energy expenditure in adults. Eur J Clin Nutr 62:704–711

Esliger DW, Tremblay MS (2006) Technical reliability assessment of three accelerometer models in a mechanical setup. Med Sci Sports Exerc 38:2173–2181

Fransson E, Knutsson A, Westerholm P, Alfredsson L (2008) Indications of recall bias found in a retrospective study of physical activity and myocardial infarction. J Clin Epidemiol 61:840–847

Haskell WL, Yee MC, Evans A, Irby PJ (1993) Simultaneous measurement of heart rate and body motion to quantitate physical activity. Med Sci Sports Exerc 25:109–115

Heil DP (2006) Predicting activity energy expenditure using the Actical activity monitor. Res Q Exerc Sport 77:64–80

Husswirth C, Bigard AX, Le Chevalier JM (1997) The Cosmed K4 telemetry system as an accurate device for oxygen uptake measurements during exercise. Int J Sports Med 18:449–453

Klippel N, Heil D (2003) Validation of energy expenditure prediction algorithms in adults using the Actical electronic activity monitor. Med Sci Sports Exerc 35:P284

Lissner L, Potischman N, Troiano R, Bengtsson C (2004) Recall of physical activity in the distant past: the 32-year follow-up of the prospective population study of women in Goteborg, Sweden. Am J Epidemiol 159:304–307

McLaughlin JE, King GA, Howley ET, Basset DR Jr, Ainsworth BE (2001) Validation of the COSMED K2 b2 portable metaobolic system. Int J Sports Med 22:280–284

Menz H, Lord S, RC F (2003) Acceleration patterns of the head and pelvis when walking on level and irregular surfaces. Gait Posture 18:35–46

Montoye HJ, Kemper HCG, Saris WHM, Washburn RA (1996) Measuring physical activity and energy expenditure. Human Kinetcs, Champaign

Moon JK, Butte NF (1996) Combined heart rate and activity improve estimates of oxygen consumption and carbon dioxide production rates. J Appl Physiol 81:1754–1761

Paffenbarger RS, Brand RJ, Sholtz RI, Jung DL (1978) Energy expenditure, cigarette smoking, and blood pressure level as related to death from specific diseases. Am J Epidemiol 108:12–18

Pfeiffer KA, Mciver KL, Dowda M, Almeida MJCA, Pate RR (2006) Validation and calibration of the Actical accelerometer in preschool children. Med Sci Sports Exerc 38:152–157

Prince F, Winter D, Stergiou P, Walt S (1994) Anticipatory control of upper body balance during human locomotion. Gait Posture 2:19–25

Ratcliffe R, Holt K (1997) Low frequency shock absorption in human walking. Gait Posture 5:93–100

Rennie KL, Wareham NJ (1998) The validation of physical acitivity instruments for measuring energy expenditure; problems and pitfalls. Public Health Nutr 1:265–271

Saltin B, Lindgarde F, Houston M, Horlin R, Nygaard E, Gad P (1979) Physical tolerance and glucose intolerance in middle-aged men with chemical diabetes. Diabetes 28:30–32

Speakman JR (1998) The history and theory of the doubly labelled water technique. Am J Clin Nutr 68:932s–938s

Strath SJ, Brage S, Ekelund U (2005) Integration of physiological and accelerometer data to improve physical activity assessment. Med Sci Sports Exerc 37:S563–S571

Thompson D, Batterhan AM, Bock S, Robson C, Stokes K (2006) Assessment of low-to-moderate intensity physical activity thermogenesis in young adults using syncrhonized heart rate and accelerometry with branch-equation modeling. J Nutr 136:1037–1042

US Department of Health and Human Services (2000) Healthy people 2010

Welk GJ, Schaben JA, Morrow JR Jr (2004) Reliability of accelerometry-based activity monitors: a generalizability study. Med Sci Sports Exerc 36:1637–1645
Acknowledgments
The authors of this manuscript certify that all experiments conducted during this study were in compliance with the current laws of the USA.
Conflict of interest
The authors declare that they have no conflict of interest.
Additional information
Communicated by Klaas Westerterp.
About this article
Cite this article
Spierer, D.K., Hagins, M., Rundle, A. et al. A comparison of energy expenditure estimates from the Actiheart and Actical physical activity monitors during low intensity activities, walking, and jogging. Eur J Appl Physiol 111, 659–667 (2011). https://doi.org/10.1007/s00421-010-1672-7
Accepted:

Published:

Issue Date:
Keywords
Heart rate

Accelerometry

Indirect calorimetry

Energy expenditure

Activity