Abstract
To compare the effects of an acute one versus three-set full body resistance training (RT) bout in eight overweight (mean ± SD, BMI = 25.6 ± 1.5 kg m−2) young (21.0 ± 1.5 years) adults on resting energy expenditure (REE) measured on four consecutive mornings following each protocol. Participants performed a single one-set or three-set whole body (10 exercises, 10 repetition maximum) RT bout following the American College of Sports Medicine (ACSM) guidelines for RT. REE and respiratory exchange ratio (RER) by indirect calorimetry were measured at baseline and at 24, 48, and 72 h after the RT bout. Participants performed each protocol in randomized, counterbalanced order separated by 7 days. There was no difference between protocols for REE or RER. However, REE was significantly (p < 0.05) elevated (~5% or ~400 kJ day−1) in both the protocols at 24, 48, and 72 h post RT bout compared with baseline. There was a no change in RER in both the protocols at 72 h compared to baseline. A one-set RT bout following the ACSM guidelines for RT and requiring only ~15 min to complete was as effective as a three-set RT bout (~35 min to complete) in elevating REE for up to 72 h post RT in overweight college males, a group at high risk of developing obesity. The one-set RT protocol may provide an attractive alternative to either aerobic exercise or multiple-set RT programs for weight management in young adults, due to the minimal time commitment and the elevation in REE post RT bout.
Access options
Buy single article
Instant access to the full article PDF.
USD 39.95
Price excludes VAT (USA)
Tax calculation will be finalised during checkout.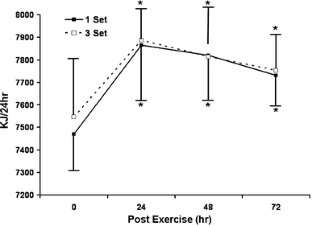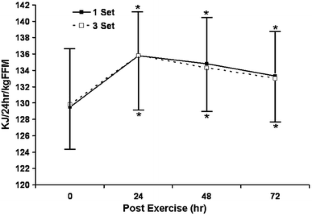 References
Bahr R (1992) Excess postexercise oxygen consumption—magnitude, mechanisms and practical implications. Acta Physiol Scand Suppl 605:1–70

Bangsbo J, Gollnick PD, Graham TE, Juel C, Kiens B, Mizuno M, Saltin B (1990) Anaerobic energy production and O2 deficit–debt relationship during exhaustive exercise in humans. J Physiol 422:539–559

Borsheim E, Bahr R (2003) Effect of exercise intensity, duration, and mode on postexercise oxygen consumption. Sports Med 33(14):1037–1060

Byrne HK, Wilmore JH (2001) The effects of a 20-week exercise training program on resting metabolic rate in previously sedentary, moderately obese women. Int.J Sport Nutr Exerc.Metab 11(1):15–31

Conley MS, Rozenek R (2001) National strength and conditioning association position statement: health aspects of resistance exercise and training. Strength Cond J 23(6):9–23

Dolezal BA, Potteiger JA (1998) Concurrent resistance and endurance training influence basal metabolic rate in non-dieting individuals. J Appl Physiol 85(2):695–700

Dolezal BA, Potteiger JA, Jacobsen DJ, Benedict SH (2000) Muscle damage and resting metabolic rate after acute resistance exercise with an eccentric overload. Med Sci Sports Exerc 32(7):1202–1207

Eyre H, Kahn R, Robertson RM (2004) Preventing cancer, cardiovascular disease, and diabetes: a common agenda for the American Cancer Society, the American Diabetes Association, and the American Heart Association. Diabetes Care 27(7):1812–1824

Gibson RS (1990) Principles of nutrition assessment. Oxford University Press, Oxford, pp 22–42

Gillette CA, Bullough RC, Melby CL (1994) Postexercise energy expenditure in response to acute aerobic or resistive exercise. Int J Sport Nutr 4(4):347–360

Grundy SM, Benjamin IJ, Burke GL, Chait A, Eckel RH, Howard BV, Mitch W, Smith SC Jr, Sowers JR (1999) Diabetes and cardiovascular disease: a statement for healthcare professionals from the American Heart Association. Circulation 100(10):1134–1146

Hackney KJ, Engels HJ, Gretebeck RJ (2008) Resting energy expenditure and delayed onset muscle soreness after full-body resistance training with an eccentric concentration. J Strength Cond Res 22(5):1602–1609

Haskell WL, Lee IM, Pate RR, Powell KE, Blair SN, Franklin BA, Macera CA, Heath GW, Thompson PD, Bauman A (2007) Physical activity and public health: updated recommendation for adults from the American College of Sports Medicine and the American Heart Association. Med Sci Sports Exerc 39(8):1423–1434

Haugen HA, Melanson EL, Tran ZV, Kearney JT, Hill JO (2003) Variability of measured resting metabolic rate. Am J Clin Nutr 78(6):1141–1145

Hill JO, Wyatt HR, Reed GW, Peters JC (2003) Obesity and the environment: where do we go from here? Science 299(5608):853–855

Hunter GR, Wetzstein CJ, Fields DA, Brown A, Bamman MM (2000) Resistance training increases total energy expenditure and free-living physical activity in older adults. J Appl Physiol 89(3):977–984

Jakicic JM, Clark K, Coleman E, Donnelly JE, Foreyt J, Melanson E, Volek J, Volpe SL (2001) American College of Sports Medicine position stand. Appropriate intervention strategies for weight loss and prevention of weight regain for adults. Med Sci Sports Exerc 33(12):2145–2156

Jamurtas AZ, Koutedakis Y, Paschalis V, Tofas T, Yfanti C, Tsiokanos A, Koukoulis G, Kouretas D, Loupos D (2004) The effects of a single bout of exercise on resting energy expenditure and respiratory exchange ratio. Eur J Appl Physiol 92(4–5):393–398

Jequier E, Acheson K, Schutz Y (1987) Assessment of energy expenditure and fuel utilization in man. Annu Rev Nutr 7:187–208

Kim PL, Staron RS, Phillips SM (2005) Fasted-state skeletal muscle protein synthesis after resistance exercise is altered with training. J Physiol 568(Pt 1):283–290

Kohrt WM (1998) Preliminary evidence that DEXA provides an accurate assessment of body composition. J Appl.Physiol 84(1):372–377

Lemmer JT, Ivey FM, Ryan AS, Martel GF, Hurlbut DE, Metter JE, Fozard JL, Fleg JL, Hurley BF (2001) Effect of strength training on resting metabolic rate and physical activity: age and gender comparisons. Med Sci Sports Exerc 33(4):532–541

McLaughlin JE, King GA, Howley ET, Bassett DR Jr, Ainsworth BE (2001) Validation of the COSMED K4b2 portable metabolic system. Int J Sports Med 22(4):280–284

Melby C, Scholl C, Edwards G, Bullough R (1993) Effect of acute resistance exercise on postexercise energy expenditure and resting metabolic rate. J Appl Physiol 75(4):1847–1853

Nindl BC, Alemany JA, Tuckow AP, Kellogg MD, Sharp MA, Patton JF (2009) Effects of exercise mode and duration on 24-h IGF-I system recovery responses. Med Sci Sports Exerc 41(6):1261–1270

Phillips WT, Ziuraitis JR (2003) Energy cost of the ACSM single-set resistance training protocol. J Strength Cond Res 17(2):350–355

Pollock ML, Franklin BA, Balady GJ, Chaitman BL, Fleg JL, Fletcher B, Limacher M, Pina IL, Stein RA, Williams M, Bazzarre T (2000) AHA Science Advisory. Resistance exercise in individuals with and without cardiovascular disease: benefits, rationale, safety, and prescription: an advisory from the Committee on Exercise, Rehabilitation, and Prevention, Council on Clinical Cardiology, American Heart Association; Position paper endorsed by the American College of Sports Medicine. Circulation 101(7):828–833

Pratley R, Nicklas B, Rubin M, Miller J, Smith A, Smith M, Hurley B, Goldberg A (1994) Strength training increases resting metabolic rate and norepinephrine levels in healthy 50- to 65-yr-old men. J Appl Physiol 76(1):133–137

Richardson MT, Leon AS, Jacobs DR Jr, Ainsworth BE, Serfass R (1994) Comprehensive evaluation of the Minnesota leisure time physical activity questionnaire. J Clin Epidemiol 47(3):271–281

Schuenke MD, Mikat RP, McBride JM (2002) Effect of an acute period of resistance exercise on excess post-exercise oxygen consumption: implications for body mass management. Eur J Appl Physiol 86(5):411–417

Taaffe DR, Pruitt L, Reim J, Butterfield G, Marcus R (1995) Effect of sustained resistance training on basal metabolic rate in older women. J Am Geriatr Soc 43(5):465–471

Welle S, Nair KS (1990) Relationship of resting metabolic rate to body composition and protein turnover. Am J Physiol 258(6 Pt 1):E990–E998

World Health Organization (WHO) (1985) Energy and protein requirements; report of Joint FAO/WHO/UNU Expert Consultation. WHO Technical Report 1985, pp 45–62
Aknowledgments
We would like to thank the participants who volunteered their time and effort for this study. Additionally, we thank the staff of the Exercise Physiology Lab for their time and expertise. This project was supported by The National Institute of Diabetes and Digestive and Kidney Diseases (5K01DK078738-03).
Conflict of interest
None.
Additional information
Communicated by Klaas Westerterp.
About this article
Cite this article
Heden, T., Lox, C., Rose, P. et al. One-set resistance training elevates energy expenditure for 72 h similar to three sets. Eur J Appl Physiol 111, 477–484 (2011). https://doi.org/10.1007/s00421-010-1666-5
Accepted:

Published:

Issue Date:

DOI: https://doi.org/10.1007/s00421-010-1666-5
Keywords
Strength training

Resting energy expenditure

Ratings of perceived muscle soreness

Postexercise metabolism