Abstract
The present study investigated the immediate efficacy of acupuncture compared to sham acupuncture and placebo laser acupuncture on strength performance. A total of 33 recreational athletes (25.2 ± 2.8 years; 13 women) were randomized to receive acupuncture, sham acupuncture (needling at non-acupuncture points) and placebo laser acupuncture (deactivated laser device) in a double-blind crossover fashion with 1 week between trials. Assessment included bipedal drop jumps for maximum rebound height and quadriceps maximum isometric voluntary force (MIVF). Furthermore, surface electromyography (EMG) was used to measure the EMG activity of the rectus femoris muscle during a 30-s sustained MIVF of the knee extensors. Mean power frequency (MPF) analysis was applied to characterize muscular endurance. Measurements were performed at baseline and immediately after treatment by a blinded investigator. Repeated measures ANOVA and post hoc paired-sample t test with Bonferroni–Holm correction were used for statistical analysis. The difference in the mean change in MIVF from baseline between acupuncture (46.6 N) and sham laser acupuncture (19.6 N) was statistically significant (p < 0.05), but no significant difference was found between acupuncture (46.6 N) and sham acupuncture (28.8 N). ANOVA did not show statistically significant treatment effects for drop jump height or MPF. The present study shows that a single acupuncture treatment was efficacious for improving isometric quadriceps strength in recreational athletes. These results might have implications not only for athletic performance enhancement, but also for rehabilitation programs aimed at restoring neuromuscular function.
Access options
Buy single article
Instant access to the full article PDF.
US$ 39.95
Tax calculation will be finalised during checkout.
Subscribe to journal
Immediate online access to all issues from 2019. Subscription will auto renew annually.
US$ 119
Tax calculation will be finalised during checkout.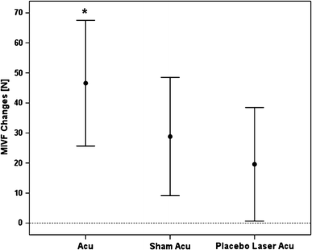 References
Akimoto T, Nakahori C, Aizawa K, Kimura F, Fukubayashi T, Kono I (2003) Acupuncture and responses of immunologic and endocrine markers during competition. Med Sci Sports Exerc 35(8):1296–1302

Arendt-Nielsen L, Mills KR, Forster A (1989) Changes in muscle fiber conduction velocity, mean power frequency, and mean EMG voltage during prolonged submaximal contractions. Muscle Nerve 12(6):493–497

Astin JA, Marie A, Pelletier KR, Hansen E, Haskell WL (1998) A review of the incorporation of complementary and alternative medicine by mainstream physicians. Arch Intern Med 158(21):2303–2310

Banzer W, Hübscher M, Pfab F, Ziesing A, Vogt L (2007) Acute effects of needle acupuncture on power performance during stretch–shortening cycle (Article in German). Forsch Komplementmed 14(2):81–85

Brinkhaus B, Witt CM, Jena S, Linde K, Streng A, Wagenpfeil S, Irnich D, Walther HU, Melchart D, Willich SN (2006) Acupuncture in patients with chronic low back pain: a randomized controlled trial. Arch Intern Med 166(4):450–457

Chae Y, Lee H, Kim H, Kim CH, Chang DI, Kim KM, Park HJ (2009) Parsing brain activity associated with acupuncture treatment in Parkinson's diseases. Mov Disord 24(12):1794–1802

Conwit RA, Stashuk D, Tracy B, McHugh M, Brown WF, Metter EJ (1999) The relationship of motor unit size, firing rate and force. Clin Neurophysiol 110(7):1270–1275

Dhillon S (2008) The acute effect of acupuncture on 20-km cycling performance. Clin J Sport Med 18(1):76–80

Faul F, Erdfelder E, Lang AG, Buchner A (2007) G*Power 3: a flexible statistical power analysis program for the social, behavioral, and biomedical sciences. Behav Res Methods 39(2):175–191

Fink M, Rollnik JD, Bijak M, Borstädt C, Däuper J, Guergueltcheva V, Dengler R, Karst M (2004) Needle acupuncture in chronic poststroke leg spasticity. Arch Phys Med Rehabil 85(4):667–672

Halin R, Germain P, Bercier S, Kapitaniak B, Buttelli O (2003) Neuromuscular response of young boys versus men during sustained maximal contraction. Med Sci Sports Exerc 35(6):1042–1048

Härtel U, Volger E (2004) Use and acceptance of classical natural and alternative medicine in Germany—findings of a representative population-based survey (Article in German). Forsch Komplementärmed Klass Naturheilkd 11(6):327–334

Hecker HU, Steveling A, Peuker E, Kastner J, Liebchen K (2008) Color atlas of acupuncture: body points, ear points, trigger points, 2nd edn. Georg Thieme Verlag, Stuttgart

Hermens HJ, Merletti R, Rix H, Freriks B (eds) (1999) The state of the art on signal processing methods for surface elektromyographie. SENIAM-deliverable 7, Roessingh Research and Development b.v

Hermens HJ, Freriks B, Disselhorst-Klug C, Rau G (2000) Development of recommendations for SEMG sensors and sensor placement procedures. J Electromyogr Kinesiol 10(5):361–374

Huang LP, Zhou S, Lu Z, Tian Q, Li X, Cao LJ, Yu JH, Wang H (2007) Bilateral effect of unilateral electroacupuncture on muscle strength. J Altern Complement Med 13(5):539–546

Hübscher M, Vogt L, Bernhörster M, Rosenhagen A, Banzer W (2008) Effects of acupuncture on symptoms and muscle function in delayed-onset muscle soreness. J Altern Complement Med 14(8):1011–1016

Irnich D, Behrens N, Gleditsch JM et al (2002) Immediate effects of dry needling and acupuncture at distant points in chronic neck pain: results of a randomized, double-blind, sham-controlled crossover trial. Pain 99(1–2):83–89

Kleinhenz J, Streitberger K, Windeler J, Gussbacher A, Mavridis G, Martin E (1999) Randomised clinical trial comparing the effects of acupuncture and a newly designed placebo needle in rotator cuff tendinitis. Pain 83(2):235–241

Kong J, Gollub R, Huang T, Polich G, Napadow V, Hui K, Vangel M, Rosen B, Kaptchuk TJ (2007) Acupuncture de qi, from qualitative history to quantitative measurement. J Altern Complement Med 13(10):1059–1070

Lo YL, Cui SL, Fook-Chong S (2005) The effect of acupuncture on motor cortex excitability and plasticity. Neurosci Lett 384(1–2):145–149

Maioli C, Falciati L, Marangon M, Perini S, Losio A (2006) Short- and long-term modulation of upper limb motor-evoked potentials induced by acupuncture. Eur J Neurosci 23(7):1931–1938

Manheimer E, White A, Berman B, Forys K, Ernst E (2005) Meta-analysis: acupuncture for low back pain. Ann Intern Med 142(8):651–663

Melchart D, Streng A, Hoppe A, Brinkhaus B, Witt C, Wagenpfeil S, Pfaffenrath V, Hammes M, Hummelsberger J, Irnich D, Weidenhammer W, Willich SN, Linde K (2005) Acupuncture in patients with tension-type headache: randomised controlled trial. BMJ 331(7513):376–382

Meleger A, Borg-Stein J (2000) Acupuncture and sports medicine: a review of published studies. Med Acupunct 11(2):21–24

Nahin RL, Barnes PM, Stussman BJ, Bloom B (2009) Costs of complementary and alternative medicine (CAM) and frequency of visits to CAM practitioners: United States, 2007. Natl Health Stat Report 18:1–14

Näslund J, Näslund UB, Odenbring S, Lundeberg T (2002) Sensory stimulation (acupuncture) for the treatment of idiopathic anterior knee pain. J Rehabil Med 34(5):231–238

Nichols AW, Harrigan R (2006) Complementary and alternative medicine usage by intercollegiate athletes. Clin J Sport Med 16(3):232–237

Paterson C, Dieppe P (2005) Characteristic and incidental (placebo) effects in complex interventions such as acupuncture. BMJ 330(7501):1202–1205

Pelham TW, Holt LE, Stalker R (2001) Acupuncture in human performance. J Strength Cond Res 15(2):266–271

Pfeifer K, Banzer W (1999) Motor performance in different dynamic tests in knee rehabilitation. Scand J Med Sci Sports 9(1):19–27

Pfeifer K, Vogt L, Banzer W (2002) Measurement positions and their reproducibility in the assessment of maximum isometric voluntary force of different muscle groups (Article in German). Gesundheitssport Sportther 18:4–9

Scaglioni G, Ferri A, Minetti AE et al (2002) Plantar flexor activation capacity and H reflex in older adults: adaptations to strength training. J Appl Physiol 92(6):2292–2302

Scharf HP, Mansmann U, Streitberger K, Witte S, Kramer J, Maier C, Trampisch HJ, Victor N (2006) Acupuncture and knee osteoarthritis: a three-armed randomized trial. Ann Intern Med 145(1):12–20

Toma K, Conatser RR, Gilders RM, Hagerman FC (1998) The effects of acupuncture needle stimulation on skeletal muscle activity and performance. J Strength Cond Res 12(4):253–257

Trinh KV, Phillips SD, Ho E, Damsma K (2004) Acupuncture for the alleviation of lateral epicondyle pain: a systematic review. Rheumatology (Oxford) 43(9):1085–1090

Trinh KV, Graham N, Gross AR, Goldsmith CH, Wang E, Cameron ID, Kay T (2006) Cervical overview group. Acupuncture for neck disorders. Cochrane Database Syst Rev 3:CD004870

Wadsworth LT (2006) Acupuncture in sports medicine. Curr Sports Med Rep 5(1):1–3

White P, Golianu B, Zaslawski C, Seung-Hoon C (2006) Meeting report: standardization of nomenclature in acupuncture research (SoNAR). Evid Based Complement Alternat Med 4(2):267–270

Witt C, Brinkhaus B, Jena S, Linde K, Streng A, Wagenpfeil S, Hummelsberger J, Walther HU, Melchart D, Willich SN (2005) Acupuncture in patients with osteoarthritis of the knee: a randomised trial. Lancet 366:136–143
Acknowledgments
This study was supported by a grant from the German Medical Association of Acupuncture.
Additional information
Communicated by Alain Martin.
About this article
Cite this article
Hübscher, M., Vogt, L., Ziebart, T. et al. Immediate effects of acupuncture on strength performance: a randomized, controlled crossover trial. Eur J Appl Physiol 110, 353–358 (2010). https://doi.org/10.1007/s00421-010-1510-y
Accepted:

Published:

Issue Date:
Keywords
Sham acupuncture

Placebo laser

Muscle performance

Athletes