Abstract
In exercise physiology, it has been traditionally assumed that high-intensity aerobic exercise stops at the point commonly called exhaustion because fatigued subjects are no longer able to generate the power output required by the task despite their maximal voluntary effort. We tested the validity of this assumption by measuring maximal voluntary cycling power before (mean ± SD, 1,075 ± 214 W) and immediately after (731 ± 206 W) (P < 0.001) exhaustive cycling exercise at 242 ± 24 W (80% of peak aerobic power measured during a preliminary incremental exercise test) in ten fit male human subjects. Perceived exertion during exhaustive cycling exercise was strongly correlated (r = −0.82, P = 0.003) with time to exhaustion (10.5 ± 2.1 min). These results challenge the long-standing assumption that muscle fatigue causes exhaustion during high-intensity aerobic exercise, and suggest that exercise tolerance in highly motivated subjects is ultimately limited by perception of effort.
Access options
Buy single article
Instant access to the full article PDF.
US$ 39.95
Tax calculation will be finalised during checkout.
Subscribe to journal
Immediate online access to all issues from 2019. Subscription will auto renew annually.
US$ 119
Tax calculation will be finalised during checkout.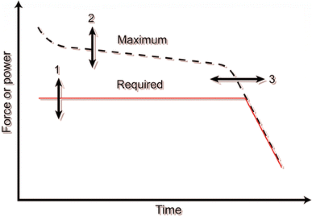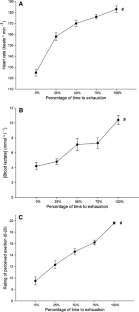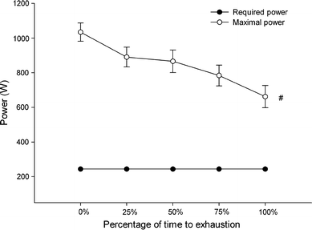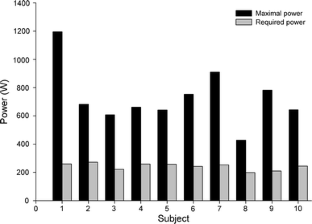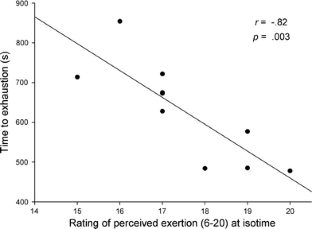 References
Allen DG, Lamb GD, Westerblad H (2008) Skeletal muscle fatigue: cellular mechanisms. Physiol Rev 88(1):287–332

Amann M, Calbet JA (2008) Convective oxygen transport and fatigue. J Appl Physiol 104(3):861–870

Amann M, Romer LM, Pegelow DF, Jacques AJ, Hess CJ, Dempsey JA (2006) Effects of arterial oxygen content on peripheral locomotor muscle fatigue. J Appl Physiol 101(1):119–127

Amann M, Romer LM, Subudhi AW, Pegelow DF, Dempsey JA (2007) Severity of arterial hypoxaemia affects the relative contributions of peripheral muscle fatigue to exercise performance in healthy humans. J Physiol 581(Pt 1):389–403

Barry BK, Enoka RM (2007) The neurobiology of muscle fatigue: 15 years later. Integr Comp Biol 47(4):465–473

Beelen A, Sargeant AJ (1991) Effect of fatigue on maximal power output at different contraction velocities in humans. J Appl Physiol 71(6):2332–2337

Borg GA (1998) Borg's perceived exertion and pain scales. Human Kinetics, Champaign

Brehm JW, Self EA (1989) The intensity of motivation. Annu Rev Psychol 40:109–131

Burnley M, Jones AM (2007) Oxygen uptake kinetics as a determinant of sports performance. Eur J Sport Sci 7(2):63–79

Cabanac M (1986) Money versus pain: experimental study of a conflict in humans. J Exp Anal Behav 46(1):37–44

Coyle EF, Coggan AR, Hopper MK, Walters TJ (1988) Determinants of endurance in well-trained cyclists. J Appl Physiol 64(6):2622–2630

Crewe H, Tucker R, Noakes TD (2008) The rate of increase in rating of perceived exertion predicts the duration of exercise to fatigue at a fixed power output in different environmental conditions. Eur J Appl Physiol 103(5):569–577

Deschenes MR, Kraemer WJ, McCoy RW, Volek JS, Turner BM, Weinlein JC (2000) Muscle recruitment patterns regulate physiological responses during exercise of the same intensity. Am J Physiol Regul Integr Comp Physiol 279(6):R2229–R2236

Enoka RM, Duchateau J (2008) Muscle fatigue: what, why and how it influences muscle function. J Physiol 586(1):11–23

Eston R, Faulkner J, St Clair Gibson A, Noakes T, Parfitt G (2007) The effect of antecedent fatiguing activity on the relationship between perceived exertion and physiological activity during a constant load exercise task. Psychophysiology 44(5):779–786

Ferguson C, Whipp BJ, Cathcart AJ, Rossiter HB, Turner AP, Ward SA (2007) Effects of prior very-heavy intensity exercise on indices of aerobic function and high-intensity exercise tolerance. J Appl Physiol 103(3):812–822

Fitts RH (2008) The cross-bridge cycle and skeletal muscle fatigue. J Appl Physiol 104(2):551–558

Gagnon P, Saey D, Vivodtzev I, Laviolette L, Mainguy V, Milot J, Provencher S, Maltais F (2009) Impact of preinduced quadriceps fatigue on exercise response in chronic obstructive pulmonary disease and healthy subjects. J Appl Physiol 107(3):832–840

Gandevia SC (2001) Spinal and supraspinal factors in human muscle fatigue. Physiol Rev 81(4):1725–1789

Gandevia SC, Taylor JL, Butler JE (2000) Stopping exercise: role of pulmonary C fibers and inhibition of motoneurons. News Physiol Sci 15:241–245

Gulati M, Black HR, Shaw LJ, Arnsdorf MF, Merz CN, Lauer MS, Marwick TH, Pandey DK, Wicklund RH, Thisted RA (2005) The prognostic value of a nomogram for exercise capacity in women. N Engl J Med 353(5):468–475

Horstman DH, Morgan WP, Cymerman A, Stokes J (1979) Perception of effort during constant work to self-imposed exhaustion. Percept Mot Skills 48(3 Pt 2):1111–1126

Hortobagyi T, Mizelle C, Beam S, DeVita P (2003) Old adults perform activities of daily living near their maximal capabilities. J Gerontol A Biol Sci Med Sci 58(5):M453–M460

Hunter SK, Critchlow A, Shin IS, Enoka RM (2004) Fatigability of the elbow flexor muscles for a sustained submaximal contraction is similar in men and women matched for strength. J Appl Physiol 96(1):195–202

Hunter SK, Yoon T, Farinella J, Griffith EE, Ng AV (2008) Time to task failure and muscle activation vary with load type for a submaximal fatiguing contraction with the lower leg. J Appl Physiol 105(2):463–472

Jacobs I, Bell DG (2004) Effects of acute modafinil ingestion on exercise time to exhaustion. Med Sci Sports Exerc 36(6):1078–1082

Kuipers H, Verstappen FT, Keizer HA, Geurten P, van Kranenburg G (1985) Variability of aerobic performance in the laboratory and its physiologic correlates. Int J Sports Med 6(4):197–201

Lepers R, Millet GY, Maffiuletti NA (2001) Effect of cycling cadence on contractile and neural properties of knee extensors. Med Sci Sports Exerc 33(11):1882–1888

Marcora SM (2008) Do we really need a central governor to explain brain regulation of exercise performance? Eur J Appl Physiol 104(5):929–931

Marcora S (2009) Perception of effort during exercise is independent of afferent feedback from skeletal muscles, heart, and lungs. J Appl Physiol 106(6):2060–2062

Marcora SM, Bosio A, de Morree HM (2008) Locomotor muscle fatigue increases cardiorespiratory responses and reduces performance during intense cycling exercise independently from metabolic stress. Am J Physiol Regul Integr Comp Physiol 294(3):R874–R883

Marcora SM, Staiano W, Manning V (2009) Mental fatigue impairs physical performance in humans. J Appl Physiol 106(3):857–864

Martin BJ (1981) Effect of sleep deprivation on tolerance of prolonged exercise. Eur J Appl Physiol Occup Physiol 47(4):345–354

McKenna MJ, Hargreaves M (2008) Resolving fatigue mechanisms determining exercise performance: integrative physiology at its finest!. J Appl Physiol 104(1):286–287

McKenna MJ, Bangsbo J, Renaud JM (2008) Muscle K+, Na+, and Cl disturbances and Na+-K+ pump inactivation: implications for fatigue. J Appl Physiol 104(1):288–295

Myers J, Prakash M, Froelicher V, Do D, Partington S, Atwood JE (2002) Exercise capacity and mortality among men referred for exercise testing. N Engl J Med 346(11):793–801

Nakamura FY, Okuno NM, Perandini LA, S Caldeira LF, Simoes HG, Cardoso JR, Bishop DJ (2008) Critical power can be estimated from nonexhaustive tests based on rating of perceived exertion responses. J Strength Cond Res 22(3):937–943

Newman AB, Simonsick EM, Naydeck BL, Boudreau RM, Kritchevsky SB, Nevitt MC, Pahor M, Satterfield S, Brach JS, Studenski SA et al (2006) Association of long-distance corridor walk performance with mortality, cardiovascular disease, mobility limitation, and disability. JAMA 295(17):2018–2026

Noakes TD (2008) RPE as a predictor of the duration of exercise that remains until exhaustion. Br J Sports Med. doi:10.1136/bjsm.2007.043612

Noakes TD, St Clair Gibson A (2004) Logical limitations to the "catastrophe" models of fatigue during exercise in humans. Br J Sports Med 38(5):648–649

Noble BJ, Robertson RJ (1996) Perceived exertion. Human Kinetics, Champaign

Pessiglione M, Schmidt L, Draganski B, Kalisch R, Lau H, Dolan RJ, Frith CD (2007) How the brain translates money into force: a neuroimaging study of subliminal motivation. Science 316(5826):904–906

Romer LM, Haverkamp HC, Amann M, Lovering AT, Pegelow DF, Dempsey JA (2007) Effect of acute severe hypoxia on peripheral fatigue and endurance capacity in healthy humans. Am J Physiol Regul Integr Comp Physiol 292(1):R598–R606

Sargeant AJ (2007) Structural and functional determinants of human muscle power. Exp Physiol 92(2):323–331

Sargeant AJ, Dolan P (1987) Effect of prior exercise on maximal short-term power output in humans. J Appl Physiol 63(4):1475–1480

Secher NH, Seifert T, Van Lieshout JJ (2008) Cerebral blood flow and metabolism during exercise: implications for fatigue. J Appl Physiol 104(1):306–314

Sidhu SK, Bentley DJ, Carroll TJ (2009) Locomotor exercise induces long-lasting impairments in the capacity of the human motor cortex to voluntarily activate knee extensor muscles. J Appl Physiol 106(2):556–565

Taylor JL, Gandevia SC (2008) A comparison of central aspects of fatigue in submaximal and maximal voluntary contractions. J Appl Physiol 104(2):542–550

Taylor BJ, Romer LM (2008) Effect of expiratory muscle fatigue on exercise tolerance and locomotor muscle fatigue in healthy humans. J Appl Physiol 104(5):1442–1451

Walsh ML (2000) Whole body fatigue and critical power: a physiological interpretation. Sports Med 29(3):153–166

Williamson JW, McColl R, Mathews D, Mitchell JH, Raven PB, Morgan WP (2001) Hypnotic manipulation of effort sense during dynamic exercise: cardiovascular responses and brain activation. J Appl Physiol 90(4):1392–1399

Wilmore JH (1968) Influence of motivation on physical work capacity and performance. J Appl Physiol 24(4):459–463

Wittekind AL, Micklewright D, Beneke R (2009) Teleoanticipation in all-out short duration cycling. Br J Sports Med. doi:10.1136/bjsm.2009.061580

Wright RA (1998) Ability perception and cardiovascular response to behavioral challenge. In: Kofka M, Weary G, Sedek G (eds) Personal control in action: cognitive and motivational mechanisms. Guilford, New York, pp 197–232

Wright RA (2008) Refining the prediction of effort: Brehm's distinction between potential motivation and motivation intensity. Soc Pers Psychol Compass 2(2):682–701

Yano T, Yunoki T, Ogata H (2001) Relationship between the slow component of oxygen uptake and the potential reduction in maximal power output during constant-load exercise. J Sports Med Phys Fit 41(2):165–169

Yoon T, Schlinder Delap B, Griffith EE, Hunter SK (2007) Mechanisms of fatigue differ after low- and high-force fatiguing contractions in men and women. Muscle Nerve 36(4):515–524
Acknowledgments
The authors are grateful to all participants for their effort during testing, to Mr. Kevin Williams for technical assistance, and to Mr. Gethin Wyn Francis for assistance with subject recruitment and testing. Funding for this study was provided by the School of Sport, Health and Exercise Sciences, Bangor University.
Conflict of interest statement
None.
About this article
Cite this article
Marcora, S.M., Staiano, W. The limit to exercise tolerance in humans: mind over muscle?. Eur J Appl Physiol 109, 763–770 (2010). https://doi.org/10.1007/s00421-010-1418-6
Accepted:

Published:

Issue Date:
Keywords
Muscle fatigue

Exercise tolerance

Performance

Perceived exertion

Muscle power

Motivation

Effort