Abstract
There is some evidence to suggest isometric training can reduce resting blood pressure in a shorter period than the typical 8 weeks, reported most commonly. The purpose of the present study was to explore whether 4 weeks of bilateral-leg isometric training can reduce resting blood pressure, and whether these changes are associated with altered cardiac output or total peripheral resistance. Thirteen participants volunteered for a 4-week crossover training study, involving three sessions per week (each session involving 4 × 2 min bilateral-leg isometric exercise). The training intensity used (95% peak HR) was equivalent to 24% MVC. In addition to blood pressure, resting heart rate, cardiac output, stroke volume, and total peripheral resistance were measured. Results demonstrated that bilateral-leg isometric exercise training for 4 weeks caused significant reductions in systolic, diastolic, and mean arterial pressure. Changes were −4.9 ± 5.8, −2.8 ± 3.2, and −2.7 ± 2.4 mmHg, respectively. No differences were observed in the other resting measures. In conclusion, this study has shown that it is possible to induce reductions in arterial blood pressure after 4 weeks of bilateral-leg isometric exercise.
This is a preview of subscription content, log in to check access.
Access options
Buy single article
Instant access to the full article PDF.
US$ 39.95
Price includes VAT for USA
Subscribe to journal
Immediate online access to all issues from 2019. Subscription will auto renew annually.
US$ 199
This is the net price. Taxes to be calculated in checkout.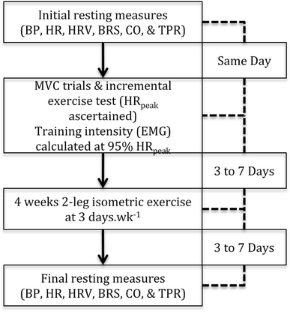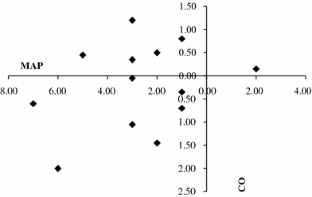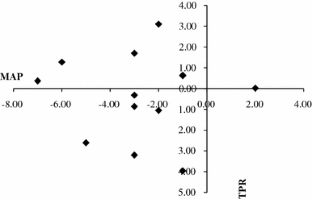 References
Alkner B, Tesch PA, Berg HE (2000) Quadriceps EMG/force relationship in knee extension and leg press. Med Sci Sports Exerc 32:459–463

Alomari MA, Welsch MA (2007) Regional changes in reactive hyperemic blood flow during exercise training: time-course adaptations. Dyn Med. doi: 10.1186/1476-5918-6-1

Beaubien ER, Card CM, Card SE, Biem HJ, Wilson TW (2002) Accuracy of the Dinamap 1846 XT automated blood pressure monitor. J Hum Hypertens 16(9):647–652

Damgaard M, Norsk P (2005) Effects of ventilation on cardiac output determined by inert gas rebreathing. Clinl Physiol Funct Imaging 25:142–147

Drouin JM, Valovich-McLeod TC, Shultz SJ, Gansneder BM, Perrin DH (2004) Reliability and validity of the Biodex System 3 Pro isokinetic dynamometer: velocity, torque, and position measurements. Eur J Appl Physiol 91:22–29

Field A (2000) Discovering statistics: using SPSS for windows. Sage, London

Green DJ, Cable NT, Fox C, Rankin JM, Taylor RR (1994) Modification of forearm resistance vessels by exercise training in young men. J Appl Physiol 77:1829–1833

Howden R, Lightfoot T, Brown S, Swaine IL (2002) Orthostatic tolerance and blood pressure after isometric training in humans. Exp Physiol 87:507–515

Iellamo F, Massaro M, Raimondi G, Peruzzi G, Legramante JM (1999) Role of muscular factors in cardiorespiratory responses to static exercise: contribution of reflex mechanisms. J Appl Physiol 86:174–180

Lewis JE, Boyle E, Magharious L, Myers MG (2002) Evaluation of a community-based automated blood pressure measuring device. CMAJ 166(9):1145–1148

Magnusson S, Geismar RA, Gleim GW, Nicholas JA (1993) The effect of stabilization on isokinetic knee extension and flexion torque production. J Athl Train 28:51–52

McCloskey DI, Mitchell JH (1972) Reflex cardiovascular and respiratory responses originating in exercising muscle. J Physiol 224:173–186

McGowan CLM, Visocchi A, Faulkner M, Rakobowchuk M, McCartney N, MacDonald MJ (2004) Isometric handgrip training improves blood pressure and endothelial function in persons medicated for hypertension (Abstract). Physiologist 47:285

Mendler HM (1976) Effect of stabilization on maximum isometric knee extensor force. Phys Ther 47:375–379

Millar PJ, Bray SR, McGowan CL, MacDonald MJ, McCartney N (2007) Effects of isometric handgrip training among people medicated for hypertension: a multilevel analysis. Blood Press Monit 12:307–314

Mitchell JH (1990) Neural control of the circulation during exercise. Med Sci Sports Exerc 22:141–154

Mitchell JH, Schmidt RF (1983) Cardiovascular reflex control by afferent fibers from skeletal muscle receptors. In: Handbook of physiology. The cardiovascular system. Peripheral circulation and organ blood flow. Bethesda, MD, Am Physiol Soc, Sect. 2, vol III, pt. 2, Chap 17, p 623–658

Mitchell JH, Payne FC, Saltin B, Schibye B (1980) The role of muscle mass in the cardiovascular response to static contractions. J Physiol 309:45–54

Oblouck G (1987) Haemodynamic Monitoring. WB Saunders, Philadelphia

Pemberton J, Xiaokui L, Karamlou T, Sandquist CA, Thiele K, Shen I, Ungerleider RM, Kenny A, Sahn DJ (2005) The use of live three-dimensional Doppler echocardiography in the measurement of cardiac output. J Am Coll Cardiol 45(3):433–438

Ray CA, Carrasco DI (2000) Isometric handgrip training reduces arterial pressure at rest without changes in sympathetic nerve activity. Am J Physiol Heart Circ Physiol 279:H245–H249

Rowell LB, O'Leary DS (1990) Reflex control of the circulation during exercise: chemoreflexes and mechanoreflexes. J Appl Physiol 69:407–418

Seals DR (1989) Influence of muscle mass on sympathetic neural activation during isometric exercise. J Appl Physiol 67(5):1801–1806

Seals DR, Washburn RA, Hanson PG, Painter PL, Nagle FJ (1983) Increased cardiovascular response to static contraction of larger muscle groups. J Appl Physiol 54:434–437

Taylor AC, McCartney N, Kamath MV, Wiley RL (2003) Isometric training lowers resting blood pressure and modulates autonomic control. Med Sci Sports Exerc 35:251–256

Turner MJ, Tanaka H, Bassett DR Jr, Fitton TR (1996) The equilibrium CO2 rebreathing method does not affect resting or exercise blood pressure. Med Sci Sports Exerc 28:921–925

Vanhees L, Defoor J, Schepers D, Brusselle S, Reybrouck T, Fagard R (2000) Comparison of cardiac output measured by two automated methods of CO2 rebreathing. Med Sci Sports Exerc 32(5):1028–1034

Walker AJ, Bassett DR Jr, Duey WJ, Howley ET, Bond V, Torok DT, Mancuso P (1992) Cardiovascular and plasma catecholamine response to exercise in blacks and whites. Hypertension 20:542–548

Wiles JD, Allum SR, Coleman DA, Swaine IL (2007) The relationships between exercise intensity, heart rate, and blood pressure during an incremental isometric exercise test. J Sport Sci 26(2):155–162

Wiles JD, Coleman DA, Swaine IL (2009) The effects of performing isometric training at two intensities in healthy young males. Eur J Appl Physiol. doi:10.1007/s00421-009-1025-6

Wiley RL, Dunn CL, Cox RH, Hueppchen NA, Scott MS (1992) Isometric exercise training lowers resting blood pressure. Med Sci Sports Exerc 24(7):749–754
Additional information
Communicated by Niels Secher.
About this article
Cite this article
Devereux, G.R., Wiles, J.D. & Swaine, I.L. Reductions in resting blood pressure after 4 weeks of isometric exercise training. Eur J Appl Physiol 109, 601–606 (2010). https://doi.org/10.1007/s00421-010-1394-x
Accepted:

Published:

Issue Date:
Keywords
Arterial blood pressure

Isometric exercise

Muscle mass

Vascular conductance