Abstract
The aim of this study was to compare the effect of passive in- (IN) versus out-of-(OUT) water recovery on performance during repeated maximal sprint swimming. Nine well-trained male swimmers (21 ± 3.5 years) performed six repeated maximal 50-m sprints (RS), departing every 2 min, interspersed with either IN or OUT recovery. Best (RSb) and mean (RSm) RS times, percentage speed decrement (%Dec) and between-sprint heart rate recovery (HRR80s) were calculated for both conditions. Blood lactate was measured after the third ([La]b S3) and sixth sprints (post [La]b). Rating of perceived recovery level (REC) and exertion (RPE) were collected before and after each sprint. Repeated sprint performance was significantly lower in the OUT condition (i.e., for RSm, P = 0.02, +1.3%, 90% CI −0.7, 3.2%). OUT was also associated with poorer HRR80s (P < 0.001, −23%, 90% CI −34, −10%) and higher [La]b S3 (P < 0.01, +13%, 90% CI −1, 29%). Post [La]b, however, was similar (P = 0.44, +1%, 90% CI −7, 10%). RPE and REC were not significantly different between the two conditions (all P > 0.43). To conclude, present results confirm the beneficial effect of the IN condition on repeated swim sprint performance, but also suggest that the OUT recovery modality could be an effective training practice for eliciting a low intramuscular energy status.
Access options
Buy single article
Instant access to the full article PDF.
USD 39.95
Price excludes VAT (USA)
Tax calculation will be finalised during checkout.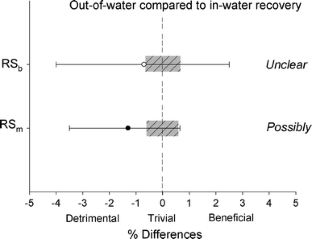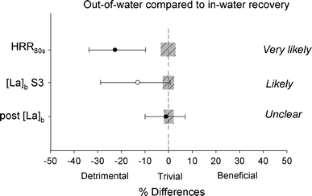 References
Arborelius M Jr, Ballidin UI, Lilja B, Lundgren CE (1972) Hemodynamic changes in man during immersion with the head above water. Aerosp Med 43:592–598

Batterham AM, Hopkins WG (2006) Making meaningful inferences about magnitudes. Int J Sports Physiol Perform 1:50–57

Buchheit M, Al Haddad H, Laursen PB, Ahmaidi S (2009a) Effect of body posture on postexercise parasympathetic reactivation in men. Exp Physiol 94:795–804

Buchheit M, Cormie P, Abbiss CR, Ahmaidi S, Nosaka KK, Laursen PB (2009b) Muscle deoxygenation during repeated sprint running: effect of active vs. passive recovery. Int J Sports Med 30:418–425

Buchheit M, Peiffer JJ, Abbiss CR, Laursen PB (2009c) Effect of cold water immersion on post-exercise parasympathetic reactivation. Am J Physiol Heart Circ Physiol 296:H421–H427

Burgomaster KA, Howarth KR, Phillips SM, Rakobowchuk M, Macdonald MJ, McGee SL, Gibala MJ (2008) Similar metabolic adaptations during exercise after low volume sprint interval and traditional endurance training in humans. J Physiol 586:151–160

Christmass MA, Dawson B, Arthur PG (1999) Effect of work and recovery duration on skeletal muscle oxygenation and fuel use during sustained intermittent exercise. Eur J Appl Physiol Occup Physiol 80:436–447

Cohen J (1988) Statistical power analysis for the behavioral sciences. Lawrence Erlbaum, Hillsdale

Gibala MJ, Little JP, van Essen M, Wilkin GP, Burgomaster KA, Safdar A, Raha S, Tarnopolsky MA (2006) Short-term sprint interval versus traditional endurance training: similar initial adaptations in human skeletal muscle and exercise performance. J Physiol 575:901–911

Gibala MJ, McGee SL, Garnham AP, Howlett KF, Snow RJ, Hargreaves M (2009) Brief intense interval exercise activates AMPK and p38 MAPK signaling and increases the expression of PGC-1alpha in human skeletal muscle. J Appl Physiol 106:929–934

Gladden LB (2004) Lactate metabolism: a new paradigm for the third millennium. J Physiol 558:5–30

Glaister M, Stone MH, Stewart AM, Hughes M, Moir GL (2004) The reliability and validity of fatigue measures during short-duration maximal-intensity intermittent cycling. J Strength Cond Res 18:459–462

Haseler LJ, Hogan MC, Richardson RS (1999) Skeletal muscle phosphocreatine recovery in exercise-trained humans is dependent on O2 availability. J Appl Physiol 86:2013–2018

Hopkins WG, Marshall SW, Batterham AM, Hanin J (2009) Progressive statistics for studies in sports medicine and exercise science. Med Sci Sports Exerc 41:3–13

Maglischo E (2003) Swimming fastest. Human Kinetics, Champaign

Mohr M, Krustrup P, Nielsen JJ, Nybo L, Rasmussen MK, Juel C, Bangsbo J (2007) Effect of two different intense training regimens on skeletal muscle ion transport proteins and fatigue development. Am J Physiol Regul Integr Comp Physiol 292:R1594–R1602

Nakamura K, Takahashi H, Shimai S, Tanaka M (1996) Effects of immersion in tepid bath water on recovery from fatigue after submaximal exercise in man. Ergonomics 39:257–266

Oliver JL (2009) Is a fatigue index a worthwhile measure of repeated sprint ability? J Sci Med Sport 12:20–23

Park KS, Choi JK, Park YS (1999) Cardiovascular regulation during water immersion. Appl Hum Sci 18:233–241

Poyhonen T, Keskinen KL, Hautala A, Savolainen J, Malkia E (1999) Human isometric force production and electromyogram activity of knee extensor muscles in water and on dry land. Eur J Appl Physiol Occup Physiol 80:52–56

Pyne DB, Boston T, Martin DT, Logan A (2000) Evaluation of the Lactate Pro blood lactate analyser. Eur J Appl Physiol 82:112–116

Ross A, Leveritt M (2001) Long-term metabolic and skeletal muscle adaptations to short-sprint training: implications for sprint training and tapering. Sports Med 31:1063–1082

Spencer M, Bishop D, Dawson B, Goodman C (2005) Physiological and metabolic responses of repeated-sprint activities: specific to field-based team sports. Sports Med 35:1025–1044

Spencer M, Bishop D, Dawson B, Goodman C, Duffield R (2006) Metabolism and performance in repeated cycle sprints: active versus passive recovery. Med Sci Sports Exerc 38:1492–1499

Tomasik M (1983) Effect of hydromassage on changes in blood electrolyte and lactic acid levels and haematocrit value after maximal effort. Acta Physiol Pol 34:257–261

Toubekis AG, Douda HT, Tokmakidis SP (2005) Influence of different rest intervals during active or passive recovery on repeated sprint swimming performance. Eur J Appl Physiol 93:694–700

Toubekis AG, Smilios I, Bogdanis GC, Mavridis G, Tokmakidis SP (2006) Effect of different intensities of active recovery on sprint swimming performance. Appl Physiol Nutr Metab 31:709–716

Toubekis AG, Peyrebrune MC, Lakomy HK, Nevill ME (2008a) Effects of active and passive recovery on performance during repeated-sprint swimming. J Sports Sci 30:1–9 [Epub ahead of print]

Toubekis AG, Tsolaki A, Smilios I, Douda HT, Kourtesis T, Tokmakidis SP (2008b) Swimming performance after passive and active recovery of various durations. Int J Sports Physiol Perform 3:375–386

Vaile J, Halson S, Gill N, Dawson B (2008) Effect of hydrotherapy on the signs and symptoms of delayed onset muscle soreness. Eur J Appl Physiol 102:447–455

Viitasalo JT, Niemela K, Kaappola R, Korjus T, Levola M, Mononen HV, Rusko HK, Takala TE (1995) Warm underwater water-jet massage improves recovery from intense physical exercise. Eur J Appl Physiol Occup Physiol 71:431–438

Wilcock IM, Cronin JB, Hing WA (2006) Physiological response to water immersion: a method for sport recovery? Sports Med 36:747–765
Acknowledgments
The authors thank the swimmers for their enthusiastic participation, Jonathan Parouty and Pierre Ufland for their help in data collection, as well as Will Hopkins and Pitre Bourdon for their help during the revision of the manuscript.
Additional information
Communicated by Jean-René Lacour.
About this article
Cite this article
Buchheit, M., Al Haddad, H., Chivot, A. et al. Effect of in- versus out-of-water recovery on repeated swimming sprint performance. Eur J Appl Physiol 108, 321–327 (2010). https://doi.org/10.1007/s00421-009-1212-5
Accepted:

Published:

Issue Date:

DOI: https://doi.org/10.1007/s00421-009-1212-5
Keywords