Abstract
The aim of this study was to determine the differential effects of three commonly used crank lengths (170, 172.5 and 175 mm) on performance measures relevant to female cross-country mountain bike athletes (n = 7) of similar stature. All trials were performed in a single blind and balanced order with a 5- to 7-day period between trials. Both saddle height and fore-aft position to pedal axle distance at a crank angle of 90° was controlled across all trials. The laboratory tests comprised a supra-maximal (peak power-cadence); an isokinetic (50 rpm) test; and a maximal test of aerobic capacity. The time to reach supra-maximal peak power was significantly (P < 0.05) shorter in the 170 mm (2.57 ± 0.79 s) condition compared to 175 mm (3.29 ± 0.76 s). This effect represented a mean performance advantage of 27.8% for 170 mm compared to 175 mm. There was no further inter-condition differences between performance outcome measurements derived for the isokinetic (50 rpm) maximum power output, isokinetic (50 rpm) mean power output or indices of endurance performance. The decreased time to peak power with the greater rate of power development in the 170 mm condition suggests a race advantage may be achieved using a shorter crank length than commonly observed. Additionally, there was no impediment to either power output produced at low cadences or indices of endurance performance using the shorter crank length and the advantage of being able to respond quickly to a change in terrain could be of strategic importance to elite athletes.
This is a preview of subscription content, log in to check access.
Access options
Buy single article
Instant access to the full article PDF.
US$ 39.95
Price includes VAT for USA
Subscribe to journal
Immediate online access to all issues from 2019. Subscription will auto renew annually.
US$ 199
This is the net price. Taxes to be calculated in checkout.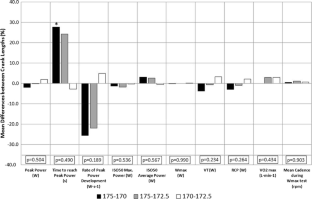 References
Bell W, Cobner DM (2007) Effect of individual time to peak power output on the expression of peak power output in the 30-s Wingate anaerobic test. Int J Sports Med 28:135–139

Borg G, Ljunggren G, Ceci R (1985) The increase in perceived exertion, aches and pain in the legs, heart rate and blood lactate during exercise on a bicycle ergometer. Eur J Appl Physiol 54:343–349

Conrad DP (1983) Bicycle crank arm length and oxygen consumption in trained cyclists. Med Sci Sports Exerc 15(2):111–112

Gregor RJ, Rugg SG (1986) Effects of saddle height and pedaling cadence on power output and efficiency. In: Burke ER (ed) Science of cycling. Human Kinetics, Champaign, pp 69–90

Hamley EJ, Thomas V (1976) Physiological and postural factors in calibration of bicycle ergometer. J Physiol 191:55–57

Hull ML, Gonzalez H (1988) Bivariate optimization of pedalling rate and crank arm length in cycling. J Biomech 21(10):839–849

Impellizzeri FM, Marcora SM (2007) The physiology of mountain biking. Sports Med 37(1):59–71

Impellizzeri FM, Marcora SM, Rampinini E, Mognoni P, Sassi A (2005) Correlations between physiological variables and performance in high level cross country off road cyclists. Br J Sports Med 39:747–751

Inbar O, Dotan R, Trousil T, Dvir Z (1983) The effect of bicycle crank length variation upon power performance. Ergonomics 26(12):1139–1146

Lucia A, Hoyos J, Perez M, Chicharro JL (2000) Heart rate and performance parameters in elite cyclists: a longitudinal study. Med Sci Sports Exerc 32:1777–1782

Martin JC, Spirduso WW (2001) Determinants of maximal cycling power: crank length, pedalling rate and pedal speed. Eur J Appl Physiol 84:413–418

Morris DM, Londeree BR (1997) The effects of bicycle arm length on oxygen consumption. Can J Appl Physiol 22(5):429–438

Neptune RR, Herzog W (2000) Adaptation of muscle coordination to altered task mechanics during steady-state cycling. J Biomech 33:165–172

Nordeen-Snyder KS (1977) The effect of bicycle seat height variation upon oxygen consumption and lower limb kinematics. Med Sci Sports Exerc 9:113–117

Stapelfeldt B, Schirtz A, Schumacher YO, Hillebretch M (2004) Workload demands in mountain bike racing. Int J Sports Med 25:294–300

Too D (1994) The effect of trunk angle on power production in cycling. Res Q Exerc Sport 65(4):308–315

Too D, Landwer GE (2000) The effect of pedal crank arm length on joint angle and power production in upright cycle ergometry. J Sports Sci 18:153–161

Wooles A, Keen P, Palfreeman R (2003) Protocols used for the physiological testing of the Great Britain cycling team. Version 1.6 British cycling test methods manual, 22 September
About this article
Cite this article
Macdermid, P.W., Edwards, A.M. Influence of crank length on cycle ergometry performance of well-trained female cross-country mountain bike athletes. Eur J Appl Physiol 108, 177 (2010). https://doi.org/10.1007/s00421-009-1197-0
Keywords
Propulsion

Cranks

Bike position

Levers