Abstract
We performed two experiments to describe the magnitude of delayed-onset muscle soreness (DOMS) associated with blood flow restriction (BFR) exercise and to determine the contribution of the concentric (CON) versus eccentric (ECC) actions of BFR exercise on DOMS. In experiment 1, nine subjects performed three sets of unilateral knee extension BFR exercise at 35% of maximal voluntary contraction (MVC) to failure with a thigh cuff inflated 30% above brachial systolic pressure. Subjects repeated the protocol with the contralateral limb without flow restriction. Resting soreness (0–10 scale) and algometry (pain–pressure threshold; PPT) were assessed before and 24, 48 and 96 h post-exercise. Additionally, MVC and vastus lateralis cross-sectional area (CSA) were measured as indices of exercise-induced muscle damage. At 24-h post-exercise, BFR exercise resulted in more soreness than exercise without BFR (2.8 ± 0.3 vs 1.7 ± 0.5) and greater reductions in PPT (15.2 ± 1.7 vs. 20 ± 2.3 N) and MVC (14.1 ± 2.5% decrease vs. 1.5 ± 4.5% decrease) (p ≤ 0.05). In experiment 2, 15 different subjects performed three sets of unilateral BFR exercise at 35% MVC with one limb performing only the CON action and the contralateral performing the ECC action. The aforementioned indices of DOMS were assessed before exercise and 24, 48 and 96 h post-exercise. At 24 h post-exercise, CON BFR exercise resulted in more resting soreness than ECC BFR exercise (3.0 ± 0.5 vs. 1.6 ± 0.4), and a greater decrease in MVC (9.8 ± 2.7% decrease vs. 3.4 ± 2.5% decrease) (p ≤ 0.05). These data suggest that knee extension BFR exercise induces mild DOMS and that BFR exercise elicits muscle damage under atypical conditions with low-tension concentric contractions.
Access options
Buy single article
Instant access to the full article PDF.
USD 39.95
Price includes VAT (USA)
Tax calculation will be finalised during checkout.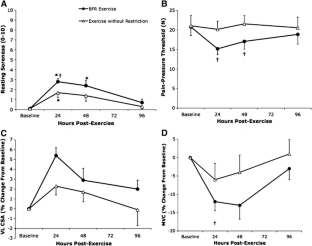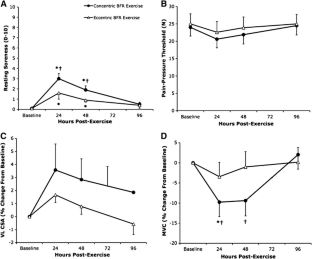 References
Abe T, Kearns CF, Sato Y (2006) Muscle size and strength are increased following walk training with restricted venous blood flow from the leg muscle, Kaatsu-walk training. J Appl Physiol 100:1460–1466

Abraham WM (1977) Factors in delayed muscle soreness. Med Sci Sports 9:11–20

Andersen H, Arendt-Nielsen L, Danneskiold-Samsoe B, Graven-Nielsen T (2006) Pressure pain sensitivity and hardness along human normal and sensitized muscle. Somatosens Mot Res 23:97–109

Armstrong RB (1990) Initial events in exercise-induced muscular injury. Med Sci Sports Exerc 22:429–435

Black CD, McCully KK (2008) Force per active area and muscle injury during electrically stimulated contractions. Med Sci Sports Exerc 40:1596–1604

Black CD, Elder CP, Gorgey A, Dudley GA (2008) High specific torque is related to lengthening contraction-induced skeletal muscle injury. J Appl Physiol 104:639–647

Clanton TL (2007) Hypoxia-induced reactive oxygen species formation in skeletal muscle. J Appl Physiol 102:2379–2388

Clark BC, Cook SB, Ploutz-Snyder LL (2007) Reliability of techniques to assess human neuromuscular function in vivo. J Electromyogr Kinesiol 17:90–101

Clark BC, Manini TM, Guiler M, Williams PS, Hoffman RL, Kushnick MR (2008) Relative safety and efficacy of blood flow-restricted resistance exercise. The Physiologist 51:4.2

Clarkson PM, Hubal MJ (2002) Exercise-induced muscle damage in humans. Am J Phys Med Rehabil 81:S52–S69

Close GL, Ashton T, Cable T, Doran D, MacLaren DP (2004) Eccentric exercise, isokinetic muscle torque and delayed-onset muscle soreness: the role of reactive oxygen species. Eur J Appl Physiol 91:615–621

Cook SB, Clark BC, Ploutz-Snyder LL (2007) Effects of exercise load and blood-flow restriction on skeletal muscle function. Med Sci Sports Exerc 39:1708–1713

Deshpande JK, Siesjo BK, Wieloch T (1987) Calcium accumulation and neuronal damage in the rat hippocampus following cerebral ischemia. J Cereb Blood Flow Metab 7:89–95

Enoka RM, Christou EA, Hunter SK, Kornatz KW, Semmler JG, Taylor AM, Tracy BL (2003) Mechanisms that contribute to differences in motor performance between young and old adults. J Electromyogr Kinesiol 13:1–12

Faust KB, Chiantella V, Vinten-Johansen J, Meredith JH (1988) Oxygen-derived free radical scavengers and skeletal muscle ischemic/reperfusion injury. Am Surg 54:709–719

Francis K (1983) Delayed muscle soreness: a review. J Orthop Sports Phys Ther 5:10–13

Fujita S, Abe T, Drummond MJ, Cadenas JG, Dreyer HC, Sato Y, Volpi E, Rasmussen BB (2007) Blood flow restriction during low-intensity resistance exercise increases S6K1 phosphorylation and muscle protein synthesis. J Appl Physiol 103:903–910

Harris K, Walker PM, Mickle DA, Harding R, Gatley R, Wilson GJ, Kuzon B, McKee N, Romaschin AD (1986) Metabolic response of skeletal muscle to ischemia. Am J Physiol 250:H213–H220

Hossmann KA, Paschen W, Csiba L (1983) Relationship between calcium accumulation and recovery of cat brain after prolonged cerebral ischemia. J Cereb Blood Flow Metab 3:346–353

Idstrom JP, Soussi B, Elander A, Bylund-Fellenius AC (1990) Purine metabolism after in vivo ischemia and reperfusion in rat skeletal muscle. Am J Physiol 258:H1668–H1673

Lieber RL, Friden J (2002) Mechanisms of muscle injury gleaned from animal models. Am J Phys Med Rehabil 81:S70–S79

Manini TM, Clark BC (2009) Blood flow-restricted exercise and skeletal muscle health. Exerc Sport Sci Rev 37:78–85

Menard MR, Penn AM, Lee JW, Dusik LA, Hall LD (1991) Relative metabolic efficiency of concentric and eccentric exercise determined by 31P magnetic resonance spectroscopy. Arch Phys Med Rehabil 72:976–983

Miles MP, Clarkson PM (1994) Exercise-induced muscle pain, soreness, and cramps. J Sports Med Phys Fitness 34:203–216

Murphy E, Steenbergen C (2008) Mechanisms underlying acute protection from cardiac ischemia–reperfusion injury. Physiol Rev 88:581–609

Newham DJ, Mills KR, Quigley BM, Edwards RH (1983) Pain and fatigue after concentric and eccentric muscle contractions. Clin Sci (Lond) 64:55–62

Newham DJ, Jones DA, Clarkson PM (1987) Repeated high-force eccentric exercise: effects on muscle pain and damage. J Appl Physiol 63:1381–1386

Nieman DC, Henson DA, Dumke CL, Oley K, McAnulty SR, Davis JM, Murphy EA, Utter AC, Lind RH, McAnulty LS, Morrow JD (2006) Ibuprofen use, endotoxemia, inflammation, and plasma cytokines during ultramarathon competition. Brain Behav Immun 20:578–584

Nosaka K, Newton M (2002) Concentric or eccentric training effect on eccentric exercise-induced muscle damage. Med Sci Sports Exerc 34:63–69

Pang CY, Yang RZ, Zhong A, Xu N, Boyd B, Forrest CR (1995) Acute ischaemic preconditioning protects against skeletal muscle infarction in the pig. Cardiovasc Res 29:782–788

Pierce JR, Clark BC, Ploutz-Snyder LL, Kanaley JA (2006) Growth hormone and muscle function responses to skeletal muscle ischemia. J Appl Physiol 101:1588–1595

Reeves ND, Maganaris CN, Narici MV (2004) Ultrasonographic assessment of human skeletal muscle size. Eur J Appl Physiol 91:116–118

Takano H, Morita T, Iida H, Asada K, Kato M, Uno K, Hirose K, Matsumoto A, Takenaka K, Hirata Y, Eto F, Nagai R, Sato Y, Nakajima T (2005) Hemodynamic and hormonal responses to a short-term low-intensity resistance exercise with the reduction of muscle blood flow. Eur J Appl Physiol 95:65–73

Takarada Y, Takazawa H, Sato Y, Takebayashi S, Tanaka Y, Ishii N (2000) Effects of resistance exercise combined with moderate vascular occlusion on muscular function in humans. J Appl Physiol 88:2097–2106

Tiidus PM, Ianuzzo CD (1983) Effects of intensity and duration of muscular exercise on delayed soreness and serum enzyme activities. Med Sci Sports Exerc 15:461–465

Welsh DG, Lindinger MI (1993) Energy metabolism and adenine nucleotide degradation in twitch-stimulated rat hindlimb during ischemia–reperfusion. Am J Physiol 264:E655–E661

Wernbom M, Augustsson J, Thomee R (2006) Effects of vascular occlusion on muscular endurance in dynamic knee extension exercise at different submaximal loads. J Strength Cond Res 20:372–377

Zhang BT, Yeung SS, Allen DG, Qin L, Yeung EW (2008) Role of the calcium–calpain pathway in cytoskeletal damage after eccentric contractions. J Appl Physiol 105:352–357
Acknowledgments
This study was supported in part by grants from the Ohio University Research Committee (to BC Clark) and the Ohio University College of Osteopathic Medicine (research fellowship to JD Umbel).
About this article
Cite this article
Umbel, J.D., Hoffman, R.L., Dearth, D.J. et al. Delayed-onset muscle soreness induced by low-load blood flow-restricted exercise. Eur J Appl Physiol 107, 687 (2009). https://doi.org/10.1007/s00421-009-1175-6
Keywords
Blood flow restriction

Delayed-onset muscle soreness

Exercise

KAATSU

Muscle