Abstract
Isometric handgrip (IHG) training (>6 weeks) has been shown to reduce resting arterial blood pressure (ABP) and improve cardiac autonomic modulation. However, the effects of a single bout of IHG on acute neurocardiac regulation remain unknown. The purpose of this study was to examine the effect of IHG exercise on nonlinear heart rate dynamics and cardiac vagal activity. Nonlinear dynamics were assessed by sample entropy, detrended fluctuation analysis (α1), and correlation dimension techniques. The 4-second exercise test was used to calculate the cardiac vagal index (CVI), an indirect measure of cardiac vagal activity. In a randomized crossover design, 18 older (70 ± 5 years of age) subjects completed IHG exercise (four 2-min isometric contractions at 30% MVC) and a time-matched control condition. Following a single bout of bilateral IHG, there was a small reduction in systolic blood pressure (125 ± 2 to 122 ± 1 mmHg, P < 0.01), in addition to, a significant decrease in α1 (1.42 ± 0.12 to 1.22 ± 0.10, P < 0.05), an increase in sample entropy (1.28 ± 0.03 to 1.40 ± 0.05, P < 0.001), and an increase in the CVI (1.24 ± 0.03 to 1.29 ± 0.03, P < 0.01). These results suggest improvements in acute cardiac autonomic modulation following a single bout of IHG. This may be mechanistically linked to the observed reductions in ABP seen in previous IHG training studies. Alternatively, these acute effects may have clinical applications and require further investigation.
This is a preview of subscription content, log in to check access.
Access options
Buy single article
Instant access to the full article PDF.
US$ 39.95
Price includes VAT for USA
Subscribe to journal
Immediate online access to all issues from 2019. Subscription will auto renew annually.
US$ 199
This is the net price. Taxes to be calculated in checkout.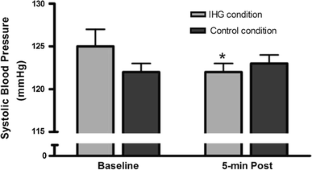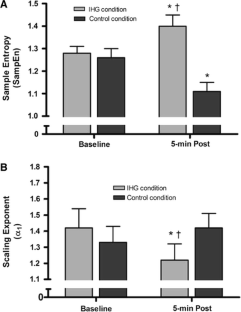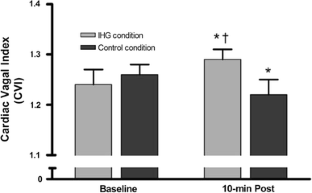 References
Alderman BL, Arent SM, Landers DM, Rogers TJ (2007) Aerobic exercise intensity and time of stressor administration influence cardiovascular responses to psychological stress. Psychophysiology 44:759–766

Almeida MB, Ricardo DR, Araujo CG (2004) Validation of the 4-second exercise test in the orthostatic position. Arq Bras Cardiol 83:160–164

Araujo CG, Nobrega AC, Castro CL (1992) Heart rate responses to deep breathing and 4-s of exercise before and after pharmacological blockade with atropine and propranolol. Clin Auton Res 2:35–40

Araujo CG, Ricardo DR, Almeida MB (2003) Intra and interdays reliability of the 4-s exercise test. Rev Bras Med Esporte 9:299–303

Bogaert C, Beckers F, Ramaekers D, Aubert AE (2001) Analysis of heart rate variability with correlation dimension method in a normal population and in heart transplant patients. Auton Neurosci 90:142–147

Braune S, Auer A, Schulte-Mönting J, Schwerbrock S, Lücking CH (1996) Cardiovascular parameters: sensitivity to detect autonomic dysfunction and influence of age and sex in normal subjects. Clin Auton Res 6:3–15

Goldberger AL, Amaral LAN, Glass L, Hausdorff JM, PCh Ivanov, Mark RG, Mietus JE, Moody GB, Peng CK, Stanley HE (2000) PhysioBank, PhysioToolkit, and PhysioNet: components of a new research resource for complex physiologic signals. Circulation 101:e215–e220 (Circulation Electronic Pages; http://circ.ahajournals.org/cgi/content/full/101/23/e215)

Grassberger P, Procaccia I (1983) Measuring the strangeness of strange attractors. Physica 9D:189–208

Hagerman I, Berglund M, Lorin M, Nowak J, Sylven C (1996) Choas-related deterministic regulation of heart rate variability in time- and frequency domains: effects of autonomic blockade and exercise. Cardiovasc Res 31:410–418

Heffernan KS, Fahs CA, Shinsako KK, Jae SY, Fernhall B (2007) Heart rate recovery and heart rate complexity following resistance exercise training and detraining in young men. Am J Physiol Heart Circ Physiol 293:H3180–H3186

Heffernan KS, Sosnoff JJ, Fahs CA, Shinsako KK, Jae SY, Fernhall B (2008a) Fractal scaling properties of heart rate dynamics following resistance exercise training. J Appl Physiol 105:109–113

Heffernan KS, Sosnoff JJ, Jae SY, Gates GJ, Fernhall B (2008b) Acute resistance exercise reduces heart rate complexity and increases QTc interval. Int J Sports Med 29:289–293

Huikuri HV, Mäkikallio TH, Peng CK, Goldberger AL, Hintze U, Moller M (2000) Fractal correlation properties of R-R interval dynamics and mortality in patients with depressed left ventricular function after an acute myocardial infarction. Circulation 101:47–53

Kannankeril PJ, Le FK, Kadish AH, Goldberger JJ (2004) Parasympathetic effects on heart rate recovery after exercise. J Investig Med 52:394–401

Knöpfli BH, Bar-Or O, Araújo CG (2005) Effect of ipratropium bromide on EIB in children depends on vagal activity. Med Sci Sports Exerc 37:354–359

Kuusela TA, Jartti TT, Tahvanainen KU, Kaila TJ (2002) Nonlinear methods of biosignal analysis in assessing terbutaline-induced heart rate and blood pressure changes. Am J Physiol Heart Circ Physiol 282:H773–H783

Lazzoli JK, Soares PP, Nobrega AC, Araujo CG (2003) Electrocardiographic criteria for vagotonia-validation with pharmacological parasympathetic blockade in healthy subjects. Int J Cardiol 87:231–236

Lepluoto A, Nino J, Tahvanainen K, Ylitalo R, Kuusela T, Kähönen M, Kaila T (2005) Propranolol increases the complexity of heart rate fluctuations: a mode of antiarrhythmic action? Int J Clin Pharmacol Ther 43:101–108

Lipsitz LA (2002) Dynamics of stability: the physiologic basis of functional health and frailty. J Gerontol A Biol Sci Med Sci 57:B115–B125

MacDonald JR, Hogben CD, Tarnopolsky MA, MacDougall JD (2001) Post exercise hypotension is sustained during subsequent bouts of mild exercise and simulated activities of daily living. J Hum Hypertens 15:567–571

Maestri R, Pinna GD, Porta A, Balocchi R, Sassi R, Signorini MG, Dudziak M, Raczak G (2007) Assessing nonlinear properties of heart rate variability from short-term recordings: are these measurements reliable? Physiol Meas 28:1067–1077

Mäkikallio TH, Tapanainen JM, Tulppo MP, Huikuri HV (2002) Clinical applicability of heart rate variability analysis by methods based on nonlinear dynamics. Card Electrophysiol Rev 6:250–255

Millar PJ, Bray SR, MacDonald MJ, McCartney N (2008) The hypotensive effects of isometric handgrip training using an inexpensive spring handgrip training device. J Cardiopulm Rehabil Prev 28:203–207

Millar PJ, Rakobowchuk M, Adams MM, Hicks AL, McCartney N, MacDonald MJ (2009) Effects of short-term training on heart rate dynamics in individuals with spinal cord injury. Auton Neurosci (in press) doi:10.1016/j.autneu.2009.03.012

Nobrega AC, Araujo CG (1993) Heart rate transient at the onset of active and passive dynamic exercise. Med Sci Sports Exerc 25:37–41

Parati G, Saul JP, Di Rienzo M, Mancia G (1995) Spectral analysis of blood pressure and heart rate variability in evaluating cardiovascular regulation: a critical appraisal. Hypertension 25:1276–1286

Peng CK, Havlin S, Stanley HE, Goldberger AL (1995) Quantification of scaling exponents and crossover phenomena in nonstationary heartbeat time series. Chaos 5:82–87

Penttilä J, Helminen A, Jartti T, Kuusela T, Huikuri HV, Tulppo MP, Scheinin H (2003) Effect of cardiac vagal outflow on complexity and fractal correlation properties of heart rate dynamics. Auton Autacoid Pharmacol 23:173–179

Peters PG, Alessio HM, Hagerman AE, Ashton T, Nagy S, Wiley RL (2006) Short-term isometric exercise reduces systolic blood pressure in hypertensive adults: possible role of reactive oxygen species. Int J Cardiol 110:199–205

Pomeranz B, Macaulay RJ, Caudill MA, Kutz I, Adam D, Gordon D, Kilborn KM, Barger AC, Shannon DC, Cohen RJ, Benson H (1985) Assessment of autonomic function in humans by heart rate spectral analysis. Am J Physiol 248:H151–H153

Porta A, Gnecchi-Ruscone T, Tobaldini E, Guzzetti S, Furlan R, Montano N (2007) Progressive decrease of heart period variability entropy-based complexity during graded head-up tilt. J Appl Physiol 103:1143–1149

Ricardo DR, Almeida MB, Franklin BA, Araujo CG (2005) Initial and final exercise heart rate transients: influence of gender, aerobic fitness, and clinical status. Chest 127:318–327

Richman JS, Moorman JR (2000) Physiological time-series analysis using approximate entropy and sample entropy. Am J Physiol Heart Circ Physiol 278:H2039–H2049

Stein PK, Barzilay JI, Chaves PHM, Domitrovich PP, Gottdiener JS (2009) Heart rate variability and its changes over 5 years in older adults. Age Ageing 38:212–218

Stewart JM, Montgomery LD, Glover JL, Medow MS (2007) Changes in regional blood volume and blood flow during static handgrip. Am J Physiol Heart Circ Physiol 292:215–223

Taylor AC, McCartney N, Kamath MV, Wiley RL (2003) Isometric training lowers resting blood pressure and modulates autonomic control. Med Sci Sports Exerc 35:251–256

Tulppo MP, Hughson RL, Mäkikallio TH, Airaksinen KE, Seppänen T, Huikuri HV (2001a) Effects of exercise and passive head-up tilt on fractal and complexity properties of heart rate dynamics. Am J Physiol Heart Circ Physiol 280:1081–1087

Tulppo MP, Mäkikallio TH, Seppänen T, Shoemaker K, Tutungi E, Hughson RL, Huikuri HV (2001b) Effects of pharmacological adrenergic and vagal modulation on fractal heart rate dynamics. Clin Physiol 21:515–523

Tulppo MP, Hautala AJ, Mäkikallio TH, Laukkanen RT, Nissilä S, Hughson RL, Huikuri HV (2003) Effects of aerobic training on heart rate dynamics in sedentary subjects. J Appl Physiol 95:364–372

Umetani K, Singer DH, McCraty R, Atkinson M (1998) Twenty-four hour time domain heart rate variability and heart rate: relations to age and gender over nine decades. J Am Coll Cardiol 31:593–601

Vianna LC, Oliveira RB, Silva BM, Ricardo DR, Araujo CG (2008) Water intake accelerates post-exercise cardiac vagal reactivation in humans. Eur J Appl Physiol 102:283–288

Wiley RL, Dunn CL, Cox RH, Hueppchen NA, Scott MS (1992) Isometric exercise training lowers resting blood pressure. Med Sci Sports Exerc 24:749–754
Acknowledgments
This study was supported in part by a Natural Sciences and Engineering Research Council of Canada (NSERC) discovery grant (MJM) and an Ontario Graduate Scholarship (PJM). The authors would like to thank all of the subjects for their participation.
About this article
Cite this article
Millar, P.J., MacDonald, M.J., Bray, S.R. et al. Isometric handgrip exercise improves acute neurocardiac regulation. Eur J Appl Physiol 107, 509 (2009). https://doi.org/10.1007/s00421-009-1142-2
Keywords
Isometric exercise

Autonomic nervous system

Nonlinear dynamics

Heart rate