Abstract
We compared time to exhaustion (t lim) at maximal lactate steady state (MLSS) between cycling and running, investigated if oxygen consumption, ventilation, blood lactate concentration, and perceived exertion differ between the exercise modes, and established whether MLSS can be determined for cycling and running using the same criteria. MLSS was determined in 15 moderately trained men (30 ± 6 years, 77 ± 6 kg) by several constant-load tests to exhaustion in cycling and running. Heart rate, oxygen consumption, and ventilation were recorded continuously. Blood lactate concentration and perceived exertion were measured every 5 min. t lim (37.7 ± 8.9 vs. 34.4 ± 5.4 min) and perceived exertion (7.2 ± 1.7 vs. 7.2 ± 1.5) were similar for cycling and running. Heart rate (165 ± 8 vs. 175 ± 10 min−1; P < 0.01), oxygen consumption (3.1 ± 0.3 vs. 3.4 ± 0.3 l min−1; P < 0.001) and ventilation (93 ± 12 vs. 103 ± 16 l min−1; P < 0.01) were lower for cycling compared to running, respectively, whereas blood lactate concentration (5.6 ± 1.7 vs. 4.3 ± 1.3 mmol l−1; P < 0.05) was higher for cycling. t lim at MLSS is similar for cycling and running, despite absolute differences in heart rate, ventilation, blood lactate concentration, and oxygen consumption. This may be explained by the relatively equal cardiorespiratory demand at MLSS. Additionally, the similar t lim for cycling and running allows the same criteria to be used for determining MLSS in both exercise modes.
This is a preview of subscription content, log in to check access.
Access options
Buy single article
Instant access to the full article PDF.
US$ 39.95
Price includes VAT for USA
Subscribe to journal
Immediate online access to all issues from 2019. Subscription will auto renew annually.
US$ 199
This is the net price. Taxes to be calculated in checkout.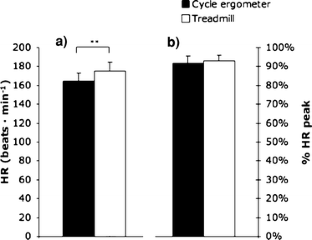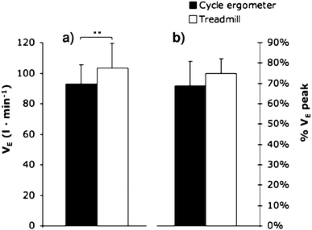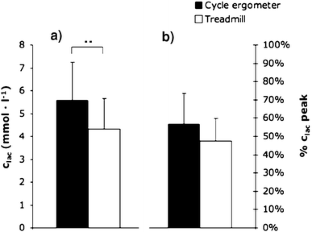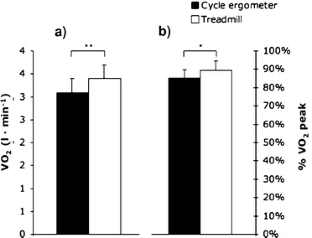 References
Allen WK, Seals DR, Hurley BF, Ehsani AA, Hagberg JM (1985) Lactate threshold and distance-running performance in young and older endurance athletes. J Appl Physiol 58:1281–1284

Åstrand PO (1976) Quantification of exercise capability and evaluation of physical capacity in man. Prog Cardiovasc Dis 19:51–67. doi:10.1016/0033-0620(76)90008-6

Baron B, Noakes TD, Dekerle J, Moullan F, Robin S, Matran R, Pelayo P (2008) Why does exercise terminate at the maximal lactate steady state intensity? Br J Sports Med 42:528–533. doi:10.1136/bjsm.2007.040444

Beneke R (2003) Methodological aspects of maximal lactate steady state—implications for performance testing. Eur J Appl Physiol 89:95–99. doi:10.1007/s00421-002-0783-1

Beneke R, von Duvillard S (1996) Determination of maximal lactate steady state response in selected sports events. Med Sci Sports Exerc 28:241–246. doi:10.1097/00005768-199602000-00013

Bergh U, Kanstrup IL, Ekblom B (1976) Maximal oxygen uptake during exercise with various combinations of arm and leg work. J Appl Physiol 41:191–196

Bijker KE, de Groot G, Hollander AP (2002) Differences in leg muscle activity during running and cycling in humans. Eur J Appl Physiol 87:556–561. doi:10.1007/s00421-002-0663-8

Billat V, Sirvent P, Py G, Koralsztein JP, Mercier J (2003) The concept of maximal lactate steady state: a bridge between biochemistry, physiology and sport science. Sports Med 33:407–426. doi:10.2165/00007256-200333060-00003

Billat V, Sirvent P, Lepretre PM, Koralsztein JP (2004) Training effect on performance, substrate balance and blood lactate concentration at maximal lactate steady state in master endurance-runners. Pflugers Arch 447:875–883. doi:10.1007/s00424-003-1215-8

Braumann K, Tegtbur U, Busse M, Maassen N (1991) Die "Laktatsenke"—Eine Methode zur Ermittlung der individuellen Dauerleistungsgrenze. Dtsch Z Sportmed 42:240–246

Burgomaster KA, Hughes SC, Heigenhauser GJ, Bradwell SN, Gibala MJ (2005) Six sessions of sprint interval training increases muscle oxidative potential and cycle endurance capacity in humans. J Appl Physiol 98:1985–1990. doi:10.1152/japplphysiol.01095.2004

Carter H, Jones AM, Barstow TJ, Burnley M, Williams CA, Doust JH (2000) Oxygen uptake kinetics in treadmill running and cycle ergometry: a comparison. J Appl Physiol 89:899–907

Doherty M, Smith PM, Hughes MG, Collins D (2001) Rating of perceived exertion during high-intensity treadmill running. Med Sci Sports Exerc 33:1953–1958. doi:10.1097/00005768-200111000-00023

Green J, McLester J, Crews T, Wickwire P, Pritchett R, Lomax R (2006) RPE association with lactate and heart rate during high-intensity interval cycling. Med Sci Sports Exerc 38:167–172. doi:10.1249/01.mss.0000180359.98241.a2

Heck H, Mader A, Hess G, Mücke S, Müller R, Hollmann W (1985) Justification of the 4-mmol/l lactate threshold. Int J Sports Med 6:117–130. doi:10.1055/s-2008-1025824

Hill DW, Halcomb JN, Stevens EC (2003) Oxygen uptake kinetics during severe intensity running and cycling. Eur J Appl Physiol 89:612–618. doi:10.1007/s00421-002-0779-x

Ivy JL, Withers RT, Van Handel PJ, Elger DH, Costill DL (1980) Muscle respiratory capacity and fiber type as determinants of the lactate threshold. J Appl Physiol 48:523–527

Jones AM, Doust JH (1996) A 1% treadmill grade most accurately reflects the energetic cost of outdoor running. J Sports Sci 14:321–327. doi:10.1080/02640419608727717

Kravitz L, Robergs RA, Heyward VH, Wagner DR, Powers K (1997) Exercise mode and gender comparisons of energy expenditure at self-selected intensities. Med Sci Sports Exerc 29:1028–1035. doi:10.1097/00005768-199708000-00007

Madsen K, Pedersen PK, Djurhuus MS, Klitgaard NA (1993) Effects of detraining on endurance capacity and metabolic changes during prolonged exhaustive exercise. J Appl Physiol 75:1444–1451

Markov G, Spengler CM, Knopfli-Lenzin C, Stuessi C, Boutellier U (2001) Respiratory muscle training increases cycling endurance without affecting cardiovascular responses to exercise. Eur J Appl Physiol 85:233–239. doi:10.1007/s004210100450

Noakes TD (2008) Testing for maximum oxygen consumption has produced a brainless model of human exercise performance. Br J Sports Med 42:551–555. doi:10.1136/bjsm.2008.046821

Robertson RJ, Noble BJ (1997) Perception of physical exertion: methods, mediators, and applications. Exerc Sport Sci Rev 25:407–452. doi:10.1249/00003677-199700250-00017

Roecker K, Striegel H, Dickhuth H (2003) Heart rate recommendations: transfer between running and cycling exercise? Int J Sports Med 24:173–178. doi:10.1055/s-2003-39087

Spengler CM, Roos M, Laube SM, Boutellier U (1999) Decreased exercise blood lactate concentrations after respiratory endurance training in humans. Eur J Appl Physiol 79:299–305. doi:10.1007/s004210050511

Thomsen JJ, Rentsch RL, Robach P, Calbet JA, Boushel R, Rasmussen P, Juel C, Lundby C (2007) Prolonged administration of recombinant human erythropoietin increases submaximal performance more than maximal aerobic capacity. Eur J Appl Physiol 101:481–486. doi:10.1007/s00421-007-0522-8

Wilson RC, Jones PW (1991) Differentiation between the intensity of breathlessness and the distress it evokes in normal subjects during exercise. Clin Sci (Lond) 80:65–70
Acknowledgments
We thank Dr. Ruth Briggs for commenting on the manuscript and revising the grammar. The experiments comply with the current laws of Switzerland.
Conflict of interest statement
None.
About this article
Cite this article
Fontana, P., Boutellier, U. & Knöpfli-Lenzin, C. Time to exhaustion at maximal lactate steady state is similar for cycling and running in moderately trained subjects. Eur J Appl Physiol 107, 187–192 (2009). https://doi.org/10.1007/s00421-009-1111-9
Accepted:

Published:

Issue Date:
Keywords
Endurance capacity

t lim

Exercise modes

Submaximal performance