Abstract
Cinnamon can improve fasting glucose in humans yet data on insulin sensitivity are limited and controversial. Eight male volunteers (aged 25 ± 1 years, body mass 76.5 ± 3.0 kg, BMI 24.0 ± 0.7 kg m−2; mean ± SEM) underwent two 14-day interventions involving cinnamon or placebo supplementation (3 g day−1). Placebo supplementation was continued for 5 days following this 14 day period. Oral glucose tolerance tests (OGTT) were performed on days 0, 1, 14, 16, 18, and 20. Cinnamon ingestion reduced the glucose response to OGTT on day 1 (−13.1 ± 6.3% vs. day 0; P < 0.05) and day 14 (−5.5 ± 8.1% vs. day 0; P = 0.09). Cinnamon ingestion also reduced insulin responses to OGTT on day 14 (−27.1 ± 6.2% vs. day 0; P < 0.05), as well as improving insulin sensitivity on day 14 (vs. day 0; P < 0.05). These effects were lost following cessation of cinnamon feeding. Cinnamon may improve glycaemic control and insulin sensitivity, but the effects are quickly reversed.
Access options
Buy single article
Instant access to the full article PDF.
US$ 39.95
Tax calculation will be finalised during checkout.
Subscribe to journal
Immediate online access to all issues from 2019. Subscription will auto renew annually.
US$ 119
Tax calculation will be finalised during checkout.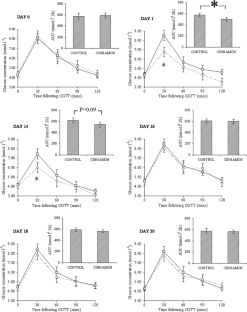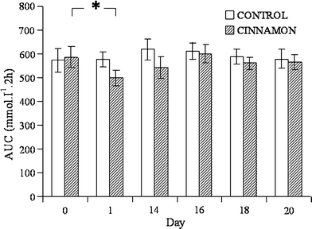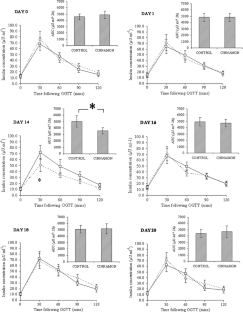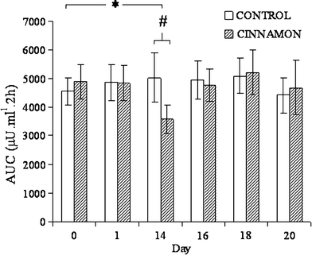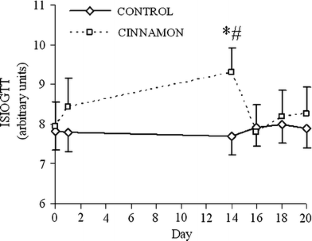 References
Anderson RA, Broadhurst CL, Polansky MM, Schmidt WF, Khan A, Flanagan VP, Schoene NW, Graves DJ (2004) Isolation and characterization of polyphenol type-A polymers from cinnamon with insulin-like biological activity. J Agric Food Chem 52:65–70. doi:10.1021/jf034916b

Barnard RJ, Wen SJ (1994) Exercise and diet in the prevention and control of the metabolic syndrome. Sports Med 18:218–228

Eriksson J, Lindstrom J, Valle T, Aunola S, Hamalainen H, Ilanne-Parikka P, Keinanen-Kiukaanniemi S, Laakso M, Lauhkonen M, Lehto P, Lehtonen A, Louheranta A, Mannelin M, Martikkala V, Rastas M, Sundvall J, Turpeinen A, Viljanen T, Uusitupa M, Tuomilehto J (1999) Prevention of type II diabetes in subjects with impaired glucose tolerance: the diabetes prevention study (DPS) in Finland. Study design and 1-year interim report on the feasibility of the lifestyle intervention programme. Diabetologia 42:793–801. doi:10.1007/s001250051229

Holloszy JO, Schultz J, Kusnierkiewicz J, Hagberg JM, Ehsani AA (1986) Effects of exercise on glucose tolerance and insulin resistance. Brief review and some preliminary results. Acta Med Scand Suppl 711:55–65

Imparl-Radosevich J, Deas S, Polansky MM, Baedke DA, Ingebritsen TS, Anderson RA, Graves DJ (1998) Regulation of PTP-1 and insulin receptor kinase by fractions from cinnamon: implications for cinnamon regulation of insulin signalling. Horm Res 50:177–182. doi:10.1159/000023270

Jarvill-Taylor KJ, Anderson RA, Graves DJ (2001) A hydroxychalcone derived from cinnamon functions as a mimetic for insulin in 3T3-L1 adipocytes. J Am Coll Nutr 20:327–336

Kashyap SR, Roman LJ, Lamont J, Masters BS, Bajaj M, Suraamornkul S, Belfort R, Berria R, Kellogg DL Jr, Liu Y, DeFronzo RA (2005) Insulin resistance is associated with impaired nitric oxide synthase activity in skeletal muscle of type 2 diabetic subjects. J Clin Endocrinol Metab 90:1100–1105. doi:10.1210/jc.2004-0745

Khan A, Safdar M, Ali Khan MM, Khattak KN, Anderson RA (2003) Cinnamon improves glucose and lipids of people with type 2 diabetes. Diabetes Care 26:3215–3218. doi:10.2337/diacare.26.12.3215

Kim SH, Hyun SH, Choung SY (2006) Anti-diabetic effect of cinnamon extract on blood glucose in db/db mice. J Ethnopharmacol 104:119–123. doi:10.1016/j.jep.2005.08.059

Lindstrom J, Louheranta A, Mannelin M, Rastas M, Salminen V, Eriksson J, Uusitupa M, Tuomilehto J (2003) The Finnish diabetes prevention study (DPS): lifestyle intervention and 3-year results on diet and physical activity. Diabetes Care 26:3230–3236. doi:10.2337/diacare.26.12.3230

Mang B, Wolters M, Schmitt B, Kelb K, Lichtinghagen R, Stichtenoth DO, Hahn A (2006) Effects of a cinnamon extract on plasma glucose, HbA, and serum lipids in diabetes mellitus type 2. Eur J Clin Invest 36:340–344. doi:10.1111/j.1365-2362.2006.01629.x

Matsuda M, DeFronzo RA (1999) Insulin sensitivity indices obtained from oral glucose tolerance testing: comparison with the euglycemic insulin clamp. Diabetes Care 22:1462–1470. doi:10.2337/diacare.22.9.1462

Monti LD, Barlassina C, Citterio L, Galluccio E, Berzuini C, Setola E, Valsecchi G, Lucotti P, Pozza G, Bernardinelli L, Casari G, Piatti P (2003) Endothelial nitric oxide synthase polymorphisms are associated with type 2 diabetes and the insulin resistance syndrome. Diabetes 52:1270–1275. doi:10.2337/diabetes.52.5.1270

Orchard TJ, Temprosa M, Goldberg R, Haffner S, Ratner R, Marcovina S, Fowler S (2005) The effect of metformin and intensive lifestyle intervention on the metabolic syndrome: the diabetes prevention program randomized trial. Ann Intern Med 142:611–619

Qin B, Nagasaki M, Ren M, Bajotto G, Oshida Y, Sato Y (2003) Cinnamon extract (traditional herb) potentiates in vivo insulin-regulated glucose utilization via enhancing insulin signaling in rats. Diabetes Res Clin Pract 62:139–148. doi:10.1016/S0168-8227(03)00173-6

Qin B, Nagasaki M, Ren M, Bajotto G, Oshida Y, Sato Y (2004) Cinnamon extract prevents the insulin resistance induced by a high-fructose diet. Horm Metab Res 36:119–125. doi:10.1055/s-2004-814223

Solomon TP, Blannin AK (2007) Effects of short-term cinnamon ingestion on in vivo glucose tolerance. Diabetes Obes Metab 9:895–901. doi:10.1111/j.1463-1326.2006.00694.x

Vanschoonbeek K, Thomassen BJ, Senden JM, Wodzig WK, van Loon LJ (2006) Cinnamon supplementation does not improve glycemic control in postmenopausal type 2 diabetes patients. J Nutr 136:977–980
Acknowledgments
The authors wish to thank Miss Amanda Tee and Miss Lisa Fenton for assistance with subject recruitment and test scheduling, and Mike Foy for the provision of Cinnamomum cassia spice (Everything Cinnamon, Essex, UK).
About this article
Cite this article
Solomon, T.P.J., Blannin, A.K. Changes in glucose tolerance and insulin sensitivity following 2 weeks of daily cinnamon ingestion in healthy humans. Eur J Appl Physiol 105, 969 (2009). https://doi.org/10.1007/s00421-009-0986-9
Keywords
Insulin resistance

Nutrition

Glucose tolerance