Abstract
The purpose of this study was to determine the effects of beta-alanine supplementation and high-intensity interval training (HIIT) on electromyographic fatigue threshold (EMGFT) and efficiency of electrical activity (EEA). A total of 46 men completed four, 2-min work bouts on a cycle ergometer. Using bipolar surface electrodes, the EMG amplitude was averaged and plotted over the 2-min. The resulting slopes were used to calculate EMGFT and EEA. Following initial testing, all participants were randomly assigned to either placebo (PL; n = 18), beta-alanine (BA; n = 18) or control groups (CON; n = 10). Following randomization, participants engaged in 6 weeks of HIIT training. Significant improvements in EMGFT and EEA resulted for both training groups. In conclusion, HIIT appeared to be the primary stimulus effecting EMGFT or EEA, suggesting adaptations from HIIT may be more influential than increasing skeletal muscle carnosine levels on delaying fatigue in recreationally active men.
Access options
Buy single article
Instant access to the full article PDF.
USD 39.95
Price includes VAT (USA)
Tax calculation will be finalised during checkout.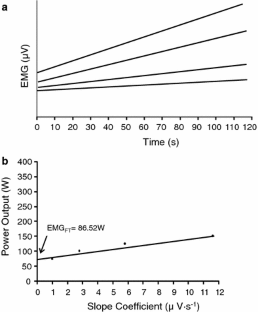 References
Allen DG, Lamb GD, Westerblad H (2008) Skeletal muscle fatigue: cellular mechanisms. Physiol Rev 88:287–332. doi:10.1152/physrev.00015.2007

Bakardjiev A, Bauer K (1994) Transport of beta-alanine and biosynthesis of carnosine by skeletal muscle cells in primary culture. Eur J Biochem 225:617–623. doi:10.1111/j.1432-1033.1994.00617.x

Batrukova MA, Rubtsov AM (1997) Histidine-containing dipeptides as endogenous regulators of the activity of sarcoplasmic reticulum Ca-release channels. Biochim Biophys Acta 1324:142–150. doi:10.1016/S0005-2736(96)00216-7

Bishop D, Edge J, Goodman C (2004) Muscle buffer capacity and aerobic fitness are associated with repeated-sprint ability in women. Eur J Appl Physiol 92:540–547. doi:10.1007/s00421-004-1150-1

Brown L, Greenwood M (2005) Periodization essentials and innovations in resistance training protocols. JSCR 27:80–85

Derave W, Ozdemir MS, Harris RC, Pottier A, Reyngoudt H, Koppo K, Wise JA, Achten E (2007) beta-Alanine supplementation augments muscle carnosine content and attenuates fatigue during repeated isokinetic contraction bouts in trained sprinters. J Appl Physiol 103:1736–1743. doi:10.1152/japplphysiol.00397.2007

DeVries HA (1968a) "Efficiency of electrical activity" as a physiological measure of the functional state of muscle tissue. Am J Phys Med 47:10–22

DeVries HA (1968b) Method for evaluation of muscle fatigue and endurance from electromyographic fatigue curves. Am J Phys Med 47:125–135

deVries HA, Moritani T, Nagata A, Magnussen K (1982) The relation between critical power and neuromuscular fatigue as estimated from electromyographic data. Ergonomics 25:783–791

Dunnett M, Harris RC, Soliman MZ, Suwar AA (1997) Carnosine, anserine and taurine contents in individual fibres from the middle gluteal muscle of the camel. Res Vet Sci 62:213–216

Edge J, Bishop D, Goodman C (2006) The effects of training intensity on muscle buffer capacity in females. Eur J Appl Physiol 96:97–105

Harmer AR, McKenna MJ, Sutton JR, Snow RJ, Ruell PA, Booth J, Thompson MW, Mackay NA, Stathis CG, Crameri RM, Carey MF, Eager DM (2000) Skeletal muscle metabolic and ionic adaptations during intense exercise following sprint training in humans. J Appl Physiol 89:1793–1803

Harris RC, Marlin DJ, Dunnett M, Snow DH, Hultman E (1990) Muscle buffering capacity and dipeptide content in the thoroughbred horse, greyhound dog and man. Comp Biochem Physiol A 97:249–251

Harris RC, Tallon MJ, Dunnett M, Boobis L, Coakley J, Kim HJ, Fallowfield JL, Hill CA, Sale C, Wise JA (2006) The absorption of orally supplied beta-alanine and its effect on muscle carnosine synthesis in human vastus lateralis. Amino Acids 30:279–289

Harris RC, Kendrick IP, Kim CK, Hyojeong K, Dang VH, Lam TQ, Bui TT, Wise JA (2007) The effect of physical training on the carnosine content of V Lateralis using a one-leg training model. Med Sci Sports Exerc 39:S91

Hill CA, Harris RC, Kim HJ, Harris BD, Sale C, Boobis LH, Kim CK, Wise JA (2007) Influence of beta-alanine supplementation on skeletal muscle carnosine concentrations and high intensity cycling capacity. Amino Acids 32:225–233

Hoffman J, Ratamess N, Faigenbaum A, Ross R, Kang J, Stout J, Wise JA (2007) Short-duration beta-alanine supplementation increases training volume and reduces subjective feelings of fatigue in college football players. Nutr Res 28:31–35

Housh TJ, Devries HA, Housh DJ, Tichy MW, Smyth KD, Tichy AM (1991) The relationship between critical power and the onset of blood lactate accumulation. J Sports Med Phys Fitness 31:31–36

Juel C (2008) Regulation of pH in human skeletal muscle: adaptations to physical activity. Acta Physiol (Oxf) 193:17–24

Kim CK, Kim HJ, Lee YW, Harris RC, Sale C, Harris BD, Wise JA (2007) Combined training and B-alanine supplementation—muscle carnosine synthesis, ventilatory threshold and exercise capacity in cyclists. Med Sci Sports Exerc 39:S364

Lamont C, Miller DJ (1992) Calcium sensitizing action of carnosine and other endogenous imidazoles in chemically skinned striated muscle. J Physiol 454:421–434

Maestu J, Cicchella A, Purge P, Ruosi S, Jurimae J, Jurimae T (2006) Electromyographic and neuromuscular fatigue thresholds as concepts of fatigue. J Strength Cond Res 20:824–828

Matsumoto T, Ito K, Moritani T (1991) The relationship between anaerobic threshold and electromyographic fatigue threshold in college women. Eur J Appl Physiol Occup Physiol 63:1–5

McClaren DP, Gibson H, Parry-Billings M, Edwards RHT (1989) A review of metabolic and physiological factors in fatigue. Exerc Sport Sci Rev 17:29–68

McKenna MJ (1992) The roles of ionic processes in muscular fatigue during intense exercise. Sports Med 13:134–145

Moritani T, Muro M, Nagata A (1986) Intramuscular and surface electromyogram changes during muscle fatigue. J Appl Physiol 60:1179–1185

Moritani T, Takaishi T, Matsumoto T (1993) Determination of maximal power output at neuromuscular fatigue threshold. J Appl Physiol 74:1729–1734

Mortimer JT, Magnusson R, Petersen I (1970) Conduction velocity in ischemic muscle: effect on EMG frequency spectrum. Am J Physiol 219:1324–1329

Pavlat DJ, Housh TJ, Johnson GO, Schmidt RJ, Eckerson JM (1993) An examination of the electromyographic fatigue threshold test. Eur J Appl Physiol Occup Physiol 67:305–308

Pedersen TH, Nielsen OB, Lamb GD, Stephenson DG (2004) Intracellular acidosis enhances the excitability of working muscle. Science 305:1144–1147

Pilegaard H, Domino K, Noland T, Juel C, Hellsten Y, Halestrap AP, Bangsbo J (1999) Effect of high-intensity exercise training on lactate/H+ transport capacity in human skeletal muscle. Am J Physiol 276:E255–E261

Robergs RA, Ghiasvand F, Parker D (2004) Biochemistry of exercise-induced metabolic acidosis. Am J Physiol Regul Integr Comp Physiol 287:R502–R516

Stathis CG, Febbraio MA, Carey MF, Snow RJ (1994) Influence of sprint training on human skeletal muscle purine nucleotide metabolism. J Appl Physiol 76:1802–1809

Stout JR, Cramer JT, Mielke M, O'Kroy J, Torok DJ, Zoeller RF (2006) Effects of twenty-eight days of beta-alanine and creatine monohydrate supplementation on the physical working capacity at neuromuscular fatigue threshold. J Strength Cond Res 20:928–931

Stout JR, Cramer JT, Zoeller RF, Torok D, Costa P, Hoffman JR, Harris RC, O'Kroy J (2007) Effects of beta-alanine supplementation on the onset of neuromuscular fatigue and ventilatory threshold in women. Amino Acids 32:381–386

Suzuki Y, Ito O, Takahashi H, Takamatsu K (2004) The effect of sprint training on skeletal muscle carnosine in humans. Int J Sport Health Sci 2:105–110

Taylor AD, Bronks R, Bryant AL (1997) The relationship between electromyography and work intensity revisited: a brief review with references to lacticacidosis and hyperammonia. Electromyogr Clin Neurophysiol 37:387–398

Westerblad H, Bruton JD, Lannergren J (1997) The effect of intracellular pH on contractile function of intact, single fibres of mouse muscle declines with increasing temperature. J Physiol 500 (Pt 1):193–204

Weston AR, Myburgh KH, Lindsay FH, Dennis SC, Noakes TD, Hawley JA (1997) Skeletal muscle buffering capacity and endurance performance after high-intensity interval training by well-trained cyclists. Eur J Appl Physiol Occup Physiol 75:7–13
Acknowledgments
The authors would like to thank FSI Nutrition, 2132 South 156th Circle, Omaha, NE (www.fsinutrition.com) and RunFast Promotions, 8790 Wendy Lane South, West Palm Beach FL, 33411(www.runfastpromotions.com) for supporting and funding this research endeavor.
About this article
Cite this article
Smith, A.E., Moon, J.R., Kendall, K.L. et al. The effects of beta-alanine supplementation and high-intensity interval training on neuromuscular fatigue and muscle function. Eur J Appl Physiol 105, 357 (2009). https://doi.org/10.1007/s00421-008-0911-7
Keywords
Nutritional supplements

Neuromuscular fatigue

Muscle buffering capacity

Training