Abstract
Sitting on a therapy ball or standing may be a passive means of increasing energy expenditure throughout the workday. The purpose of this study was to determine the energy expenditure and liking of performing clerical work in various postures. Subjects included 24 men and women employed in sedentary clerical occupations. Energy expenditure was measured while word processing in three standardized postures; sitting in an office chair, sitting on a therapy ball, and standing. Adults ranked their comfort, fatigue, and liking of each posture and were asked to perform their choice of 20 min of additional clerical work in one of the postures. Energy expenditure was 4.1 kcal/h greater (p ≤ 0.05) while performing clerical work while sitting on a therapy ball and standing than while sitting in an office chair. There was no difference in energy expenditure between the therapy ball and standing postures (p ≥ 0.48). Subjects also liked sitting on a therapy ball as much as sitting in an office chair and liked sitting on a therapy ball more than standing (p ≤ 0.05). More subjects chose to perform additional clerical work while seated on a therapy ball than while standing (p = 0.03). In conclusion, sitting on a therapy ball or standing rather than sitting in an office chair while performing clerical work increases passive energy expenditure.
Access options
Buy single article
Instant access to the full article PDF.
USD 39.95
Price excludes VAT (USA)
Tax calculation will be finalised during checkout.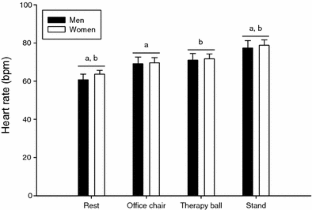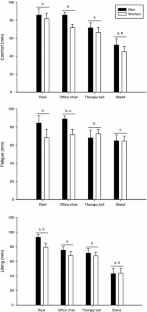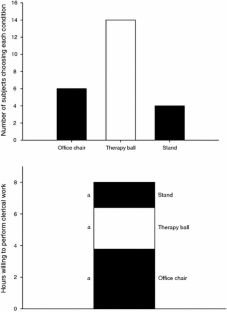 References
Brown WJ, Williams L, Ford JH, Ball K, Dobson AJ (2005) Identifying the energy gap: magnitude and determinants of 5-year weight gain in midage women. Obes Res 13:1431–1441

Flegal KM, Carroll MD, Ogden CL, Johnson CL (2002) Prevalence and trends in obesity among US adults, 1999–2000. JAMA 288:1723–1727

Grant US (1885) The personal memoirs of Ulysses S. Grant. C.L. Webster, New York

Haller JM, Roberts DE, Freedson PS (2006) Increasing energy expenditure during sedentary activity. American College of Sports Medicine Annual Meeting, Denver, p S367

Hill JO, Wyatt HR, Reed GW, Peters JC (2003) Obesity and the environment: where do we go from here? Science 299:853–855

Jakicic JM, Otto AD (2005) Physical activity considerations for the treatment and prevention of obesity. Am J Clin Nutr 82:226S–229S

King AC, Kiernan M, Oman RF, Kraemer HC, Hull M, Ahn D (1997) Can we identify who will adhere to long-term physical activity? Signal detection methodology as a potential aid to clinical decision making. Health Psychol 16:380–389

Levine JA, Miller JM (2007) The energy expenditure of using a "walk-and-work" desk for office workers with obesity. Br J Sports Med 41:558–561

Levine JA, Eberhardt NL, Jensen MD (1999) Role of nonexercise activity thermogenesis in resistance to fat gain in humans. Science 283:212–214

Levine JA, Schleusner SJ, Jensen MD (2000) Energy expenditure of nonexercise activity. Am J Clin Nutr 72:1451–1454

Levine JA, Vander Weg MW, Hill JO, Klesges RC (2006) Non-exercise activity thermogenesis: the crouching tiger hidden dragon of societal weight gain. Arterioscler Thromb Vasc Biol 26:729–736

Levitsky DA, Halbmaier CA, Mrdjenovic G (2004) The freshman weight gain: a model for the study of the epidemic of obesity. Int J Obes Relat Metab Disord 28:1435–1442

O'Sullivan PB, Grahamslaw KM, Kendell M, Lapenskie SC, Moller NE, Richards KV (2002) The effect of different standing and sitting postures on trunk muscle activity in a pain-free population. Spine 27:1238–1244

Philipson TJ, Posner RA (2003) The long-run growth in obesity as a function of technological change. Perspect Biol Med 46:S87–107

Powell LA, Nieman DC, Melby C, Cureton K, Schmidt D, Howley ET, Hill JO, Mault JR, Alexander H, Stewart DJ (2001) Assessment of body composition change in a community-based weight management program. J Am Coll Nutr 20:26–31

Ritchie JD, Miller CK, Smiciklas-Wright H (2005) Tanita foot-to-foot bioelectrical impedance analysis system validated in older adults. J Am Diet Assoc 105:1617–1619

Yanovski JA, Yanovski SZ, Sovik KN, Nguyen TT, O'Neil PM, Sebring NG (2000) A prospective study of holiday weight gain. N Engl J Med 342:861–867
Acknowledgments
The authors are indebted to Jacob E. Barkley, Ph.D. and Christina L. Lobarinas, M.S. for their technical assistance. This study was funded by the University at Buffalo Graduate Student Association Mark Diamond Research Fund to Mr. Beers and mentored by Dr. Roemmich.
About this article
Cite this article
Beers, E.A., Roemmich, J.N., Epstein, L.H. et al. Increasing passive energy expenditure during clerical work. Eur J Appl Physiol 103, 353–360 (2008). https://doi.org/10.1007/s00421-008-0713-y
Accepted:

Published:

Issue Date:

DOI: https://doi.org/10.1007/s00421-008-0713-y
Keywords