Abstract
Creatine (CR) supplementation is commonly used by athletes. However, its effects on renal function remain controversial. The aim of this study was to evaluate the effects of creatine supplementation on renal function in healthy sedentary males (18–35 years old) submitted to exercise training. A randomized, double-blind, placebo-controlled trial was performed. Subjects (n = 18) were randomly allocated to receive treatment with either creatine (CR) (∼10 g day−1 over 3 months) or placebo (PL) (dextrose). All subjects undertook moderate intensity aerobic training, in three 40-min sessions per week, during 3 months. Serum creatinine, serum and urinary sodium and potassium were determined at baseline and at the end of the study. Cystatin C was assessed prior to training (PRE), after 4 (POST 4) and 12 weeks (POST 12). Cystatin C levels (mg L−1) (PRE CR: 0.82 ± 0.09; PL: 0.88 ± 0.07 vs. POST 12 CR: 0.71 ± 0.06; PL: 0.75 ± 0.09, P = 0.0001) were decreased over time, suggesting an increase in glomerular filtration rate. Serum creatinine decreased with training in PL but was unchanged with training in CR. No significant differences were observed within or between groups in other parameters investigated. The decrease in cystatin C indicates that high-dose creatine supplementation over 3 months does not provoke any renal dysfunction in healthy males undergoing aerobic training. In addition, the results suggest that moderate aerobic training per se may improve renal function.
This is a preview of subscription content, log in to check access.
Access options
Buy single article
Instant access to the full article PDF.
US$ 39.95
Price includes VAT for USA
Subscribe to journal
Immediate online access to all issues from 2019. Subscription will auto renew annually.
US$ 199
This is the net price. Taxes to be calculated in checkout.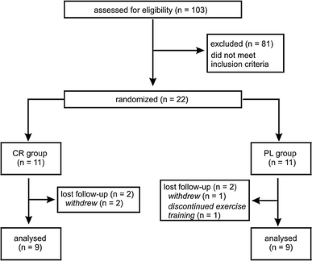 References
Bruce RA, Kusumi F, Hosmer D (1973) Maximal oxygen intake and nomographic assessment of functional aerobic impairment in cardiovascular disease. Am Heart J 85:546–562

Conway JM, Ingwersen LA, Moshfegh AJ (2004) Accuracy of dietary recall using the USDA five-step multiple-pass method in men: an observational validation study. J Am Diet Assoc 104:595–603

Dharnidharka VR, Kwon C, Stevens G (2002) Serum cystatin C is superior to serum creatinine as a marker of kidney function: a meta-analysis. Am J Kidney Dis 40:221–226

Edmunds JW, Jayapalan S, DiMarco NM, Saboorian MH, Aukema HM (2001) Creatine supplementation increases renal disease progression in Han:SPRD-cy rats. Am J Kidney Dis 37:73–78

Ferreira LG, De Toledo Bergamaschi C, Lazaretti-Castro M, Heilberg IP (2005) Effects of creatine supplementation on body composition and renal function in rats. Med Sci Sports Exerc 37:1525–1529

Finkelstein J, Joshi A, Hise MK (2006) Association of physical activity and renal function in subjects with and without metabolic syndrome: a review of the Third National Health and Nutrition Examination Survey (NHANES III). Am J Kidney Dis 48:372–382

Fried LF, Orchard TJ, Kasiske BL (2001) Effect of lipid reduction on the progression of renal disease: a meta-analysis. Kidney Int 59:260–269

Gaede P, Poulsen HE, Parving HH, Pedersen O (2001) Double-blind, randomised study of the effect of combined treatment with vitamin C and E on albuminuria in Type 2 diabetic patients. Diabet Med 18:756–760

Groeneveld GJ, Beijer C, Veldink JH, Kalmijn S, Wokke JH, van den Berg LH (2005) Few adverse effects of long-term creatine supplementation in a placebo-controlled trial. Int J Sports Med 26:307–313

Gualano B, Novaes RB, Shimuzu HM, Artioli GG, Rogeri PS, Ugrinowitsch C, Seguro AC, Lancha AH Jr (2006) Aerobic training improves renal function and decreases oxidative stress in healthy sedentary males, despite high-dose creatine supplementation. J Am Soc Nephrol 203A

Gualano B, Novaes RB, Artioli GG, Freire TO, Coelho DF, Scagliusi FB, Rogeri PS, Roschel H, Ugrinowitsch C, Lancha AH Jr (2008) Effects of creatine supplementation on glucose tolerance and insulin sensitivity in sedentary healthy males undergoing aerobic training. Amino Acids (in press)

Harris RC, Nevill M, Harris DB, Fallowfield JL, Bogdanis GC, Wise JA (2002) Absorption of creatine supplied as a drink, in meat or in solid form. J Sports Sci 20:147–151

Harris RC, Soderlund K, Hultman E (1992) Elevation of creatine in resting and exercised muscle of normal subjects by creatine supplementation. Clin Sci (Lond) 83:367–374

Jaber BL, Madias NE (2005) Progression of chronic kidney disease: can it be prevented or arrested?. Am J Med 118:1323–1330

Kazama JJ, Kutsuwada K, Ataka K, Maruyama H, Gejyo F (2002) Serum cystatin C reliably detects renal dysfunction in patients with various renal diseases. Nephron 91:13–20

Klahr S, Levey AS, Beck GJ, Caggiula AW, Hunsicker L, Kusek JW, Striker G (1994) The effects of dietary protein restriction and blood-pressure control on the progression of chronic renal disease. Modification of diet in Renal Disease Study Group. N Engl J Med 330:877–884

Koshy KM, Griswold E, Schneeberger EE (1999) Interstitial nephritis in a patient taking creatine. N Engl J Med 340:814–815

Kreider RB (2003) Species-specific responses to creatine supplementation. Am J Physiol Regul Integr Comp Physiol 285:R725–R726

Kreider RB, Melton C, Rasmussen CJ, Greenwood M, Lancaster S, Cantler EC, Milnor P, Almada AL (2003) Long-term creatine supplementation does not significantly affect clinical markers of health in athletes. Mol Cell Biochem 244:95–104

Kuehl K, Goldberg L, Elliot D (1998) Renal insufficiency after creatine supplementation in a college football athlete (abstract). Med Sci Sports Exerc 30:S235

Kuehl K, Goldberg L, Elliot D (2000) Re: long-term oral creatine supplementation does not impair renal function in healthy athletes. Med Sci Sports Exerc 32:248–249

Littell RC, Milliken GA, Stroup WW, Wolfinger RD, Schabenberger O (2006) SAS system for mixed models. SAS Institute, Cary

Pline KA, Smith CL (2005) The effect of creatine intake on renal function. Ann Pharmacother 39:1093–1096

Poortmans JR, Auquier H, Renaut V, Durussel A, Saugy M, Brisson GR (1997) Effect of short-term creatine supplementation on renal responses in men. Eur J Appl Physiol Occup Physiol 76:566–567

Poortmans JR, Francaux M (1999) Long-term oral creatine supplementation does not impair renal function in healthy athletes. Med Sci Sports Exerc 31:1108–1110

Poortmans JR, Kumps A, Duez P, Fofonka A, Carpentier A, Francaux M (2005) Effect of oral creatine supplementation on urinary methylamine, formaldehyde, and formate. Med Sci Sports Exerc 37:1717–1720

Preiss DJ, Godber IM, Lamb EJ, Dalton RN, Gunn IR (2007) The influence of a cooked-meat meal on estimated glomerular filtration rate. Ann Clin Biochem 44:35–42

Pritchard NR, Kalra PA (1998) Renal dysfunction accompanying oral creatine supplements. Lancet 351:1252–1253

Robinson TM, Sewell DA, Casey A, Steenge G, Greenhaff PL (2000) Dietary creatine supplementation does not affect some haematological indices, or indices of muscle damage and hepatic and renal function. Br J Sports Med 34:284–288

Roos JF, Doust J, Tett SE, Kirkpatrick CM (2007) Diagnostic accuracy of cystatin C compared to serum creatinine for the estimation of renal dysfunction in adults and children-a meta-analysis. Clin Biochem 40:383–391

Sewell DA, Harris RC (1995) Effect of creatine supplementation in the Thoroughbred horse. Equine Vet J 18:239–242

Shao A, Hathcock JN (2006) Risk assessment for creatine monohydrate. Regul Toxicol Pharmacol 45:242–251

Stengel B, Tarver-Carr ME, Powe NR, Eberhardt MS, Brancati FL (2003) Lifestyle factors, obesity and the risk of chronic kidney disease. Epidemiology 14:479–487

Stevens LA, Coresh J, Greene T, Levey AS (2006) Assessing kidney function-measured and estimated glomerular filtration rate. N Engl J Med 354:2473–2483

Taes YE, Delanghe JR, Wuyts B, van de Voorde J, Lameire NH (2003) Creatine supplementation does not affect kidney function in an animal model with pre-existing renal failure. Nephrol Dial Transplant 18:258–264

Tarnopolsky MA, Bourgeois JM, Snow R, Keys S, Roy BD, Kwiecien JM, Turnbull J (2003) Histological assessment of intermediate and long-term creatine monohydrate supplementation in mice and rats. Am J Physiol Regul Integr Comp Physiol 285:R762–R769

Terjung RL, Clarkson P, Eichner ER, Greenhaff PL, Hespel PJ, Israel RG, Kraemer WJ, Meyer RA, Spriet LL, Tarnopolsky MA, Wagenmakers AJ, Williams MH (2000) American College of Sports Medicine roundtable. The physiological and health effects of oral creatine supplementation. Med Sci Sports Exerc 32:706–717

Thorsteinsdottir B, Grande JP, Garovic VD (2006) Acute renal failure in a young weight lifter taking multiple food supplements, including creatine monohydrate. J Ren Nutr 16:341–345

Ugrinowitsch C, Fellingham GW, Ricard MD (2004) Limitations of ordinary least squares models in analyzing repeated measures data. Med Sci Sports Exerc 36:2144–2148

Volek JS, Duncan ND, Mazzetti SA, Putukian M, Gomez AL, Kraemer WJ (2000) No effect of heavy resistance training and creatine supplementation on blood lipids. Int J Sport Nutr Exerc Metab 10:144–156

Wyss M, Kaddurah-Daouk R (2000) Creatine and creatinine metabolism. Physiol Rev 80:1107–1213
Acknowledgments
We are grateful to Fundação de Amparo à Pesquisa do Estado de São Paulo (FAPESP) and Conselho Nacional de Desenvolvimento Científico e Tecnológico (CNPq) for financial support. We would also like to express our thanks to the subjects who took part in the study.
About this article
Cite this article
Gualano, B., Ugrinowitsch, C., Novaes, R.B. et al. Effects of creatine supplementation on renal function: a randomized, double-blind, placebo-controlled clinical trial. Eur J Appl Physiol 103, 33–40 (2008). https://doi.org/10.1007/s00421-007-0669-3
Accepted:

Published:

Issue Date:
Keywords
Adverse effects

Kidneys

Cystatin C

Exercise