Abstract
The purpose of this study was to determine the effect of 4 weeks of unilateral lower limb suspension (ULLS) on the fluctuations in motor output and the associated physiological changes. Subjects (n = 17) performed steady isometric plantarflexion (PF) and knee extension (KE) tasks, and KE shortening and lengthening contractions (intensity = 25% maximum). Spinal excitability of the soleus muscle was assessed via the H-reflex, muscle cross-sectional area (CSA) via MRI, along with EMG activity during the PF tasks. Following ULLS, isometric force fluctuations increased ∼12% for the PF, and 22% for the KE (P < 0.05), with no difference in the pattern of PF muscle activation (P = 0.46). The unsteadiness of lengthening KE contractions increased 25% following ULLS (P = 0.03), while KE steadiness during shortening contractions was not altered (P = 0.98). Significant correlations were observed between the percent changes in PF isometric force fluctuations and H-reflex (r = 0.49, P = 0.04), and between the PF isometric force fluctuations and PF CSA (r = −0.61, P < 0.01). These findings suggest the effects of unweighting on neuromotor performance are muscle group and contraction type dependent, and that the disuse-paradigm altering muscle CSA and spinal excitability may serve to mediate the associated loss of steadiness.
Access options
Buy single article
Instant access to the full article PDF.
US$ 39.95
Tax calculation will be finalised during checkout.
Subscribe to journal
Immediate online access to all issues from 2019. Subscription will auto renew annually.
US$ 119
Tax calculation will be finalised during checkout.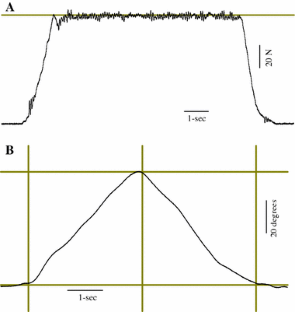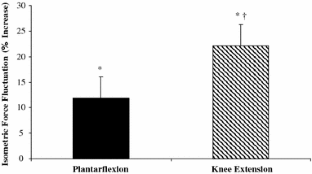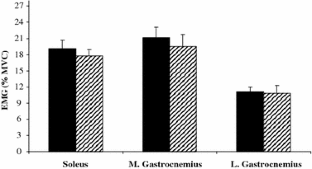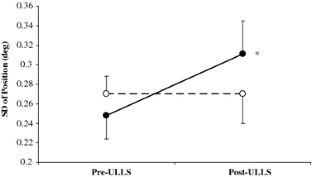 References
Aagaard P, Simonsen EB, Andersen JL, Magnusson SP, Dyhre-Poulsen P (2002) Neural adaptation to resistance training: changes in evoked V-wave and H-reflex responses. J Appl Physiol 92:2309–2318

Adams GR, Caiozzo VJ, Baldwin KM (2003) Skeletal muscle unweighting: spaceflight and ground-based models. J Appl Physiol 95(6):2185–2201

Akima H, Kubo K, Imai M, Kanehisa H, Suzuki Y, Gunji A, Fukunaga T (2001) Inactivity and muscle: effect of resistance training during bed rest on muscle size in the lower limb. Acta Physiol Scand 172(4):269–278

Alkner BA, Tesch PA (2004). Knee extensor and plantar flexor muscle size and function following 90 days of bed rest with or without resistance exercise. Eur J Appl Physiol 93(3):294–305

Berg HE, Dudley GA, Haggmark T, Ohlsen H, Tesch PA (1991). Effects of lower limb unloading on skeletal muscle mass and function in humans. J Appl Physiol 70(4):1882–1885

Berry P, Berry I, Manelfe C (1993) Magnetic resonance imaging evaluation of lower limb muscles during bed rest—a microgravity simulation model. Aviat Space Environ Med 64(3 Pt 1):212–218

Bleeker MW, Hopman MT, Rongen GA, Smits P (2004). Unilateral lower limb suspension can cause deep venous thrombosis. Am J Physiol Regul Integr Comp Physiol 286(6):R1176–R1177

Burnett RA, Laidlaw DH, Enoka RM (2000) Coactivation of the antagonist muscle does not covary with steadiness in old adults. J Appl Physiol 89(1):61–71

Clark BC, Fernhall B, Ploutz-Snyder LL (2006a) Adaptations in human neuromuscular function following prolonged unweighting: I. Skeletal muscle contractile properties and applied ischemia efficacy. J Appl Physiol 101(1):256–263

Clark BC, Manini TM, Bolanowski SJ, Ploutz-Snyder LL (2006b) Adaptations in human neuromuscular function following prolonged unweighting: II. Neurological properties and motor imagery efficacy. J Appl Physiol 101(1):264–272

Collaborative, overview (1994) Collaborative overview of randomised trials of antiplatelet therapy–III: Reduction in venous thrombosis and pulmonary embolism by antiplatelet prophylaxis among surgical and medical patients. Antiplatelet Trialists' Collaboration. Bmj 308(6923):235–246

Convertino VA, Doerr DF, Mathes KL, Stein SL, Buchanan P (1989) Changes in volume, muscle compartment, and compliance of the lower extremities in man following 30 days of exposure to simulated microgravity. Aviat Space Environ Med 60(7):653–658

Cresswell AG, Loscher WN (2000) Significance of peripheral afferent input to the alpha-motoneurone pool for enhancement of tremor during an isometric fatiguing contraction. Eur J Appl Physio 82(1–2):129–136

Cook SB, Clark BC, Ploutz-Snyder LL (2006) Accelerometry as a measure of subject compliance in unilateral lower limb suspension. Aviat Space Environ Med 77(9):953–956

Cram JR, Kasman GS (1998) Introduction to surface electromyography. Aspen, Gaithersburg

Duchateau J (1995) Bed rest induces neural and contractile adaptations in triceps surae. Med Sci Sports Exerc 27(12):1581–1589

Duchateau J, Enoka RM (2002). Neural adaptations with chronic activity patterns in able-bodied humans. Am J Phys Med Rehabil 81:S17–S27

Duchateau J, Hainaut K (1990). Effects of immobilization on contractile properties, recrutiment and firing rates of human motor units. J Physiology 422:55–65

Dudley GA, Ploutz-Snyder LL (2001) Deconditioning and bed rest: musculoskeletal response. ACSM's Resource Manual for Guidleines for Exercise Testing and Prescription. J. L. Roitman. Williams & Wilkins, Baltimore, pp 200–205

Edgerton VR, Roy RR, Allen DL, Monti RJ (2002). Adaptations in skeletal mulsce disuse or decreased-use atrophy. Am J Phys Med 81:S127–S147

Enoka RM, Christou EA, Hunter SK, Kornatz KW, Semmler JG, Taylor AM, Tracy BL (2003) Mechanisms that contribute to differences in motor performance between young and old adults. J Electromyogr Kinesiol 13:1–12

Fitts RH, Riley DR, Widrick JJ (2000) Physiology of a microgravity environment invited review: microgravity and skeletal muscle. J Appl Physiol 89(2):823–839

Fitts RH, Riley DR, Widrick JJ (2001). Functional and structural adaptations of skeletal muscle to microgravity. J Exp Biol 204(Pt 18):3201–3208

Gamrin L, Berg HE, Essen P, Tesch PA, Hultman E, Garlick PJ, McNurlan MA, Wernerman J (1998) The effect of unloading on protein synthesis in human skeletal muscle. Acta Physiol Scand 163(4):369–377

Gardiner PF (2001) Neuromuscular aspects of physical activity. Human Kinetics, Champaign, IL

Hather BM, Adams GR, Tesch PA, Dudley GA (1992). Skeletal muscle responses to lower limb suspension in humans. J Appl Physiol 72(4):1493–1498

Howell JN, Fuglevand AJ, Walsh ML, Bigland-Ritchie B (1995) Motor unit activity during isometric and concentric–eccentric contractions of the human first dorsal interosseus muscle. J Neurophysiol 74(2):901–904

Kornatz KW, Christou EA, Enoka RM (2005) Practice reduces motor unit discharge variability in a hand muscle and improves manual dexterity in old adults. J Appl Physiol 98(6):2072–2080

Kossev A, Christova P (1998) Discharge pattern of human motor units during dynamic concentric and eccentric contractions. Electroencephalogr Clin Neurophysiol 109(3):245–255

Kozlovskaya IB, Kirenskaya AV (2004) Mechanisms of disorders of the characteristics of fine movements in long-term hypokinesia. Neurosci Behav Physiol 34(7):747–754

Laidlaw DH, Bilodeau M, Enoka RM (2000) Steadiness is reduced and motor unit discharge is more variable in old adults. Muscle Nerve 23(4):600–612

LeBlanc AD, Schneider VS, Evans HJ, Pientok C, Rowe R, Spector E (1992) Regional changes in muscle mass following 17 weeks of bed rest. J Appl Physiol 73(5):2172–2178

Liu YS, Huang WF, Liu XH, Wang J, Zhao DM, Wu X (2003) Effects of exercise training during 21 d-6 degrees head down bed rest on dynamic posture equilibrium and motor coordination. Space Med Med Eng 16(4):264–268

Manini TM, Clark BC, Tracy BL, Burke J, Ploutz-Snyder L (2005) Resistance and functional training reduces knee extensor position fluctuations in functionally limited older adults. Eur J Appl Physiol 95(5–6):436–446

Manini TM, Clark BC, Nalls MA, Goodpaster BH, Ploutz-Snyder LL, Harris TB (2007) Reduced physical activity increases inter-muscular adipose tissue. Am J Clin Nutr (in press)

Morita H, Petersen N, Christensen LO, Sinkjaer T, Nielsen J (1998) Sensitivity of H-reflexes and stretch reflexes to presynaptic inhibition in humans. J Neurophysiol 80(2):610–620

Moritz CT, Barry BK, Pascoe MA, Enoka RM (2005) Discharge rate variability influences the variation in force fluctuations across the working range of a hand muscle. J Neurophysiol 93(5):2449–2459

Morris RJ, Woodcock JP (2004) Evidence-based compression: prevention of stasis and deep vein thrombosis. Ann Surg 239(2):162–171

Nicogossian AE, Huntoon CL, Pool SL (eds) (1994) Space physiology and medicine. Lea and Febiger, Philadelphia

Ploutz-Snyder LL, Tesch PA, Crittenden DJ, Dudley GA (1995) Effect of unweighting on skeletal muscle use during exercise. 79(1):168–175

Polgar J, Johnson MA, Weightman D, Appleton D (1973) Data on fibre size in thirty-six human muscles. An autopsy study. J Neurol Sci 19(3):307–318

Recktenwald MR, Hodgson JA, Roy RR, Riazanski S, McCall GE, Kozlovskaya I, Washburn DA, Fanton JW, Edgerton VR (1999). Effects of spaceflight on rhesus quadrupedal locomotion after return to 1G. J Neurophysiol 81(5):2451–2463

Roy RR, Hodgson JA, Aragon J, Day MK, Kozlovskaya I, Edgerton VR (1996) Recruitment of the Rhesus soleus and medial gastrocnemius before, during and after spaceflight. J Gravit Physiol 3(1):11–15

Schulze K, Gallagher P, Trappe S (2002). Ressitance training preserves skeletal muscle function during unloading in humans. Med Sci Sports Exerc 34:303–313

Seki K, Taniguchi Y, Narusawa M (2001). Effects of joint immobilization on firing rate modulation of human motor units. J Physiol 530(Pt 3):507–519

Shinohara M, Moritz CT, Pascoe MA, Enoka RM (2005). Prolonged muscle vibration increases stretch reflex amplitude, motor unit discharge rate, and force fluctuations in a hand muscle. J Appl Physiol 99(5):1835–1842

Shinohara M, Yoshitake Y, Kouzaki M, Fukuoka H, Fukunaga T (2003) Strength training counteracts motor performance losses during bed rest. J Appl Physiol 95(4):1485–1492

Tax AA, Denier van der Gon JJ, Erkelens CJ (1990). Differences in coordination of elbow flexor muscles in force tasks and in movement tasks. Exp Brain Res 81(3):567–572

Taylor AM, Christou EA, Enoka RM (2003) Multiple features of motor-unit activity influence force fluctuations during isometric contractions. J Neurophysiol 90(2):1350–1361

Tesch PA, Trieschmann JT, Ekberg A (2004) Hypertrophy of chronically unloaded muscle subjected to resistance exercise. J Appl Physiol 96(4):1451–1458

Tracy BL, Maluf KS, Stephenson JL, Hunter SK, Enoka RM (2005) Variability of motor unit discharge and force fluctuations across a range of muscle forces in older adults. Muscle Nerve 32(4):533–540

Widrick JJ, Trappe SW, Romatowski JG, Riley DA, Costill DL, Fitts RH (2002) Unilateral lower limb suspension does not mimic bed rest or spaceflight effects on human muscle fiber function. J Appl Physiol 93(1): 354–360

Yoshitake Y, Shinohara M, Kouzaki M, Fukunaga T (2004) Fluctuations in plantar flexion force are reduced after prolonged tendon vibration. J Appl Physiol 97(6):2090-2097
Acknowledgments
This project was supported in part by a National Aeronautics and Space Administration (NASA) Training Fellowship (NGT5-50446), and the 2004 & 2005 NASA Space Physiology Research Grants via the American College of Sports Medicine Foundation. Additionally, Dynastream Innovations, Inc, and BSN-JOBST provided product supply and technical support.
Additional information
Data for this project were collected in the Musculoskeletal Research Laboratory at Syracuse University.
About this article
Cite this article
Clark, B.C., Pierce, J.R., Manini, T.M. et al. Effect of prolonged unweighting of human skeletal muscle on neuromotor force control. Eur J Appl Physiol 100, 53–62 (2007). https://doi.org/10.1007/s00421-007-0399-6
Accepted:

Published:

Issue Date:
Keywords
Force control

Steadiness

Disuse

Atrophy

H-reflex