Abstract
We review the literature on whether exercise is a synchroniser of human circadian rhythms, and highlight the specific methodological problems that are associated with this topic. In applied research, exercise has been investigated as a treatment for jet lag and shift-work problems. In these studies, there have been difficulties in controlling the characteristics of the exercise bout, the athletic status of research participants and exposure to other confounding synchronisers. Therefore, it is unclear at present whether exercise can help mitigate the problems associated with transmeridian travel and shift-work. In laboratory-based experiments, participants have exercised at various times of the day and the change in phase of various circadian rhythms has been measured. Although it is difficult to control for the considerable masking effects of exercise on these estimates of circadian timing, it is clear that nocturnal exercise can induce phase delays in the onset of melatonin. Reports of exercise-induced phase advances of the melatonin rhythm are rarer, as are any phase-shifting effects at all on the body temperature rhythm. In practical terms, the substantial levels of activity needed to obtain phase shifts may not be attainable by the majority of people. In mechanistic terms, the lack of agreement with the phase-shifting effects of bright light suggests that exercise is not exerting its effects via photic entrainment pathways. An alternative explanation may involve exercise-induced hyperthermia. Moreover, it is perplexing why exercise should have a different phase response curve to light, given that humans are diurnally active.
This is a preview of subscription content, log in to check access.
Access options
Buy single article
Instant access to the full article PDF.
US$ 39.95
Price includes VAT for USA
Subscribe to journal
Immediate online access to all issues from 2019. Subscription will auto renew annually.
US$ 199
This is the net price. Taxes to be calculated in checkout.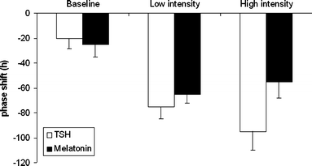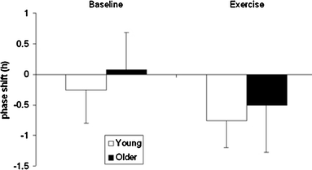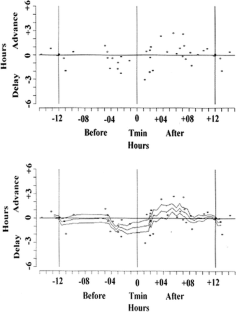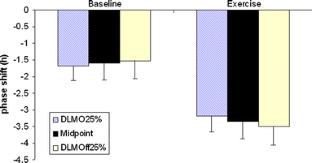 References
Aoki K, Kondo N, Shimomura Y, Iwanaga K, Harada H, Katsuura T (2002) Time-of-day effect on non-thermal control of sweating response to maintained static exercise in humans European. J Appl Physiol 86:388–393

Arendt J (1994) The pineal. In: Touitou Y, Haus E (eds) Biologic rhythms in Clinical Medicine. Springer, Berlin Heidelberg New York, pp 348–362

Aschoff J, Wever J (1980) The circadian system of man. In: Aschoff J (eds) The Handbook of behavioural neurobiology vol 4. Biological rhythms 17:311–331

Atkinson G, Coldwells A, Reilly T, Waterhouse J (1993) A comparison of circadian rhythms in work performance between physically active and inactive subjects. Ergonomics 36:273–281

Atkinson G, Drust B, Reilly T, Waterhouse J (2003) Relevance of melatonin to sports medicine and science. Sports Med 33:809–831

Atkinson G, Todd C, Reilly T, Waterhouse JM (2005) Diurnal variation in cycling performance: influence of warm-up. J Sports Sci 23:321–329

Baehr EK, Eastman CI, Revelle W, Losee Olson SH, Wolfe LF, Zee PC (2003) Circadian phase-shifting effects of nocturnal exercise in older compared to young adults. Am J Physiol Regul Integr Comp Physiol 284:R1542–R1550

Barger LK, Wright KP, Hughes RJ, Czeisler CA (2004) Daily exercise facilitates phase delays of circadian rhythm in dim light. Am J Physiol Regul Integr Comp Physiol 286:R1077–R1084

Biddle SJH, Mutrie N (2001) Psychology of physical activity: determinants, well-being and interventions. Routledge, London

Boivin DB, Duffy JF, Kronauer RA, Czeisler CA (1994) Sensitivity of the human circadian pacemaker to moderately bright light. J Biol Rhyth 9:315–331

Boivin D, Duffy J, Kronauer R, Czeisler C (1996) Dose-response relationships for resetting of human circadian clock by light. Nature 379:540–542

Buxton OM, Frank SA, L'Hermite-Baleriaux M, Leproult R, Turek FW, van Cauter E (1997) Roles of intensity and duration of nocturnal exercise in phase delaying human circadian rhythms. Am J Physiol 273:E536–E542

Buxton O, Frank S, L'Hermite-Baleriaux M, Leproult R, Turek F, van Cauter E (2003) Exercise elicits phase shifts and acute alterations of melatonin that vary with circadian phase. Am J Physiol Regul Integr Comp Physiol 284:R714–R724

Cagnacci A (1997) Influences of melatonin on human circadian rhythms. Chronobiol Int 14:205–220

Callard D, Davenne D, Lagarde D, Meney I, Gentil C, van Hoecke J (2001) Nychthemeral variations in core temperature and heart rate: continuous cycling exercise versus continuous rest. Int J Sports Med 22:553–557

Canal-Corretger MM, Cambras T, Diez-Noguera A (2003) Tau and phase response curves for non-photic stimuli in blinded rats. Biol Rhythm Res 34:91–99

Carr DB, Reppert SM, Bullen B, Skirinar G, Beitins I, Arnold M, Rosenblatt M, Martin JB, McArthur JB (1981) Plasma melatonin increases during exercise in women. J Clin Endocrin Metab 53:224–225

Czeisler C, Brown E, Ronda J, Kronauer R, Richardson G, Freitag W (1985) A clinical method to assess the endogenous circadian phase (ECP) of the deep circadian oscillator in man. Sleep Res 14:295

Czeisler C, Kronauer R, Allan J, Duffy J, Jewett M, Brown E, Ronda J (1989) Bright light induction of strong (type 0) resetting of the human circadian pacemaker. Science 244:1328–1333

Eastman CI, Hoese EK, Youngstedt SD, Liu L (1995) Phase-shifting human circadian rhythms with exercise during the night shift. Physiol Behav 58:1287–1291

Edwards B, Waterhouse J, Atkinson G, Reilly T (2002) Exercise does not necessarily influence the phase of circadian rhythm in temperature in healthy humans. J Sport Sci 20:725–732

Friedenreich CM (2001) Physical activity and cancer prevention: from observational to intervention research. Cancer Epidemiol Biomarkers Prev 10:287–301

Ftaiti F, Duflot JC, Nicol C, Grelot L (2001) Tympanic temperature and heart rate changes in firefighters during treadmill runs performed with different fireproof jackets. Ergonomics 44:502–512

Gaddy JR, Rollag MD, Brainard GC (1993) Pupil size reulation of threshold of light-induced melatonin suppression. J Clin Endocrinol Metab 77:1398–1401

Harbin G, Durst L, Harbin D (1989) Evaluation of oculomotor response in relationship to sports performance. Med Sci Sports Exerc 12:258–262

Hardman AE, Stensel DJ (2003) Physical activity and health. the evidence explained. Routledge, London

Harma MI, Ilmarinen J, Yletyinen I (1982) Circadian variation of physiological functions in physically average and very fit dayworkers. J Hum Ergol 11(Supp l):33–46

Harma MI, llmarinen J, Knauth P, Rutenfranz J, Hanninen P (1988a) Physical training intervention in shift-workers. 1 The effects of intervention on fitness, fatigue, sleep, and psychomotor symptoms. Ergonomics 31:39–50

Harma Mi, Ilmarinen J, Knauth P, Rutenfranz J, Hanninen O (1988b) Physical-training intervention in female shift workers. 2 The effects of intervention on the circadian-rhythms of alertness, short-term memory, and body-temperature. Ergonomics 31:51–63

Honma K, Honma S (1988) A human phase response curve for bright light pulses. Jpn J Psychiatry Neurol 42:167–168

Horne JA, Moore VJ (1984) Sleep EEG effects with and without additional body cooling. Electroencephalogr Clin Neurophysiol 60:33–38

Hu FB, Stampfer MJ, Colditz GA, Ascherio A et al (2000) Physical activity and risk of stroke in women. J Am Med Assoc 283:2961–2967

Ishigaki T, Fujishiro H, Tsujita J, En Y, Yamato M, Nakano S, Hori S (2001) Relationship between helmet temperature and tympanic temperature during American football practice. Jpn J Phys Fitness Sports Med 50:333–338

Ishigaki H, Miyao M, Ishihara S (1991) Change in pupil size as a function of exercise. J Hum Ergol (Tokyo) 20:61–66

Ivy JL, Zderic TW, Fogt DL (1999) Prevention and treatment of non-insulin dependent diabetes mellitus. Ex Sport Sci Rev 27:1–35

Klein KE, Wegmann HM (1974) The resynchronisation of human circadian rhythms after transmeridian flights as a result of flight direction and mode of activity. In: Scheving LE, Halberg F, Pauly JE (eds) Chronobiology. Igku Shoin, Tokyo, pp 564–570

Klerman EB, Lee Y, Czeisler CA, Kronauer RE (1999) Linear demasking techniques are unreliable for estimating the circadian phase of ambulatory temperature data. J Biol Rhythm 14:260–274

Koteja P, Swallow JG, Carter PA, Garland T (2003) Different effects of intensity and duration of locomotor activity on circadian period. J Biol Rhythm 18:491–501

Mermin J, Czeisler C (1987) Comparison of ambulatory temperature recordings at varying levels of physical exertion: average amplitude is unchanged by strenuous exercise. Sleep Res 16:253

Minors DS, Waterhouse JM (1992) Investigating the endogenous component of human circadian rhythms: a review of some simple alternatives to constant routines. Chronobiol Int 9:55–78

Minors D, Waterhouse JM, Wirz-Justice A (1991) A human phase-response curve to light. Neurosci Let 133:36–40

Mistlberger RE, Antle MC, Webb IC, Jones M, Weinberg J, Pollock MS (2003) Circadian clock resetting by arousal in Syrian hamsters: the role of stress and activity. J Physiol Regul Integr Comp Physiol 285:R917–R925

Mistlberger R, Skene DJ (2005) Nonphotic entrainment in humans? J Biol Rhyth 20:339–352

Monteleone P, Maj M, Fusco M, Orazzo C, Kernali D (1990) Physical exercise at night blunts the nocturnal increase of plasma melatonin levels in healthy humans. Life Sci 47:1989–1995

Moog R, Hildebrant G (1987) Comparison of different causes of masking effects. In: Haider M, Koller M, Cerinka R (eds) Night and shift-work: long-term effects and their prevention. Peter Lang, New York, pp 131–140

Mrosovsky N, Salmon P (1987) A behavioural method for accelerating re-entrainment of rhythms to new light-dark cycles. Nature 330:372–373

Piercy J, Lack L (1988) Daily exercise can shift the endogenous circadian phase. J Sleep Res 17:393

Powell KE, Thompson PD, Caspersen CJ, Kendrick JS (1987) Physical-activity and the incidence of coronary heart-disease. Annu Rev Public Health 8:253–287

Redlin U, Mrosovsky N (1997) Exercise and human circadian rhythms: what we know and what we need to know. Chronobiol Int 14:221–229

Refinetti R, Menaker M (1992) The circadian rhythm of body temperature. Physiol Behav 51:613–637

Reilly T, Bambaeichi E (2003) Methodological issues in studies of rhythms in human performance. Biol Rhythm Res 34:321–336

Reilly T, Atkinson G, Budgett R (2001) Effect of low-dose temazepam on physiological variables and performance tests following a westerly flight across five time zones. Int J Sports Med 22:166–174

Sato KT, Kane NL, Soos G, Gisolfi CV, Kondo M, Sato K (1996) Re-examination of tympanic membrane as a core temperature. J Appl Physiol 80:1233–1239

Schmidt KP, Koehler WK, Fleissner G, Pflug B (1992) Locomotor activity accelerates the adjustment of the temperature rhythm in shift work. In: Diez-Noguera A, Cambras T (eds) Chronobiology and Chronomedicine. Peter Lang, New York, pp 389–395

Shiota M, Sudou M, Ohshima M (1996) Using outdoor exercise to decrease jet-lag in air crew-members. Aviat Space Env Med 67:1155–1560

Strassman RJ, Appenzellar O, Lewy AJ, Qualls CR, Peake GT (1989) Increase in plasma melatonin, β-endorphin, and cortisol after a 28.5-mile mountain race: relationship to performance and lack of effect of naltrex-one. J Clin Endocrin Metab 69:540–545

Suvanto S, Härma M (1993) The prediction of the adaptation of circadian rhythms to rapid time-zone changes. Ergonomics 36:111–116

Thientz G, Lang U, Deriaz O, Ceretelli P, Sizonenko P (1984) Day-time plasma melatonin response to physical exercise in humans. J Steroid Biochem 20:1470

Tipton CM (2001) A perspective: animals, exercise research, and medicine and science in sports and exercise. Med Sci Sports Exerc 33:1981–1982

Tremblay MS, Chu SY, Mureika R (1995) Methodological and statistical considerations for exercise-related hormone evaluations. Sports Med 20:90–108

Van Reeth O, Sturis J, Byrne MM, Blackman JD, L'Hermite-Balèriaux M, Leproult R, Oliner C, Refetoff S, Turek FW, Van Cauter E (1994) Nocturnal exercise delays circadian rhythms of melatonin and thyrotrophin secretion in normal men. Am J Physiol 266:E964–E974

Van Someren EJW, Lijzenga C, Mirmiran M, Swaab DF (1997) Long-term fitness training improves the circadian rest-activity rhythm in healthy elderly males. J Biol Rhythms 12:146–156

Van Someren EJW (2003) Thermosensitivity of the circadian timing system. Sleep Biol Rhythms 1:55–64

Vaughan GM, McDonald S, Jordan R, Allen J, Bell R, Stevens E (1979) Melatonin, pituitary function and stress in humans. Psychoneuroendocrinology 4:351–362

Waterhouse J, Drust B, Weinert D, Edwards B, Gregson W, Atkinson G, Kao S, Aizawa S, Reilly T (2005) The circadian rhythm of core temperature: origin and some implications for exercise performance. Chronobiol Int 22:205–223

Waterhouse J, Edwards B, Nevill A, Atkinson G, Reilly T, Davies P, Godfrey R (2000a) Do subjective symptoms predict our perception of jet-lag? Ergonomics 43:1514–1527

Waterhouse J, Kao S, Weinert D, Edwards B, Atkinson G, Reilly T (2005) Measuring phase shifts in humans following a simulated time-zone transition: agreement between constant routine and purification methods. Chronobiol Int 22:829–858

Waterhouse J, Minors D, Folkard S, Owens D, Atkinson G, Macdonald I, Reilly T, Sytnik N, Tucker P (1998) Light of domestic intensity produces phase shifts of the circadian oscillator in humans. Neurosci Lett 245:97–100

Waterhouse J, Weinert D, Minors D, Folkard S, Owens D, Atkinson G, Macdonald I, Sytnik N, Tucker P, Reilly T (2000b) A comparison of some different methods for purifying core temperature data from humans. Chronobiol Int 17:539–566

Woods RL, Thomson WD (1995) Effects of exercise on aspects of visual function. Ophthalmic Physiol Opt 15:5–12

Yeo S, Scarborough M (1996) Exercise-induced hyperthermia may prevent accurate core temperature measurement by tympanic membrane thermometer. J Nur Meas 4:143–151

Youngstedt SD, Kripke DF, Elliott JA (2002) Circadian phase-delay effects of bright light alone and combined with exercise in humans. Am J Physiol Regul Integr Comp Physiol 273:E536–E542
About this article
Cite this article
Atkinson, G., Edwards, B., Reilly, T. et al. Exercise as a synchroniser of human circadian rhythms: an update and discussion of the methodological problems. Eur J Appl Physiol 99, 331–341 (2007). https://doi.org/10.1007/s00421-006-0361-z
Accepted:

Published:

Issue Date:
Keywords
Masking

Rhythm entrainment

Exercise intensity and duration

Fitness

Phase shift

Melatonin

Body temperature