Abstract
Bilateral isometric handgrip (IHG) training lowers resting arterial blood pressure (BP) in medicated hypertensives. Numerous mechanisms have been suggested, but have yet to be investigated. One such mechanism is that of improved systemic endothelial-dependent vasodilation. The purpose of this investigation was twofold: (1) to determine if bilateral IHG training had any beneficial effects on endothelial-dependent vasodilation, and (2) to see if improved systemic endothelial-dependent vasodilation was responsible for lowering BP. Sixteen participants performed four, 2 min IHG contractions at 30% of their maximal voluntary effort, using either a bilateral (n = 7) or a unilateral IHG protocol (n = 9), three times per week for 8 weeks. Brachial artery (BA) flow-mediated dilation (FMD, an index of endothelial-dependent vasodilation, measured in both arms) was assessed pre- and post-training. Following bilateral IHG training, BA FMD improved in both arms (normalized to peak shear rate 0.005 ± 0.001 to 0.02 ± 0.002 s−1, P < 0.01). Following unilateral IHG training, BA FMD improved in the trained arm only (normalized 0.009 ± 0.002 to 0.02 ± 0.005 s−1, P < 0.01). These findings suggest that although IHG training improves endothelial-dependent vasodilation, the improvements only occur locally in the trained limbs. This suggests that enhanced systemic endothelial-dependent vasodilation is not the mechanism responsible for the observed post-IHG training reductions in BP in medicated hypertensives.
This is a preview of subscription content, log in to check access.
Access options
Buy single article
Instant access to the full article PDF.
US$ 39.95
Price includes VAT for USA
Subscribe to journal
Immediate online access to all issues from 2019. Subscription will auto renew annually.
US$ 199
This is the net price. Taxes to be calculated in checkout.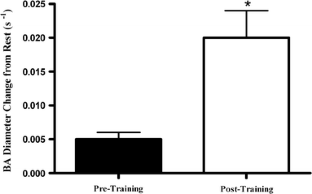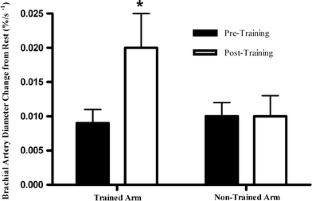 References
Corretti M, Anderson T, Benjamin E, Celermajer D, Charbonneau F, Creager M, Deanfield J, Drexler H, Gerhard-Herman M, Herrington D, Vallance P, Vita J, Vogel R (2002) Guidelines for the ultrasound assessment of endothelial-dependent flow-mediated vasodilation of the brachial artery. A report of the international brachial artery reactivity task force. J Am Coll Cardiol 39:257–265

Egashira K, Suzuki S, Hirooka Y, Kai H, Sugimachi M, Imaizumi T, Takeshita A (1995) Impaired endothelium-dependent vasodilation in large epicardial and resistance coronary arteries in patients with essential hypertension: different responses to acetylcholine and substance P. Hypertension 25:201–206

Eskurza I, Seals D, DeSouza CA, Tanaka H (2001) Pharmacologic versus flow-mediated assessments of peripheral vascular endothelial vasodilatory function in humans. Am J Cardiol 88:1067–1069

Farthing JP, Chilibeck PD (2003) The effect of eccentric training at different velocities on cross-education. Eur J Appl Physiol 89:570–577

Faulx M, Wright A, Hoit B (2003) Detection of endothelial dysfunction with brachial artery ultrasound scanning. Am Heart J 145:943–951

Gielen S, Hambrecht R (2001) Effects of exercise training on vascular function and myocardial perfusion. Cardiol Clin 19:357–368

Green D, Maiorana A, O'Driscoll G, Taylor R (2004) Effect of exercise training on endothelium-derived nitric oxide function in humans. J Physiol 561:1–25

Higashi Y, Oshima T, Ozono R, Matsuura H, Kajiyama G (1997) Aging and severity of hypertension attenuate endothelium-dependent renal vascular relaxation in humans. Hypertension 30:252–258

Higashi Y, Sasaki S, Kurisu S, Yoshimizu A, Sasaki N, Matsuura H, Kajiyama G, Oshima T (1999a) Regular aerobic exercise augments endothelium-dependent vascular relaxation in normotensive as well as hypertensive subjects: role of endothelium-derived nitric oxide. Circulation 100:1194–1202

Higashi Y, Sasaki S, Sasaki N, Nakagawa K, Ueda T, Yoshimizu A, Kurisu S, Matsurura H, Kajiyama G, Oshima T (1999b) Daily aerobic exercise improves reactive hyperemia in patients with essential hypertension. Hypertension 33:591–597

Hornig B, Maier V, Drexler H (1996) Physical training improves endothelial function in patients with chronic heart failure. Circulation 93:210–214

Hunter SK, Schletty JM, Schlachter KM, Griffith EE, Polichnowski AJ, Ng AV (2006) Active hyperemia and vascular conductance differ between men and women for an isometric fatiguing contraction. J Appl Physiol 101:140–150

Koh K (2000) Effects of statins on vascular wall: vasomotor function, inflammation, and plaque stability. Cardiovasc Res 47:648–657

Li H, Forstermann U (2000) Nitric oxide in the pathogenesis of vascular disease. J Pathol 190:244–254

Lind L, Granstam S, Millgard J (2000) Endothelium-dependent vasodilation in hypertension: a review. Blood Press 9:4–15

McGowan CL (2006) Isometric handgrip training and arterial blood pressure: effects and mechanisms. Dissertation, McMaster University, Hamilton

Nazir DJ, Roberts RS, Hill SA, McQueen MJ (1999) Monthly intra-individual variation in lipids over a 1-year period in 22 normal subjects. Clin Biochem 32:381–389

PAHI (2003) Pan American Hypertension Initiative. Working meeting on blood pressure measurement: suggestions for measuring blood pressure to use in population surveys. Pan Am J Public Health 14:300–302

Panza JA, Quyyumi AA, Brush JEJ, Epstein SE (1990) Abnormal endothelium-dependent vascular relaxation in patients with essential hypertension. N Engl J Med 323:22–27

Parnell MM, Holst DP, Kaye DM (2002) Exercise training increases arterial compliance in patients with congestive heart failure. Clin Sci (Lond) 102:1–7

Pescatello L, Franklin B, Fagard R, Farquhar W, Kelley GA, Ray CA (2004) Exercise and hypertension. Med Sci Sports Exerc 36:533–553

Pickering TG (2002) Principles and techniques of blood pressure measurement. Cardiol Clin 20:207–223

Pyke KE, Dwyer EM, Tschakovsky ME (2004) Impact of controlling shear rate on flow-mediated dilation responses in the brachial artery of humans. J Appl Physiol 97:499–508

Rakobowchuk M, McGowan CL, de Groot P, Hartman JW, Phillips SM, MacDonald MJ (2005) Endothelial function of young healthy males following whole body resistance training. J Appl Physiol 98:2185–2190

Ray C, Carrasco D (2000) Isometric handgrip training reduces arterial pressure at rest without changes in sympathetic nerve activity. Am J Physiol Heart Circ Physiol 279:H245–H249

Shoemaker JK, Pozeg ZI, Houghson RL (1996) Forearm blood flow by Doppler ultrasound during test and exercise: tests of day-to-day repeatability. Med Sci Sports Exerc 28:1144–1149

Sinoway L, Shenberger J, Leaman G, Zelis R, Gray K, Baily R, Leuenberger U (1996) Forearm training attenuates sympathetic responses to prolonged rhythmic forearm exercise. J Appl Physiol 81:1778–1784

Spieker L, Noll G, Ruschitzka F, Maier W, Luscher T (2000) Working under pressure: the vascular endothelium in arterial hypertension. J Hum Hypertens 14:617–630

Stankevicius E, Kevelaitis E, Vainorius E, Simonsen U (2003) Role of nitric oxide and other endothelium-derived factors (Abstract). Medicina (Kaunas) 39:333

Taylor AC, McCartney N, Kamath MV, Wiley R (2003) Isometric training lowers resting blood pressure and modulates autonomic control. Med Sci Sports Exerc 35:251–256

Tsiara S, Elisaf M, Mikhailidis D (2003) Early vascular benefits of statin therapy. Curr Med Res Opin 19:540–556

Visocchi A, McGowan CL, Faulkner M, Verdun R, McCartney N, MacDonald J (2004) The effect of isometric arm or leg exercise on resting blood pressure and arterial distensibility in persons medicated for hypertension (Abstract). Physiologist 47:278

WHO (2003) International society of hypertension statement on management of hypertension. J Hypertens 21:1983–1992

Wiley RL, Dunn CL, Cox RH, Hueppchen NA, Scott MS (1992) Isometric exercise training lowers resting blood pressure. Med Sci Sports Exerc 24:749–754

Yasuda Y, Miyamura M (1983) Cross transfer effects of muscular training on blood flow in the ipsilateral and contralateral forearms. Eur J Appl Physiol Occup Physiol 51:321–329
Acknowledgments
Programmed handgrip dynamometers were loaned by Dr. Ron Wiley and MD Systems, Inc., Westerville, OH, USA. This investigation was supported by NSERC Canada (Grant) and the Heart & Stroke Foundation of Canada (Doctoral Fellowship Award).
About this article
Cite this article
McGowan, C.L., Visocchi, A., Faulkner, M. et al. Isometric handgrip training improves local flow-mediated dilation in medicated hypertensives. Eur J Appl Physiol 99, 227–234 (2007). https://doi.org/10.1007/s00421-006-0337-z
Accepted:

Published:

Issue Date:
Keywords
Endothelium

Exercise

Hypertension

Blood flow