Abstract
The response of lymphocyte and plasma antioxidant defences to a prolonged exercise as a cycling stage in a professional race was analysed. Antioxidant enzyme activities and gene expression, carbonyl derivative and MDA levels were determined in lymphocytes. Plasma levels of vitamin E, carotenes, protein carbonyl derivatives and the test d-Roms were measured. Significant increases in plasmatic carbonyls and in the test d-Roms were observed after the cycling stage. No significant differences were found in the lymphocyte MDA and carbonyl derivative levels. A significant increase was found in plasma vitamin E concentration after the cycling stage; however, the lymphocyte vitamin E concentration did not change. Significant increases were observed in lymphocyte total superoxide dismutase (SOD) activity and in the levels of CuZn-SOD and Mn-SOD isoenzymes. The moderate levels of oxidative stress in the lymphocyte induced a cellular adaptation to exercise enough to counteract the negative effects of oxidative stress.
Access options
Buy single article
Instant access to the full article PDF.
USD 39.95
Price includes VAT (USA)
Tax calculation will be finalised during checkout.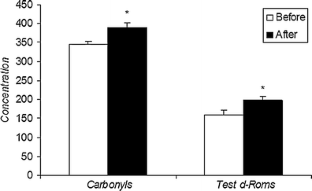 References
Aebi HE (1984) Catalase. In: Bergmeyer HU (ed) Methods in enzymatic analysis. Verlag Chemie, Basel, pp 273–286

Aguilo A, Tauler P, Fuentespina E, Tur JA, Cordova A, Pons A (2005) Antioxidant response to oxidative stress induced by exhaustive exercise. Physiol Behav 84:1–7

Alessio HM (1993) Exercise-induced oxidative stress. Med Sci Sports Exerc 25:218–224

Boyum A (1964) Separation of white blood cells. Nature 204:793–794

Burtis CA, Ashwood E (1984) Tietz textbook of clinical chemistry. WB Saunders, Philadelphia

Cannon J, Blumberg JB (2000) Acute phase immune response in exercise. In: Sen CK, Packer L, Hänninen O (eds) Handbook of oxidants and antioxidants in exercise. Elsevier, Amsterdam, pp 177–194

Cases N, Aguilo A, Tauler P, Sureda A, Llompart I, Pons A, Tur JA (2005) Differential response of plasma and immune cell's vitamin E levels to physical activity and antioxidant vitamin supplementation. Eur J Clin Nutr 59:781–788

Cesarone MR, Belcaro G, Carratelli M, Cornelli U, De Sanctis MT, Incandela L, Barsotti A, Terranova R, Nicolaides A (1999) A simple test to monitor oxidative stress. Int Angiol 18:127–130

Flohe L, Gunzler WA (1984) Assays of glutathione peroxidase. Methods Enzymol 105:114–121

Gleeson M, Nieman DC, Pedersen BK (2004) Exercise, nutrition and immune function. In: Maughan RJ, Burke LM, Coyle EF (eds) Food, nutrition and sports performance II. Rouledge, London, pp 186–203

Goldberg DM, Spooner RJ (1985) Glutathione Reductase. In: Bergmeyer HU (eds) Methods in enzymatic analysis. Verlag Chemie, Basel, pp 258–265

Gomez-Cabrera MC, Borras C, Pallardo FV, Sastre J, Ji LL, Vina J (2005) Decreasing xanthine oxidase-mediated oxidative stress prevents useful cellular adaptations to exercise in rats. J Physiol 567:113–120

Hollander J, Fiebig R, Gore M, Ookawara T, Ohno H, Ji LL (2001) Superoxide dismutase gene expression is activated by a single bout of exercise in rat skeletal muscle. Pflugers Arch 442:426–434

Jackson MJ (1999) Free radicals in skin and muscle: damaging agents or signals for adaptation? Proc Nutr Soc 58:673–676

Ji L (1999) Antioxidants and oxidative stress in exercise. Proc Soc Exp Biol Med 222:283–292

Levine RL, Williams JA, Stadtman ER, Shacter E (1994) Carbonyl assays for determination of oxidatively modified proteins. Methods Enzymol 233:346–357

McArdle F, Pattwell DM, Vasilaki A, McArdle A, Jackson MJ (2005) Intracellular generation of reactive oxygen species by contracting skeletal muscle cells. Free Radic Biol Med 39:651–657

McCord JM, Fridovich I (1969) Superoxide dismutase. An enzymic function for erythrocuprein (hemocuprein). J Biol Chem 244:6049–6055

Mooren FC, Bloming D, Lechtermann A, Lerch MM, Volker K (2002) Lymphocyte apoptosis after exhaustive and moderate exercise. J Appl Physiol 93:147–153

Nieman DC (1994) Exercise, upper respiratory tract infection, and the immune system. Med Sci Sports Exerc 26:128–139

Niess AM, Passek F, Lorenz I, Schneider EM, Dickhuth HH, Northoff H, Fehrenbach E (1999) Expression of the antioxidant stress protein heme oxygenase-1 (HO-1) in human leukocytes. Free Radic Biol Med 26:184–192

Packer L (1997) Oxidants, antioxidant nutrients and the athlete. J Sports Sci 15:353–363

Packer L, Almada AL, Rothfuss LM, Wilson DS (1989) Modulation of tissue vitamin E levels by physical exercise. Ann N Y Acad Sci 570:311–321

Reid MB, Shoji T, Moody MR, Entman ML (1992) Reactive oxygen in skeletal muscle II. Extracellular release of free radicals. J Appl Physiol 73:1805–1809

Sjodin B, Hellsten Westing Y, Apple FS (1990) Biochemical mechanisms for oxygen free radical formation during exercise. Sports Med 10:236–254

Sureda A, Tauler P, Aguilo A, Cases N, Fuentespina E, Cordova A, Tur JA, Pons A (2005) Relation between oxidative stress markers and antioxidant endogenous defences during exhaustive exercise. Free Radic Res 39:1317–1324

Suzuki K, Ohno H, Oh-ishi S, Kizaki T, Ookawara T, Fujii J, Radák Z, Taniguchi N (2000) Superoxide dismutases in exercise and disease. In: Sen C, Parker L, Hänninen O (eds) Handbook of oxidants and antioxidants in exercise. Elsevier, Amsterdam, pp 243–295

Tauler P, Aguilo A, Fuentespina E, Tur JA, Pons A (2002) Diet supplementation with vitamin E, vitamin C and beta-carotene cocktail enhances basal neutrophil antioxidant enzymes in athletes. Pflugers Arch 443:791–797

Tauler P, Aguilo A, Gimeno I, Guix P, Tur JA, Pons A (2004) Different effects of exercise tests on the antioxidant enzyme activities in lymphocytes and neutrophils. J Nutr Biochem 15:479–484

Tauler P, Aguilo A, Gimeno I, Noguera A, Agusti A, Tur JA, Pons A (2003) Differential response of lymphocytes and neutrophils to high intensity physical activity and to vitamin C diet supplementation. Free Radic Res 37:931–938

Tauler P, Sureda A, Cases N, Aguilo A, Rodríguez-Marroyo JA, Villa G, Tur JA, Pons A (2005) Increased lymphocyte antioxidant defences in response to exhaustive exercise do not prevent oxidative damage. J Nutr Biochem (In press)

Thompson D, Basu-Modak S, Gordon M, Poore S, Markovitch D, Tyrrell RM (2005) Exercise-induced expression of heme oxygenase-1 in human lymphocytes. Free Radic Res 39:63–69

Tietz N (1999) Clinical guide to laboratory tests. WB Saunders, Philadelphia

Vider J, Laaksonen DE, Kilk A, Atalay M, Lehtmaa J, Zilmer M, Sen CK (2001) Physical exercise induces activation of NF-kappaB in human peripheral blood lymphocytes. Antioxid Redox Signal 3:1131–1137

Wang JS, Huang YH (2005) Effects of exercise intensity on lymphocyte apoptosis induced by oxidative stress in men. Eur J Appl Physiol 12:1–8

Weeks I, Woodhead JS (1984) Chemiluminiscence assays. J Clin Immunoassay 7:82–89
Acknowledgments
This work has been granted aid by the Spanish Ministry of Health (Programme of Promotion of Biomedical Research and Health Sciences, Project PI021593), the Spanish Ministry of Science and Education (DEP2005-00238-C04-02/EOU) and the FEDER funding.
About this article
Cite this article
Cases, N., Sureda, A., Maestre, I. et al. Response of antioxidant defences to oxidative stress induced by prolonged exercise: antioxidant enzyme gene expression in lymphocytes. Eur J Appl Physiol 98, 263–269 (2006). https://doi.org/10.1007/s00421-006-0273-y
Accepted:

Published:

Issue Date:
Keywords
Cycling

Oxidative stress

Lymphocytes

Antioxidants